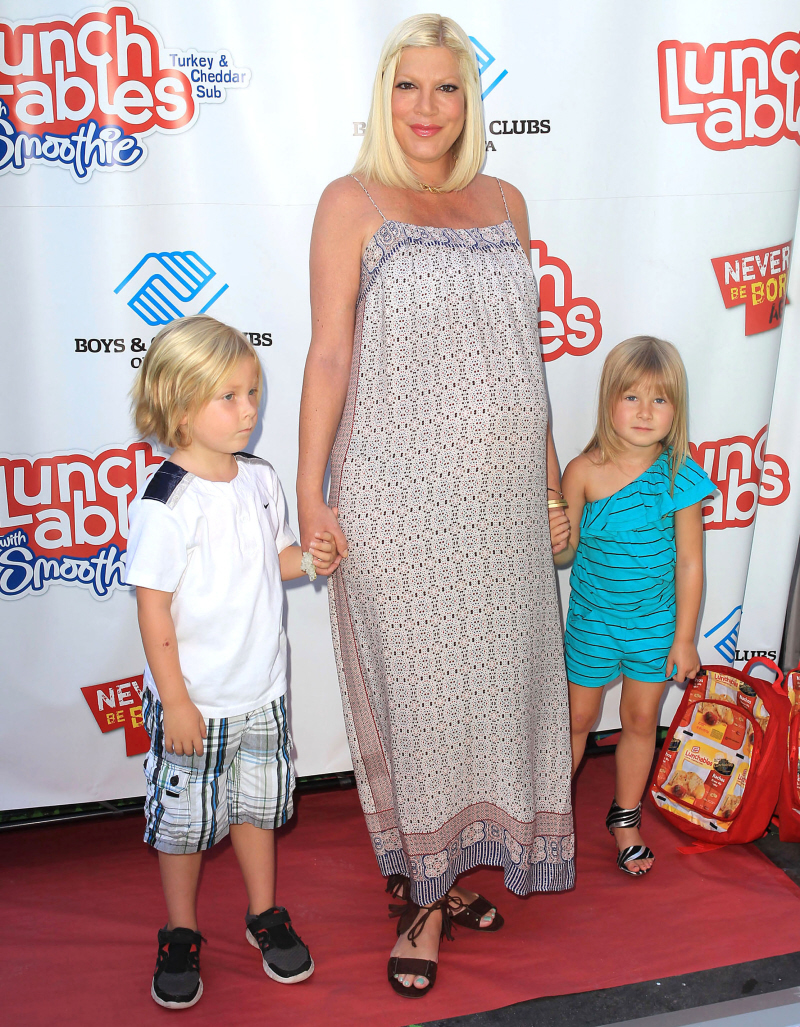 Knocked-Up C-Listers Day continues!! These are some new photos of Tori Spelling and her family supporting "the Lunchables Team and Club Kids to build a sport court at Boys and Girls Club of Burbank." As you can see, Tori is ready to pop. This is her FOURTH pregnancy, y'all. She got pregnant this (current) time just six WEEKS after giving birth to her third child. Tori recently blogged about her "bittersweet feelings" about the end of this pregnancy – you can read the essay here. I'm going to excerpt a little just because Tori made me nauseous when she leads with a little story about her pelvic bones (seriously, I might throw up):
As my 4th pregnancy is nearing the end I have bittersweet feelings. I can't wait to meet and hold my little man or lady, and definitely I won't miss having to pee 4 times a night or hearing my now pliable pelvic bones move and crunch when I try to pull myself out of bed in the morning. But, there's so much I will miss.

I'm guessing this will be my final pregnancy and that brings tears to my eyes. I love being pregnant. It's such a special time in a woman's life. I love looking at my enormous baby belly and knowing that I am doing the most important job of my life… Making life. I'm a human incubator and it is such an honor. I also love feeling my baby kick and play and move inside of me. After doing this 3 times before it still amazes me. I pull up my top every time I feel movement and gaze in awe as my belly ripples back and forth, and I can see what appears to be small rolling mountains of little hands and feet travel across my stomach. I love never feeling alone and I love how everyone smiles at a pregnant woman no matter what mood they are in. I love how everyone calls me 'mama' and how my husband rubs my belly and tells me I'm the sexiest woman he's ever seen. I also have so much fun dressing my baby bump. I usually opt for vintage and make it a mission to show myself and other preggers that you can totally look stylish at any point during pregnancy.

… I live for my children. I beyond enjoy every single moment with them. I love the big moments like watching them talk and walk for the first time and even the small things like watching them discover their toes or hearing Liam say, "Mom, mom, mom" 50 times in a row. I even love when Stella says, "Mom I pooped", and I walk into the bathroom to find her off the toilet, grasping her ankles with her naked butt in the air, awaiting a wipe.
And just like that, I resolve myself to never, EVER get pregnant. EVER. Tori Spelling is the best birth control I will ever need. I should just save this post, right? Every time I feel a bit broody and I start imagining what an Indian-Fassbender baby would look like, I need to remember Tori Spelling's crazy face talking about her pelvic bones. Ooooo noooo….
Anyway, the photos are kind of nice. I think the two older kids are definitely starting to look more like Tori and Dean both. And Tori's dress is nice – at least we're not staring at her crazy breast dents like the last pregnancy. And seriously, I hope this is her last pregnancy – she's put her body through a lot in the past few years, so at the very least I hope she takes it easy for a few years before even thinking about getting knocked up again.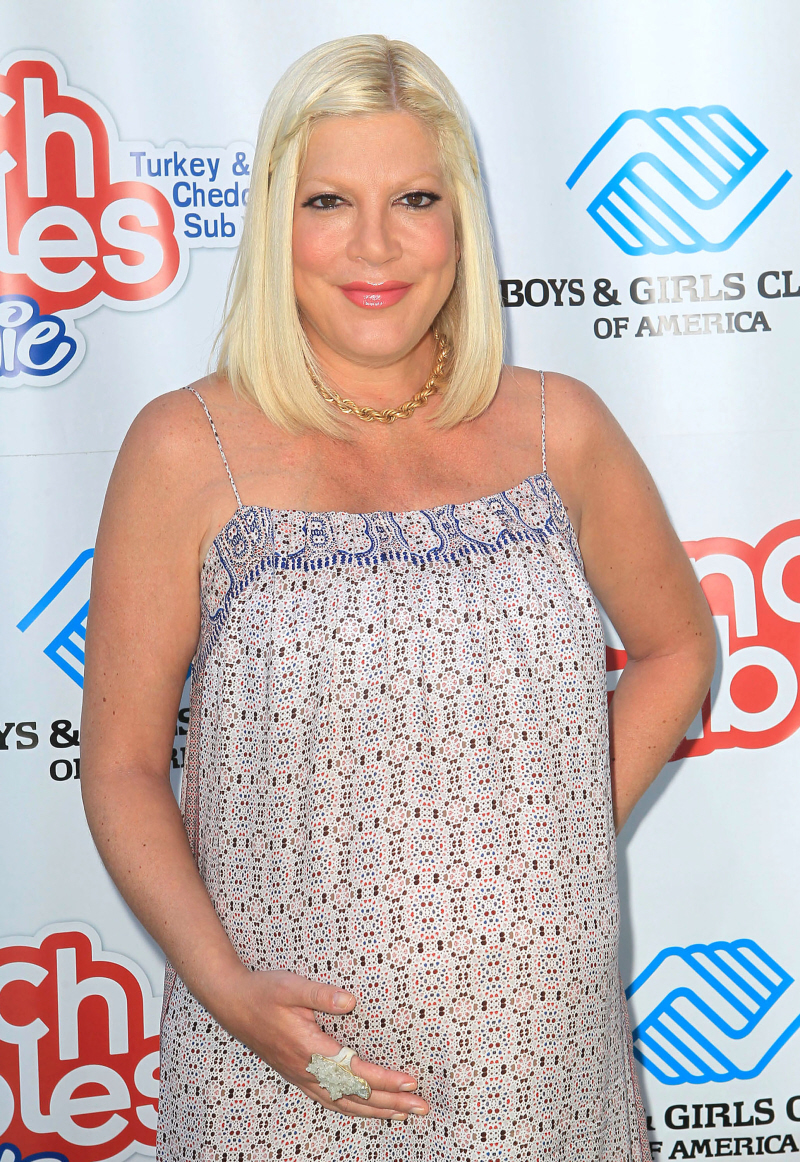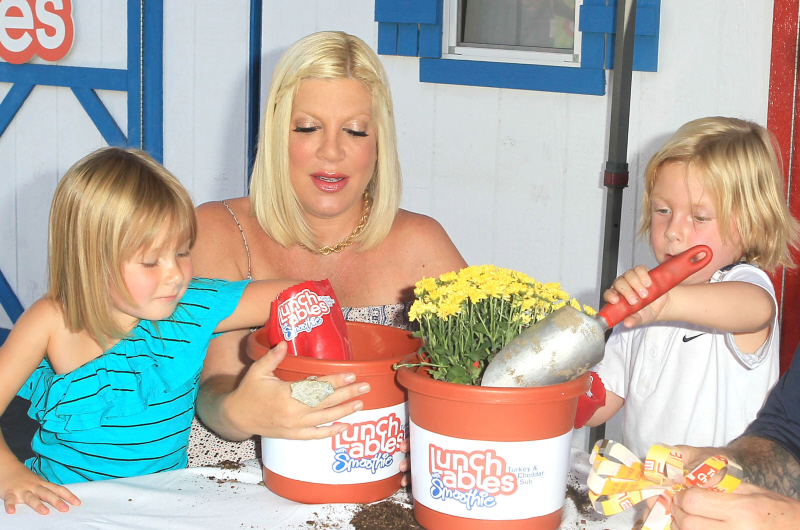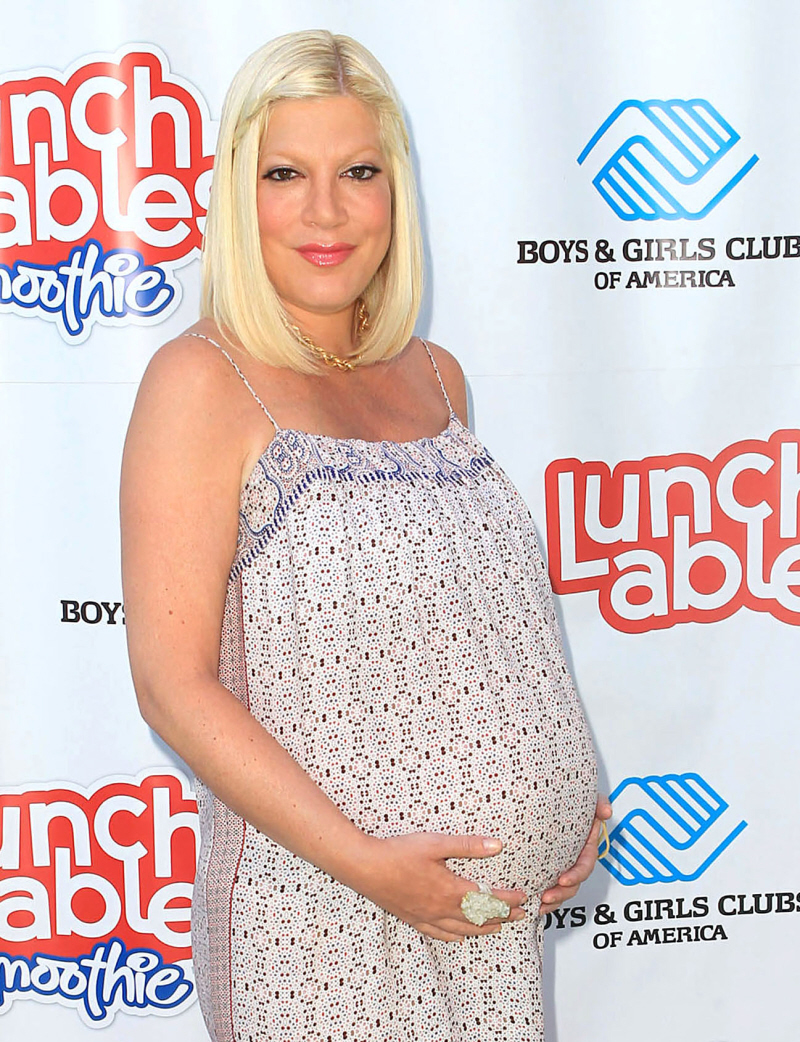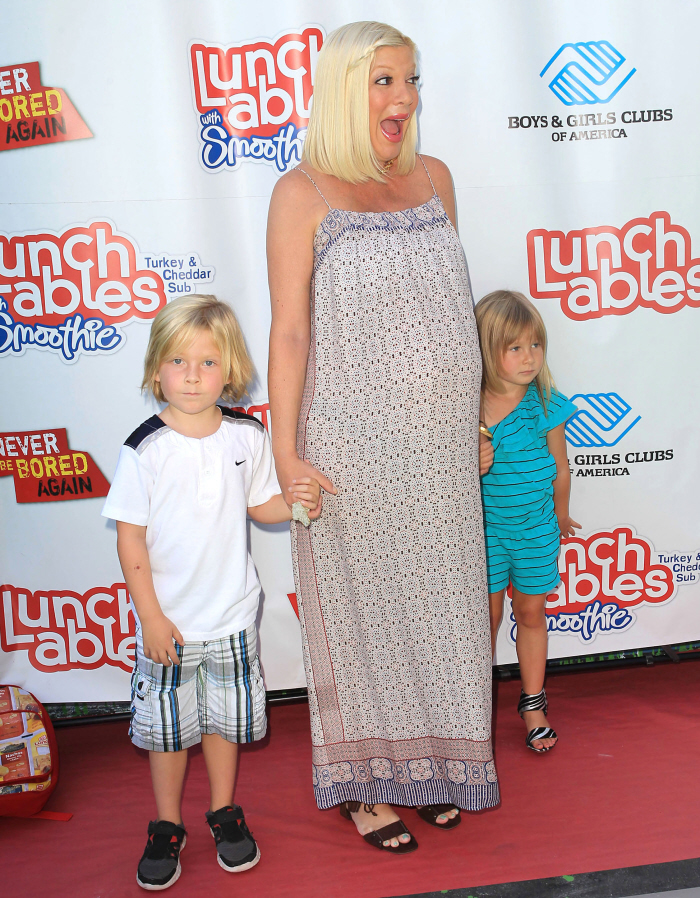 Photos courtesy of WENN.