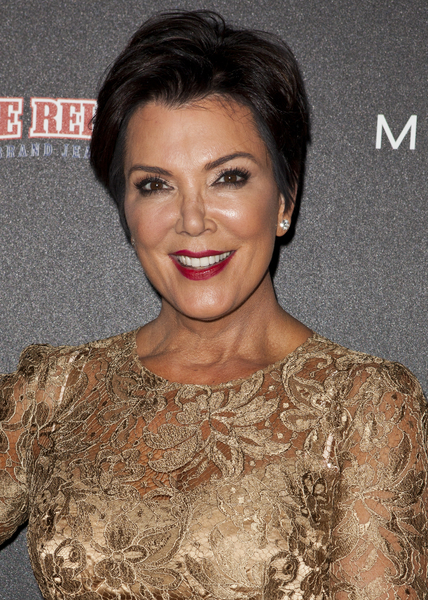 As you may know The Today Show, which is located right in NY City, decided not to air the moment of silence in respect of the 9-11 victims that other major networks aired, and chose instead to just carry on with their Kris Jenner interview. To be fair to Kris Jenner, I doubt she pulled rank and told NBC not to interrupt her segment. She probably didn't even know what was happening. This is just one example of the many epic fails that the network, and particularly the Today show, has committed recently. In response to controversy over pre-empting a solemn moment with a reality show star talking about her boob job, The Today Show didn't apologize or call it an oversight – they defended themselves. A spokesperson for NBC said "The TODAY show dedicated a considerable amount of time to September 11 coverage this morning throughout the entire show." They just don't get it, do they?
In her "more important than 9-11″ segment (sorry, couldn't resist), Kris was promoting the end of this season's Keeping up With The Kardashians by talking about her latest boob job, but it wasn't self-promotion, it was out of the goodness of her heart! (Video is here, I'm not embedding it.) Do you remember when Kris pulled focus from Kim's upcoming wedding by getting a face lift? And when she wished her son a happy birthday by tweeting a photo of herself in a bikini from when she was pregnant with him? It's all about Kris, even when she has a new grand baby. I'm just saying. Well Kris wants all the ladies out there to know that you need to switch up your implants every ten years, like an oil change for your body.
Last week's penultimate episode for the season showcased Kardashian family matriarch Kris Jenner as she shared her plans to get her breast implants replaced. Cameras even followed her into the hospital.

"I thought it was such a great idea to film that," Jenner told TODAY's Savannah Guthrie Tuesday morning. "The reason I went in and did that was because I had had my implants in for 152 years — you know, a long time, way longer than their shelf life."

Rather than looking at it the decision to air the pre-surgery footage as TMI, she considers it more of a PSA.

"You know, take them out and change them after 10 years," Jenner urged all woman with implants. "That was a big message and important for me to sort of put out there in a comical way. You know, I made fun of myself. Because at my age, you're over 50 — like, when do you stop? But it was so important, health-wise, to remind women to check your expiration date because it's a health risk."

So that footage was for the greater good. But what about all of the other times the family shared it all for the boob tube, such as those recent family therapy sessions?

"Sometimes I watch back, and I think, 'Wow, that's kind of crazy' or 'Hard to watch.'"

But ultimately, she just thinks that it's all worthwhile. After all, her job lets her work with her family, and according to the "momager," that's all that really matters.
As for the family's latest reveals, which in addition to Jenner's breast augmentation surgery, included Khloe Kardashian's concerns about her starting a family and a trip to a fertility specialist, viewers will learn how everything worked out in the upcoming season-ender.
It gets better. Kris even posed on the cover of an Australian magazine, New Idea, in her bikini, Photoshopped to high heaven of course. I guess no US publications would have her. Look at mah new boobs! I was going to spare you that photo, but I couldn't resist. It's like when you make your friend smell something nasty. You do it out of love. Here you go!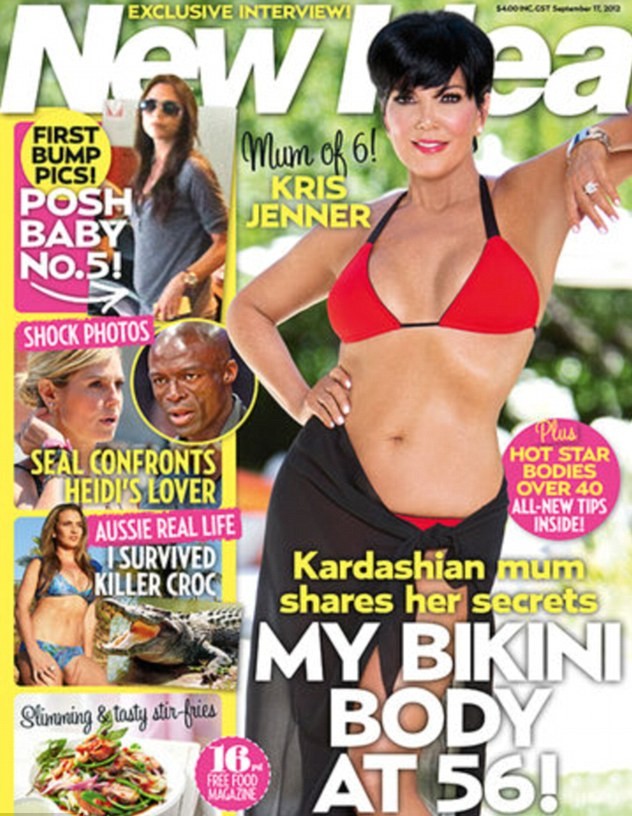 In other news about Kris, she is said to really hate Honey Boo Boo's family for daring to be so successful at a franchise she thinks she invented. Of course she does. A source told Radar "She thinks the Thompsons are classless, unlike her family and can't understand why America is so fascinated by them." How dare that family get such high ratings and exposure when they're driving cars that cost less than Karsashian purses? In response, Honey Boo Boo's mom June just kind of shrugged and said "Oh well you know it's just like any kind of critic you can't make everybody happy all the time." Somehow Mama June is classier than Kris Jenner, isn't she?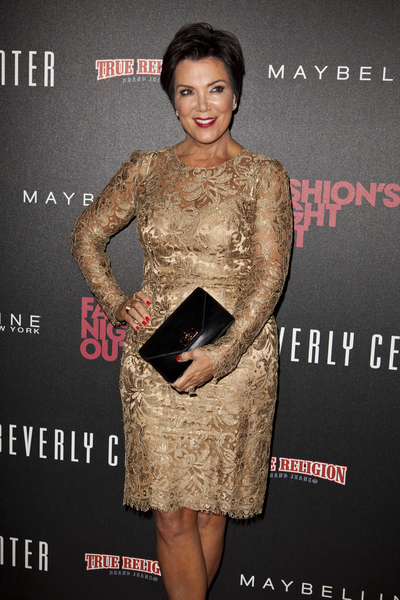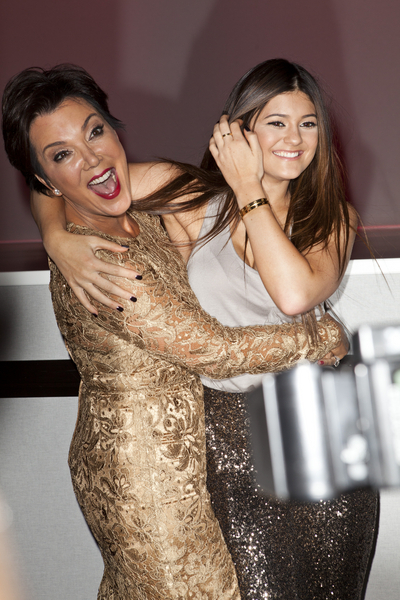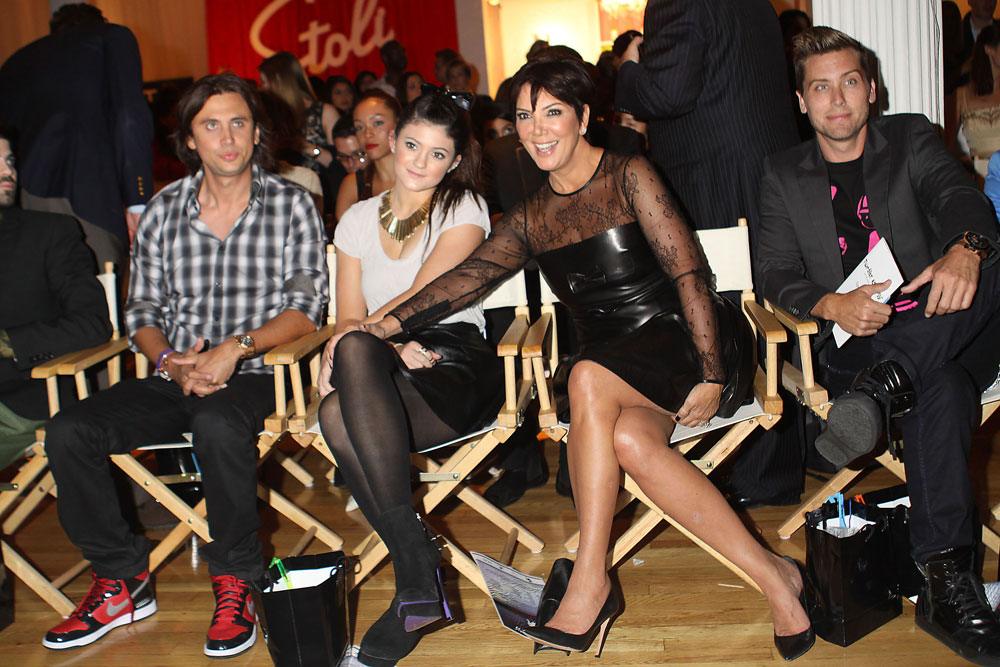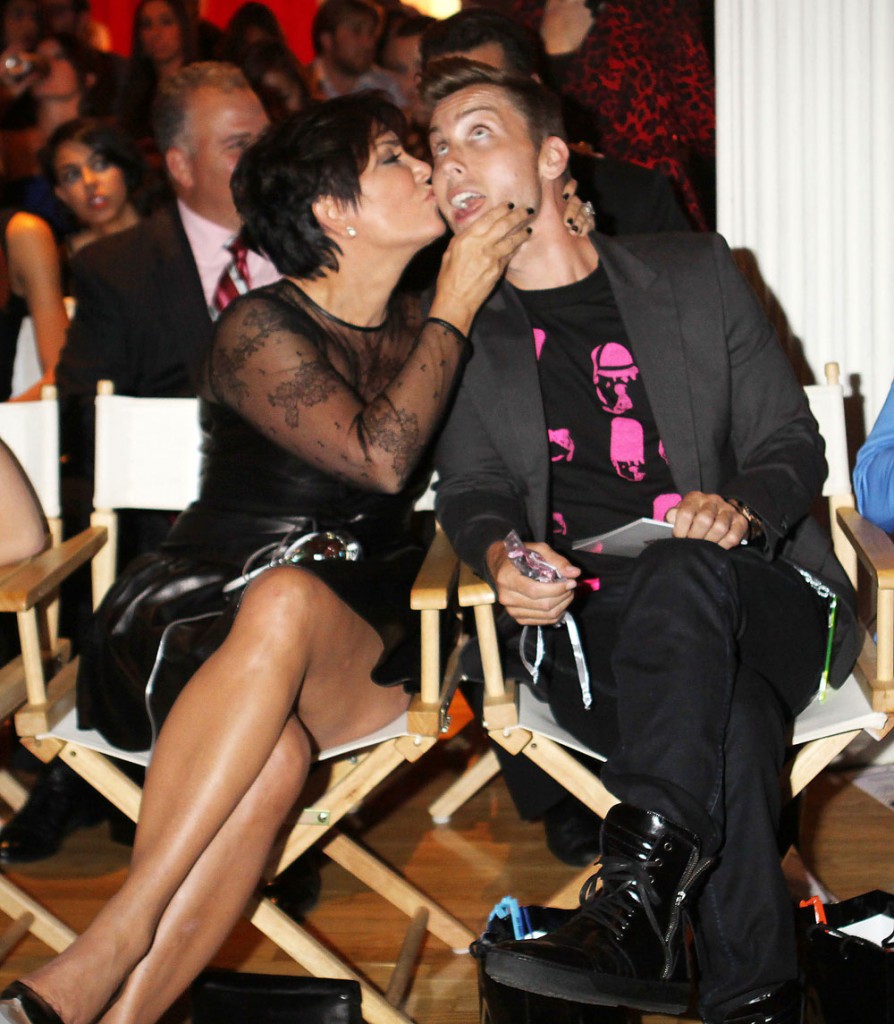 Photos of Kris and Kylie are from 9-6-12, credit: Emiley Schweich / PR Photos. Photos of Kris at Fashion Week kissing Lance Bass are from 9-11-12, Credit: Michael Carpenter / WENN.com