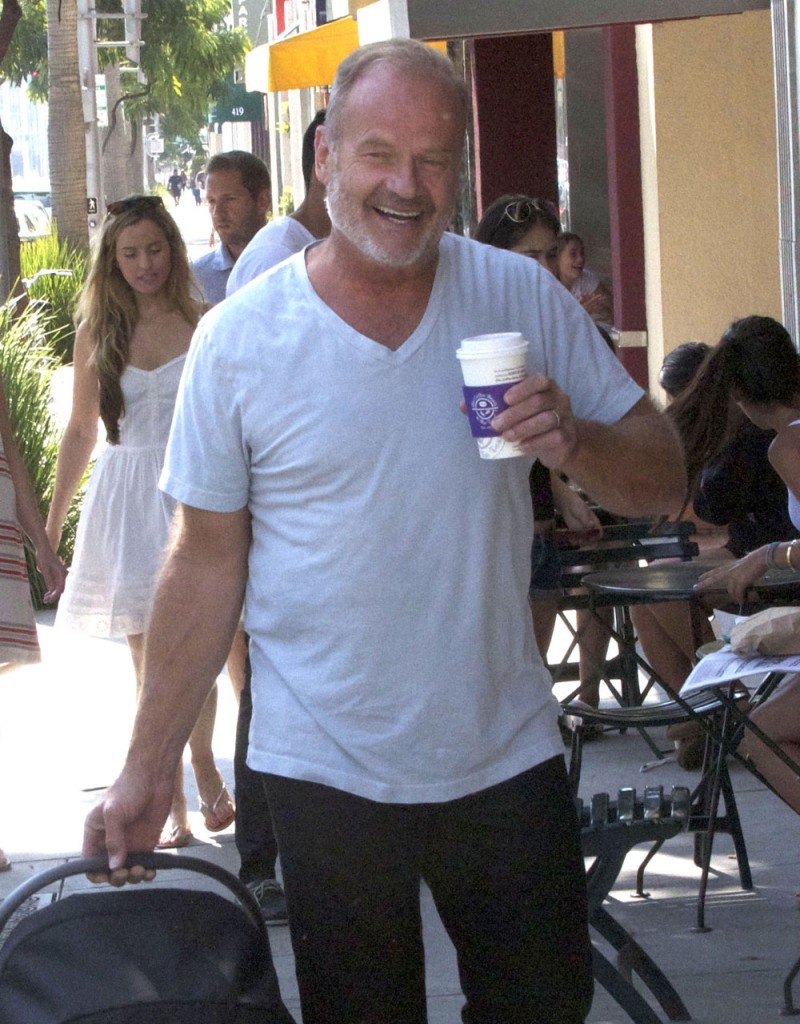 Kelsey Grammer is a touchy one. He seems to bring up his ex wife, Camille Grammer, in just about every interview. He refuses to say her name outright, but he'll trash talk Camille and dismiss his other baby mamas at every chance. His current wife is so much more worldly and smart than any other woman he's been with because she's British and used to work as a stewardess instead of the strippers he normally finds. Plus she told him outright that she wanted to marry him and have his money babies, and she's the first gold digger without a poker face he's ever encountered!
That's why it's so ripe that Kelsey Grammer refused to go on the Piers Morgan show when he saw that a photo of his ex wife, Camille, was set to air as part of the lead-up to the show. It must sting to have to see her face after that $30 million dollar payout he just handed her.
Kelsey Grammer allegedly just stormed out of CNN's studios in NYC moments before his scheduled interview with PIers Morgan — and according to Morgan, it was all because producers aired a pic of Kelsey's ex-wife at the start of the show.

Morgan took to Twitter to explain Kelsey's absence tonight, writing, "Kelsey Grammer was supposed to be on my show now but ran out of the building. Strange."

He continued, "Kelsey Grammer saw a photo of his ex wife Camille in the open to our show and legged it. Extraordinary. Never had this happen before."

"I had a very friendly chat with Kelsey backstage. He said he was really looking forward to the interview. Weird."

He added, "I like Kelsey Grammer personally, but this was a shockingly unprofessional thing to do. I wasn't even going to mention his ex-wife!"

Kelsey's rep responded in a statement, saying, "Piers needs to take responsibility for what he did to Kelsey. It's called accountability."
I don't get it. Like maybe Piers agreed not to talk about Camille and Kelsey thought they weren't going to honor that agreement or something. Kelsey's rep seems to suggest that. It's still very unprofessional, as Piers mentioned, and immature. That's Kelsey for you. He has this air of sophistication in his voice and inflect, until you actually listen to the crap he's spouting and watch how he behaves. He's a vindictive person and must be hard to live with. Kayte is earning her money, and probably didn't know what she was getting into – not that I feel a smidgen of sympathy for her on any level.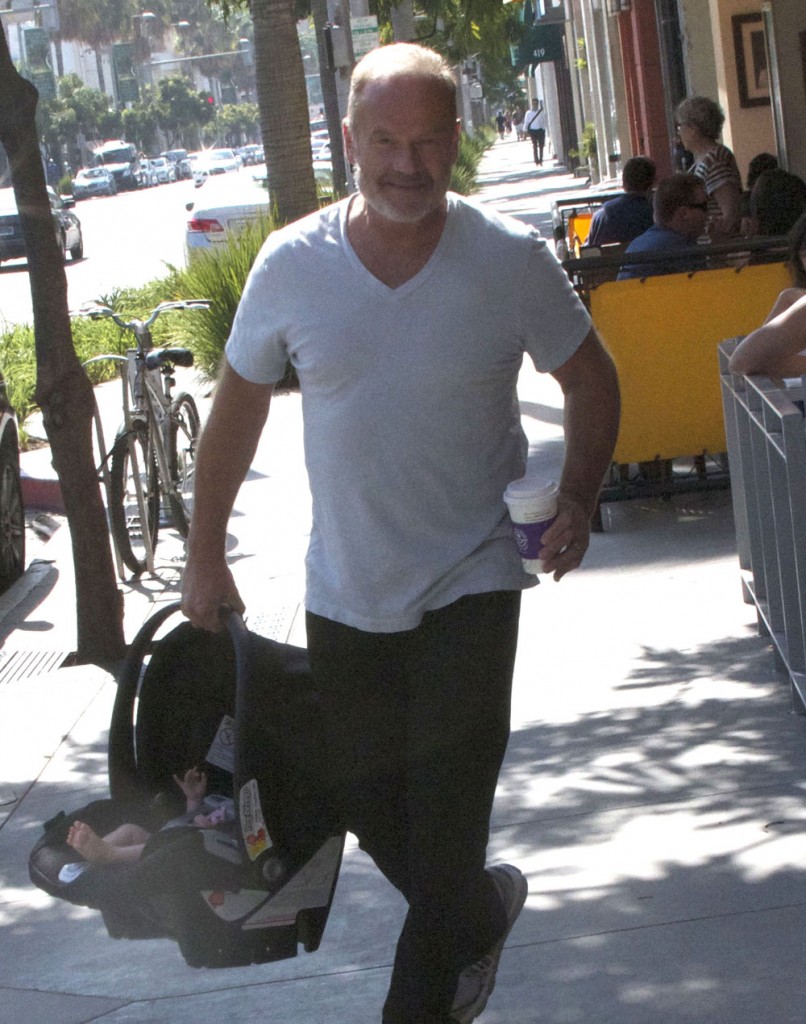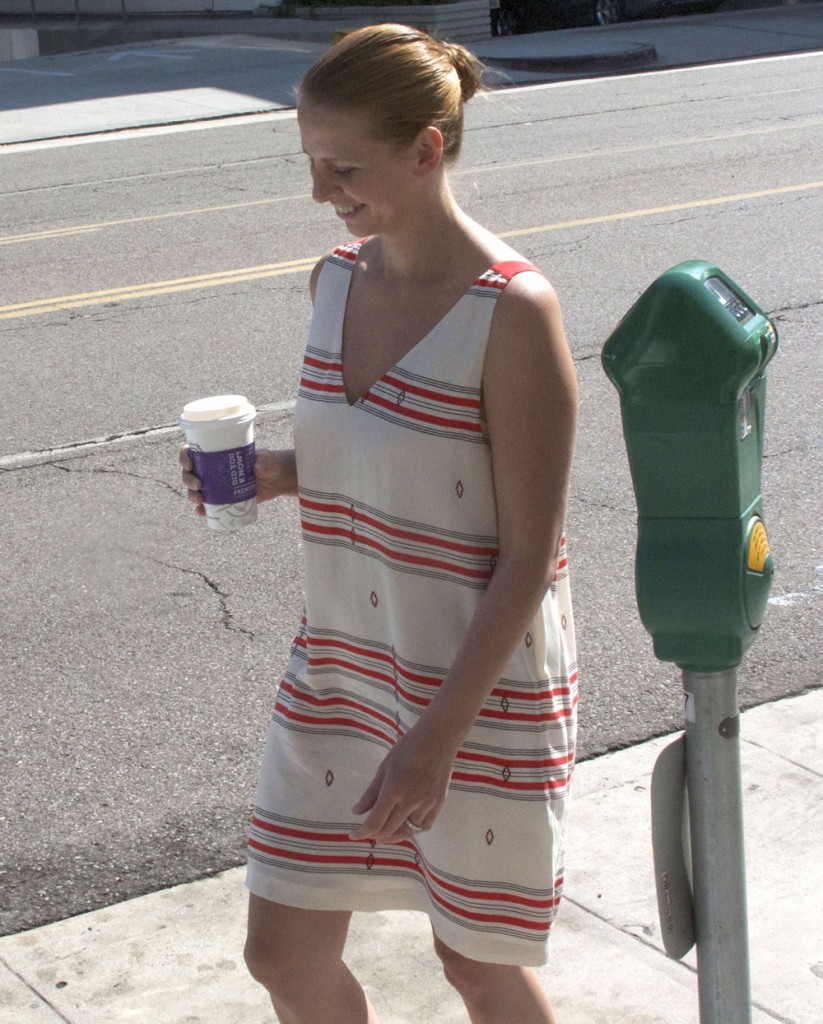 These photos are from 9-16-12. Credit: FameFlynet