Is Kate Hudson worried she won't be as good as Gwyneth Paltrow on 'Glee'?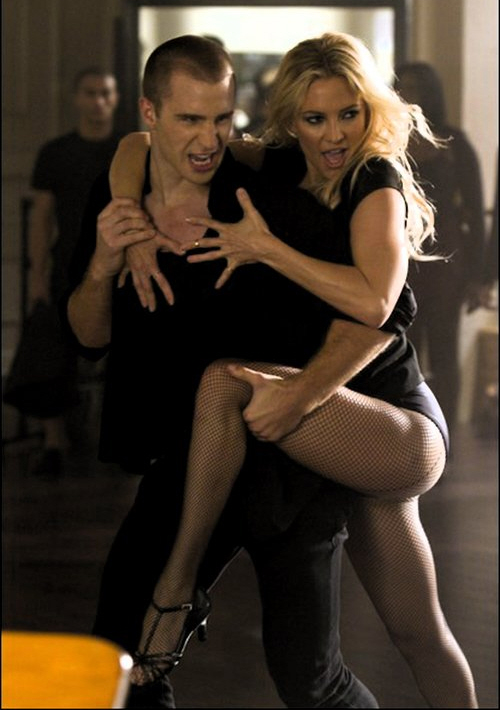 Kate Hudson is trying to change up her career a little bit this year. Instead of wallowing in her persona as the "Rom-Com Blonde," Kate has taken a six-episode, guest-starring role in Glee. I thought it would just be a chance for her to sing and dance, but her character seems to be something of a maniacal alcoholic who is out to get Lea Michele's character. As such, I would expect Kate to, you know, look kind of rough. I mean, "acting," you know? But the Enquirer claims that Kate was upset with just how rough she looked in her first episode, so she demanded a better makeup person:
Kate Hudson was so freaked when she saw her face on "Glee" she paid her own makeup artist to fix it up, say sources.

"Kate thought she had what she called 'Hollywood face'," an insider told The Enquirer. "She complained that her makeup was over the top, and she looked more like a wax statue than a person!"

Kate signed on for a plum six-episode guest gig on "Glee," playing an alcoholic dance instructor riding roughshod on Lea Michele's character Rachel. But when Kate saw her face on the small screen during the season premiere, she lost it, revealed the source.

"Kate was horrified by how she looked," the insider said. "She usually plays the romantic lead in movies, which means everyone works hard to make her look flawless. But on Glee, it's not all about her. Besides that, producers wanted Kate's character to look icy and over the top, and that's exactly what they got. Kate got the OK to bring in her own makeup artist and paid the tab herself. It was worth it to her to look her best. Everyone on the show wants her to be happy, but most of the team thought she was being ridiculous."

Kate's also desperate to measure up to Gwyneth Paltrow, who won an Emmy for her 2011 guest gig on Glee. "Kate loves singing and dancing, and she's jealous that some reviewers have compared her less than favorably with Gwyneth," said the insider. "She's out to prove that anything Gwyneth can do, she can do better."
[From The Enquirer, print edition]
I'm not offended that Kate wanted to look her best. I'm offended that "looking her best" wasn't authentic to the character, but Kate is so superficial and NOT-Method that she just wants to always look good, even if she's playing a hard-worn alcoholic. I'm sure Kate's hair is perfectly bouncy and her skin glows and her body looks tight… and so how are we supposed to know her character's hidden demons? Let me guess. Kate's character announces that she's an alcoholic? Glee writers and expositional dialogue? While I never!
As for the comparisons to Gwyneth… you know what? I actually like Kate Hudson more than Gwyneth. And Gwyneth's Glee thing became increasingly insufferable.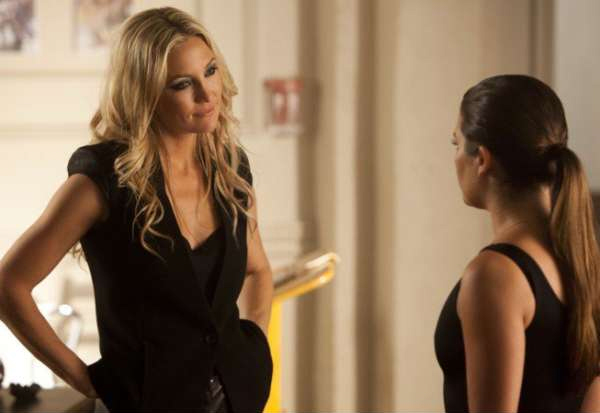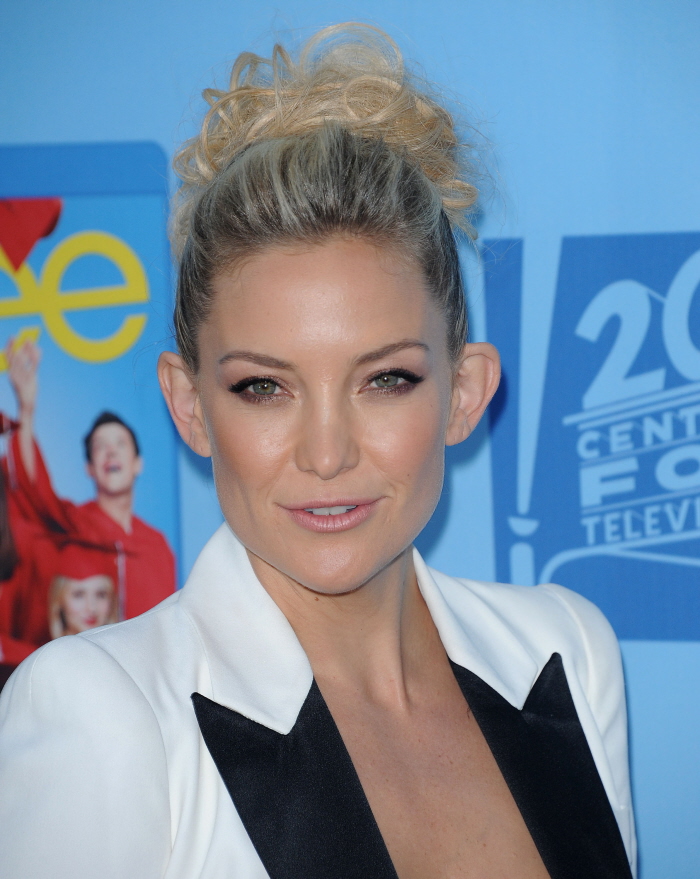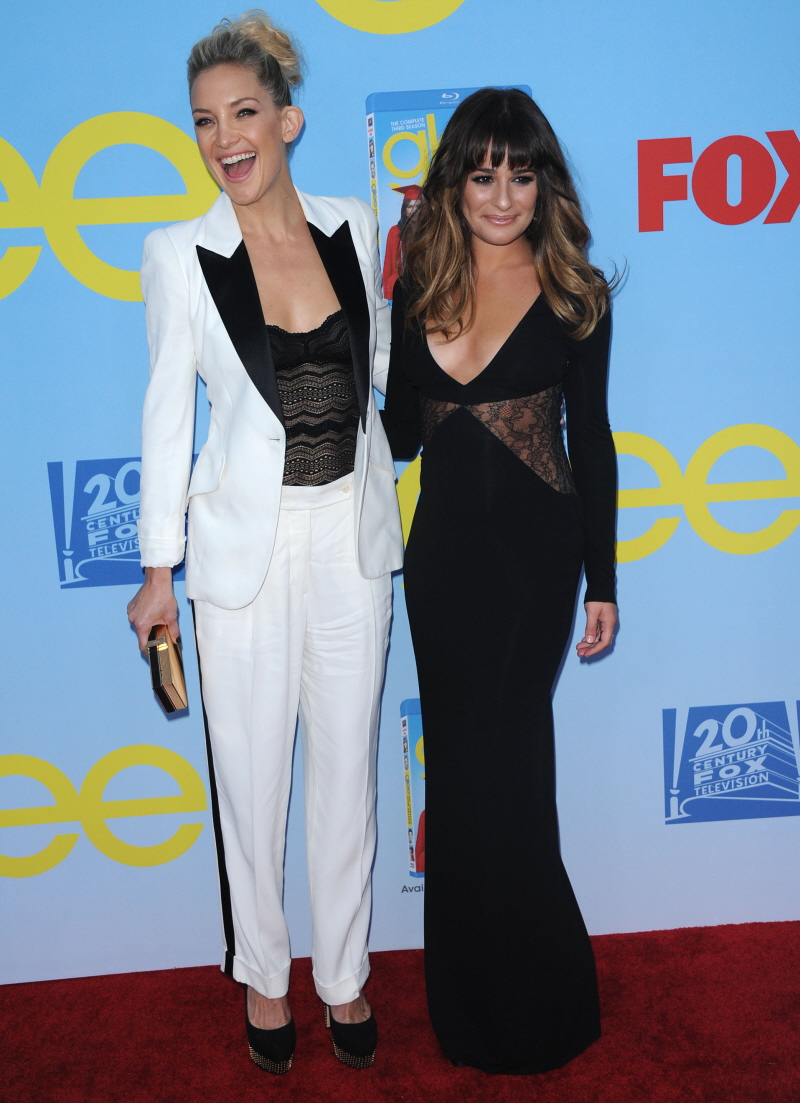 Photos courtesy of Fox/Glee and Fame/Flynet.

Written by Kaiser

Posted in Kate Hudson

- Friends reunion on Ellen [Popsugar]
- Lindsey Vonn watches Tigers kids [Lainey Gossip]
- George Michael fell out of a car going 70mph [D-Listed]
- Real Housewives of Orange County recap [Reality Tea]
- New Man of Steel trailer [Pajiba]
- Jared Padalecki's hot bod [Buzzfeed]
- Doctors confirm Taylor Swift's new boobs [Evil Beet]
- Catherine Zeta-Jones finished treatment [CDAN]
- Anna Paquin hates the paps [Celebslam]
- Lance Armstrong is gross [The Blemish]
- What is Barbara Palvin wearing? [Moe Jackson]
- This is Petra Nemcova? [SVC]
25 Responses to "Is Kate Hudson worried she won't be as good as Gwyneth Paltrow on 'Glee'?"