Kim Kardashian goes braless in a Lanvin sheet-dress: trashy or sexy?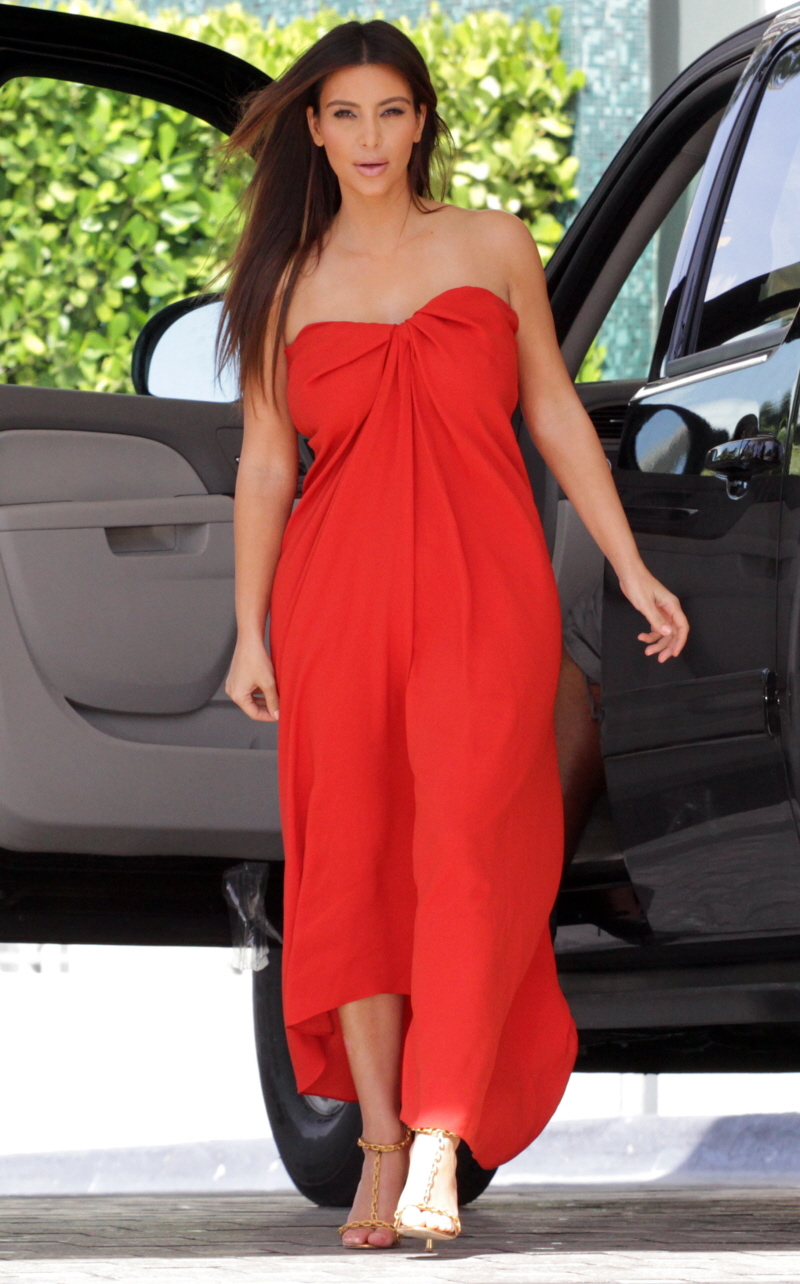 These are photos of Kim Kardashian in Miami on Friday. Her dress is Lanvin. It looks like a bedsheet, doesn't it? I can't believe this dress was actually "designed" by someone when it looks more like the imperfectly perfectly-draped sheet of a torrid night of passion in some B-rated sex drama. Anyway, I know the dress is Lanvin because Kim helpfully identified it for us in a blog post.
I love this flowy Lanvin dress with my favorite Tom Ford heels. I'm sure some blogs will say I'm pregnant because the dress isn't butt-tight, but I'm in Miami, it's hot and sometimes a girl just needs a gorgeous, light, loose-fitting dress! Xo
[From Kim Kardashian's Celebuzz page]
First of all, she's just begging us to speculate, right? Like, she's actively hoping that everyone will be like, "OMG PREGNANT. YEEZY BEH-BEH." Which is funny because I've actually been wondering if Kanye West hasn't dumped her. He was at Paris Fashion Week without her, maybe because he didn't think he would be taken seriously if he brought Kim around. Which is just funny. And that was coming out at the same time as Kim was giving magazine interviews about wanting to get married again. I feel like she might be clinging to 'Ye. Let's see how that plays out.
But the second thing I want to discuss, and the real reason I'm writing about these photos is because of Kim's boob situation in this dress. Seriously, I don't think she's wearing ANYTHING under that bedsheet. And let me just say… I'm built like Kim (only I'm all natural). Going braless with a dress like this is really, really… gross. I feel strongly about not forcing people to look at my braless chest in public. That's just MY sense of decency. For Kim, though… I don't know. Does she think it's sexy? If I was a dude, I guess I could be into this. But seeing as how I'm a large-breasted woman, and Kim herself referenced the heat, all I can think about is Kim's boob sweat. And how she must feel extra sticky in that dress, in the Miami heat, with nothing on underneath. I hope the girl powdered. I KNOW she tweaked her girls before she got out of the car. Either that or she had the air conditioning on full-blast, and she had the vents pointing at her boobs.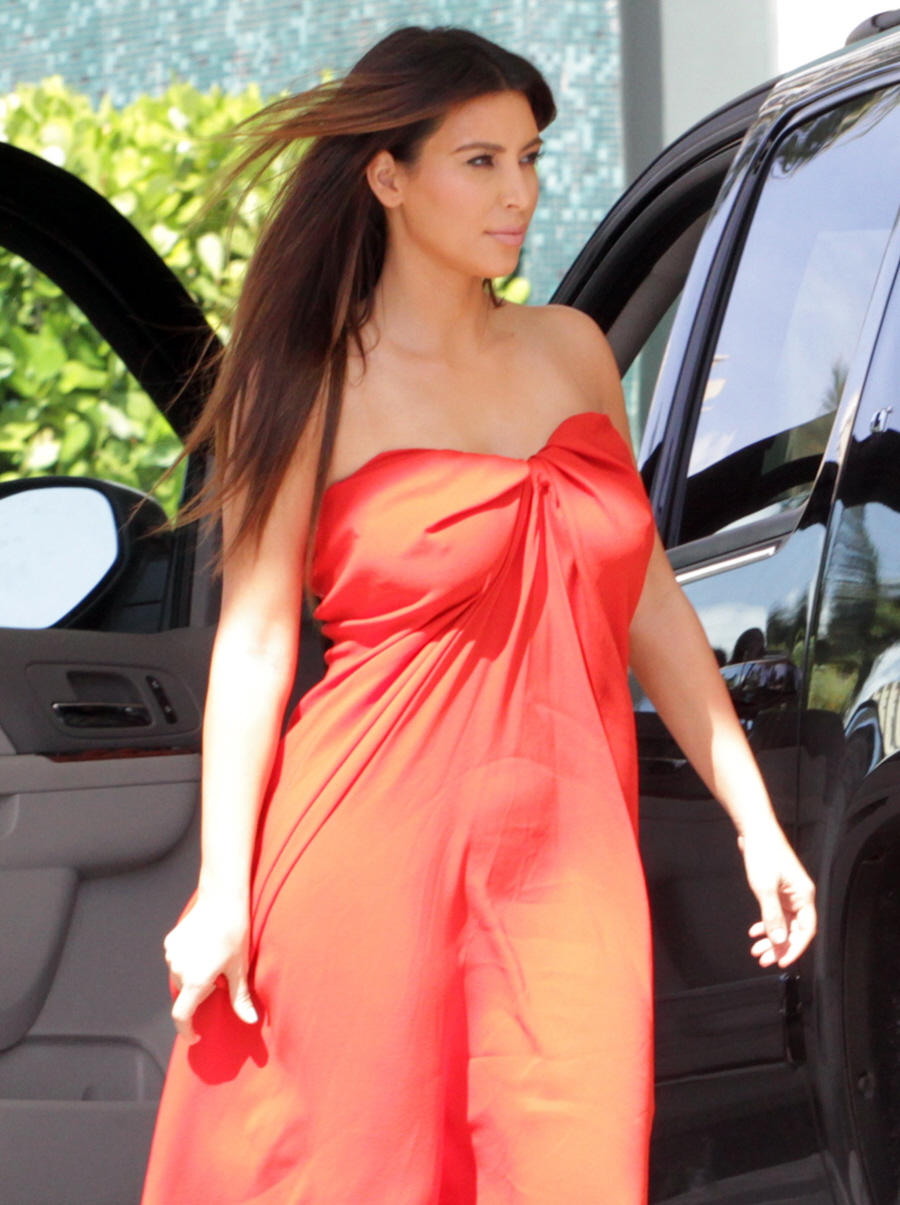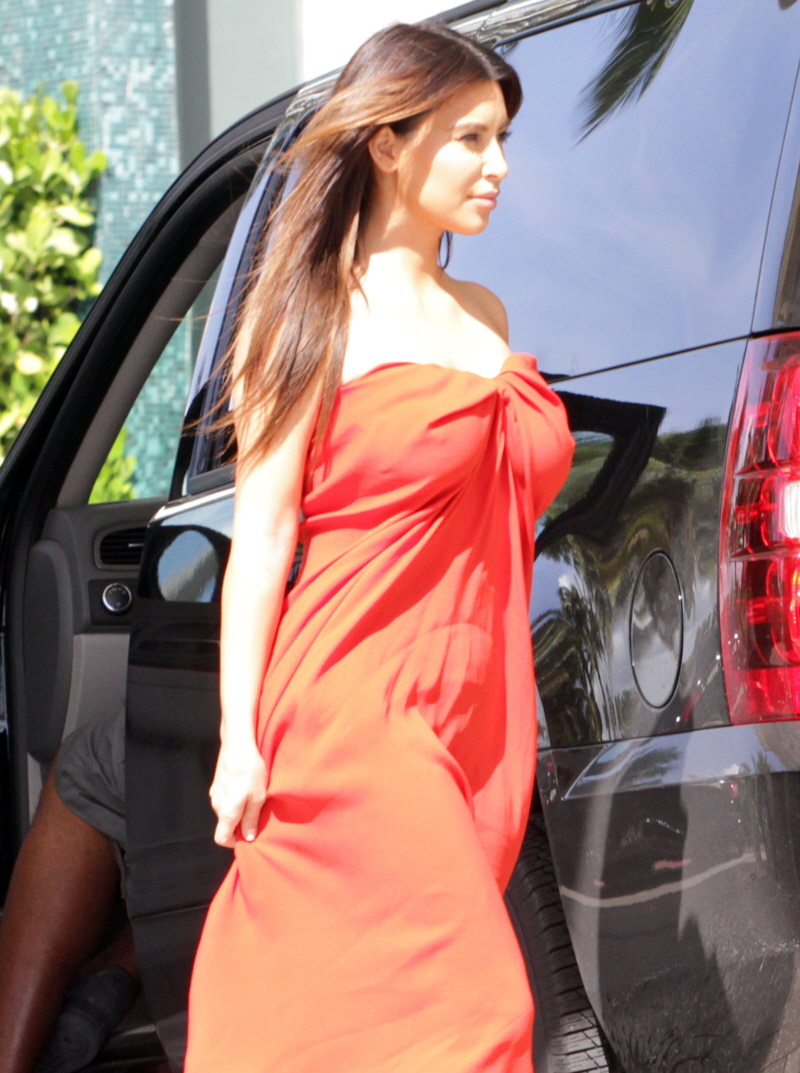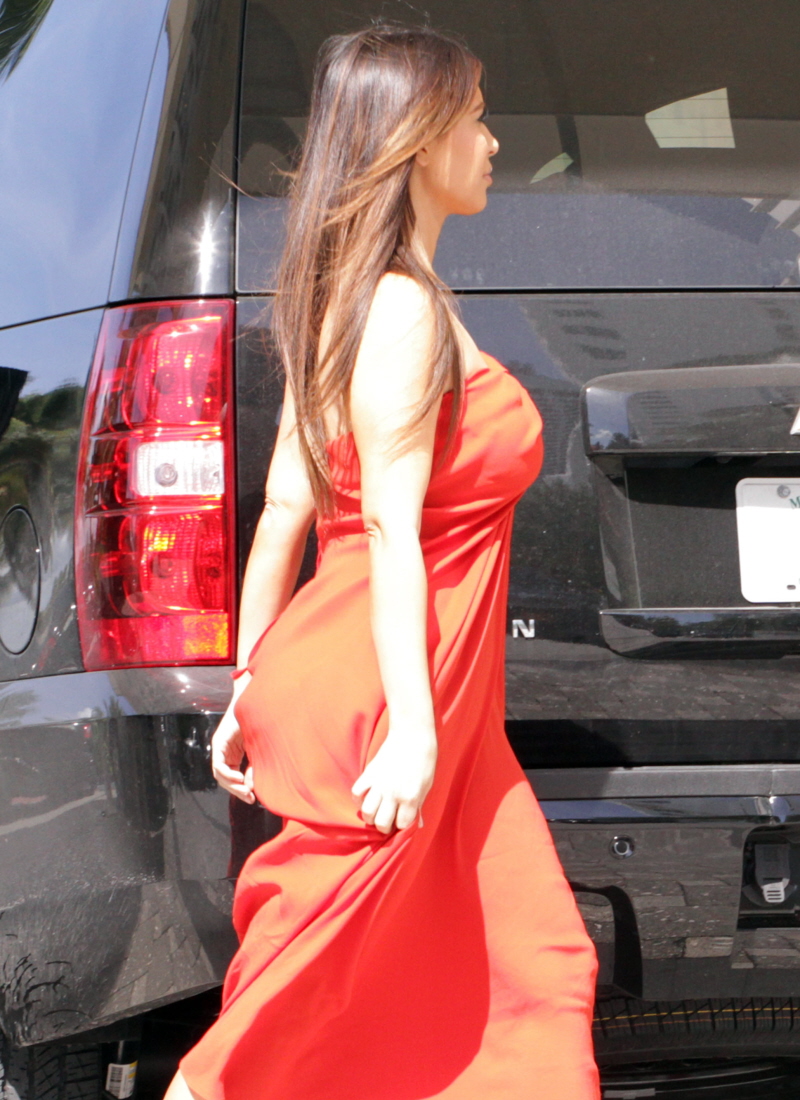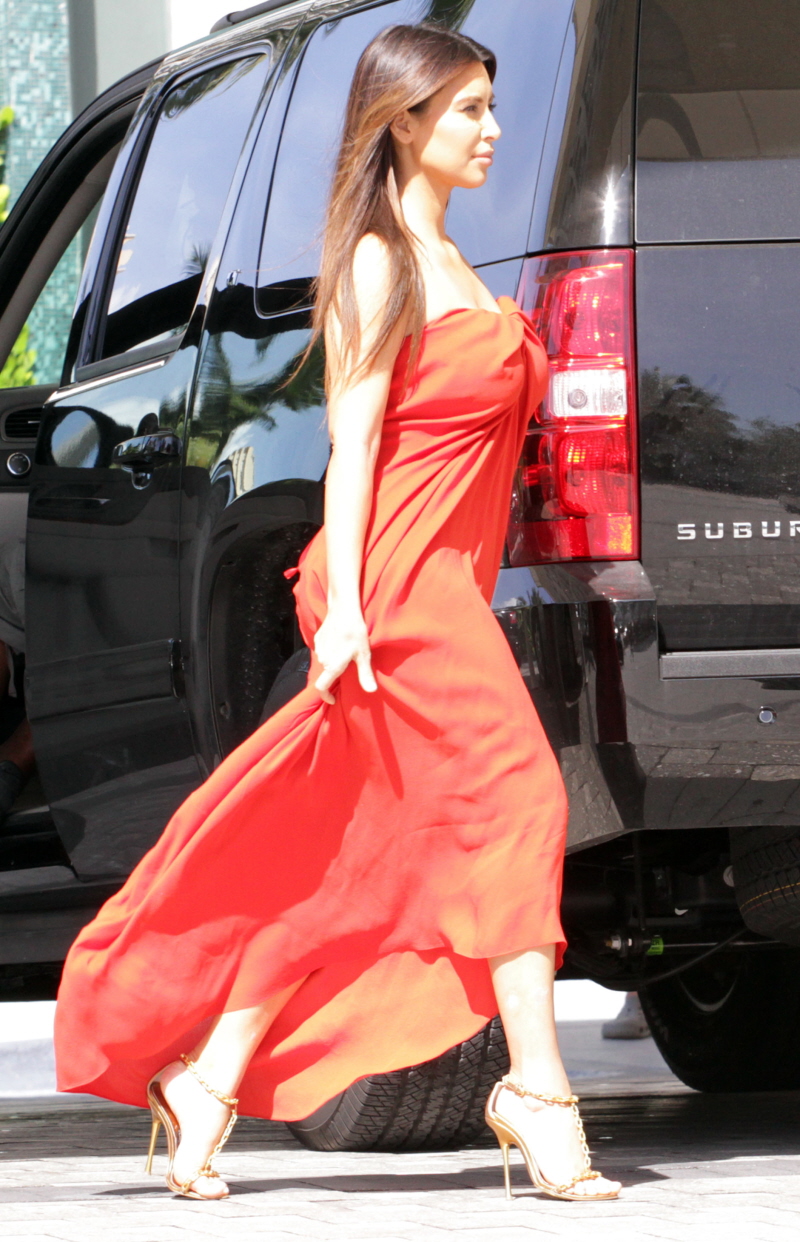 Photos courtesy of Fame/Flynet.

Written by Kaiser

Posted in Fashion, Kim Kardashian

- Who butchered the National Anthem? [D-Listed]
- Rob Lowe never ages [Lainey Gossip]
- What is Vanessa Hudgens wearing? [Go Fug Yourself]
- Summer guide to reality TV [Reality Tea]
- Game of Thrones recap [Pajiba]
- Tan Mom's music video [Buzzfeed]
- Amanda Knox is broke [Starcasm]
- Backstage at the Billboard Awards [Popsugar]
- Miley is still stuck in the 90s [Popoholic]
- Blind Items revealed: Adam Levine [CDAN]
- Hugh Hefner bought Crystal Harris a house [Celebslam]
- What happened to Aimee Teegarden? [The Blemish]
102 Responses to "Kim Kardashian goes braless in a Lanvin sheet-dress: trashy or sexy?"