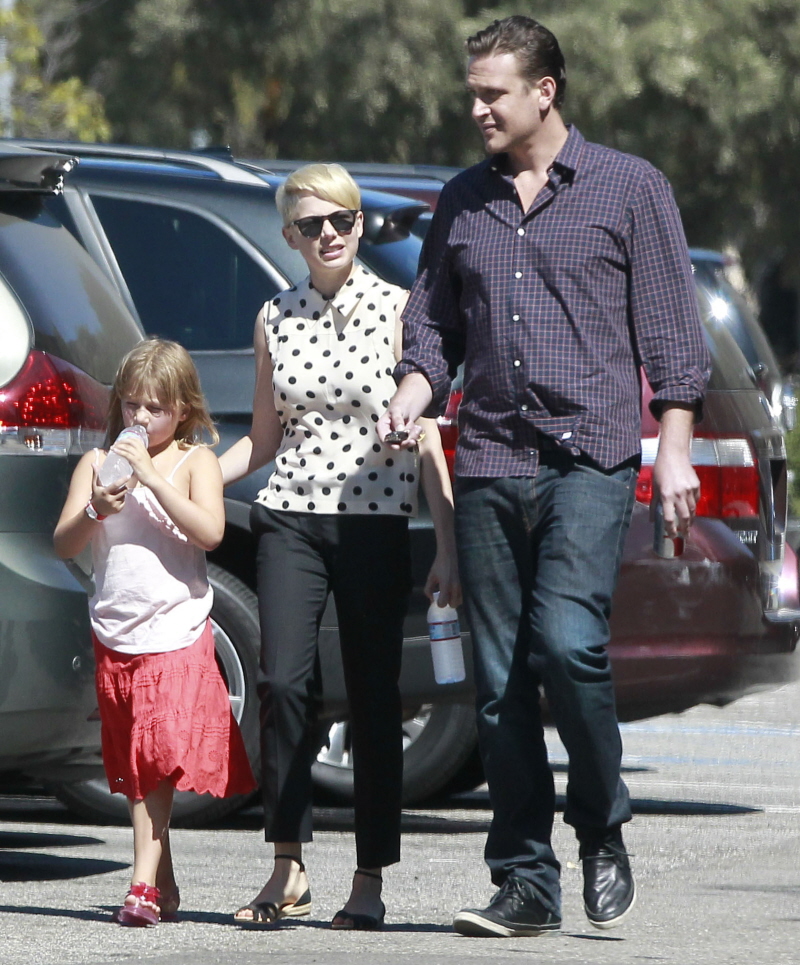 Over the summer, it felt like we were inundated with photos of Michelle Williams, Jason Segel and Matilda Ledger. They were in New York and LA, back and forth, back and forth, and suddenly they seemed like an incredibly tight little family unit. There were even widespread reports that Jason had actually proposed to Michelle, although we still haven't seen anything about confirmed by anyone reputable. Now The Mail claims that Michelle and Jason are definitely taking the next step… they're buying property together! That does come before engagement these days, doesn't it?
She had kept the memory of Heath Ledger alive by staying in the house they shared with their beloved daughter. But Michelle Williams is finally moving on from her lost love after leaving the Brooklyn brownstone she bought with the tragic star – and has set up home with her boyfriend, actor Jason Segel.

The Oscar-nominated actress, 32, and Jason, also 32, have moved into a sprawling loft overlooking the Manhattan skyline, MailOnline can reveal. The Brooklyn property, which is situated in a stunning converted warehouse behind gates, marks a fresh start for Michelle, who still owns the house she first bought with Heath in 2005, when their daughter Matilda was a baby. Jason has already been spotted outside their new home with Matilda.

A source said: 'Michelle, Jason and Matilda seem very happy here, the building is beautiful. They've been here a few months now and they look right at home.'

Michelle and Heath bought their brownstone for $3.6 million, but it now believed to be worth up to $4.2 million. The petite blonde was left devastated following Heath's death in January 2008 from a drugs overdose – five months after they had separated. She has since concentrated on raising Matilda, who will celebrate her seventh birthday on Sunday.

Despite a few short-lived romances, Michelle – who won an Oscar nomination this year for her portrayal of Marilyn Monroe in My Week With Marilyn – has remained largely single since splitting with Heath. However, she started dating Jason, best known for starring in TV comedy How I Met Your Mother and big screen hits including Knocked Up and The Muppets, earlier this year. The couple are believed to have met through Michelle's best friend – and Jason's former Freaks and Geeks costar – actress Busy Philipps.

Friends of Michelle said they had never seen her happier – while Jason told Parade magazine in March: 'I don't want to have a girlfriend for the sake of having a girlfriend. I have no desire to pick a random girl.

'I want the right girl. There are plenty of opportunities, but I would rather have the right one.'
I approve. Not that they're asking for my approval or anything, but I do think this is a step in the right direction, a healthier direction for Michelle. During her Oscar campaign last year and into this year, I kept getting the feeling that Michelle still feels like she's very much living with Heath Ledger's ghost. I don't mean that in the supernatural way, I mean that in the "she idealized him in death to make him some perfect, untouchable man which no living, breathing man could ever hope to compete with" way. Plus, there was the whole Revirginization of Michelle, which went over like a lead balloon (at least with me). So, it's nice to see her with a steady boyfriend, moving on physically and emotionally.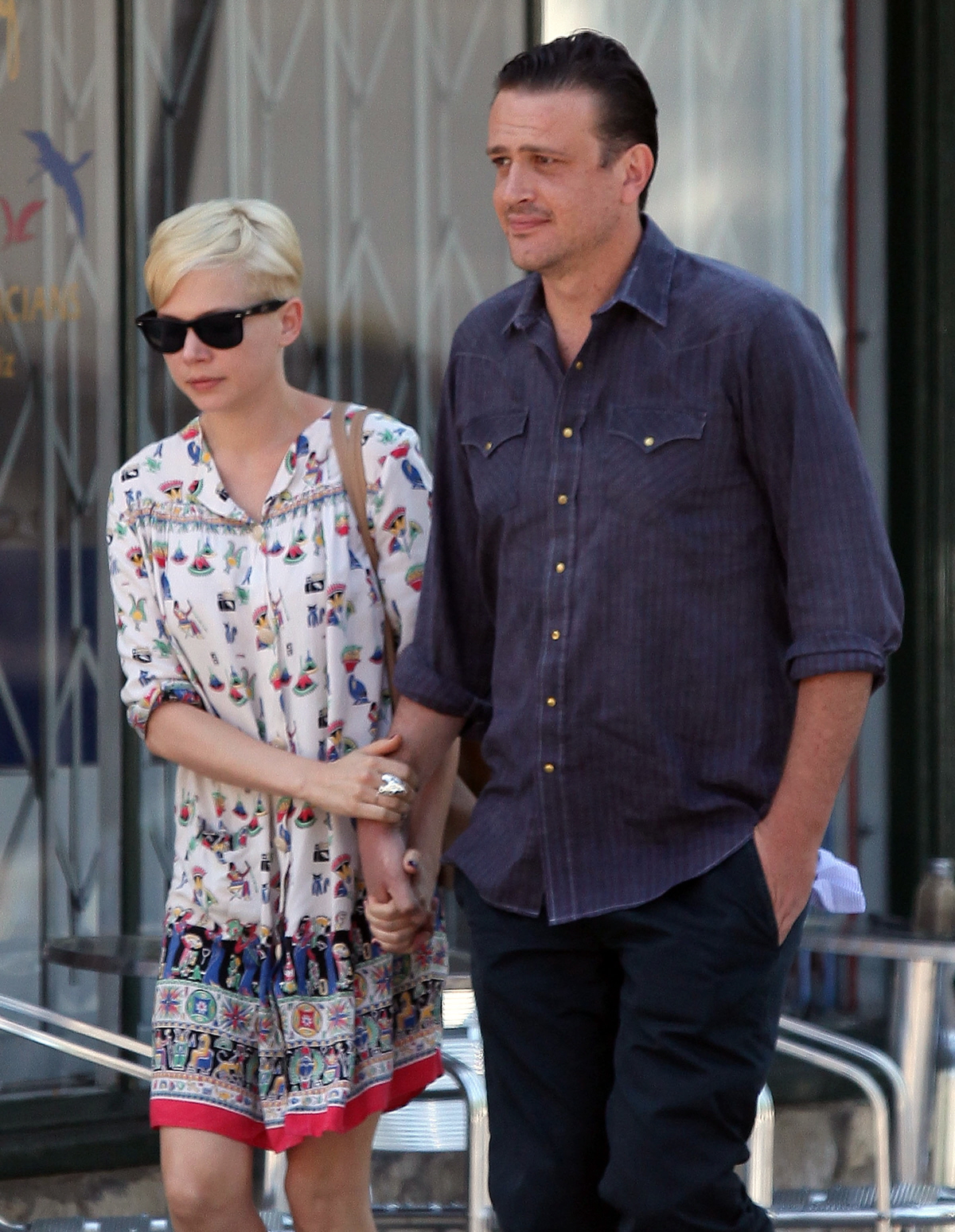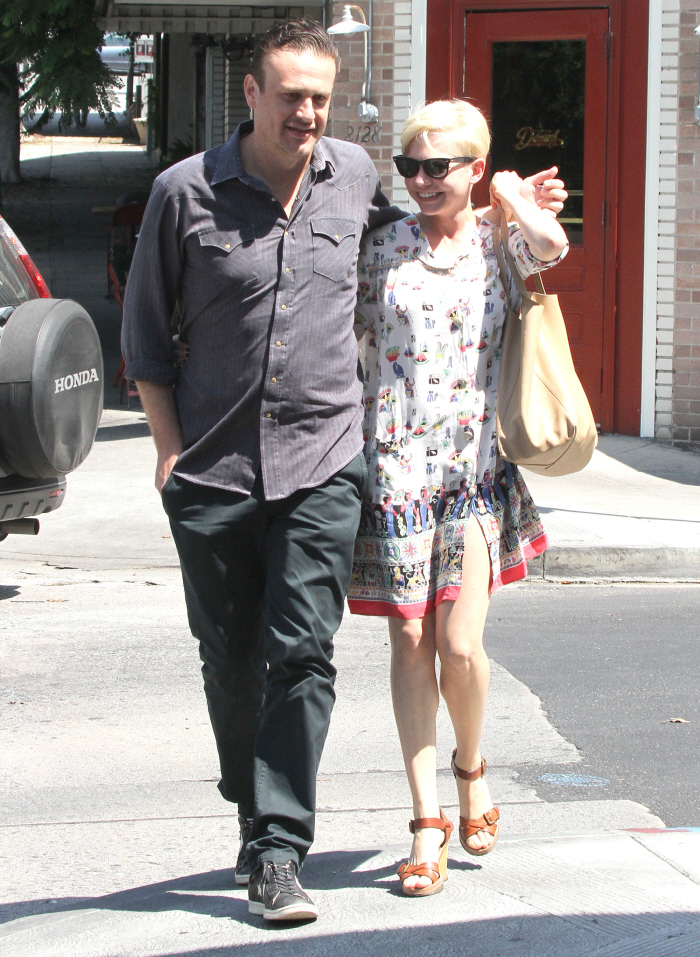 Photos courtesy of Fame/Flynet and WENN.