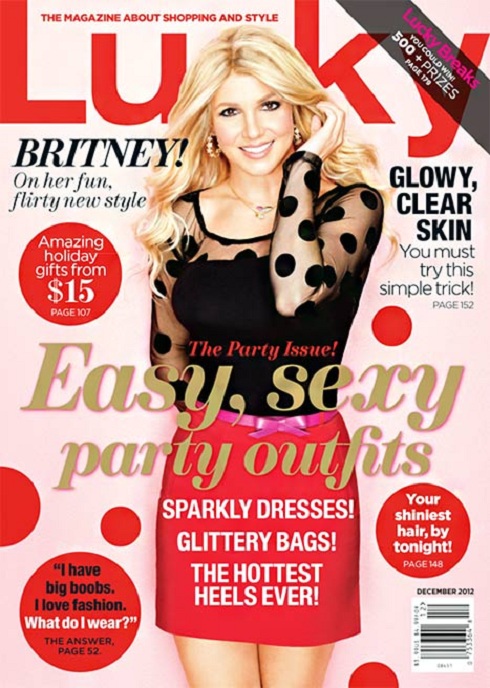 Does that image above look like Britney Spears at all? Like if you just saw this photo on its own, would you realize who it was supposed to be? I'm not sure I would. On the December issue of Lucky Magazine, Britney looks like a different person, and she's obviously wearing a really cheap wig that's giving her Teresa Giudice's hairline. Someone Photoshopped the features on Britney's face so much we can't recognize her, and one of her eyes looks bigger than the other, right? Well Lucky Magazine may realize that their Photoshop artist did a hack job on Britney, and they received enough negative feedback about it that they've actually apologized, via Twitter. This is surprising. Here's what they wrote:
Thank you all for sharing your thoughts on our cover! As always, we will share with our team and we're sorry to have let some of you down.
That was a decent way to handle it. They stayed detached and upbeat, but acknowledged they made a mistake. As for the interview itself, it wasn't super interesting, but Britney did give some nice quotes. She said her fiance, Jason Trawick, is cool with her sitting around in her sweats when she's not working. We've seen her casual looks when she does go outside, it's got to be similar when she's at home. She also said she loves makeup and that she hate socks. Remember when she went around wearing the same boots for a whole season?
On the perks of being a mega-star and the woes of having zits: "I get, like, these giant boxes of lip gloss and nail polish, and it's like candy." Not that she actually wears all of it. "I really just wear mascara all the time. And powder, because I have zits."

On what set fiancé Jason Trawick, apart from her other boyfriends (and two husbands): "He was sweet." For example: "He says he doesn't mind that I sit around in sweats all the time."

On how her two sons react to her being, well, Britney Spears: "They're in the middle right now of trying to figure it out. They try to figure out where I go when I go to film X Factor. They're like, 'Mommy's going off to be a superhero.' and then I get back, and they just see me as Mommy. And then when I'm back working on the show, they say, 'Oh, Mommy's a superhero again!'"

On how she occupies her time when she's not being 'Britney the Icon': "I work out. I swim. I play with the kids, I cook and I garden. We play Connect Four. We play Candy Land. Last night we read The Night Pirates."

On dealing with her haters: "It's just something that you get used to in this business."

On the number of shoes in her closet: With a terrified look, the mag reports, Spears says, "I don't know. A lot." When pressed, she stammers, "I don't know, 50." She quickly responds, "Is that not enough?" (Our answer: No, Brit-Brit, you can never have enough shoes!)

On her current fashion obsession: "Big, stupid earrings, like with loops and feathers."

On the item you won't catch her wearing: "I never wear socks. I hate socks."

On her fashion icons: She calls Jennifer Lopez, "A classic beauty," and of Sarah Jessica Parker, she says, "Her looks are really bright and funky and young."
Britney came across as kind of goofy and trying to be nice here, which is not the same impression I get from her on X-Factor. I haven't been keeping up with it, but she seems a little ruthless on that show and very blunt. She seems to be holding her own for now, although we've heard rumors that she's had trouble, especially in the beginning, and that producers are considering putting in a longer than usual time delay in case she has any problems during the live episodes. That could just be hype for the show, though.
As for the photo shoot, this is ridiculous. Apart from the bad photoshop job and the wig slipping down on her head, she's wearing some very girlish clothing and posing like a kid. It's bad all around.