Chris Brown & his friends dressed up like "terrorists" because why not?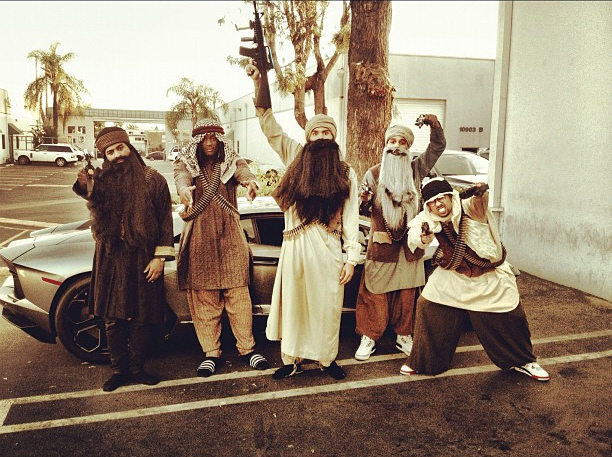 Yeah. This happened. Chris Brown tweeted this photo yesterday (and it's STILL on his Instagram!! He did not delete it!) of his Halloween costume – Chris and his friends dressed up as "Arab terrorists". I guess we could also say "Taliban" maybe, because I don't think Chris is smart enough to distinguish between "Arabs" and "terrorists" and "Taliban" and "people who wear turbans" and so on. Chris posted this image proudly with the line, "Ain't nobody F–king wit my clique!!!!#ohb". So, he's pretty proud of himself. He thinks this is funny and fun.
I mean… I'm not going to get all pearl-clutchy about this because, after all, it IS Chris Brown we're talking about and seriously, he's done way more offensive things. This is just yet another example of how idiotic and stupidly offensive he is. And I hope to God that the AK-47 is fake. But Chris's mom, Joyce Hawkins, defended her son on Twitter, writing: "HALLOWEEN IS FOR FUN NOTHING MORE THAN JUST FUN. GET A LIFE PLEASE." Well mothered, Joyce.
Also offensive? Chris and his "clique" went and partied at Rihanna's Halloween party at the Greystone Manor in West Hollywood. Reports indicate that Chris and Rihanna are still fooling around and "dating". Reports also indicate that Karrueche Tran is still trying to ride the Breezy train too. So, same as before. At least Chris took off the beard later on in the night: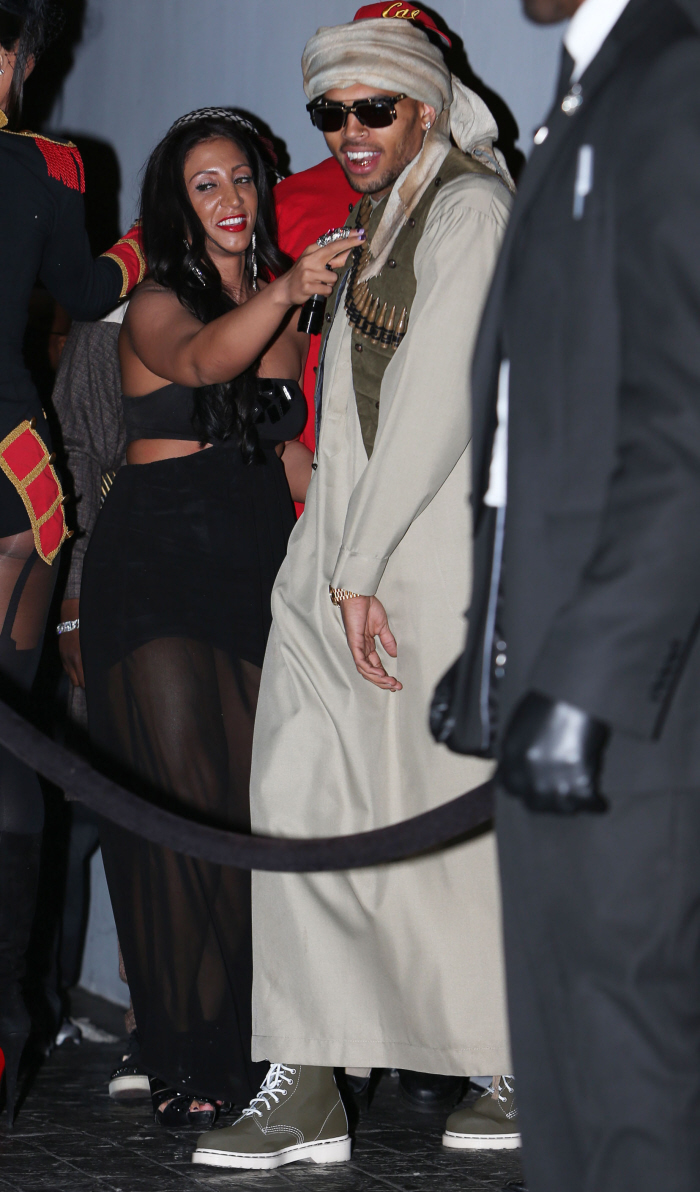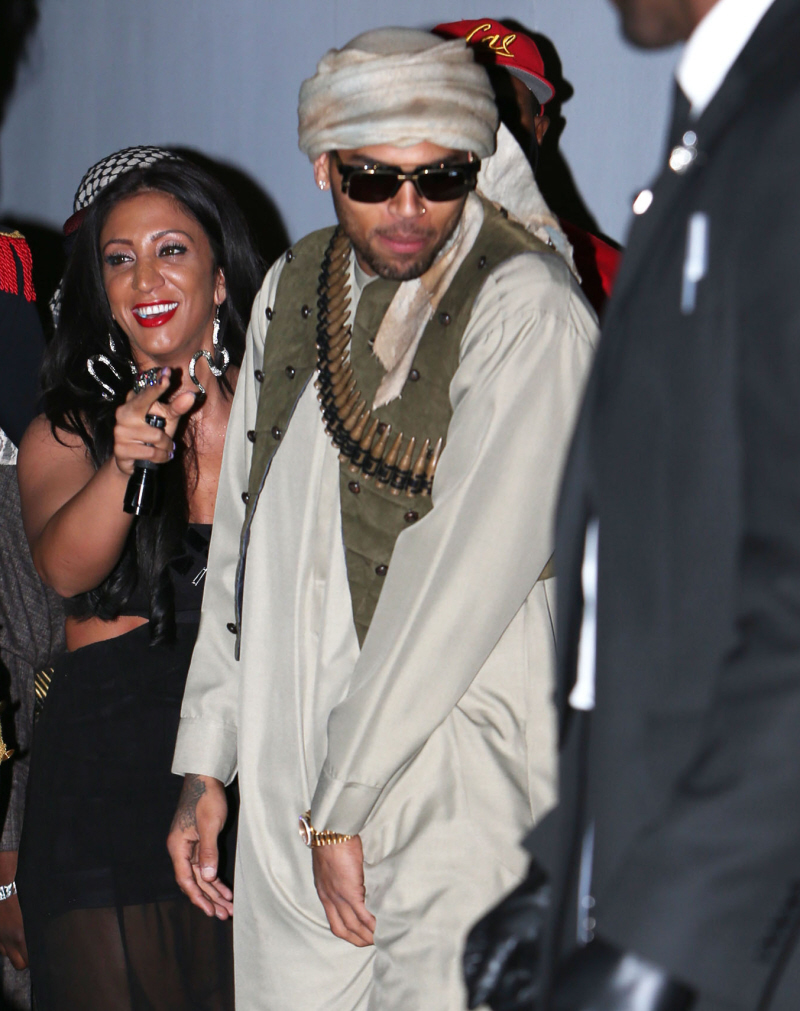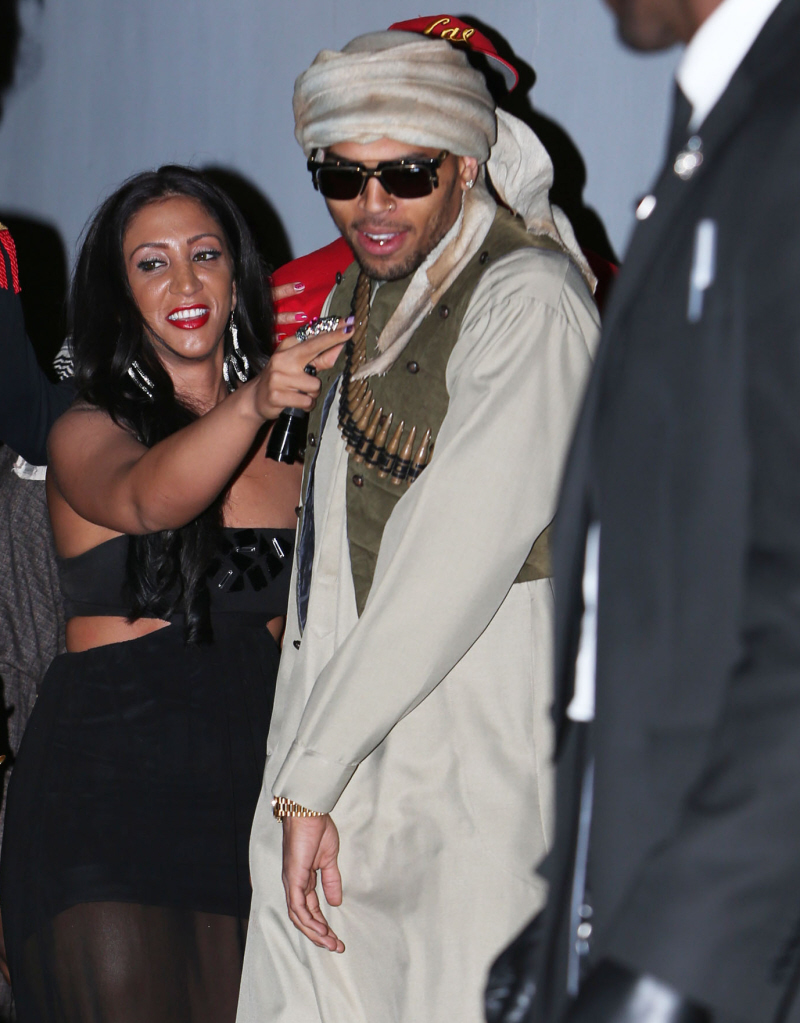 Photos courtesy of Chris's Instagram, WENN.

Written by Kaiser

Posted in Chris Brown, Halloween

- Mariah Carey lip synced on American Idol [CDAN]
- Colin Firth is looking good [Lainey Gossip]
- Internet celebrity charged with murder! [D-Listed]
- What is Paz Vega wearing? [Go Fug Yourself]
- New bachelors on The Bachelorette [Reality Tea]
- Goodbye to The Office [Pajiba]
- Bachelor Sean's fiance cheats on him [Evil Beet]
- Britney Spears out with her man [Popsugar]
- Nina Dobrev works it [Popoholic]
- Cindy Crawford needs to lay off the 'tox [Celebslam]
- Who said it: Carrie Bradshaw or The Dalai Lama? [Buzzfeed]
108 Responses to "Chris Brown & his friends dressed up like "terrorists" because why not?"