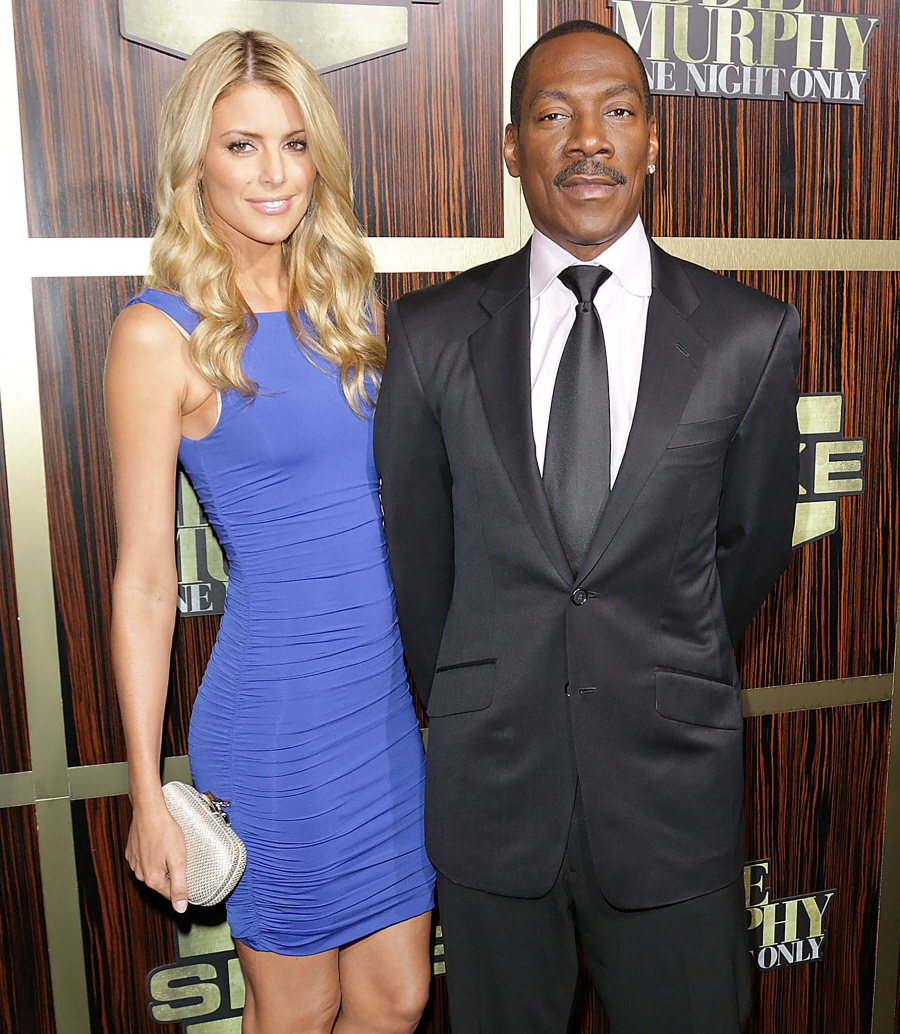 It's sometimes hard to keep up with Eddie Murphy's love life. Maybe that's by design… because Eddie has a very sketchy love life, and he doesn't want us to pay attention to who he's dating. Earlier this year, he was seen all over the place with Rocsi Diaz, a TV host on BET and Entertainment Tonight. Then, suddenly, they were over and over the past few weeks, Eddie has been seen with this new girl, an Aussie girl named Paige Butcher. These are photos of Eddie and Paige at Saturday's night's Spike TV event honoring Eddie.
Eddie is 51 years old, Paige claims she's 33 years old. She is what the British tabloids refer to (euphemistically) as a "glamour model" which is a term I kind of love. When the UK press calls someone a "glamour model" what they mean is "an attractive woman with a better than average body who poses in various states of undress for men's magazines and the tabloids." Like, Kelly Brook is one of the UK's biggest "glamour models" – she's famous for having a great body and for posing in bikinis. Don't believe me? Check out Paige's Wiki page. I mean… Americans totally have versions of the "glamour models" too (Kim Kardashian, even Kate Upton), but it feels like the UK press (and the commonwealth press) really treat their "glamour models" with so much more legitimacy. And I'm not sure what it says about Eddie that his latest girlfriend (who he's showing off at an event in which he's being honored) is a "glamour model".
Eddie Murphy was smiling like the cat who got the cream when he appeared on stage on Saturday night. And no wonder, for he just taken great delight in showing off his glamour model girlfriend Paige Butcher on the red carpet in the run-up to a special TV tribute evening.

Admirers and peers alike paid tribute to the comedy legend as part of Spike TV's Eddie Murphy: One Night Only. He seemed like he was having an even better time beforehand however, as he openly flirted with the 33-year-old Australian as they completed the pre-show preliminaries.

And he had a right to feel pleased with himself, as the 51-year-old is almost 20 years older than his latest squeeze. She showed off the form that has made her a men's magazine favourite in a tight-fitting blue dress that seemed to put Eddie in an ebullient mood.

His vigour seemed obvious as he chatted to television reporters about his big night, while the blonde beauty stood obediently beside him.

The saucy Aussie, who previously dated hip-hop mogul Russell Simmons and macho model Tyson Beckford, looked equally thrilled to be basking in the Beverly Hills Cop favourite's reflected glory.
Ugh, "obediently". That's probably why Eddie likes her. And that bugs me. I've loved Eddie (the actor and comedian) for decades – he was one of my first Hollywood loves when I was a little girl. And I just need to get used to the idea that he's kind of sleazy in his personal life, and that this is the type of woman he likes – "obedient glamour model".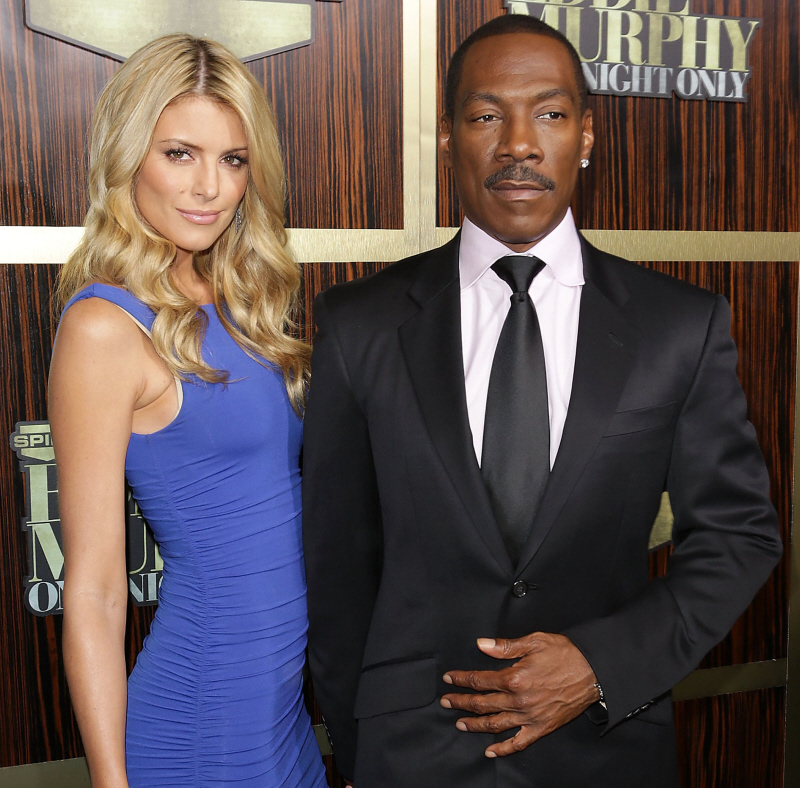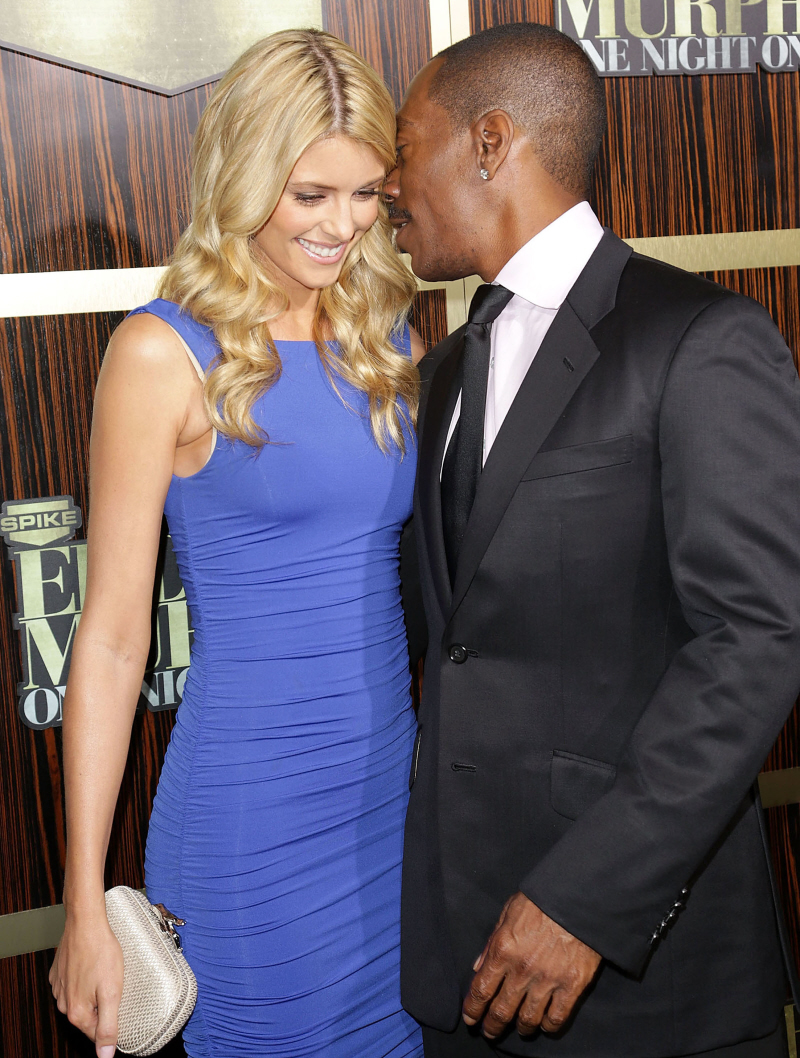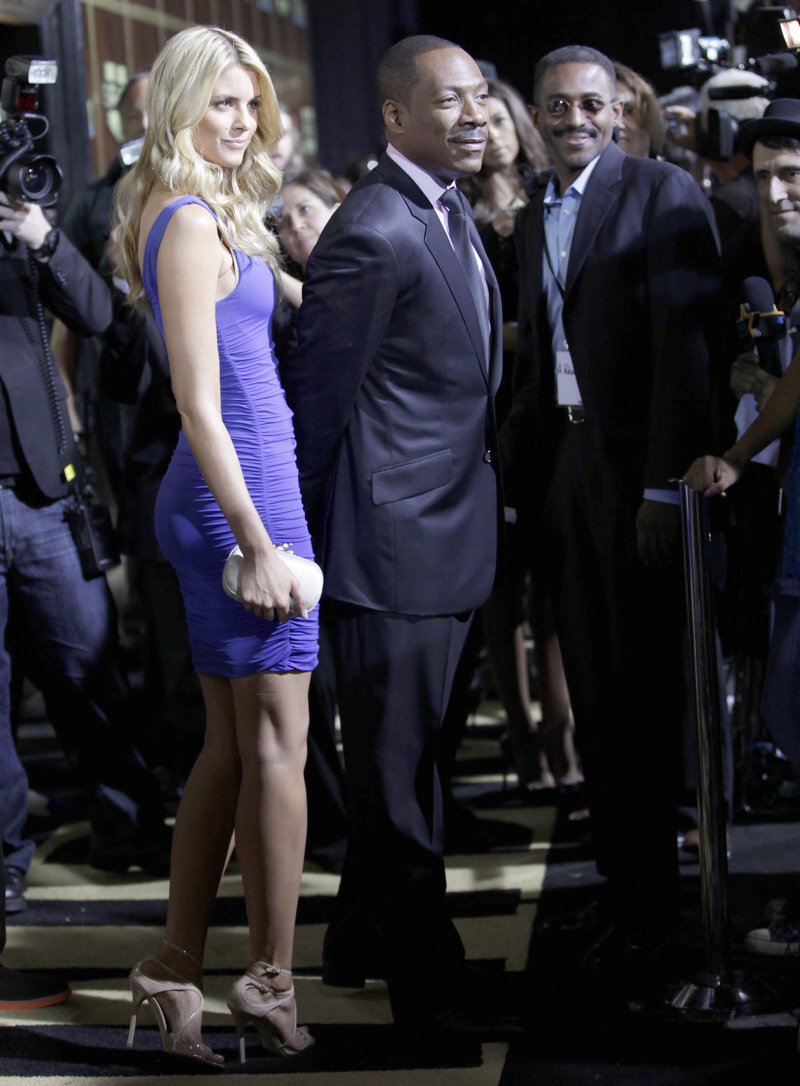 Photos courtesy of Brian To/WENN.com.