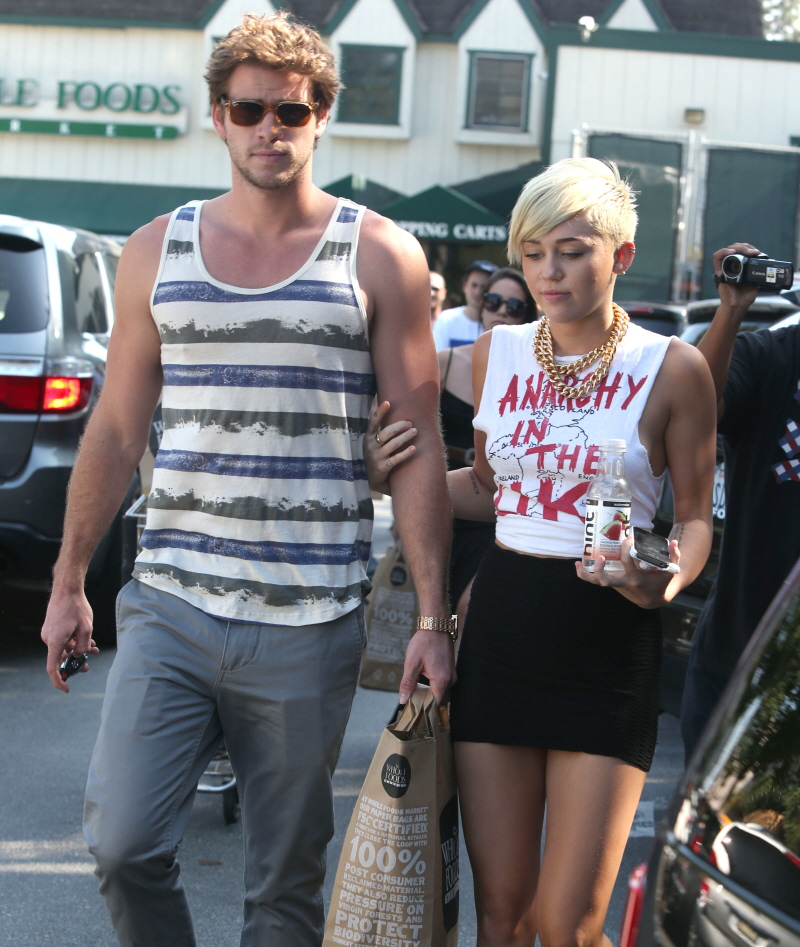 Is it okay if I think Liam Hemsworth is incredibly hot, but I have no actual desire to see any his movies? I don't think I've ever seen him in anything. I just like looking at photos of him and not hearing him speak. I realize he has an Aussie accent, which is hot, but I also imagine he sounds kind of dumb. Sometimes I just like dumb beefcake, you know? Channing Tatum, Liam Hemsworth, Chris Hemsworth, etc.
So, we've established that I think Liam is hot. But is he a good guy? Would he ever fool around on his 19-year-old fiancée Miley Cyrus? My gut says "yeah, he might." But my gut is also saying "Maybe spaghetti for lunch?" Radar claims that Liam was spotted looking "cozy" with a mystery blonde last week. Hm…
Watch out, Miley Cyrus — it appears Liam Hemsworth may have a wandering eye — and mouth!

Despite giving the Hannah Montana star a sparkling Neil Lane engagement ring in June, it seems that the Aussie actor may not be quite ready to settle down just yet, as he was spotted getting "very cozy" with a hot blonde at a Hollywood party last week, and RadarOnline.com has the exclusive details.

Hemsworth attended the Samsung Galaxy Note II party at a private home in Beverly Hills on October 25, with his fiance nowhere in sight, but apparently the 22-year-old wasn't too bothered by her absence!

An eyewitness tells Radar exclusively that Liam, who arrived early at the tech savvy party and stayed until the end, spent the majority of the night chatting up a beautiful blonde woman in the back tent, and it wasn't Miley!

"Liam was in the corner of the back tent with a blonde and they were getting very cozy," the source dishes. "It definitely looked like they were behaving in a way that was more than just friendly."

According to the source, Liam wasn't being secretive about his one-on-one with the mystery blonde, despite several industry people and fellow actors standing and sitting close by.

"His friend/handler was trying to keep people away and allow Liam and his 'friend' some privacy," the source adds, "but Liam didn't seem to be that worried about it."

Liam headed back to Atlanta on October 31, where he is currently filming the second installment of The Hunger Games franchise.
What will Miley do? I actually kind of worry about her in general, not specifically about this story. Right now it's all lovely-dovey with Liam and their family of a half-dozen rescue puppies, but what happens when Liam gets tired of just smoking pot with Miley and hanging out with their dogs? What happens when Miley starts wondering if there are other, better dongs out there? I feel like Liam and Miley are in different places in their lives right now – his career is on the upswing, and he'll just be getting bigger and bigger. And Miley's career is on the downswing… I think. Does anyone really care about her as a musical artist anymore?
Anyway, I'm guessing that there is some trouble in paradise but that Miley and Liam will weather the storm… for now.
Here are some pics of Liam at the Samsung event – he looked HOT.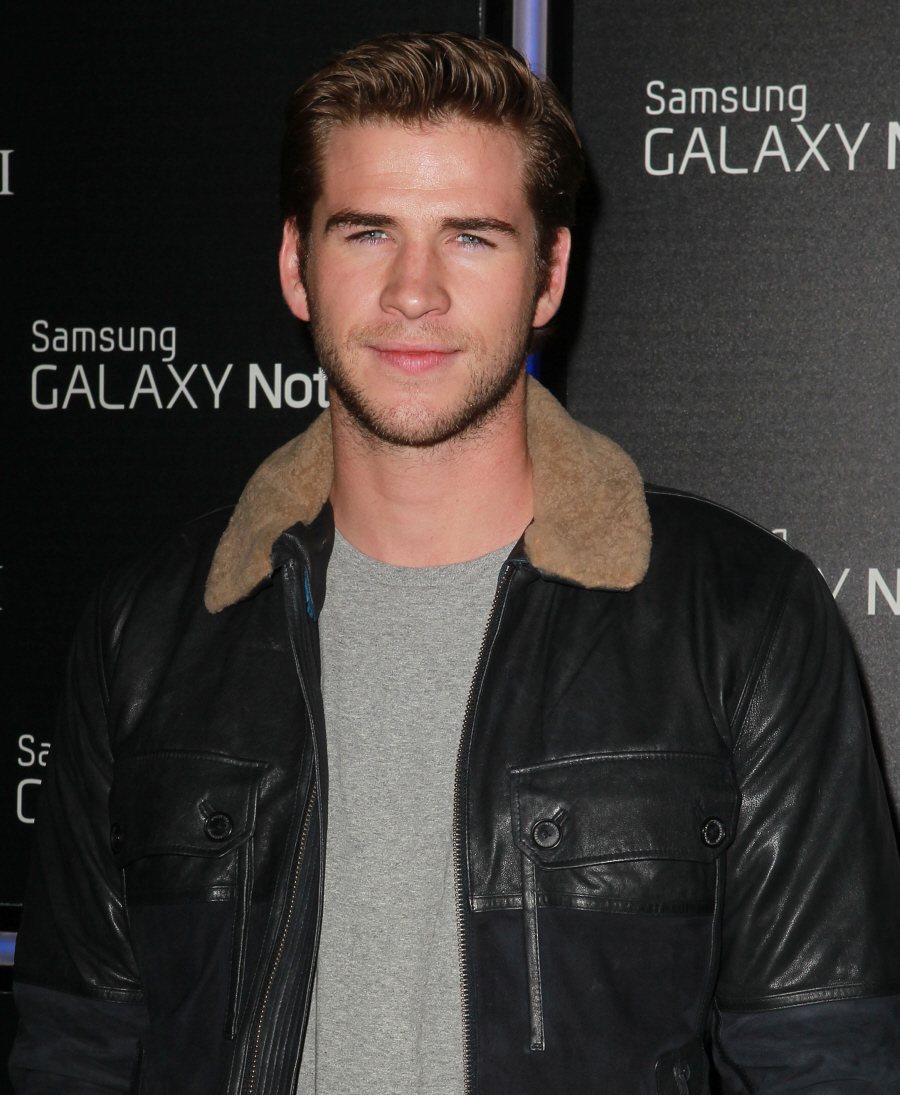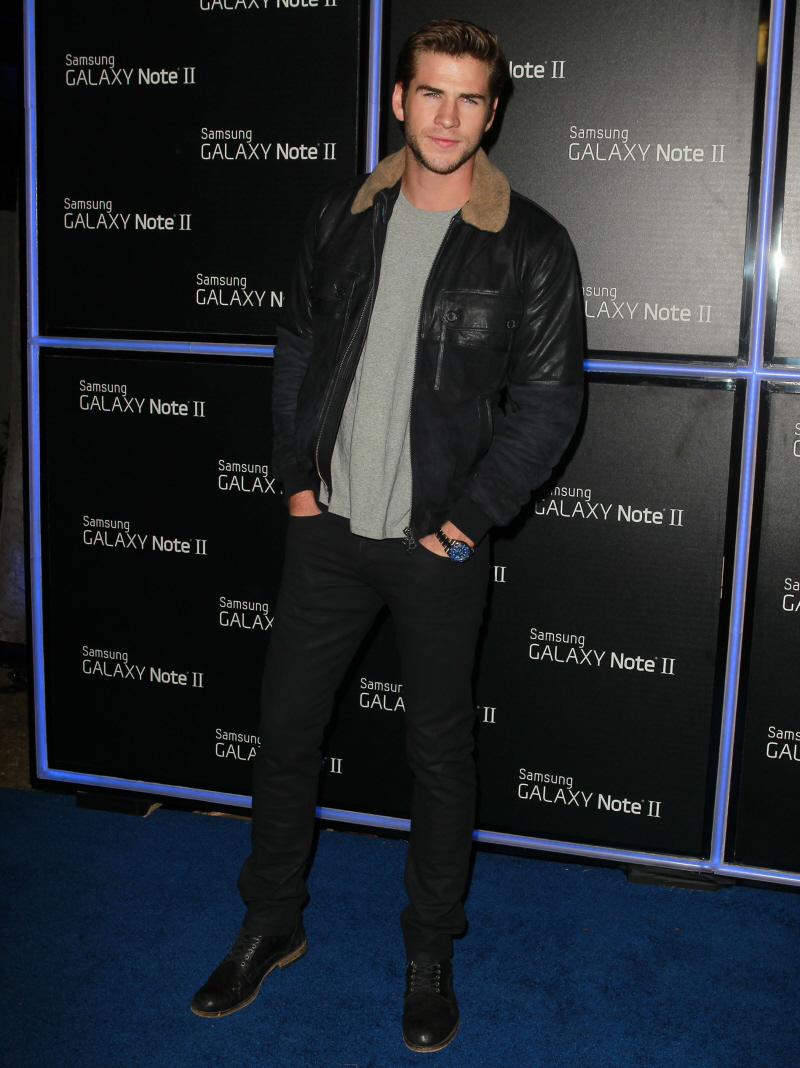 Photos courtesy of Fame/Flynet and WENN.