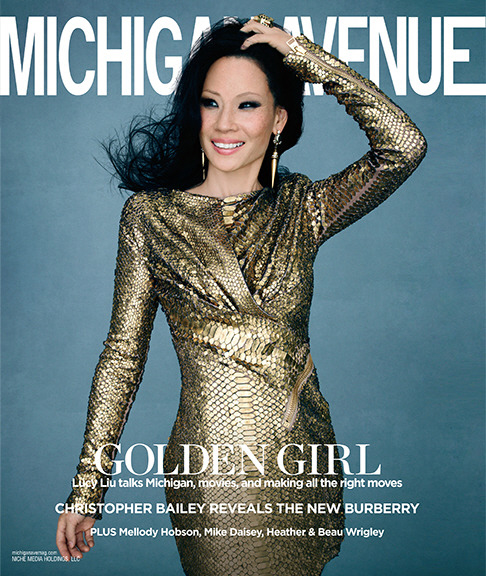 Lucy Liu covers the new issue of Michigan Avenue, a magazine I have never held in my hands or bought or even looked at. I guess it's supposed to be high-end, right? Like, this is not InStyle, aiming for the broadest market. This is aimed at a niche market, but I don't really understand which niche. Anyway, I do like the pictorial, and I'm kind of happy to see Lucy getting some magazine covers now that she's back on a network TV show. Have you been watching Elementary, the American-ized take on Sherlock, meaning a modern retelling of Sherlock Holmes? Elementary has Sherlock in Manhattan, and Lucy plays Dr. Watson, Sherlock's sobriety coach or something. I have to admit, I've watched a few episodes. It's not the worst thing by far – Jonny Lee Miller is no Benedict Cumberbatch, but I do love some JLM, and he and Lucy have a surprising amount of chemistry. Anyway, you can read the full Michigan Avenue interview here. Liu is interviewed by her "close friend" Idris Elba! Which makes it better. Some highlights:
IDRIS ELBA: Lucy, you have such an amazing career. What would you say has made it so long and successful?
LUCY LIU: Number one, you really have to risk everything—you have to take chances and take on projects that are pretty diverse. Just because you do film, don't limit yourself. You should also do theater because it puts you out there in a terrifying way in front of a live audience and it really tests your skills. The more flexible you are, the more the longevity of your career is going to sustain itself. That's what actors want. We don't want to blow up for two years or five years and then be done.

IE: You've worked with amazing directors, most notably Quentin Tarantino. What was one nugget of wisdom that Tarantino taught you?
LL: To really be able to listen. When I first met him, we went to Toi, this rock 'n' roll Thai restaurant on Sunset Boulevard. We sat down at the table, and he started describing the character of O-Ren Ishii [from Kill Bill], acting out all the parts, the fake laughs, the sound effects… and I'm there eating my pad thai, trying to eat casually, but I feel like I'm a stunned audience member. If somebody is that excited to tell you something, it really is incredible how much you can learn from him or her. You can't replicate that kind of passion.

Lucy on beauty and femininity: "I grew up as a tomboy, and if you've seen photographs of me as a child, you see my mother cut all of my hair off. I had no hair: Picture Sinéad O'Connor with a two-week grow-out. I was not considered feminine at all, and boys did not look at me. I was a toothpick….Up until junior high school, when I really started developing. I never looked at myself as a feminine person. My thing was, "I'm going to be casual and be able to talk to people because I'm hanging out with the guys." In college, I suddenly felt like I understood more about myself and started making choices on my own. I started doing things that I wanted to do and understanding what my place was in the world, and I think part of that was also embracing myself as a woman. I was smart, I could hang with the guys—I could fall into my own niche category…."

No one tells her she's beautiful: "But I find that if somebody finds me beautiful, it melts my heart because it's not something I heard most of the time growing up ever. I can easily be enticed into some terrible relationship because I'm like, "Oh, my God, you think I'm beautiful?" [Idris laughs] You know what I mean? And my friends are like, "Why did you date that ******* for so long?" I'm like, "Oh, God." [Laughs]

On Jonny Lee Miller: "I love working with Jonny. He's incredibly talented and very professional. He comes in every day—no matter how long the day before has been— and he's prepared. If we start another episode with all new dialogue, all new characters, a whole new director, a whole new set, he still has it, and he never keeps anyone waiting. I know that sounds basic, but on a 15 to 20 hour day, if you're working in television and somebody doesn't know his lines, you could be there until the next day."

Lucy on Idris: "I really appreciate you taking the time to do this interview because you're so special, and nobody's ever asked me to choose my interviewer before. I said, 'My wish is Idris Elba, but I really don't know what's going to happen because he's shooting a bazillion movies in London and Africa.' I think that you are a pioneer similar to me in that way, in ethnicity and in scope and in range. You're also a Renaissance man and understand the different venues we travel just to understand who we are. We do music, we do art, we act, we write, we direct because we are trying to discover who we are. It's a journey—a lifelong journey."
There's a lot of mutual ass-kissing between Lucy and Idris, and it's kind of annoying, but maybe that's just coming from my jellus h8erade. I wish Idris was telling me how beautiful I am in a magazine!! WHY, IDRIS? Why aren't you doing that? As for all of the other stuff… Lucy seems like a pretty well-adjusted person, kind of self-absorbed in the way that a lot of actors are, no more, no less. I did really enjoy the Tarantino story, though. I love a good QT story!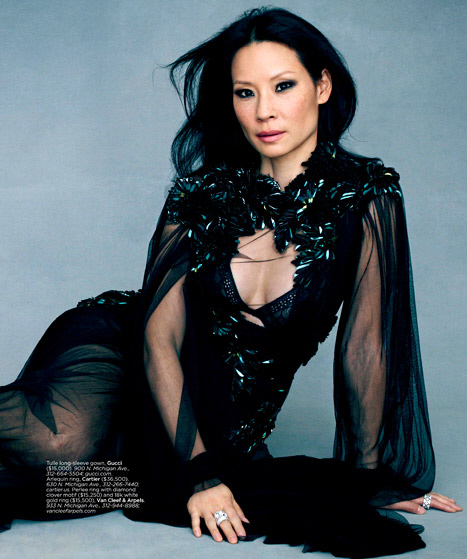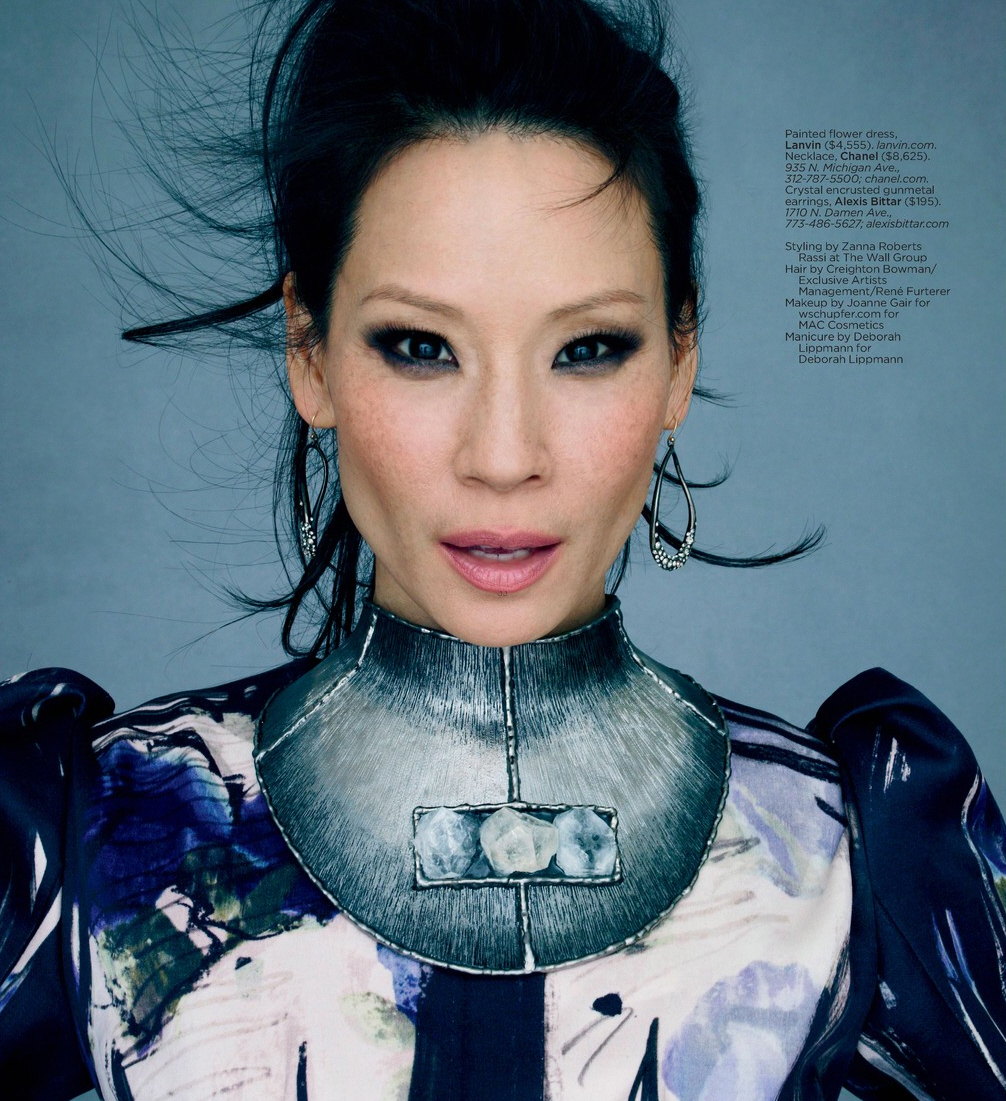 Photos courtesy of Michigan Avenue.