Taylor Swift covers the December issue of Harper's Bazaar (US) – I'm including shots from the pictorial as well as some highlights from the cover interview. First, let's discuss the photos. OMG. I LOVE THEM. Y'all know that I'm not a Swifty fan-girl, but I like her more these days, now that she's done with Conor Kennedy (hopefully!). What I always want from Swifty is for her to choose maturity – for her to show maturity emotionally, lyrically and stylistically. I get tired of polka dots and shoes in the shape of cats and such, and it's such a pleasure seeing Swifty do this kind of modern-retro 1970s, sleek, mature style in a photo shoot. She looks AMAZING. I love Swifty in high-waisted pants! I love her straight hair! HUZZAH. The photos are by Paola Kudacki, by the way. I was concerned that they would be Terry Richardson (he does a lot of Bazaar cover shoots), but Uncle Terry was not involved.
As for the interview – you can read the whole piece here. It's pretty typical Swifty. Some highlights:
Swifty on Gwyneth Paltrow's pink Ralph Lauren Oscar gown: "I was 15 and going to prom for the first time, and I saw that picture of Gwyneth in the pink gown," she recalls. "I went all over the mall and showed it to all the store owners and said, 'Do you have anything that looks like this?' And no one did." She guffaws."So there's that. That's a sad story for you."

She loves dresses: "There's just something so feminine about a dress. Whether it's a summertime dress that makes me feel carefree, an evening cocktail dress that makes me feel fancy, or a vintage dress that makes me feel like a '50s housewife—which I enjoy feeling like, for some reason—I just really like dresses." How many does she own? "Hundreds. Because I'm in a predicament where I can't wear a dress twice or else it's pointed out in magazines, so… unfortunately I have to shop for dresses all the time."

Deciding to do a pants-happy photo shoot: "I think doing something that's different, that's out of your comfort zone is important… Personal growth, let's call it that."

She decides her own future: "When I'm in management meetings when we're deciding my future, those decisions are left up to me," she explains. "I'm the one who has to go out and fulfill all these obligations, so I should be able to choose which ones I do or not. That's the part of my life where I feel most in control."

Money and girlfriends: "I don't tend to spend a lot of money on the big things, like cars or jewelry. I'll rent a house on the beach or something, bring my girlfriends." (She also had a lot of beachtime this past summer on Cape Cod, at Conor Kennedy's family compound in Hyannis Port.) But Taylor is very loyal to her girl tribe, which includes Emma Stone and Selena Gomez. "We never talk about fashion, about career, about our ambitions or our projects," she says of her pals. "We just talk about relationships, feelings, love, and boys."

Equality in love: "It needs to be equal. If I feel too much like I'm wearing the pants, I start to feel uncomfortable and then we break up." Relationships are "the ultimate collaboration," she adds, but sometimes "it's wonderful to hand over the reins to your boyfriend when you control so much of these big, high-pressure decisions, you know? That is a huge defining factor in who you choose to be with."

She had to stop reading blogs? "What I had to learn to do, in order to maintain a general happiness in my life, was to stop reading everything," she says, getting fired up. "And then it gets really bad if you go through a breakup and those blogs have these polls asking, 'Who should they date next?' And you're just sitting there staring at the laptop bawling." She pauses. "But you can live in a normal world where a breakup is just a breakup if you don't expose yourself to what's being speculated about yourself. That's where I live now."

On the road: "I'm not used to being in a place more than two days in a row," she says, adding, "I don't know if I have a vacation for another year. You get really good at maintaining phone relationships with people you love, because you're just not going to get to see them all the time."

Toxic boys and writing through the pain: "Some combinations of people are toxic, you know? You have to find the right one that isn't just going to explode into fiery ash and destruction." But unlike the rest of us who sit at home and eat our feelings, Taylor focuses on writing. "Despite all of that and how unpleasant it is, as a writer you get a lot from it. It's a crazy justification system. You know that guy you really wish you could erase from your memory? But then the answer is track six, eight, 12, and 13."
I could have done without the discussion of how many dresses she owns and how dresses are super-important to her. So… she wears dresses because they're "feminine" and they make her "feel like a '50s housewife". She's the kind of girl who could never have short hair because "long hair is what girls should always have" and "girls should always wear dresses" – basically, that's how most little girls feel. Like, that's the kind of thing that a 5-year-old would say. Taken with her comments about equality – "If I feel too much like I'm wearing the pants, I start to feel uncomfortable and then we break up… it's wonderful to hand over the reins to your boyfriend when you control so much of these big, high-pressure decisions, you know?" – it just feels so f—king retro. No wonder she doesn't consider herself a feminist (or know what feminism is) – she's too busy trying to be a housewife in the 1950s.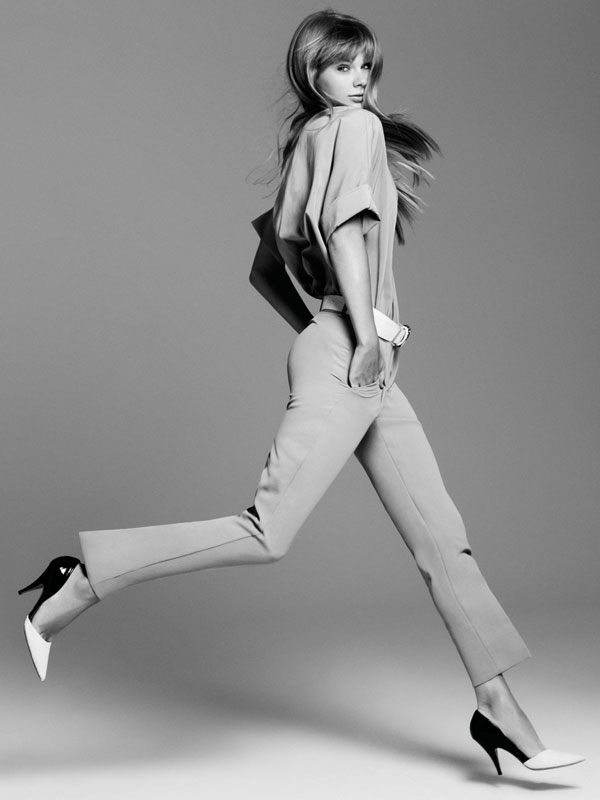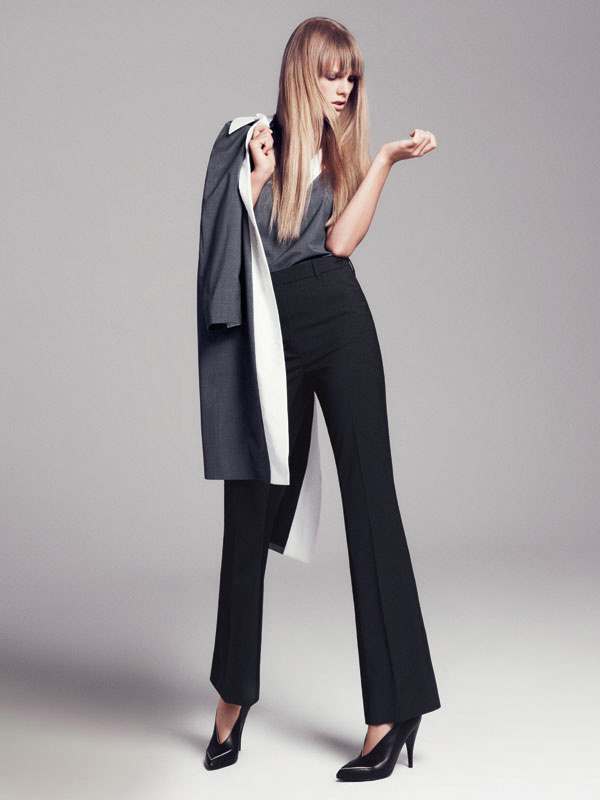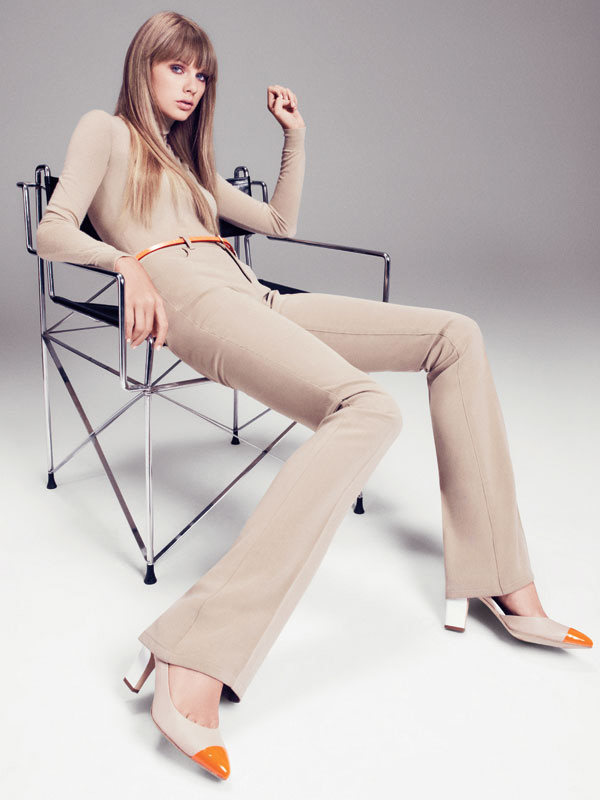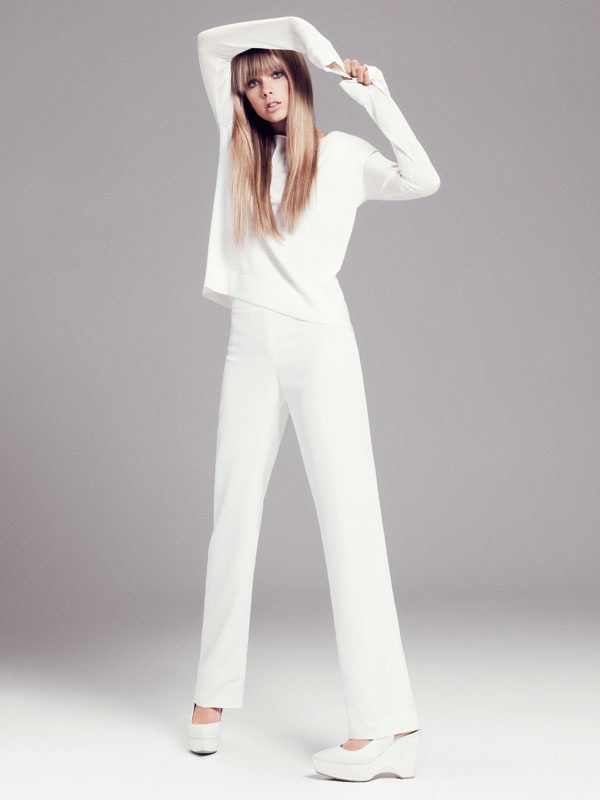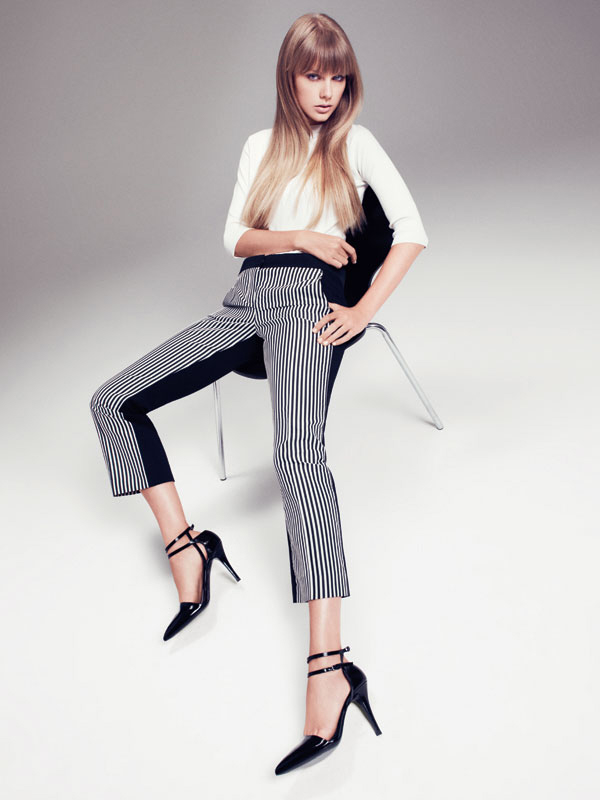 Photos courtesy of Paola Kudacki/Harper's Bazaar.