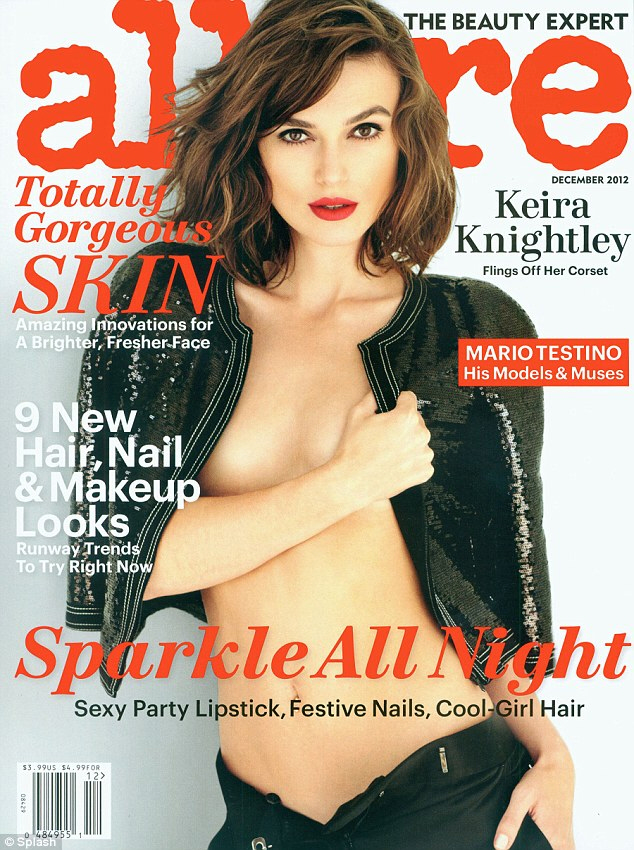 Is anyone else surprised by this cover from Keira Knightley? I'm surprised. Usually Keira avoids these kinds of "pants unzipped, blouse undone, lips parted" magazine covers. She looks pretty and different, so I do like it, I'm just surprised that Keira is letting herself be so exposed. Obviously, she covers the December issue of Allure to promote her starring role in Anna Karenina, which I keep forgetting about… but I do want to see. It's costume p0rn and I do like Keira. We only have a handful of quotes from the Allure piece, but they're funny:
Keira Knightley has told how Hollywood execs enhance her boobs for film posters. The Pirates of the Caribbean star, who poses topless for Allure's December 2012 issue with just a small jacket to protect her modesty, normally finds it funny – except when she ended up a pair of saggy breasts.

She said: "They always pencil in my boobs. I was only angry when they were really, really droopy. For [2004 flick] 'King Arthur,' for a poster, they gave me these really strange droopy t*ts. 'A…. I don't have t*ts anyway and B… they digitally made them, and I thought, 'Whoaaa!' It's my face on that poster. I thought, "Well, if you're going to make me fantasy breasts, at least make perky breasts."'

She also told how she has a strict 'no bottom half' clause when it comes to getting naked on film.

She told the US fashion magazine: 'No bottom half! I don't mind exposing my t*ts because they're so small – people really aren't that interested! [But] I think it's much easier as you get older. You can say, "No." "Yes." "No."

Keira is currently promoting her new movie Anna Karenina, which is release in the UK on September 7 and the US on November 16.
I like how self-deprecating she is about her body (and everything else) these days. Just a few years ago, she wouldn't have been this "light" and funny. She would have moodier, grumpier. Maybe it was Rupert Friend that made her grumpy?
HuffPo also had a good interview with Keira a few days ago – you can read the full piece here, and here are some highlights. I LOVE when she talks about Love, Actually.
In preparing for the film, what did you learn about Anna Karenina as a character that surprised you?
I originally read the book when I was about 19. What was extraordinary was that my memory of the character, from then, was totally different from my perception of her when I re-read it last year before we did the film. I remember her as being incredibly innocent and the victim, and I remember everybody else being hideous and it not being her fault. All of a sudden, I read it again and went, "Oh. Wow." [Laughs] This was a very different beast and a very different character than I remembered it being. So, that was kind of quite shocking. I had anticipated playing one character and suddenly another one presented itself to me.

Anna is not an anti-hero, per se, but she certainly has a lot of dark shades to her character. Did that aspect of the role excite you?
Absolutely. I think in a lot of modern films, the female characters mainly always have to be likeable. I was really interested in walking the line between making her the heroine and the anti-heroine. I don't think she is the anti-heroine, but there are certain points within the piece where you do hold her up and go, "I don't like you and, morally, I have a problem with what you're doing." Actually, I think there are certain areas where she's meant to be condemned, and what was interesting was trying to juggle that with also making her sympathetic and understandable, yet still trying to bring that darker element out. It was one of the great challenges, but it was what made her so exciting to play.

Hollywood is notoriously bereft of strong female characters, yet you seem to find a lot of them to play. Are you very picky with your choices?
I am very picky. And, yes, it is frustrating. But given that I'm not producing and not directing I don't really have a right to complain. I think it is very difficult to find really interesting roles and there are very few, so I feel incredibly fortunate that this is one [I got to play]. I think, in general, the female audience is a massive one, and actually it's one that's rarely really tapped into. Everybody is after that very famous and rather elusive demographic of men, age 18-24. Well, actually, I'm not in that demographic and I want to see women who are complex and strange and people who I can relate to and be terrified of and want to be and all the rest of it. So, I guess, as an actor, that's what I'm looking for: those people that interest me the most.

On hating Anna: With "Pride and Prejudice," Elizabeth Bennet is somebody who you love and you're meant to love. It's sort of the same with Cecilia Tallis in "Atonement": As much as she's a bitch at the beginning and she's quite icy, you don't not love her for it. Then you get to Anna and Anna — there's a real question mark about what you're meant to feel about Anna. What is her function within the story? It took a lot of discussion. Some days Joe would say, "God, I hate her." Some days, I'd say, "God, I hate her."

On 'Love, Actually' becoming a Christmas classic: "It's amazing that it turned that kind of Christmas movie, isn't it? I don't think anyone realized it was going to do that. It's nice. That one and "Bend It Like Beckham" have a life beyond release. It's an extraordinary thing when people come up and go, "Oh, you know, that's the thing I watch every Christmas." It's a lovely thing. That's why you make them."
I love Love, Actually! And yes, I do watch it every Christmas. These are my Christmas season movies: Die Hard (obviously), Love, Actually, It's a Wonderful Life (I cry every time too) and A Christmas Story. I've seen A Christmas Story so many times that I don't even need to see it from beginning to end. I just need five minutes of it and I can recall, like, all of the dialogue.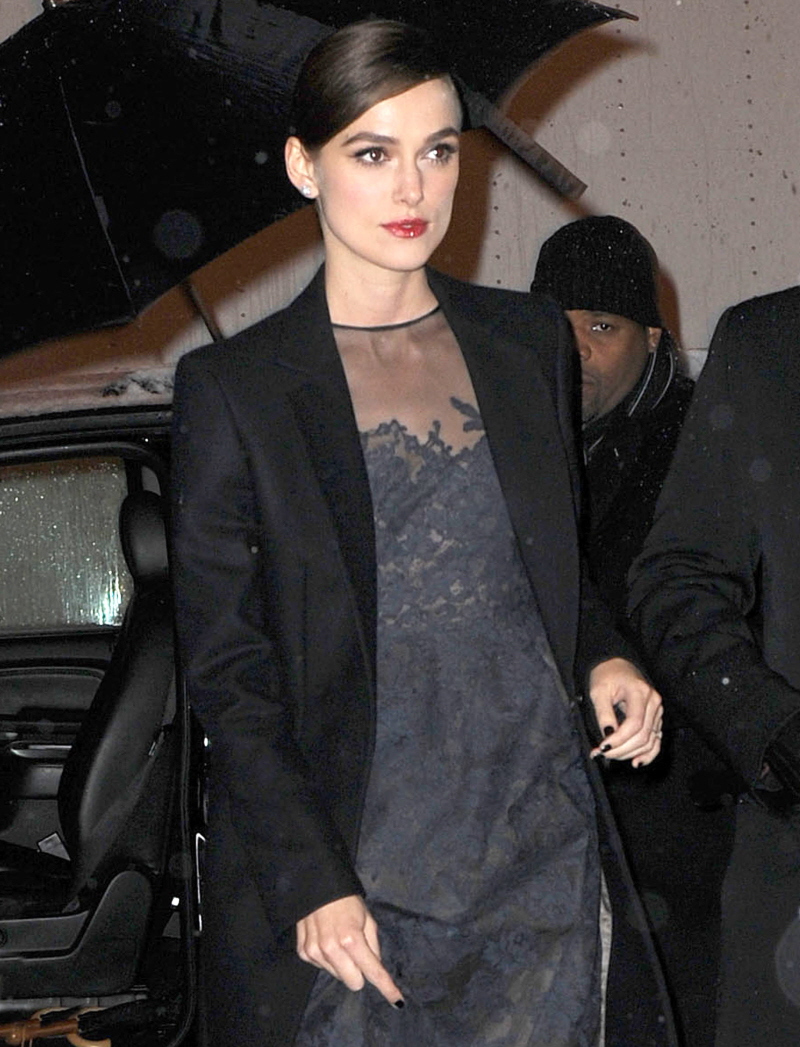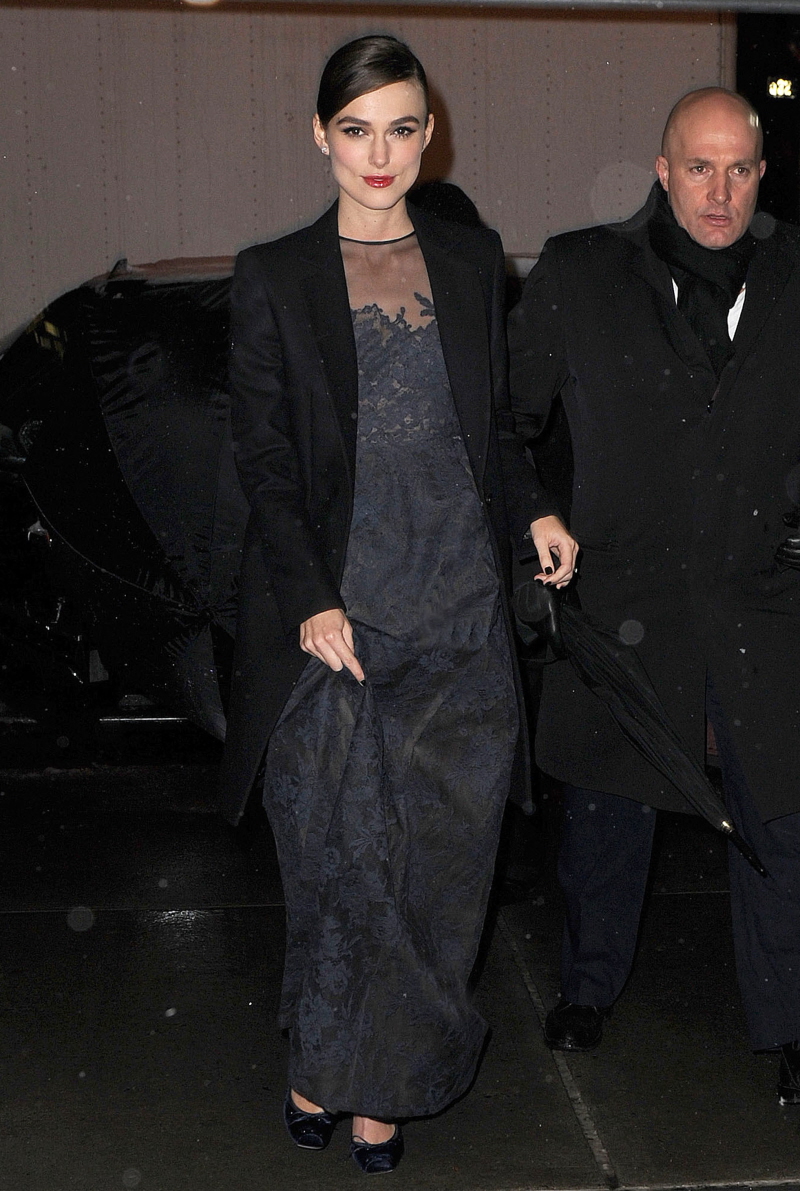 Cover courtesy of Allure, additional photos by Fame/Flynet.