Visit NBCNews.com for breaking news, world news, and news about the economy
Access Hollywood has a new interview with Twilight Author Stephenie Meyer, who is celebrating the release of Breaking Dawn, Part 2 along with the rest of the cast. They conduct it like a job "exit interview," and in truth a lot of it is somewhat boring. At the end, though, she talks about whether she'll ever write another Twilight book (possibly from Edward's sparkly perspective) and I found myself fascinated with her answer. I don't really follow her, and I've always assumed she's had a lot of confidence in her writing skill, which has been widely criticized. Like I assumed she was the opposite of awesome 50 Shades author E.L. James, who will tell you her writing sucks and laugh her ass off about it. It turns out Meyer is insecure and can let the criticism get to her if she's not careful, which is why she's shelved writing about vampires again for the time being. She said:
I'm just not there with the vampires right now. It's such a public world, it's hard for me. I have a lot of stagefright and you wouldn't think that would apply to writing, but it totally does. I have to tell myself that no one's ever going to read what I'm writing to convince myself to keep going, because I just get crippled with fear when I'm writing something I'm like 'oh man, everyone's going to hate this, everyone's going to pick this part apart,' and I'm always wrong. They hate the other parts. It's always shocking to me the parts they hate. [laughs]
[From Access Hollywood, aired on Today's website]
She has a sense of humor about it, and she seems a little more relaxed about everything than I expected. I've only seen two other interviews with her, though, on Oprah and with MTV. She doesn't do a ton of press, she doesn't need to. Of course she can be relaxed and laugh about criticism of her writing – bitch is super rich now! She doesn't have to write another word if she doesn't feel like it.
Another one of Meyer's bestselling young adult books has been made into a movie, The Host. It's out in March and stars Saoirse Ronan and Diane Kruger. I'm not too familiar with it, but a new trailer just came out and it's some kind of post-apocalyptic love story with the few humans who remain fighting an alien species that's taken over the earth and erased everyone's memories. F*ck me, it looks good! I'm sure it's cheesy as hell, but it could be watchable and entertaining. Meyer hasn't written any follow-ups to this book yet, but if the movie is a success I bet she'll write at least a couple more. (And she's said as much.) Screw vampires, she's got another franchise here.
Here's the second trailer for The Host:

And here's Stephenie at the Breaking Dawn Part 2 premiere with the cast of The Host including Max Irons, Saoirse Ronan, and Jake Abel. What the hell kind of fishtail skirt and dress shirt combo is she wearing? That's awful.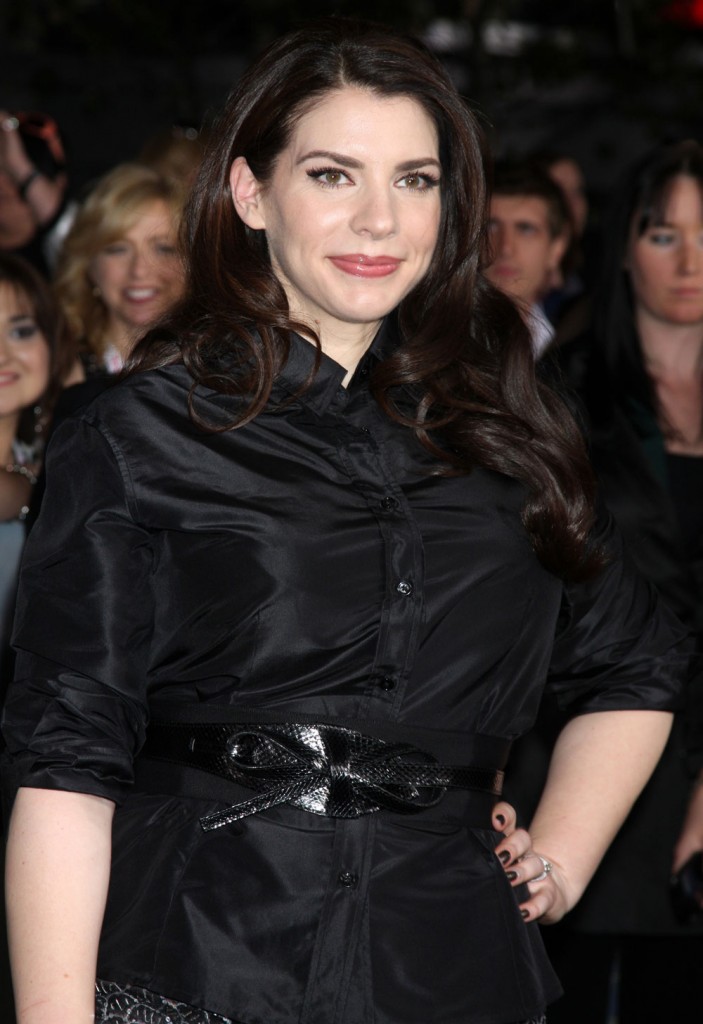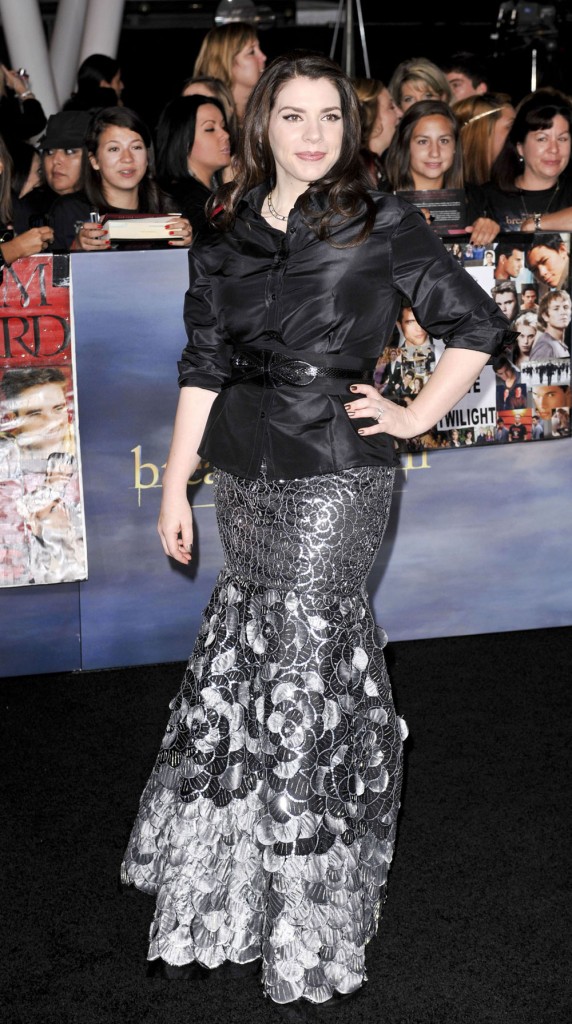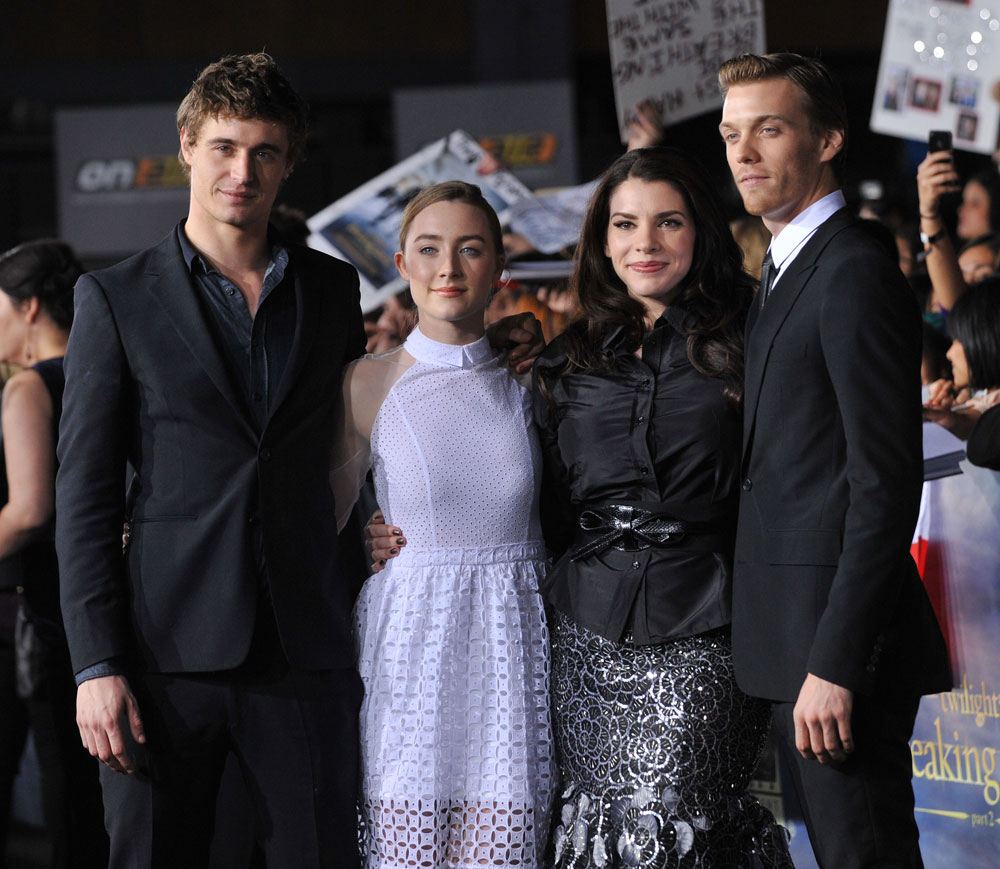 Do you think she's pissed off at Kristen Stewart? I do.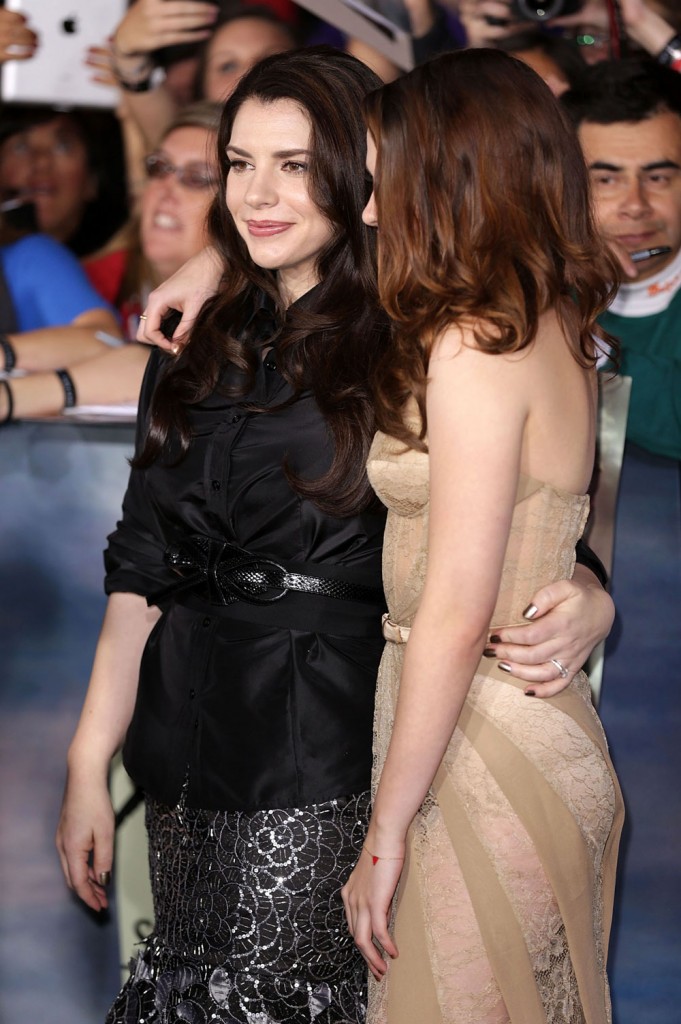 Photo credit: WENN.com