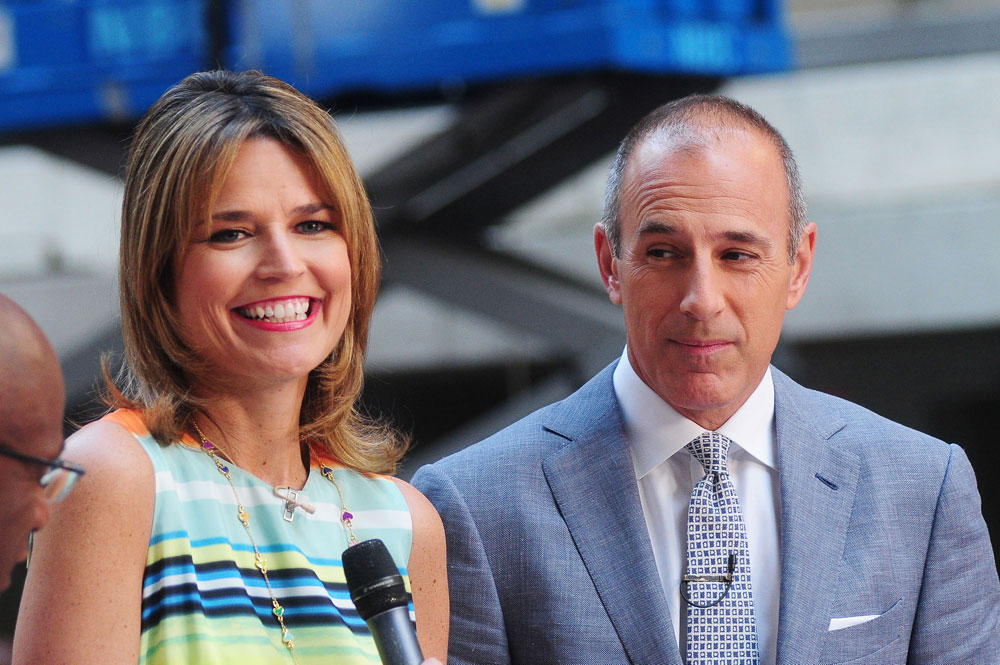 As you've probably heard, The Today Show's ratings have only fallen since Ann Curry was replaced as co-anchor by Savannah Guthrie. Curry was summarily dumped because Matt Lauer didn't want her around and she was an easy scapegoat for the morning show's falling viewership. Now that ratings continue to drop, someone needs to take the blame and it's falling squarely on Matt Lauer's overinflated head. An former insider at NBC tells The NY Daily News that Matt Lauer needs to step down in order to save the show. After how he treated Ann, his "brand is damaged" and there's nothing they can do to fix it. How does the shoe feel on the other foot, Matt?
TV industry insiders say no amount of NBC executive reshuffling can save the embattled "Today" show — until its longtime co-host throws in the towel.

Lauer has been blamed for the show's ratings woes, which intensified in June when co-host Ann Curry was suddenly ditched and replaced by Savannah Guthrie.

"This problem is not going to go away until Matt Lauer does," a prominent former NBC News exec told the Daily News on Tuesday. "He's great, but fairly or unfairly, his brand is damaged."

The sentiment comes just as a new production team is poised to take over "Today," which has fallen into second place this year behind archrival "Good Morning America" in the cutthroat ratings race.

Alexandra Wallace, 46, a TV news veteran with morning show experience and a senior vice president at NBC News, will take charge of the show in the near future. She will appoint a new executive producer to replace Jim Bell, who has been running "Today" since 2005.

Bell was behind the unceremonious ouster of Curry.

Competitors like ABC's "Good Morning America" and "CBS This Morning" are celebrating the move, claiming that Wallace is no turnaround expert.

"Nothing's changed here," an industry competitor said of Wallace, a mother of two young children.

"She was put in charge of (Brian Williams' prime-time magazine) 'Rock Center' just earlier this year, and they're still rock bottom in prime time." As a top executive at NBC News, she has also had a hand in the slow-motion "Today" ratings collapse.

"They just keep throwing layers of management on this problem," another competitor said.
It's worth noting that the source here is a "former" NBC executive, and that Matt might still have the current execs under his creepy spell. Someone must like him over there to have put up with his ego and (alleged!) infidelities with female co-workers.
Radar has a related story today that suggests that may no longer be the case. They say that Matt is butting heads with his new boss, Andrea Wallace (mentioned in the article above), and that she isn't firmly in his corner. Apparently Wallace is mixing things up in an attempt to boost ratings and she's "a big advocate of Ann Curry's." She's replacing the guy who pushed Curry out (allegedly!) at Matt's urging. This guy has needed an ego check for years and it looks like it's finally coming.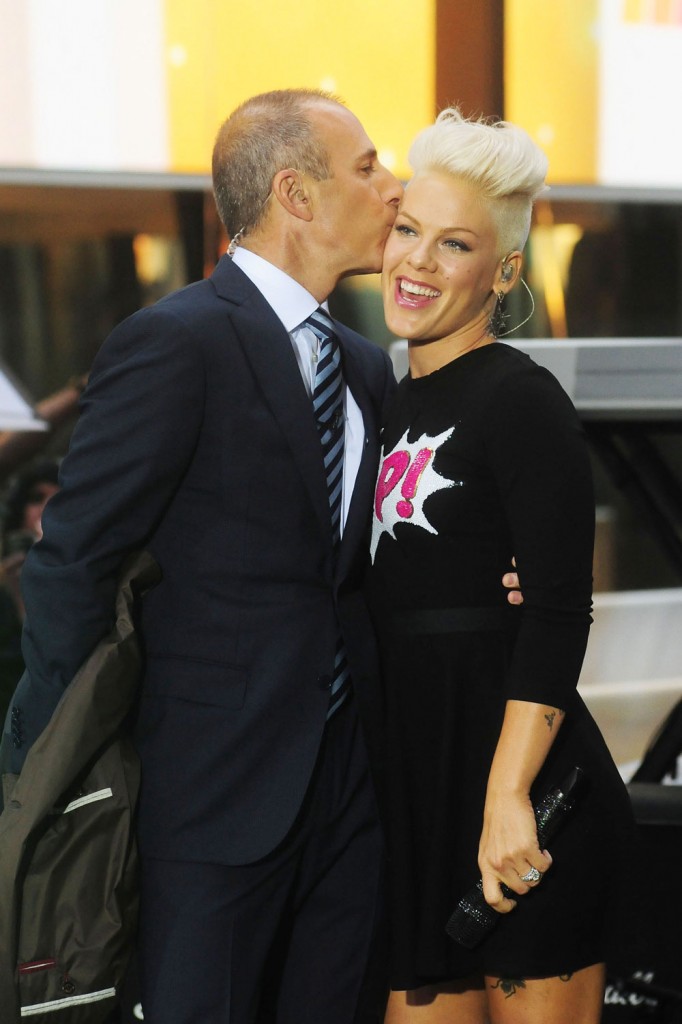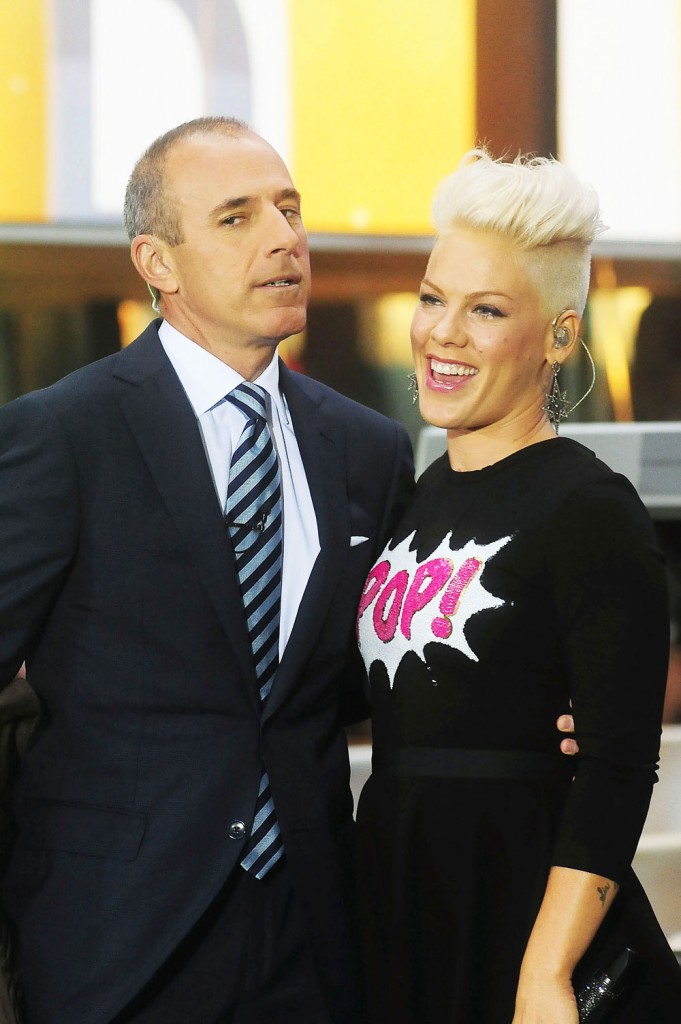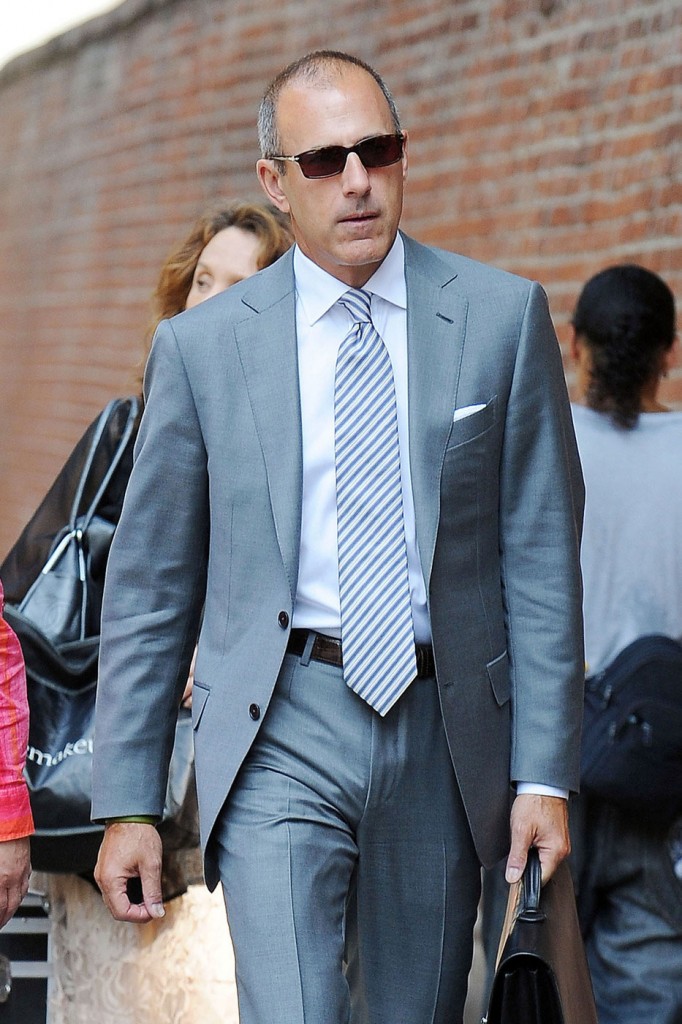 Matt Lauer is shown out on 7-17-12 (credit: Hector Vallenilla, PacificCoastNews.com) and grabbing up on Pink on 9-18-12. Photo with Savannah Guthrie is from 8-23 (credit: Dan Jackman./WENN.com)