Britney Spears wants another baby from Kevin Federline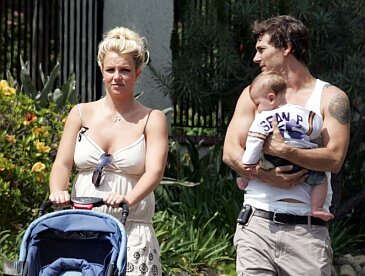 Britney Spears is itching for another baby, according to the National Enquirer. And she doesn't want just any guy to be the daddy. She wants the best guy she can think of – Kevin Federline, naturally. Not shockingly, K-Fed is said to actually be considering it. Partly because he wants more kids too, but mostly because he doesn't want Britney getting pregnant with another guy.
Britney Spears wants a baby – with her ex-husband Kevin Federline! And Britney is so determined to have another child that she's told Kevin if he doesn't give her one, she'll have one with someone else, sources say. "The last thing Kevin wants to see is Britney hook up with some guy and have another baby," revealed a close source. Britney now pays Kevin $40,000 a month to support him and their two boys.

The 27-year-old pop singer said repeatedly that she wants more children. In her recent MTV documentary "Britney: For the Record," she declared that she intends to be married and have more babies next year.

But while Britney feels she's ready to give the couple's two sons Sean, 3, and Jayden, 2, a sibling, Kevin isn't so sure, said the source. "He's hoping her career comeback and her upcoming U.S. tour won't allow her the time to start a family again anytime soon," said the source.
[From the National Enquirer, Dec. 22, 2008, print ed.]
Kevin is so willing to work with Britney on having more babies that he's agreed to go on tour with her and their kids. He wants to see if they can reconnect, and they're even considering going into counseling.
The Enquirer has learned exclusively that Britney and her father Jamie recently worked out a deal approved by the conservatorship court that pays Kevin, 30, to travel with Britney and their two boys on the tour, which beings in New Orleans on March 3.

"Kevin hopes to use this time to see whether he and Britney can reconnect and build trust in each other again. They're also talking about going into counseling," said the source.
[From the National Enquirer, Dec. 22, 2008, print ed.]
I could argue this as good or bad. Kevin has turned into a better father and seems to be less douchy in general. But when Britney got together when him was also when she started going crazy. It could have just been bad timing and maybe she was going to lose it then anyway. But it always seemed like she and Kevin fed off each other. They were never the classiest pair in the room. Yet from previous stories her family seems to ultimately think being back with Kevin would be good for Britney. And while no one puts much stock in Lynne Spears' opinion, dad Jamie agrees, and he seems to be pretty solid.
It still doesn't seem like it's a great time to have more kids. Britney doesn't strike me as entirely emotionally settled yet, and I think having a few years of solid mental health and good decision making under her belt will prepare her for more children. I think any babies at this point would probably be too much too soon. Hopefully she'll ultimately get what she wants, but will be willing to wait for it.
Here are Britney and Kevin a few years ago when they were married. Images thanks to WENN.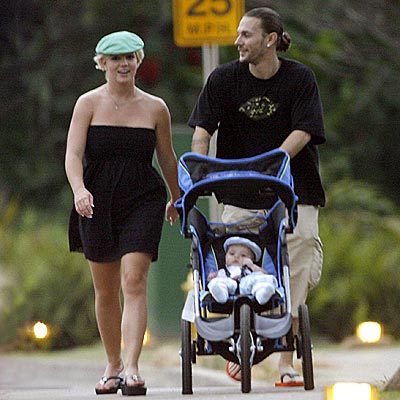 Written by JayBird

Posted in Babies, Britney Spears, Kevin Federline, Photos

- Who butchered the National Anthem? [D-Listed]
- Rob Lowe never ages [Lainey Gossip]
- What is Vanessa Hudgens wearing? [Go Fug Yourself]
- Summer guide to reality TV [Reality Tea]
- Game of Thrones recap [Pajiba]
- Tan Mom's music video [Buzzfeed]
- Amanda Knox is broke [Starcasm]
- Backstage at the Billboard Awards [Popsugar]
- Miley is still stuck in the 90s [Popoholic]
- Blind Items revealed: Adam Levine [CDAN]
- Hugh Hefner bought Crystal Harris a house [Celebslam]
- What happened to Aimee Teegarden? [The Blemish]
32 Responses to "Britney Spears wants another baby from Kevin Federline"