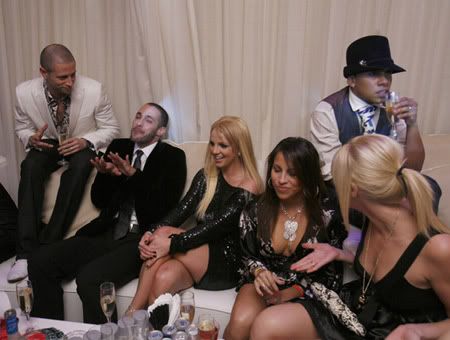 Britney Spears and her FedEx lookalike hookup, model/actor Isaac Cohen, stayed in a $40,000 a night two story Hugh Hefner Sky Villa while in Vegas over the weekend. Their digs featured a giant rotating bed, Jacuzzi pool and personal glass elevator.
Spears and Cohen hit a few gay bars in Vegas. Recent paparazzi photos suggest that Britney can't handle her liquor and barfed all over Cohen after one of their constant nights out. Cohen claimed that the nasty stuff on his hand was from a broken jar of gourmet chunky peanut butter he had in his pocket, which seems like a plausible excuse considering how creative he would have to be to come up with it on his own.
Britney was seen out in a god-awful flyaway wig at a park with little Sean Preston and the new manny this weekend. Her other child, four month old Jayden James, has yet to be seen with her.
Header image from Mollygood. Pictures of Britney at the playground from FlyNet Online.