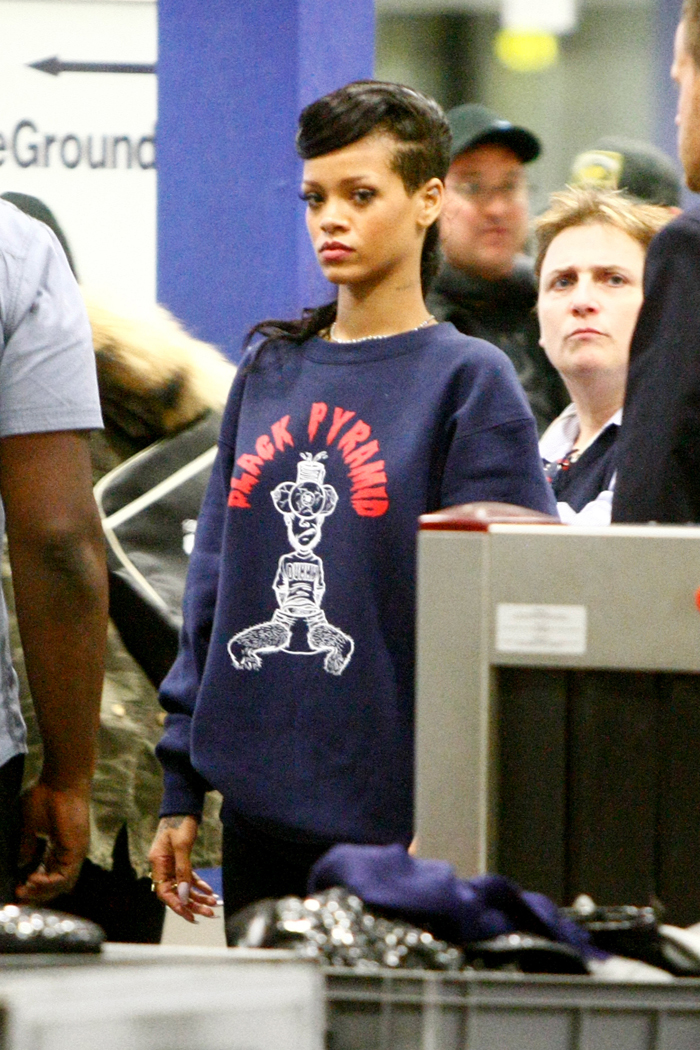 Here are some photos of Rihanna at the Schoenefeld airport in Berlin where she went through at security after her "secret gig" in Berlin that was part of her 777 Tour. The tour itself celebrates Rihanna's seventh album, Unapologetic, and follows an rather expensively inventive gimmick where RiRi flies on a Delta 777 jet to seven countries in seven days. Also present on the jet are 250 members of her entourage plus assorted members of the press and even some fans. It sounds utterly exhausting, and here's a take on the tour from Us Weekly's press attendee who was on hand for the Berlin and London dates. Of course Rihanna sang "Take a Bow," which is commonly believed to be a ballad that she wrote about Chris Brown, and of course Rihanna sounds like an utter mess who spends a lot of time drinking wine while the press and fans were forced to wait in unfavorable (to say the very least) conditions for many hours during this charade that will eventually be the basis of a pop-music documentary. There was also a naked streaking dude on hand too. Naturally!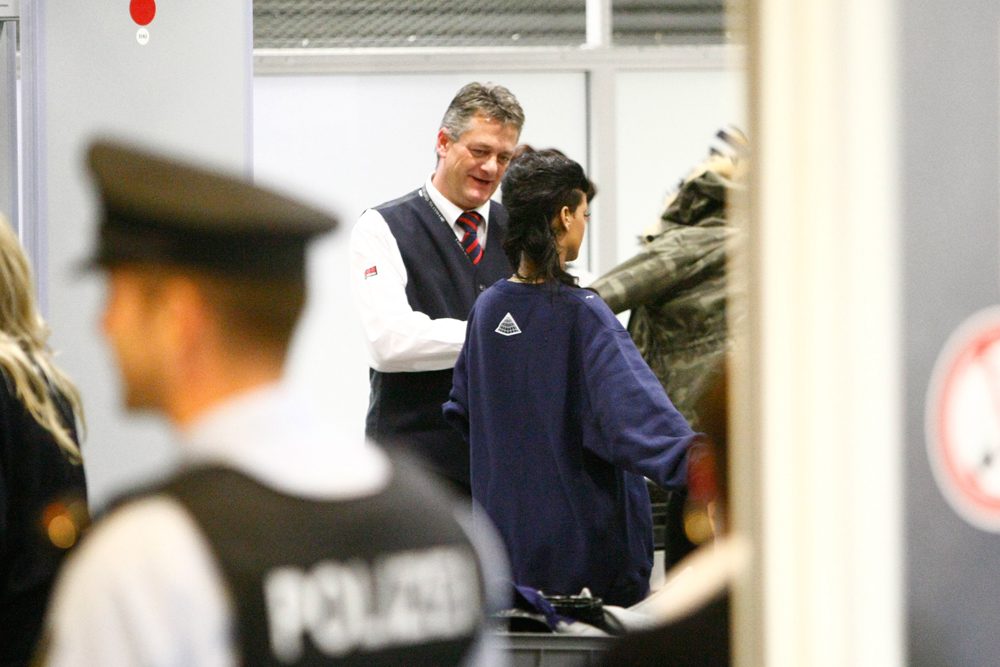 After arriving in Berlin today, Rihanna was immediately whisked off to a hotel. For the rest of us, they had a large room in the concert venue set up with food and Wi-fi. We arrived at 5:30 p.m. and were stuck there, shoulder-to-shoulder, like prisoners, until Rihanna went onstage at 11:30. The menu? Rubbery turkey, greasy green beans, German pasta, and stacks of donuts. (Incidentally, the venue was a place called E-Werk, once a detention center during World War II.)

Rihanna stayed in her hotel room, drinking wine, getting a massage, and getting her hair and makeup done before the show. She arrived at the venue just 20 minutes before showtime and headed to her dressing room, where she drank some more wine and munched on German chips while fans awaited her appearance.

Finally, she came out in black sunglasses, a baggy white jacket — and la piece de resistance, a black mesh top with a bold white marijuana leaf emblazoned across the front. She paired it with a black bra and black thigh-high boots. Her hair was in a French braid-type style, and she wore black lipstick and chunky gold earrings. She then launched into her set of acoustic ballads. When she sang "Take a Bow," a few fans shouted out, "Chris Brown!" That's the first mention I've heard of him on the trip so far.

After the show, Rihanna retreated to her dressing room. She arrived at the airport at 3:45 a.m. in a green, red, and black fur-collared jacket, navy blue T-shirt, black leggings, and white Air Jordans. When she saw we were all going through security, she pulled her hood over her head, smiled at us, and waited in a corner with her bodyguards. She then had to go through security herself, even though she temporarily misplaced her boarding pass and was held up at customs.

I told her the show was great when she passed and she said, "Hi! Thank you!" One of the guys in her camera crew (the tour is being filmed for a documentary) played a joke on her by sitting in a wheelchair and filming her a la The Shining as she walked toward the plane. She noticed and started laughing and then walked over, grabbed the camera, and started filming him!

Once inside, she sat quietly in her seat. But chaos erupted right as the plane took off. It all started when a flight attendant ran back to adjust a door at the back of the plane. To my left, some folks decided to cause a ruckus by singing "What's My Name" and singing "Rihanna" instead of "Hey Na Na." The press in the entire press section started joining in and chanting "Rihanna" to try to get her to come out. (Many journalists on the plane have complained that the singer has yet to grant one-on-one interviews.) Then an Australian radio DJ who has been playing the harmonica on the trip stripped and ran around the plane naked as everyone went nuts.

Eventually, things settled down and people stopped chanting. Our plane landed in London at 5:46 a.m., at which point Rihanna was whisked to her room to sleep. The rest of us, including the band, arrived at the hotel at 10 a.m., after being up for over 25 hours.
[From Us Weekly]
Well, now we know why this tour is such a huge production with a camera crew — because this is Rihanna following in the steps of Madonna, the Jonas Brothers, Justin Bieber, and Katy Perry by filming her own concert documentary. I wonder who her Warren Beatty/Russell Brand will be in this movie? Probably Chris Brown. Yuck. But in all honestly, if Rihanna's team has invited several journalists along for the ride on this mini-tour, the least they could do is have her do some interviews.
Now here are some photos of RiRi performing her "secret show" at Berlin's E-Werk venue. She really loves the marijuana leaf motif, doesn't she?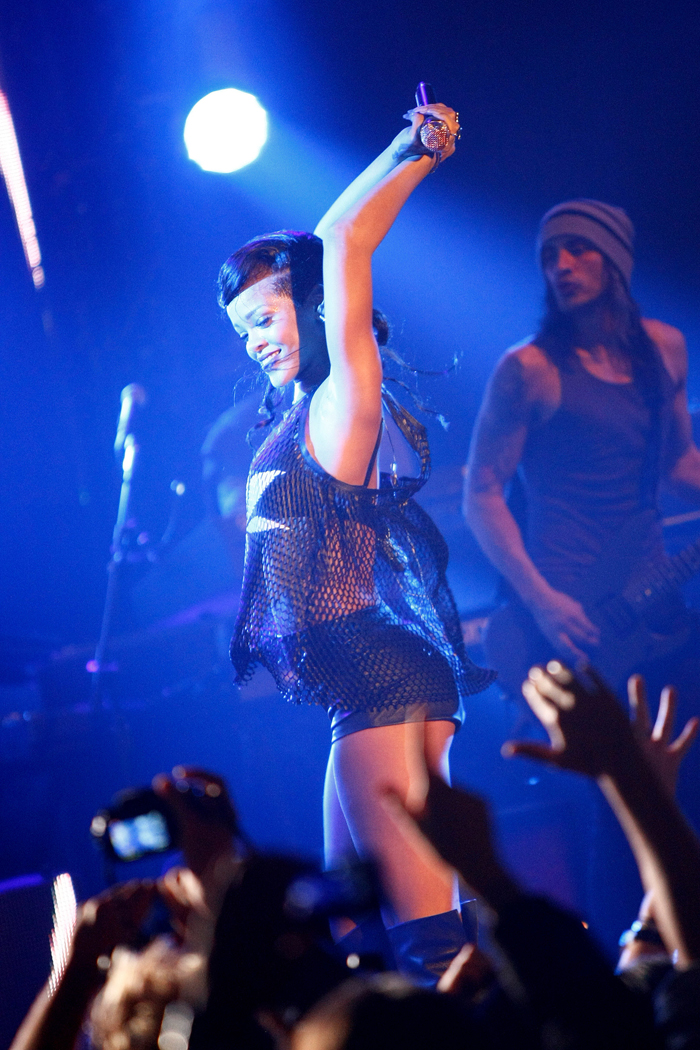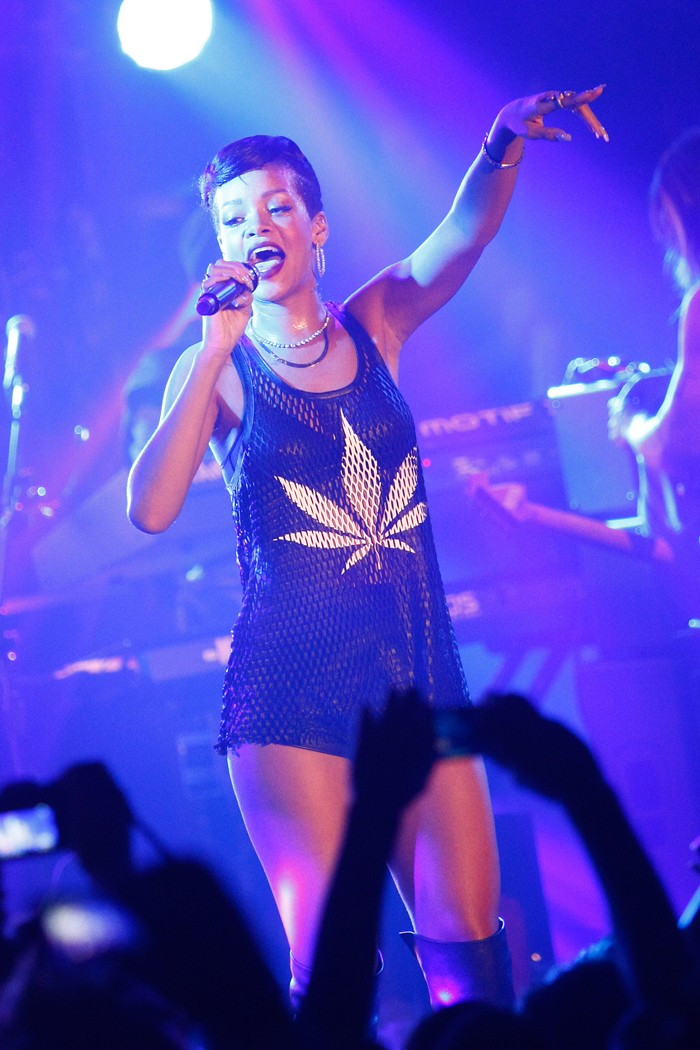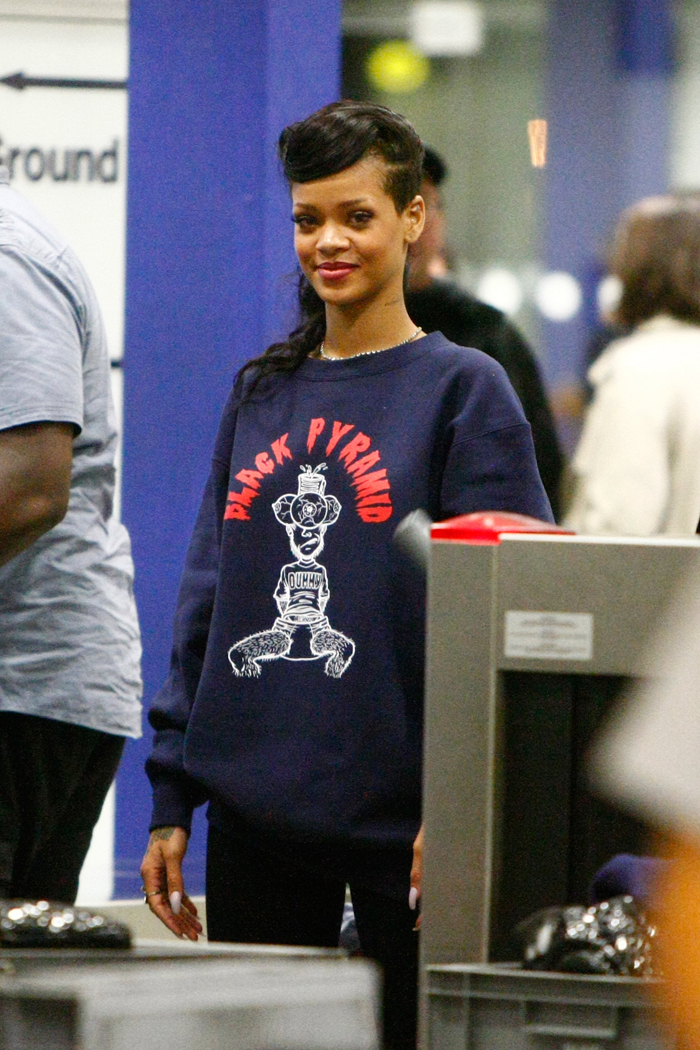 Photos courtesy of WENN