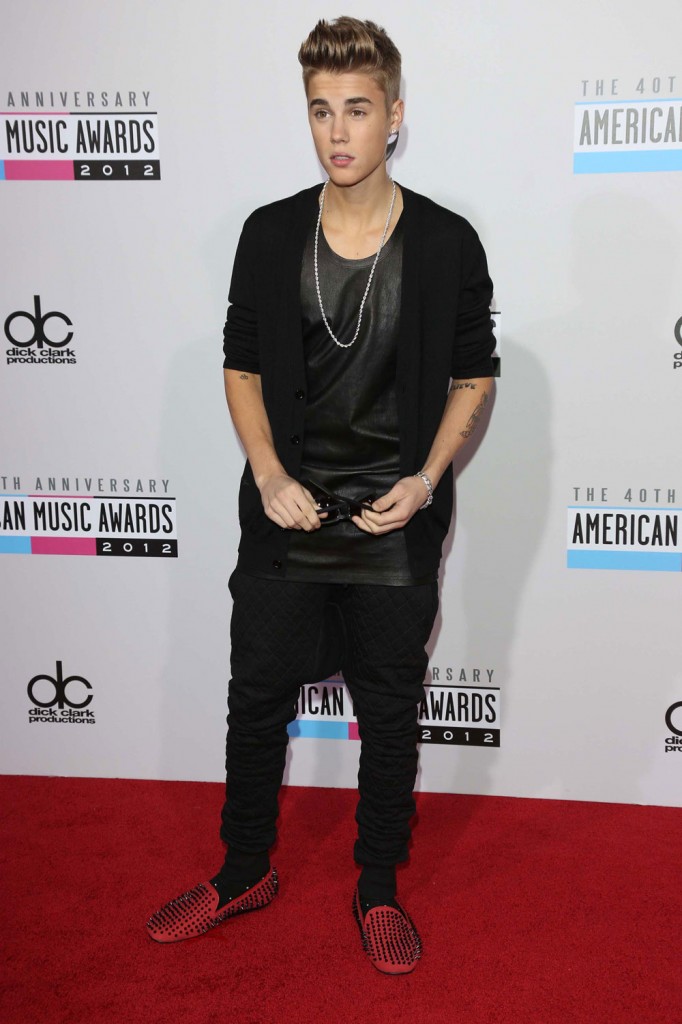 This news came out a couple of days ago, but I'm just seeing it now so you'll forgive the lateness. ET Online has video of Justin Bieber getting tailed by a paparazzo who is following him as he speeds, bobs and weaves through traffic in his white Lamborghini to evade the guy. It looks incredibly dangerous and unsafe, and the douchebag taping it all is clearly eating it up. Then Justin stops his supercar right in traffic to tell the photographer that he's stalking him, basically. The people in the cars behind him start beeping and getting out of their cars to tell him to move it, and Justin sits there calmly for a few more moments talking to the photographer before jetting off again. This isn't the first time we've heard of Justin driving like a maniac with the paparazzi following him – he had a similar incident in July, in which he was cited by police for driving over 100 mph on the freeway. Photographers were following him at that time too, and people were divided as to whether the chase was Justin's fault or whether the paparazzi were to blame. Seeing this latest video (you can watch it here) I think it's safe to say that both parties are at fault – the kid with too much money, fame and toys and the photographers who consider it their job to get under his skin. It's a recipe for disaster. Here's ET's report:
On Saturday [Justin Bieber] got into a confrontation with paparazzi following him around the streets of Los Angeles.

In this exclusive video obtained by ET, Bieber is seen darting through traffic in his white Ferrari while being trailed by photographers recording his movements.

At one point when Bieber stops in traffic, he has paparazzi vehicles on both sides of his car. One of the photographers converses with Bieber, who has his window down. "You're driving pretty crazy," he tells the pop star, adding, "I think you should slow down a little, don't you think." Bieber responds: "I think you guys should probably stop following me."

Bieber then speaks to the photographer on the other side of his car and says, "I like you." But he then gestures to the other paparazzo who criticized his driving skills, saying, "I think this guy's just not fun."

Bieber then asks the photographer, "What do your parents think about what you do?" When the photographer says, "I make them proud," Bieber responds: "Oh, you make them proud. Do you tell them, 'I stalk people for a living.'"

Traffic is halted in the street as the conversation continues, with other drivers honking and loudly urging Bieber to move. The teen heartthrob then tells the photographer, "You guys love this don't you?"
Bieber is 18 years old. I got in several car accidents at that age, minor ones, because I just didn't know how to drive yet and I made stupid mistakes. It's a no-brainer that this twerp shouldn't be driving a high powered exotic sports car through traffic filled with innocent people! Of course the photographers shouldn't be chasing him, but it's his choice to run! He could just put his sunglasses on and drive normally and calmly, he could alternately get a sweet limo with tinted windows and hire a driver to ferry him around while he talks on the phone, watches movies or goes online. (That sounds so nice to me, I'm fantasizing about it now.)
In regard to Justin's previous incident in July, in which a photographer was also charged for chasing him, TMZ had an update last week. Apparently two out of four of the criminal charges against the photographer, made under California's new anti-paparazzi law, were thrown out as the trial judge considered the law unconstitutional or something. I don't know if this is the same a-hole chasing him here, but it's clear that nothing is deterring these creeps – and that nothing is stopping Bieber from driving like a maniac. I hope his mom sees this video and puts the fear of God in him. I got the impression from her appearance at the AMAs that Bieber has her under his thumb, though.