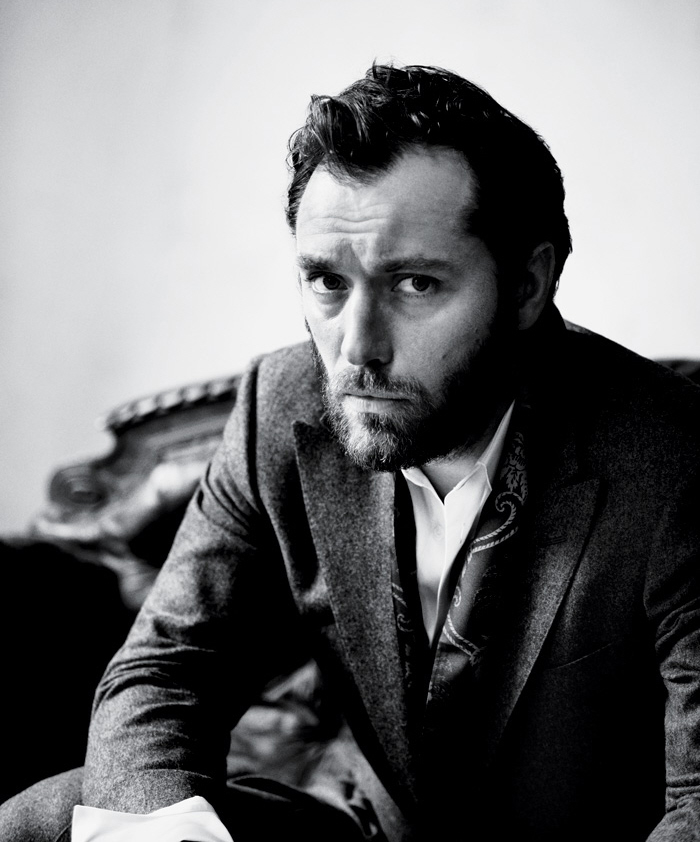 Jude Law is the new cover boy for the New York Times T Style Magazine. The photos – by Jude's friend Sam Taylor Johnson – are especially gorgeous. Sam is a gifted photographer, and Jude is a great photography subject. It's not just that he's beautiful… he's also interesting-looking, even more interesting as he gets older, I think. Jude is promoting his role in Anna Karenina, a supporting role (as Anna's severe husband) which some think could net Jude an Oscar nomination. You can read the full NYT piece here – it's actually really interesting because Jude talks a lot about being a victim of the phone hacking and all of that. Some highlights:
Playing Karenin, "Anna's morally severe, emotionally barren, piously dutiful, highly controlling pain in the neck of a husband" instead of the young heartthrob Vronsky: "In a weird way, it's kind of a relief to think, 'Oh, I know I'm not that young sort of pretty thing anymore,' " he said. "It's quite nice talking about what it was like to be the young pretty thing, rather than being it."

Doing films just for the money: "Without sounding too pretentious, it's difficult to remember that it's an art form and you are, maybe, an artist and you have to make decisions on that level. I feel kind of more confident, more settled as a human being, more settled in my own skin." When he was younger, he said, he longed to be taken seriously but found that some of his roles did not allow him to do that. Being older, "you are allowed to be an actor, and the parts you get are more interesting."

On playing Karenin: "It seemed to go against everything I have done, and it was fun to investigate the sides of a man that I hadn't done before in any way, shape or form," Law said. But it did not mean he was playing against type, he said, "because I always play against type; I have never played anyone like me."

He and Sadie Frost share custody of their kids equally, one week with him and one week with Sadie: "I would not have been able to have the usual kind of paternal-role situation of one weekend every two weeks," he said. "I enjoy it too much." Everyone gets along so well that they take vacations together. "We made a decision very early on that whatever our opinion of each other — which I have to say is a good one — we were going to maintain the function of the family," Law said. (He also has a young daughter in New York, the result of a brief affair, with whom he is in regular contact.)

Finding his personal life splashed around in the tabloids: "You suddenly start to go, 'What, what, wait a minute. How do they know this? Where are they piecing this together from?' " he said, recalling some of the details of his life he saw in the press. It was clear something was going on, but Law did not know what. He became paranoid. He had his house swept for bugs and his car searched for tracking devices. He mistrusted acquaintances, even wondered about friends and family members. "The weird thing is that you start taking things for granted," he said. "Like I thought, Maybe this is just heightened interest in what I'm doing. This is what my life has become. This is my lot and I've got to deal with it."

Finding out, in 2010, that he had been hacked by Rupert Murdoch's press: At the end of 2010, Law got a call from Scotland Yard. The police had uncovered thousands of pages of notes taken by an investigator hired by the News of the World to dig up dirt on public figures, they told him, and one of the names in the notes was Law's. "They just had piles of notes with my credit card details, phone numbers, contacts, friends' contacts, parents' phone numbers," he said. They also had recordings of voicemail messages from and to him. "There was this awful afternoon when they came over with a tape recorder and said, 'Could you verify that this is you?' " None of this surprised him, really, but it made him feel less crazy. "To have other people go, 'This is outrageous' meant that I didn't feel like this sort of mad, paranoid, dystopian lunatic saying, 'the world's following me — what's going on?' " he recalled. "It felt, strangely, kind of justifying."

Telling his 16-year-old not to get a tattoo: "Well, you've got them," Law recalled his son saying, to which he responded, "Yes, but you've got to know that what you get is going to be forever and I don't think at 16 you know what forever is."

After the hacking scandal and everything else: "They had kind of stripped me and my relationships bare — there was nothing left to write," Law said. "And there is only so much laundry one has, in the end, to be washed in public."

On choosing what to wear during the photo shoot: "Look, tell me what I'm wearing — I really don't care." He added: "I don't have a lot of time anymore for standing around choosing outfits. I'm too long in the tooth for that now."
[From New York Times Magazine]
I thought the part about his custody arrangement with Sadie was interesting – I didn't know that they split everything equally. That's nice what he said about enjoying being a father, although I like that the NYT dropped a line in there about his other child, the one he fathered through a one night stand with some (slightly crazy) fan-girl.
As for Jude's thoughts on his own aging beauty and how he's no longer the heartthrob… what I always liked about Jude as an actor is that he never really relied on his beauty alone. He was always a talented actor, and he rarely took parts where it was just about being pretty. That being said, I think I'd rather hit it with this current Jude than the 20-something physically-perfect Jude. I like a dude with some scruff and fading prettiness.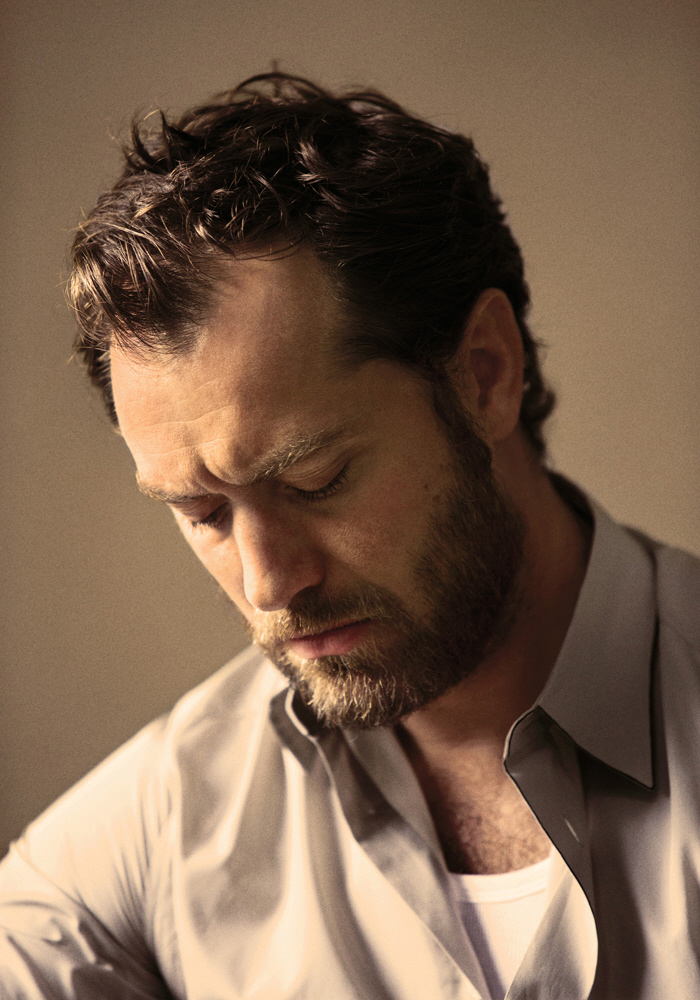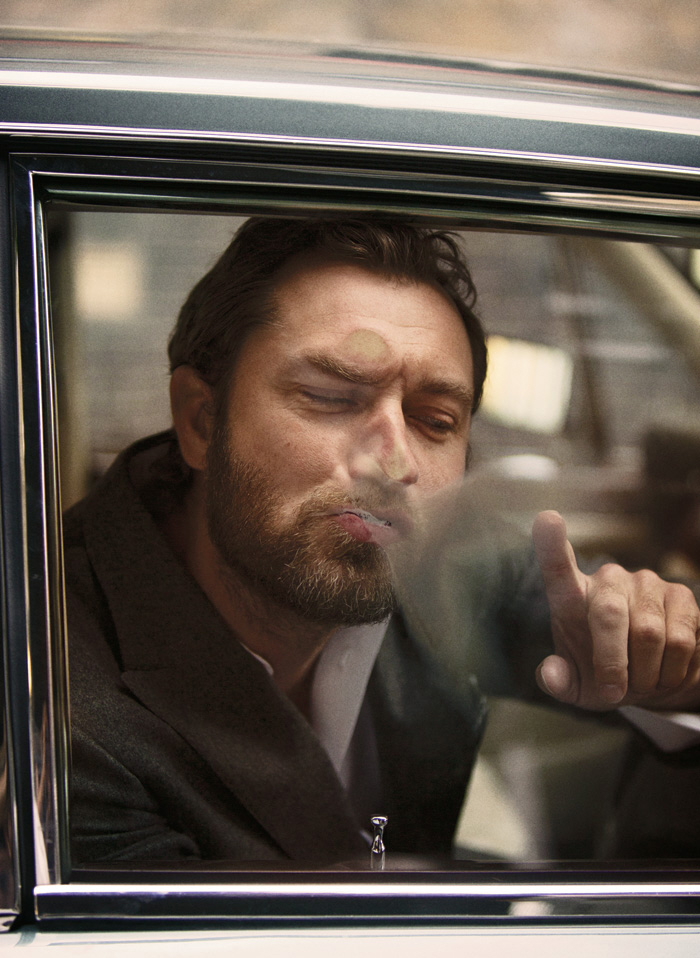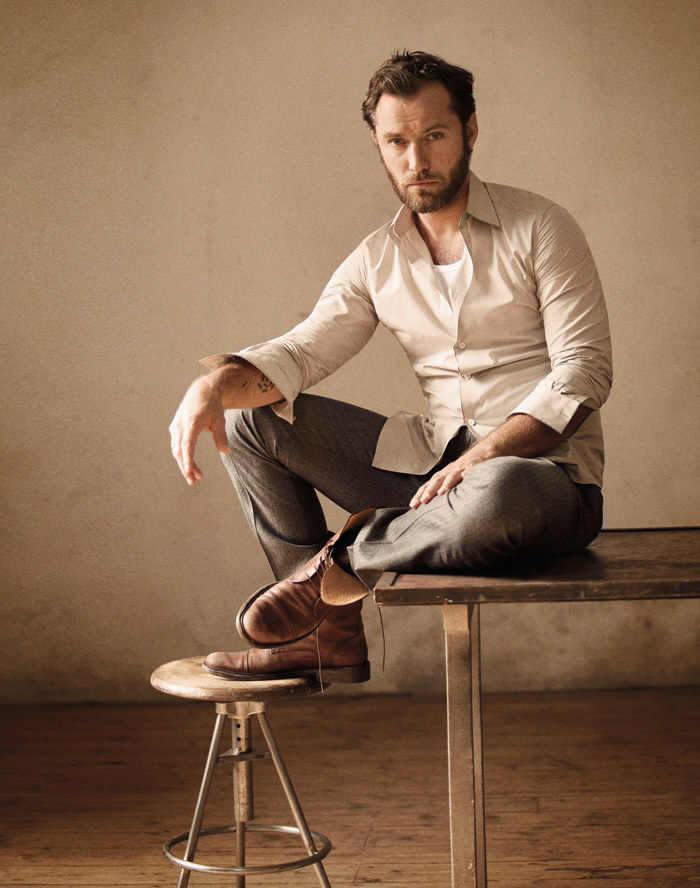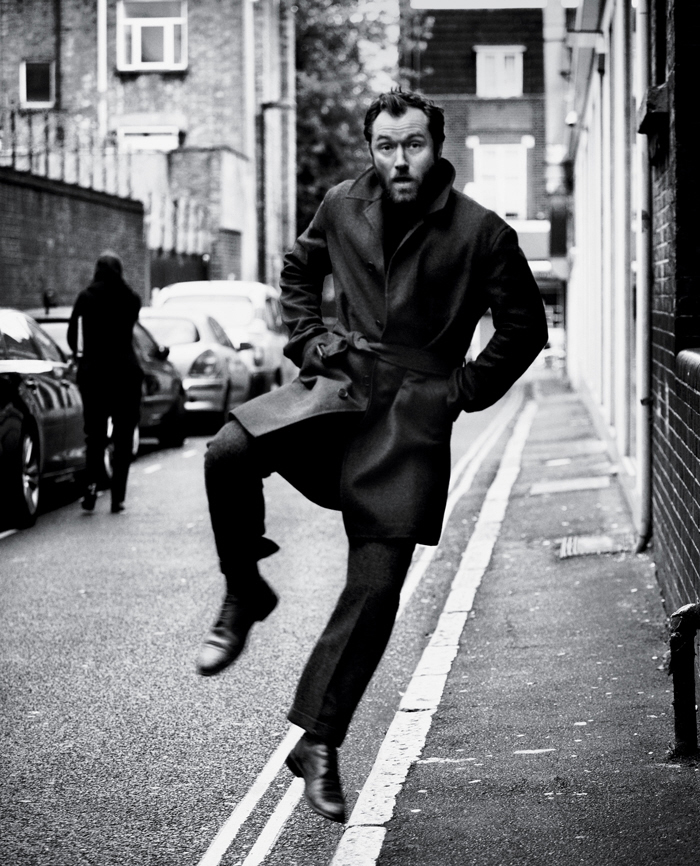 Photos courtesy of Sam Taylor Johnson/New York Times.