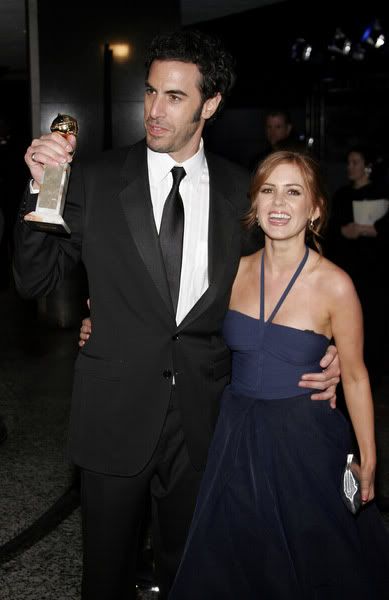 Sacha Baron Cohen told NPR's Terry Gross that his days of performing as the Kazakh character Borat are over because too many people recognize him due to the success of his film. He ruled out playing Borat again, and said he may move away from pranking people in character. He's not going to quit too soon, because he's contractually obligated to make a movie as Austrian fashion reporter Bruno:
Cohen – who was named Best Actor in a Film Musical or Comedy at last night's (15.01.07) Golden Globe Awards – said in an interview with a US radio station: "I think it will probably be impossible to do Borat again. There are a number of things that are in development. The next thing will probably be a scripted comedy. I think the days of me going undercover are probably over."

Cohen, who is engaged to 'Wedding Crashers' actress Isla Fisher, has reportedly signed a £22 million deal with Universal Pictures to star as Bruno – a flamboyant gay Austrian fashion reporter who, similarly to Borat, would go undercover to infiltrate the fashion world.

Hollywood insiders are concerned Cohen's decision could jeopardise the deal. A source said: "They were banking on him coming up with another Borat. There's no guarantee people will flock to see something that is scripted."

Cohen, 35, admits he found it tough playing Borat in the movie, 'Borat: Cultural Learnings of America for Make Benefit Glorious Nation of Kazakhstan'.

He explained: "It was tiring having to stay in character, usually for about eight hours at a time, so as not to raise suspicion.

"There is a lot of physical preparation. I never washed the suit – when I come in the room there's this terrible smell. And Borat doesn't wear any deodorant."
[via Digg]
That's too bad, because Borat is pretty funny. It seems like he could continue playing him for laughs even if he can't fool people anymore.
Also, maybe he meant that the Bruno film isn't going to have real pranks – it's just going to seem like it. With all the lawsuits against the Borat movie, maybe producers don't want to take a chance.