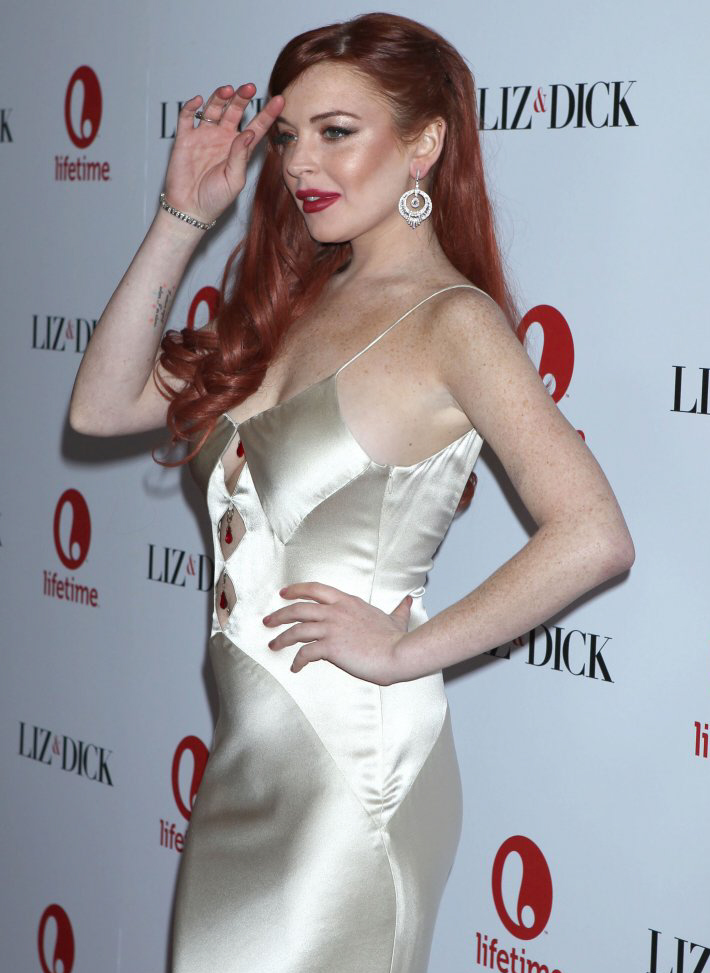 You know when things are bad? When People Magazine starts calling you out on your crack shenanigans. Such is the lot of Lindsay Lohan. Yesterday afternoon, People published a scathing report on how Lindsay is a total mess. This came just hours after TMZ reported – and other sites independently confirmed – that the IRS had seized all of LL's bank accounts (or just the ones they know about). Just note… I wouldn't be surprised at all if the "source" for People's report turned out to be the Cracken's now-former assistant Gavin.
Things are not looking good for Liz and Dick star Lindsay Lohan.

Less than 24 hours before the well-documented punching incident at an N.Y.C. nightclub that got her arrested, Lohan was "dancing like crazy" past 2 a.m. at The Darby, at one point "causing a scene" when she thought she lost her phone, says an onlooker. "She even demanded that a girl at a nearby table empty her pockets."

The following night, Lohan appeared drunk, according to reports, before she allegedly punched Tiffany Mitchell at a Manhattan nightclub. She is due in court for the altercation on Jan. 7.

Simply put, Lohan, 26, continues to struggle with alcohol, says a friend. "She will fool people into thinking she's changed, but at some point in the night, she always snaps and it's always the same story," says the pal.

After the nightclub incident, Lohan's assistant Gavin Doyle Tweeted to the actress: "@lindsaylohan after bailing you out last night I HOPE and PRAY you get the help you so desperately need. We are ALL rooting for you. xxx."

Lohan is "out of control," adds a second source. "Her friends don't know what to do. She won't ever change."

Meanwhile, another source close to the actress denies that she has a problem and says that it's the "near constant criticism" that's taking a toll on her. "If everything you did was criticized, you'd lash out too," says the pal. "But she'll be fine, she's tough. She'll probably outlive everyone."

For now, Lohan is due in a Los Angeles courtroom on Dec. 12 for a hearing relating to a June 8 car accident that resulted in three misdemeanor charges, including lying to a police officer. Those charges normally wouldn't threaten jail time for a first time offender, but because Lohan is still on informal probation, those charges, combined with a possible assault, could land her in jail.

The last time the starlet appeared before L.A. Superior Court Judge Stephanie Sautner, the judge warned Lohan that she could face 245 days in jail if she slipped up again.
Did anyone else LOL at the "But she'll be fine, she's tough. She'll probably outlive everyone" line? I used to say that about Amy Winehouse – I used to think that all of that liquor and all of those pills and drugs would end up preserving her somehow. I was wrong. And the "source" is wrong about Lindsay too. I mean… I'll buy that Lindsay has a high tolerance for alcohol, meaning that she's probably perpetually half in the bag but she "passes" for sober most of the time because nobody cares. But you can see all of the damage on her face and on her body. The crackhead is not healthy. At all. And to make it worse, she combines this unhealthy lifestyle with a really horrible attitude. I see that some people can still scrounge up some sympathy for her, and all I can say is… REALLY? Just wait until she mows someone down. Just wait until she smacks the hell out of you.
Meanwhile, poor crackie is "freaked out" at the possibility that she might have to spend Christmas in jail! CRACK SOB. A source tells Radar:
"Lindsay is absolutely freaked out about the possibility of going back to jail because she allegedly violated her probation in her necklace theft case when she was formally charged with lying top cops after a horrific car crash last summer in Santa Monica. Lindsay knows it's almost a foregone conclusion that even if she admits to the probation violation without having a formal hearing, and throws herself at the mercy of the judge, she would be sentenced to significant jail time," a source close to the situation tells RadarOnline.com exclusively.

"Lindsay's arraignment for the new charges is scheduled for December 15, and she isn't required to appear because she was charged with misdemeanors. However, the judge could order her to appear because of her lengthy criminal history. Lindsay is facing about 253 days behind bars, if she is found guilty of violating her probation, and she would serve 25% of that sentence because of overcrowding in jails in Los Angeles. Lindsay would serve about 63 days behind bars. Lindsay was locked up in 2010 for 13 days for violating probation in her DUI case, and said it was the darkest time of her life. If Lindsay could sell a body part to keep her out of jail, she would. She is that desperate about the thought of going back to jail," the insider added.
I love that now that there's a very real chance that Lindsay could spend a significant amount of time behind bars, suddenly she's like a cracked-out savant with math. If she's ordered to spend 253 days in jail, she'll definitely have to do 25% of the time, which is 63 days? Two whole months without constant crack drama? You know what? I think I'll survive. Nay, I will thrive without the daily crack drama from Lindsay. I feel like chanting… "Lock-up, lock-up, lock-up!"
Oh, and Page Six has a funny "Lindsay says it's not her fault!!!!" story about the IRS thing. A source tells Page Six, "Lindsay is freaking out. And she's doing what she always does, which is to say it's not her fault and point the finger at someone else in her team. She says she didn't know anything about it . . . she's broke and it's not her fault."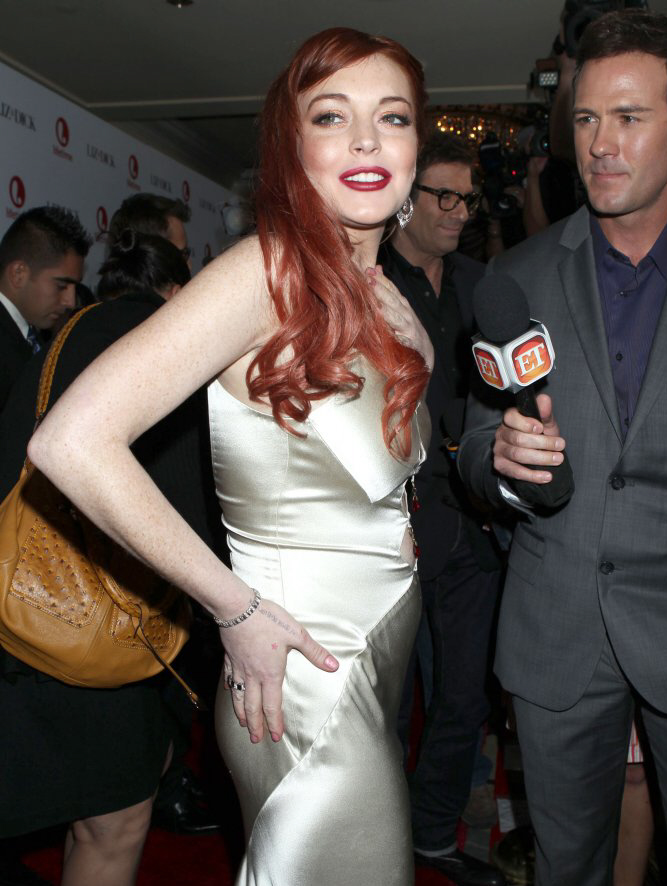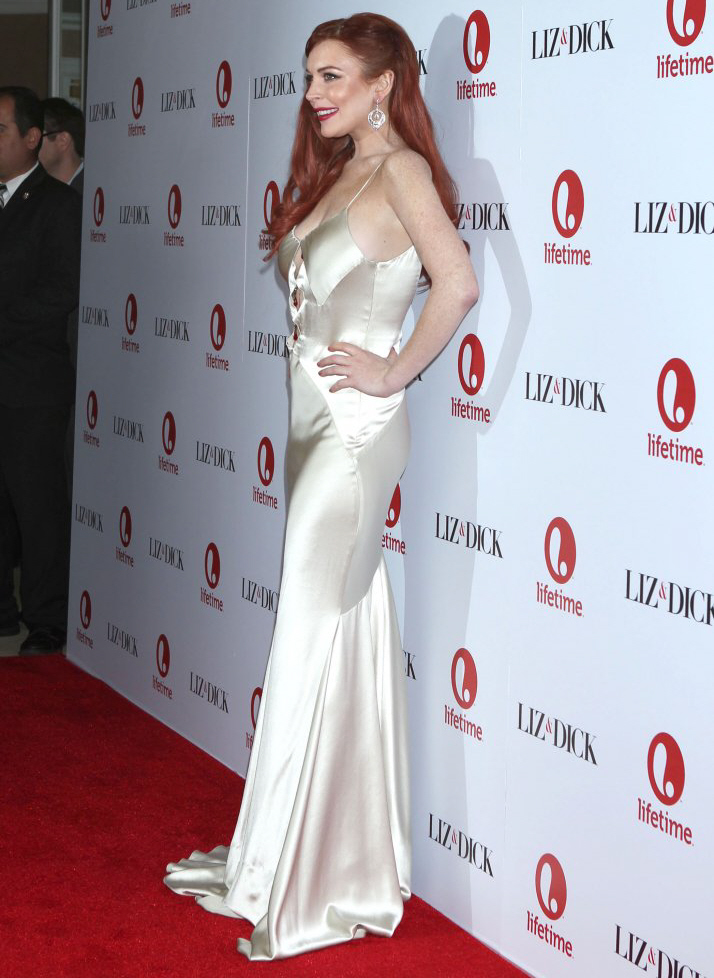 Photos courtesy of Fame/Flynet.