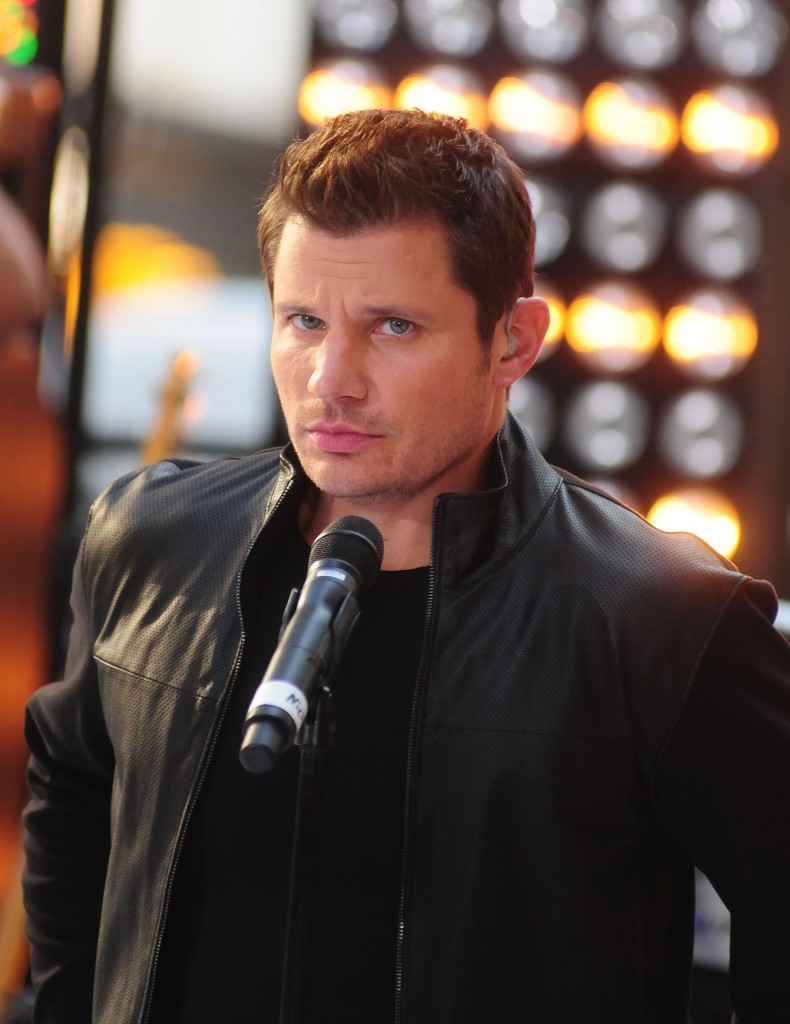 There isn't much that surprises me about this story if you leave out who we're talking about. A minor male celebrity goes to a football game with his buddies, gets wasted, starts talking smack to a guy with a jersey on for the opposing team, and gets kicked out of the stadium after a fight ensues. Later, the alleged victim claims that the minor celebrity/former reality star and boybander choked him and called his wife a b*tch when she came up with a clever comeback to his smack-talk. The celebrity guy brags about the incident on Twitter, not acknowledging his responsibility for getting kicked out of the game and acting like it was a badge of honor or something.
No biggie, this is the kind of petty thing we'd expect from a person with that background except this is Nick Lachey! He's supposed to be the decent guy, the one who put up with Jessica Simpson for so long until she cheated on him. He's not known for being a hothead or an ass and we had a window to his marriage for years. He seems rather low key and chill about everything. I am honestly surprised. When did he become a douche, or is this just a bad moment for him? Anyway here's the news for this:
Nick Lachey isn't just a heckler … he CHOKED a San Diego Chargers fan at Qualcomm Stadium on Sunday and called the guy's wife a "f**king b*tch" … this according to multiple people involved in the incident … but Nick says it's all BS.

TMZ has obtained new video … which shows Lachey getting aggressive with a Chargers fan who was wearing an Igor Olshansky #99 jersey (Igor played for SD from 2004 to 2008).

We spoke to the guy in the jersey … who tells us Lachey and his buddies — all die-hard Bengals fans — had been talking trash to him about the jersey for most of the 2nd half of the game.

The Chargers fan says Lachey made one particularly offensive comment about Olshansky that crossed the line … and that's when the fan's wife shot back to Nick, "Well, he lasted longer than your boy band."

We're told Lachey flipped out and called the wife a "f**king b*tch" … along with "a host of other profanities."

Tensions exploded … and the Chargers fan says Nick lunged towards him … grabbed him by the throat and shoved him to the ground. The fight can be seen in the footage obtained by TMZ.

As we previously reported, stadium security quickly responded and ejected Nick and his buddies. The Chargers fans were NOT asked to leave.

After the incident, Nick went to Twitter and BRAGGED about the situation — saying, "Just got kicked out of the chargers stadium and couldn't be prouder! Go Cincy Bengals."

He later acknowledged the altercation … tweeting, "i simply don't appreciate someone turning around and putting their finger in my face. call me crazy, but that deserved a reaction."

We're told the Chargers fan plans to file a police report against Lachey.

Nick's rep tells TMZ, "This is a gross misrepresentation of what happened. It was nothing but a spirited debate between fans of opposing teams. At no point did Nick say anything derogatory to the man's wife and anything to suggest the contrary is simply untrue."
TMZ has a video to accompany this story, but don't bother watching it unless you're bored stiff at work and need a diversion. Hell, just go to YouTube and watch funny cat videos. All you can see is a blurry cell phone clip of Nick looking like he's lunging at a guy in this mass fight. It looks like a free-for-all, not like Nick was the only one being the aggressor. So what happened? It was probably a convergence of Nick's hotbutton issues – sports and his lousy career. Add some overpriced beer and drunk friends in there and you have a recipe for a fight. It makes me wonder if everything is ok at home with Vanessa and their new baby. Probably. He's just getting worked up at a sports game. I'm not invested in sports like that and can't relate. I hope he didn't choke that guy though, that's awful if it's true.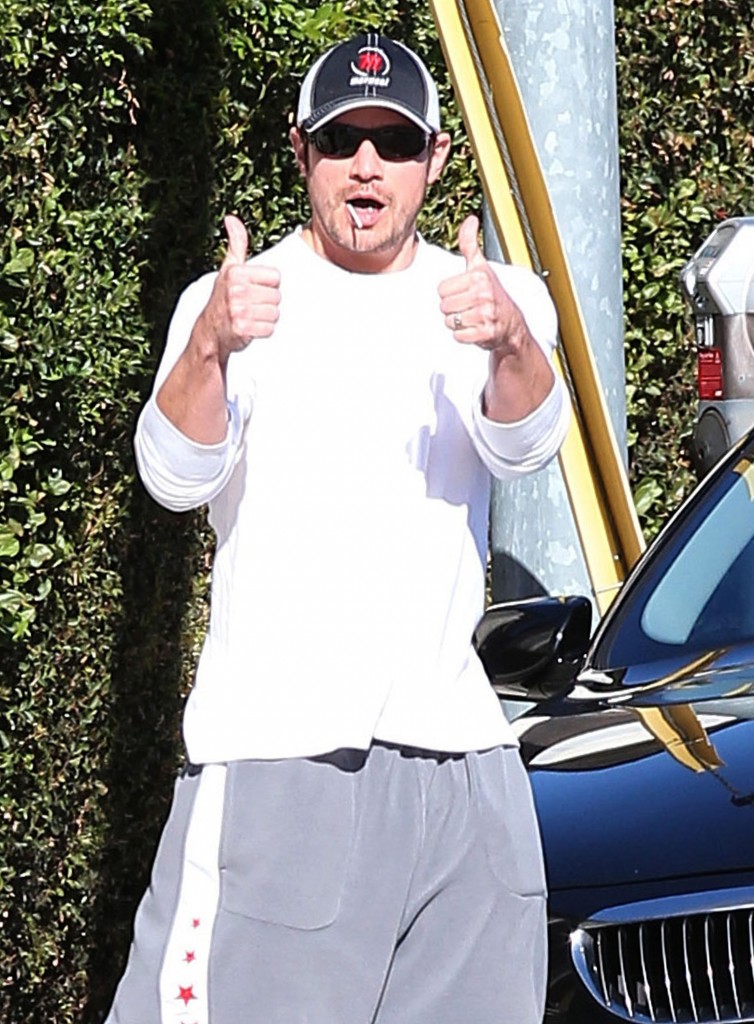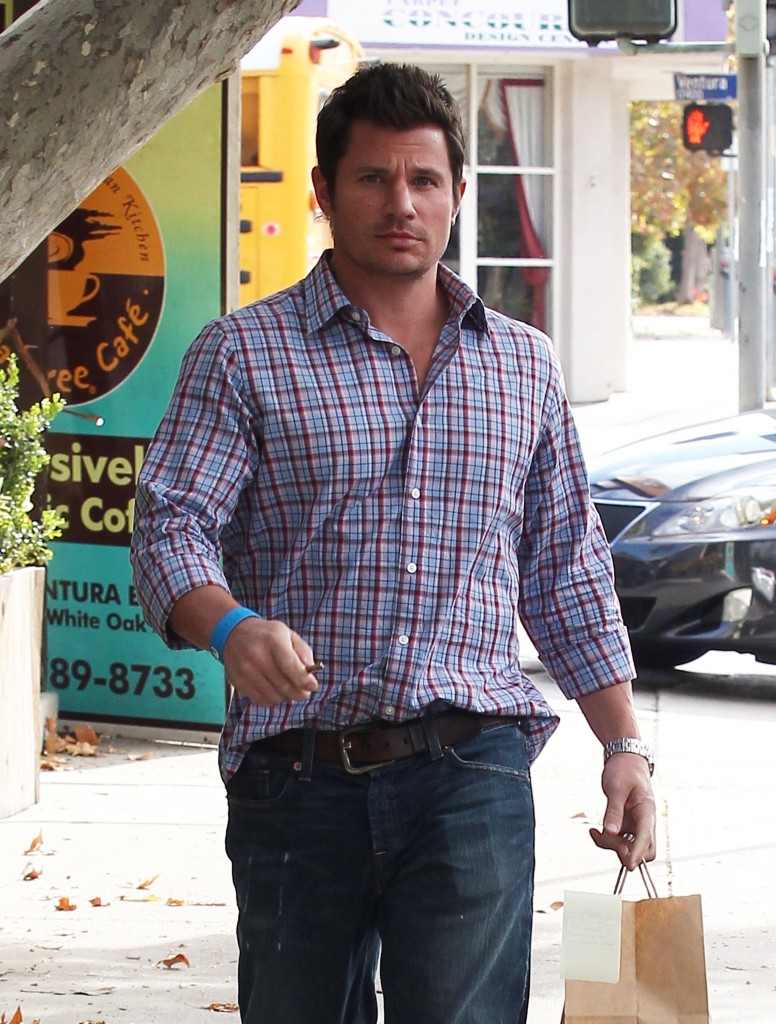 Candids of Nick are from October and November. He's also shown during a 98 Degrees reunion concert in August. Credit: WENN, PCN and FameFlynet