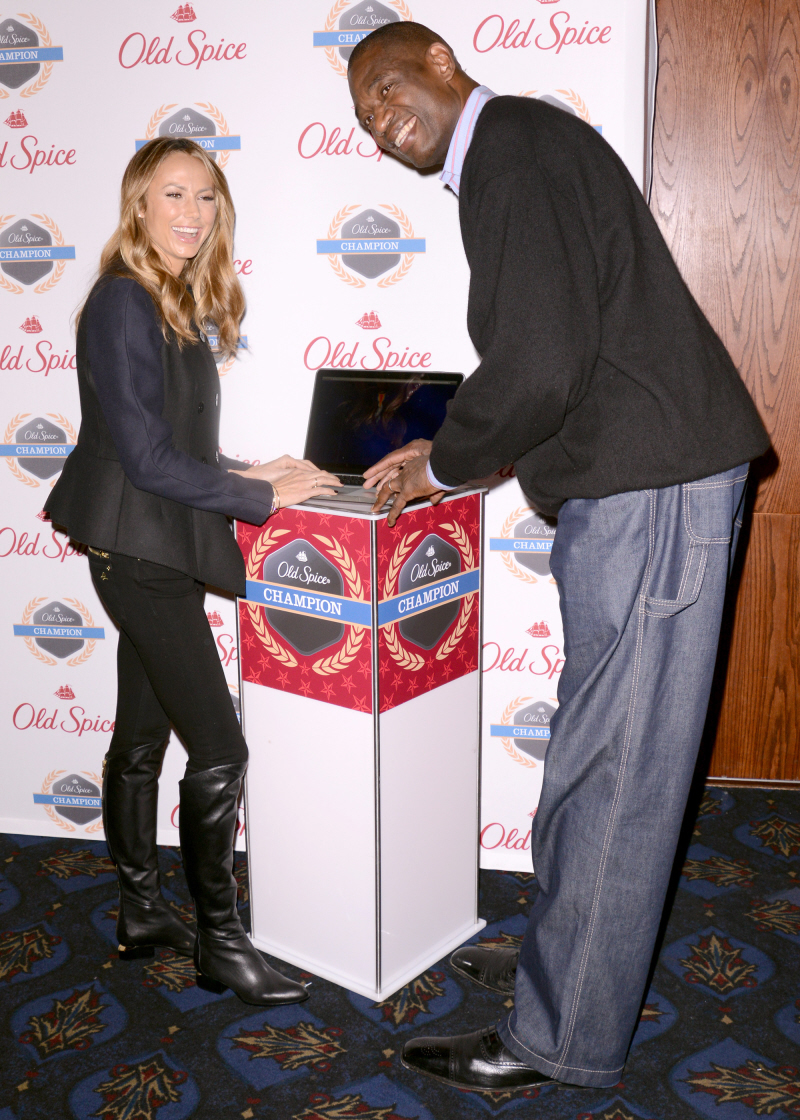 These are new photos of Stacy Keibler at an event for… something something Old Spice. Let's see… it was the launch of an "Old Spice video game" (WTF?) called "Dikembe Mutombo's 4.5 Weeks to Save the World." Something about the Mayan apocalypse etc. Stacy did the appearance with Mutombo, and I'm guessing this was totally a paid appearance. Those video games have a crazy amount of money to spread around, so Stacy probably banked mid-five-figures (at least) for a couple of hours of work. Should we talk about her outfit? I actually like her jacket, although it's too stiff and I know people are going to scream "PREGNANT!" at her. I feel very confident that she's not pregnant. I feel pretty confident that Clooney had a vasectomy so there would be no "surprises". I also have to say… Stacy is looking "hard" here. Too much Botox or too much hard living or something. She looks old before her time.
Anyway, to promote this Old Spice video game (seriously, WTF?), Stacy also did a quickie interview with ESPN. Because why not? You can read the full thing here, but here's all of the relevant stuff:
ESPN: At 5-foot-11, you're pretty tall. How is it standing next to the 7-foot-2 Mutombo?
Keibler: I feel like a little girl next to him.

So you were born just outside Baltimore and worked for the Ravens as a cheerleader when you were 18. They just came off a tough loss to the Steelers. Think they can win the Super Bowl?
I have season tickets and I'm still a huge fan. I always go back to at least one game. I'm with them through thick and thin, and I'm confident they will do well this year.

What's your thoughts on your wrestling career (1999-2006) as a manager and occasional wrestler?
Everything is a steppingstone. It was a great chapter in my life. I spent eight years touring the world and I have wonderful memories. I love my fans. But I've moved on to other things.

You've worked with various humanitarian organizations recently. What has that meant to you?
I think it's a responsibility for everyone to give back. With the holidays just around the corner, it's not all about getting. It's about giving. Either as a volunteer. A charity. Helping a friend.

And how is it coming with your healthy snack food line?
We're still in development. But I just set up a trust to raise money for child obesity. We need to re-educate people about what they are putting in their bodies. You can heal your body with food. It can prevent cancer and prevent childhood obesity. You need to be smart about what you put in your body. It's a huge epidemic right now.

You've been dating George Clooney for several years. How do you keep your personal lives to yourselves?
It's really not anyone's business. A personal life is a personal life. I know there has to be a happy medium being in the public eye. You just have to remember not to give everything to everybody!
Has it been "several years"? No. It's been about a year and a half, tops. They got together in the summer of 2011, although it seemed more like an international booty call at the time. Do you remember that? Clooney was staying at Lake Como and he pretty much ordered up Stacy and she flew to him, then flew back to LA when he was done with her, and then he called her again a month later or something. The beginning of their relationship was definitely weird. As for Stacy's "It's really not anyone's business. A personal life is a personal life" – good girl. Keep it vague. Don't offer up too much. I think Clooney has her on notice since she started trying on engagement rings in September.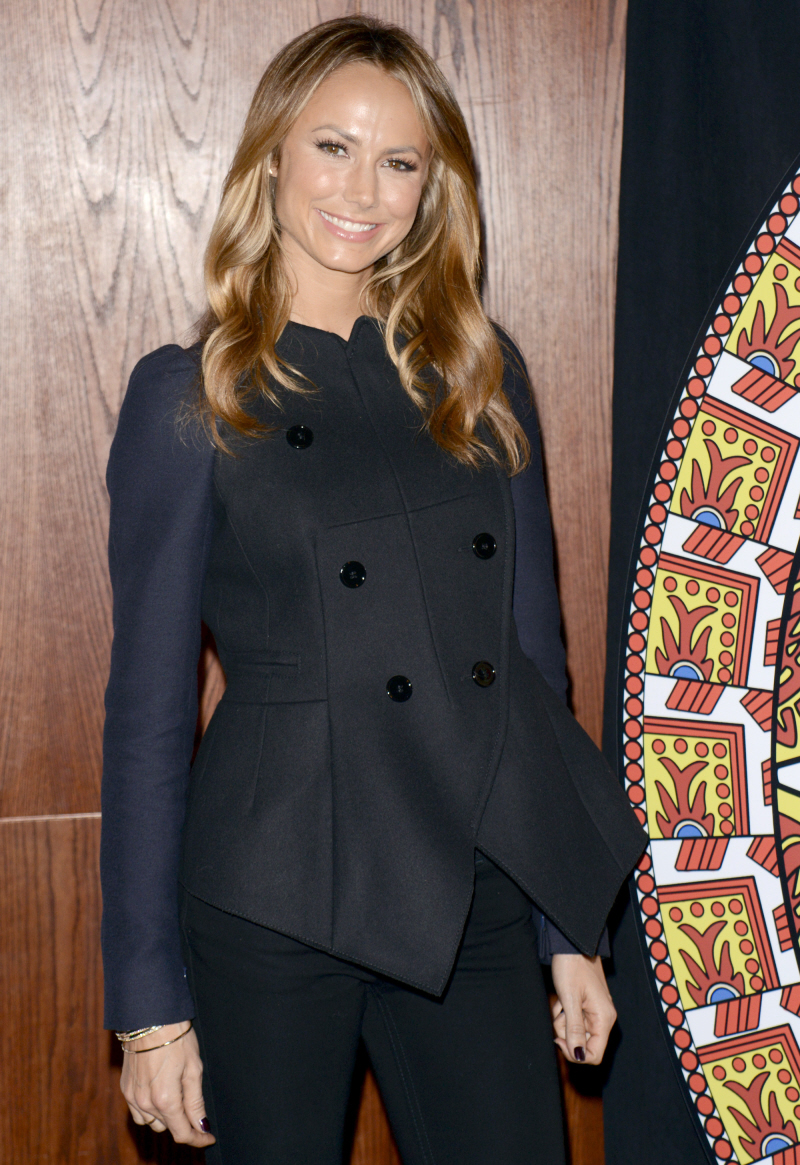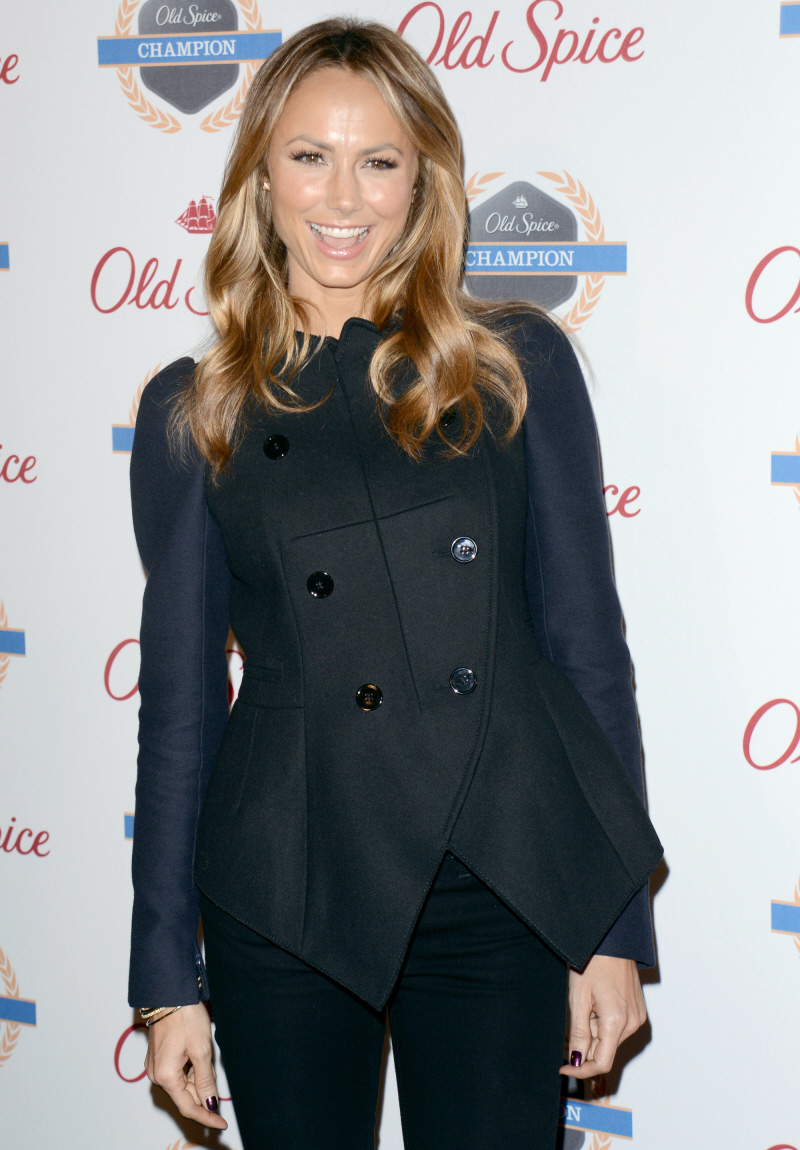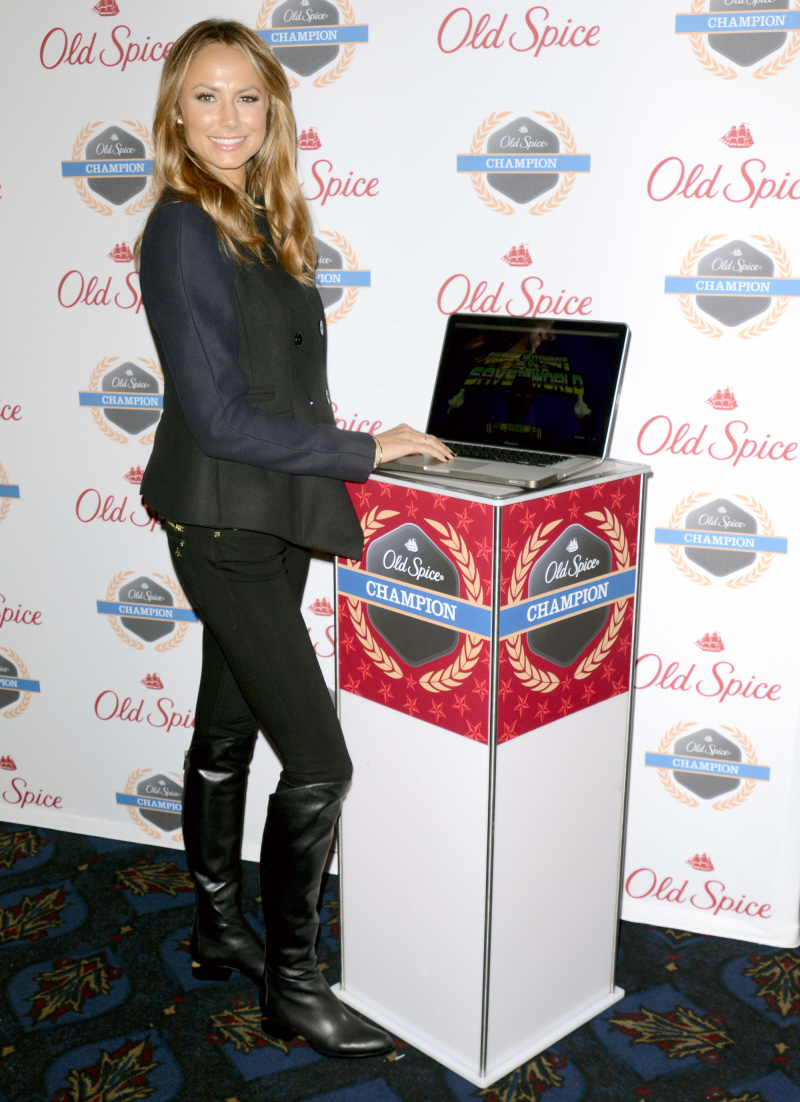 Photos courtesy of WENN.