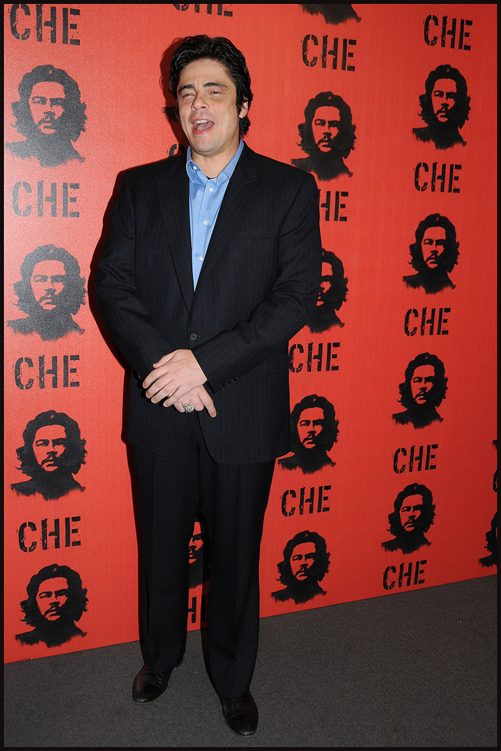 Che Guevara was a complicated man, the different facets of his character waiting for a great actor to breathe life into his story: revolutionary, militant, celebrity, student, fanatic, intellectual, working man, and on and on. He was the asthmatic who became a doctor, the pragmatist who fueled violent revolutions, the martyr destroyed by the violence he sowed.
All that being said, I still don't see how it takes four hours to tell the story of Che Guevara. Bringing this film to life was a passion project for Benicio del Toro. After his Best Supporting Oscar win for Traffic, del Toro approached Traffic's producers and director (Steven Soderbergh) to see if they would be interested in the project. Eight years and four hours later, we have "Che." Apparently, they're only going to screen it as one complete four-hour movie for a limited time in December, then re-release it in two parts – Part I in January, Part II in February.
The first half, detailing the grinding campaign of Fidel Castro's guerrilla army against the government of Fulgencio Batista, which culminated in Batista's ouster in 1959, is intercut with scenes of a visit to New York that Guevara made in 1964 to address the United Nations General Assembly. Those bits, shot in a gorgeously grainy mock-antique black-and-white, offer a bit of visual relief from the long slog through the Cuban countryside, as well as providing an occasion for defiant revolutionary apologetics.

Its second half, recreating Guevara's failed attempt to reproduce the Cuban revolution in Bolivia, might be called "The Passion of the Che," in honor of the fanatical fidelity with which it walks its sanctified hero through the stations of his martyrdom. Guevara was executed in 1967 by the Bolivian military after his insurgency had been crushed. But the film is also, in a very precise and unusual sense, an action movie. I don't just mean that it is heavy on battles and gunfights, but rather that action — what people do, as opposed to why they do it — is its primary, indeed obsessive concern.
[From The New York Times]
How long did it take to read that? Four hours? Didn't think so. Oh wait, did I mention that much of the movie is subtitled?
"It was a lot of responsibility and pressure for Benicio," says Soderbergh. "More so than for me, I think." Acting in Spanish was another stress: Del Toro was born in Puerto Rico but has lived in the US since he was 13. "I can walk into the room and leave the room in Spanish. But I dream in English," he says.

"I learnt a lot about Cuba, the Sixties, Latin American history. It doesn't matter which way you cut it, it's my roots. I read Don Quixote," [del Toro says.] So did he see Che as a Quixotic figure? Del Toro looks surprised. "No, no. But after the revolution in Cuba, the first book that was published and given out free to the people was Don Quixote."

On the other hand… "There are elements of Don Quixote in Che. But Don Quixote is an actor, a pretender. More like me. Che was a realist. He wasn't seeing windmills. He was extremely daring and, I would say, quick to draw, to make decisions and go for them. He was a weird combination of an intellectual and an action figure, Gregory Peck and Steve McQueen, wrapped in one.
[From The Telegraph]
Critics are already falling all over themselves to worship this film and del Toro's performance. While I respect the time, effort and passion it took to make this epic, I can't help but wonder who will actually see the film when it's divided up into two parts? It's not like it's "Kill Bill: Volumes 1 & 2."
"Che" also stars Catalina Sandino Moreno and Franka Potente (as two of Che's lovers), Demián Bichir (as Fidel Castro), and Santiago Cabrera.
Picture note by JayBird: Here's Benicio del Toro at the premiere of 'Che' held at The UGC Normandie cinema in Paris on November 18th, along with scenes from the film. Images thanks to WENN.