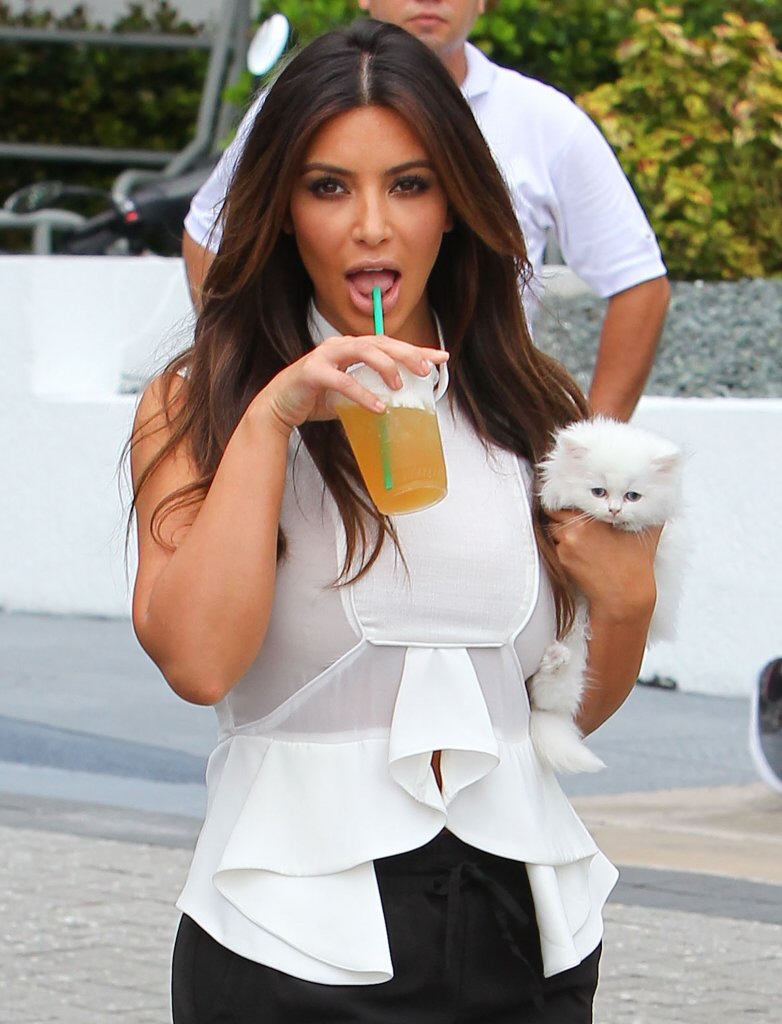 I cannot even begin to describe how disgusted and saddened I am by this news. Kim Kardashian announced that her teacup Persian (or whatever) kitten Mercy was put down. Euthanized, sent to kitty heaven. Mercy Kardashian-West was given to Kim by Kanye West a few months ago, and I thought Mercy had been living with Kim down in Miami all this time. Turns out, not so much. Turns out, Kim is "allergic". Which you wouldn't have known from how many photo-ops she did with the cat in which she was not sneezing or breaking out in rashes or anything. So, Kim claims she was "allergic" and that's why she had to give Mercy away to Khloe's assistant Sydney. Mercy then got a "cancer-like virus" and she was euthanized. How much of that do you believe? Here's Kim blogging about Mercy's death:
It is with deep sadness that I have to tell you all that my kitten, Mercy, has passed away. My heart is completely broken.

When I first got Mercy, I had never lived with a cat before and so I had no idea that I was allergic. I thought that it might pass, but after a few weeks I decided to go visit two separate allergists, one of whom said my allergies wouldn't get any better unless I started taking injections. I had fallen SO in love with Mercy that I wanted to try everything I could to keep her, but I didn't think it was safe to resort to injections, and it wasn't fair on Mercy, because I couldn't play with her or give her as much attention as I wanted to. Mercy deserved a mom who could really give her the time and affection she deserved. I knew that Sydney, Khloe's assistant, who had recently lost a cat she had loved and cared for for 17 years, would be the perfect mom for Mercy and Sydney was so excited to have Mercy as her own!

Sydney gave Mercy a loving home, but after a couple of weeks Mercy got really sick and Sydney had to rush her to the vet. They discovered she had a stomach problem that we weren't aware of. Her stomach had filled with fluid and the doctor said she had a rare stomach cancer and that there was nothing we could do for her. Poor little Mercy died the very next day. It broke not only my heart that little Mercy died at only four months old, but Sydney's too.

Mercy was a gentle and loving kitten and we are all going to miss her so much. Thanks to Sydney for making Mercy's short life one filled with love. RIP Mercy Xo
For the love of God. Some people are truly and terribly allergic to cats. I have a mild cat dander allergy, but my tolerance for cat dander builds up with more exposure to cats, so I'm okay minus a few sniffles here and there, which I've come to accept because… for the love of God, I've always been around cats. My point? When you have a really hardcore cat-allergy, you can't just walk around Miami holding your cat, you know? Which makes me think that Kim either had a very mild allergy and simply couldn't deal with it, or that Kim is simply made of lies. As for the whole "Mercy had stomach cancer" thing… maybe. Ugh. Rest in peace, poor little Mercy.
Dear Kanye: Please take this as a test case for a baby. This is exactly what will happen if you get your girl pregnant. Kim will have the baby and she will love it for a few weeks, then she'll get bored and jealous (that the baby is getting so much attention) and she'll make up an excuse to not pay any attention to the baby and then she'll just let the nannies raise it. That is EXACTLY what will happen.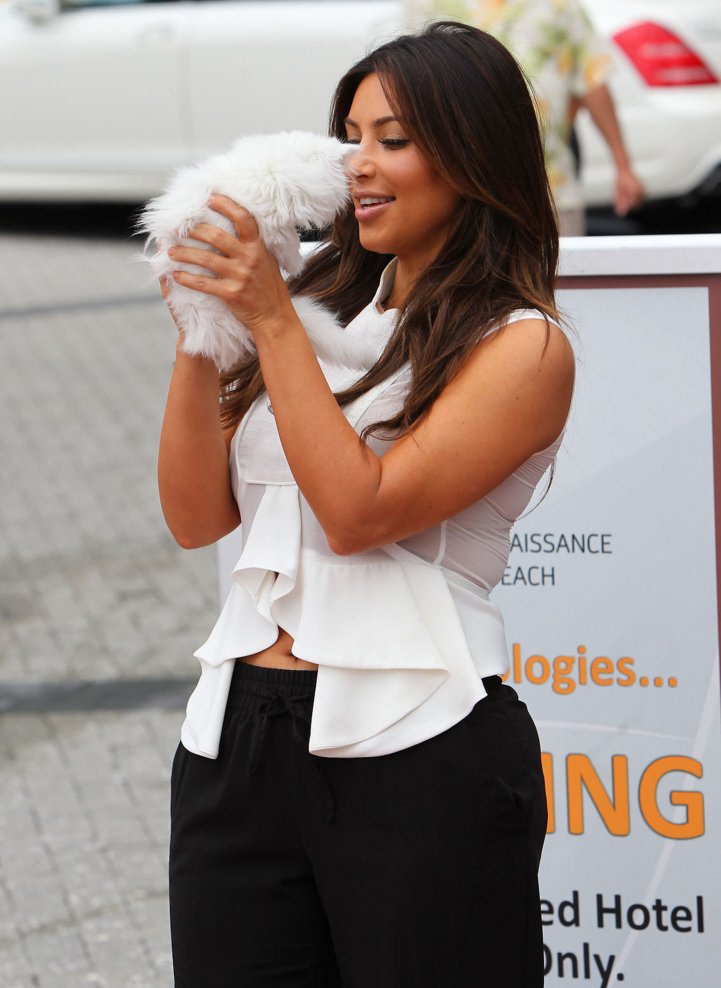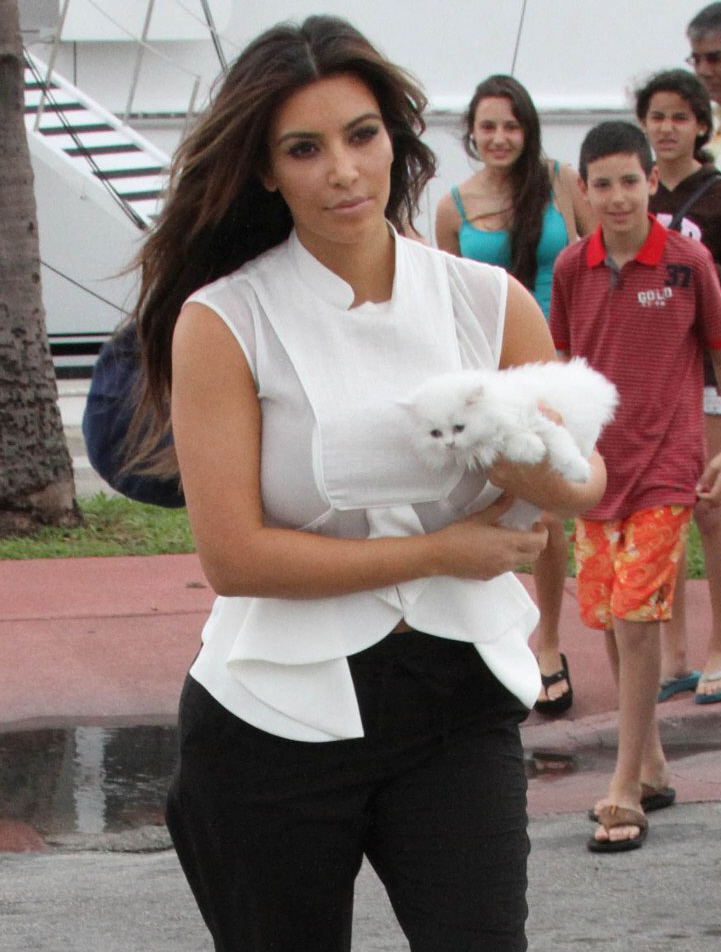 Photos courtesy of Fame/Flynet.