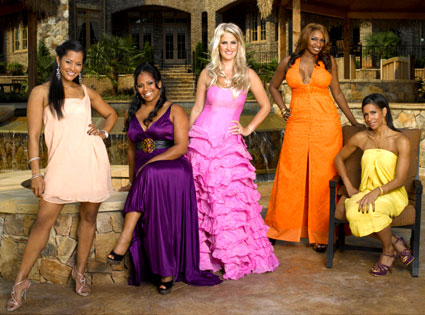 Anderson "AC" Cooper loves the housewives, and so does America. Bravo has announced it will pick up a second season of the hit reality show "The Real Housewives of Atlanta".
If you weren't watching, you missed some really good stuff. The first season had everything: catfights, homewreckers, swanky parties, gay best buds, catfights, paternity tests, shopping, fake cancer, catfights, weaves, kept women, ballers and did I mention catfights?
Bravo has picked up a second season of The Real Housewives of Atlanta, EW reports.

That shouldn't come as a shock. The first season — starring Kim Zolciak, Sheree Whitfield, NeNe Leakes, DeShawn Snow and Lisa Wu Hartwell — was the biggest Housewives hit for the network, out-performing both The Real Housewives of Orange County and The Real Housewives of New York.

But the network has not said when the show will return and whether or not all the women will be on the second season…

So … will Big Papa's identity be revealed? Will Kim become a country singer? Can Sheree launch a fashion line with actual clothes? How will ballers' wives DeShawn and Lisa fare in the wake of the changes in their husbands' careers? And what about those reports about NeNe and her family getting evicted?
[From People]
Anderson Cooper was very vocal about his favorite housewife, NeNe. She happened to be my favorite too – she's a good mother, a good wife and judging solely from the show, she's a hell of a lot of fun and she doesn't take crap from anybody. If NeNe isn't coming back for the second season, I won't be watching.
Picture note by JayBird: Here's the cast of "Real Housewives of Atlanta" at the BET Hip Hop Awards on October 18th. Images thanks to WENN.