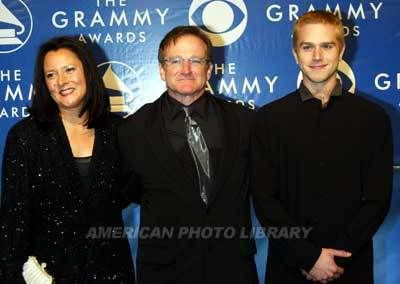 Robin Williams has been out of rehab for three months, and is trying to get back in his wife's good graces. She hasn't allowed him to move back into their mansion, but he can take her out on dates. He seems to be working hard to try to prove that he's serious about staying sober and being there for his family:
The Enquirer has learned the Oscar-winning actor's wife Marsha has not alllowed him to move back into their northern California home, but has permitted him to "date" her again!

"Robin wants more than anything to move back home and live with his family, but his wife is still taking it slowly," says the source. "He's telling pals that he's slowly attempting to rebuild their relationship."

But it's a difficult situation because the 55 year-old actor is leiving in Los Angeles, while Marsha is at the couple's Napa Valley residence with their two teenaged children.

"They see each other when his schedule permits," said the source, "but it's been lonely and difficult for him."
[From National Enquirer print edition, January 22, 2007]
Robin Williams poked fun at his stay in rehab in his typical ADD style at the People's Choice Awards, where he won the award for "Funny Male Star." He brought his 17 year-old daughter, Zelda, to the event.
Robin's wife Marsha was the nanny of his first child, Zachary, 23, with his ex wife Valerie Velardi. Marsha and Robin have daughter Zelda and son Cody, 14. Thanks to JustJared for Robin's family background.
That's sweet that he's trying to work for his wife's trust and affection, and hopefully it will work out for them.