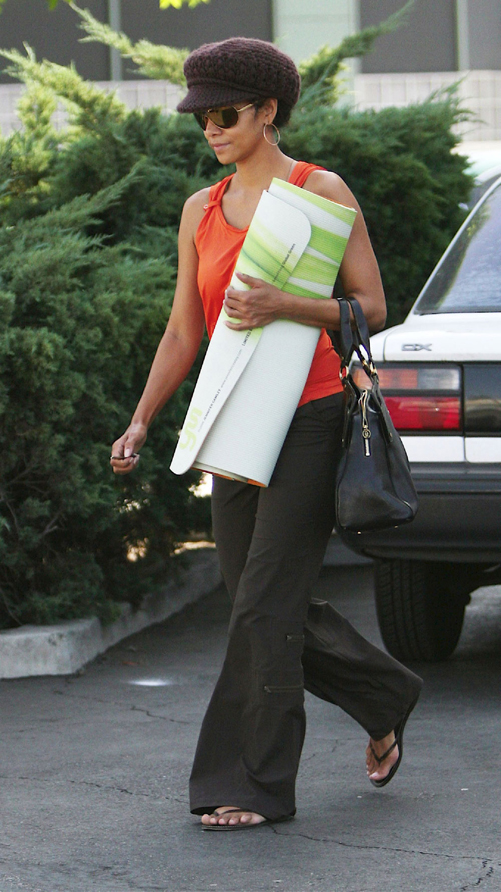 Halle Berry is making this hardcore drama up in Vancouver called "Frankie and Alice." In it, Halle plays a woman suffering from multiple personality disorder, and apparently, the shoot has been difficult. Not only emotionally difficult for Halle, but it's been one of the coldest early winters in Vancouver's history.
Extreme weather plus a difficult acting task could make a diva out of a lesser actress or a lesser human being. But not Halle. LaineyGossip is reporting that for the final day of filming, Halle not only performed barefoot, in the cold, for hours and hours, but she gifted the crew with individual bottles of champagne.
Halle was spotted loading a truckful of Dom Perignon boxes – each worth several hundred dollars – into a van, and several bags too from Holt Renfrew. Very generous. Much more generous than so many of her peers.
[From Lainey Gossip]
Lainey also notes:
It is unseasonably cold in Vancouver right now. She was barefoot for hours, no complaints, no whining, no diva antics, repeating the shots over and over and over again. And it's clear – everyone working on Frankie & Alice…they adore her. When they wrapped, she burst into tears. She hugged everyone. She thanked everyone. And you'd be hard-pressed to find a single member of the crew who isn't completely in love with her. Not because she's so beautiful but because she's so so SO nice. Am told she even went the extra mile and indeed, pulled her movie star weight, only once when a producer was injured recently and was taken to hospital. She also waited at the hospital with the man for over an hour, just to make sure he'd be ok.

It seems silly to highlight a celebrity for simply being a decent human being. But really, there are so few in Hollywood… you'll forgive me for acknowledging the rare ones?
[From Lainey Gossip]
Halle Berry's gotten some bad press over the years for being somewhat accident-prone on sets. I never faulted her for it, because us accident-prone people have to stick together. Who else will spot us when a wayward bird dive-bombs us or when we fall going up the stairs? But still, Halle's accidents have cost various film productions thousands, if not millions, of dollars in lost days. That being said, I don't think I've ever read anything about Halle making unreasonable demands or pulling rank on anyone. Could it be that a nice, decent, generous, classy woman is so successful for a reason? Perhaps you do get more flies with honey.
Picture note by JayBird: Here's Halle going to yoga class on October 10th. Images thanks to WENN.