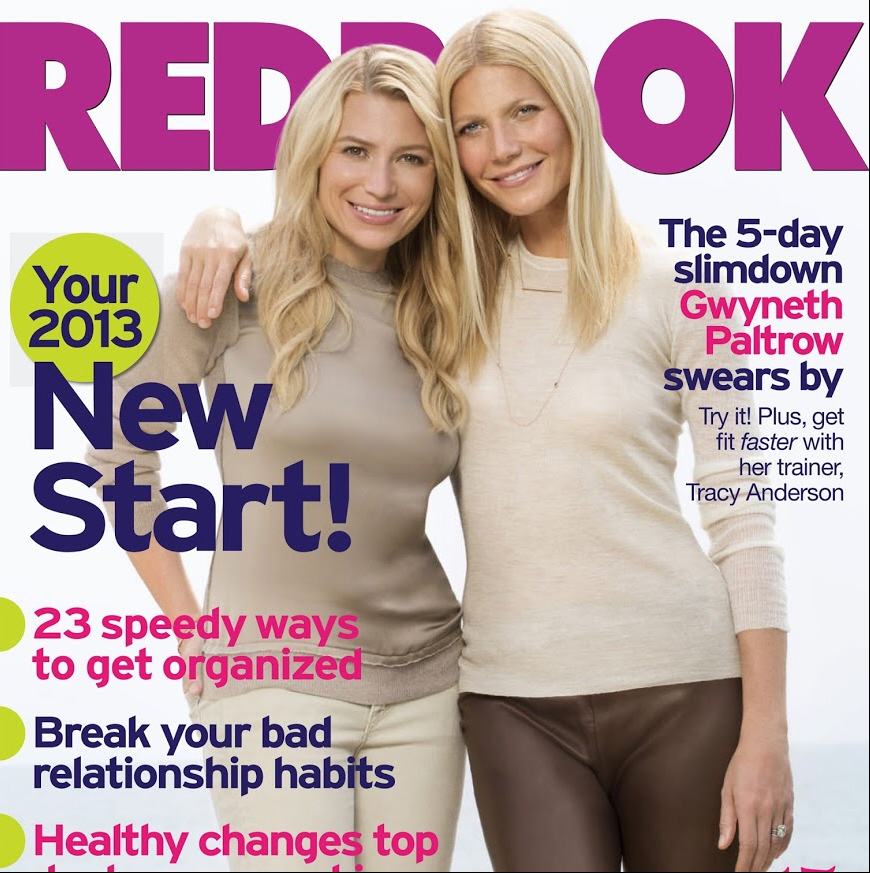 Gwyneth Paltrow and her fraud trainer Tracy Anderson cover the new issue of Redbook. Isn't Redbook too downmarket and gauche for Gwyneth? She's so obviously slumming it with Redbook, but she must have agreed to it because she wanted to help Tracy peddle her crazy diet-and-exercise system to the peasants. And much like Tracy's comments about pregnant women several months ago, she's still a condescending bitch. Too harsh? This is the same woman who said, "A lot of women use pregnancy as an excuse to let their bodies go, and that's the worst thing. I've seen so many women who come to me right after (having children) with disaster bodies that have gone through hell, or they come to me years later and say, 'Oh, my body is like this because I had three kids.'" That's how she talks about HER CLIENTS. So what does Tracy have to say about Gwyneth and vice versa?
After giving birth to daughter Apple in 2004, Gwyneth Paltrow got back in shape quickly. But after having son Moses two years later, she had trouble losing the baby weight. Enter Tracy Anderson. Without bothering to butter her up, Anderson quickly went to work on the Oscar winner.

"She was this force from the second I met her," Paltrow, 40, tells Redbook in its January issue, on newsstands Dec. 18. "She pulled my pants off. I'll never forget it. She was like, 'Oh, my God, wow, I just am so surprised, because you look so good in clothes. I wasn't expecting this.' "

On how Gwyneth marked her 40th birthday: "The morning of my 40th birthday, my children and husband woke me up with hugs and gifts, and I proceeded to have the best week of my life. I feel really happy being 40, now that I'm on the other side of it. There was definitely some uncomfortable anticipation. But I'm amazed at what I've been able to accomplish, that I've maintained my important relationships and have such incredible women friends, that I have two funny, beautiful children who can give me a real life. In a way, I feel like no one should make big life decisions until 40. It's when it all starts to settle and become clear."

Gwyneth, on the significance of her 40th birthday: "I've made a lot of mistakes in my life, but I have the good fortune of knowing what they are. I can recognize my limitations, forgive myself, and celebrate the fact that I have made it to this important birthday with the information I need to keep making corrections."

Anderson takes a targeted approach to weight loss, identifying areas that need work and tailoring an exercise regimen to address them. Among the tips she offers Redbook readers:

• Those with heavier thighs and hips should work their upper and lower body equally, and limit the stair-climbing workouts, lunges and spinning.

• To lift and tone your bottom, dial down the running and spinning and do more back and side leg lifts that require flexing your glutes.

• To balance out a thicker core and bust, quit the Pilates and yoga and focus instead on high-impact aerobics, planks and fast-moving arm exercises.

A catered approach worked for Paltrow. "It did such wonders for my life, my confidence, my sex life, everything," she says.

Anderson adds: "When you feel your best, you're more confident in bed, It's not lights-out, under-the-covers sex. It's more like, 'Take a look at this!'"
Here's a real question, ladies. WTF? Why would PAY someone to pull your pants off and say, "Oh, my God, wow, I just am so surprised, because you look so good in clothes. I wasn't expecting this." I would burst into tears and then I would probably smack that person in the face. I don't understand why this nasty, condescending attitude is all part and parcel of Tracy's weight loss program. I don't understand why this is acceptable, or considered a "funny anecdote" about Tracy and Gwyneth's relationship. Is Goop just so far down the condescending-Mean-Girl rabbit hole that she doesn't even understand that this is not how your trainer should speak to you?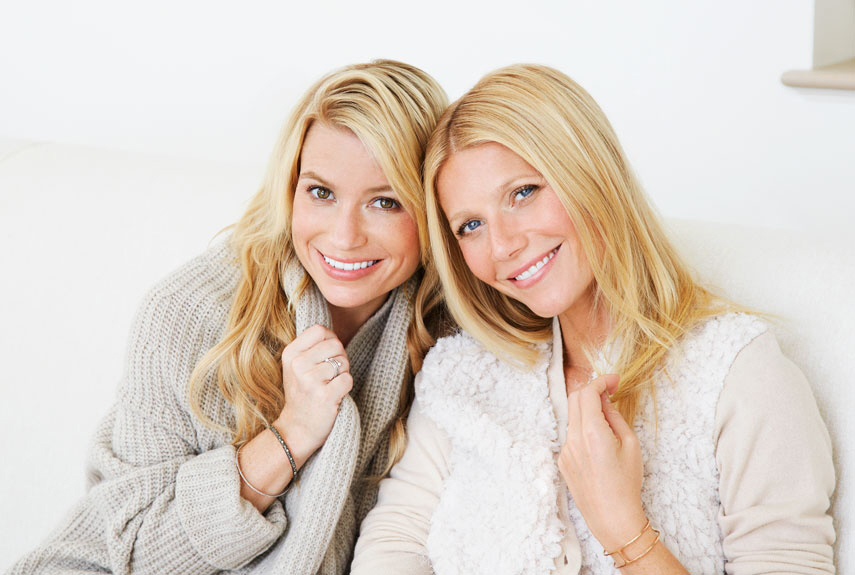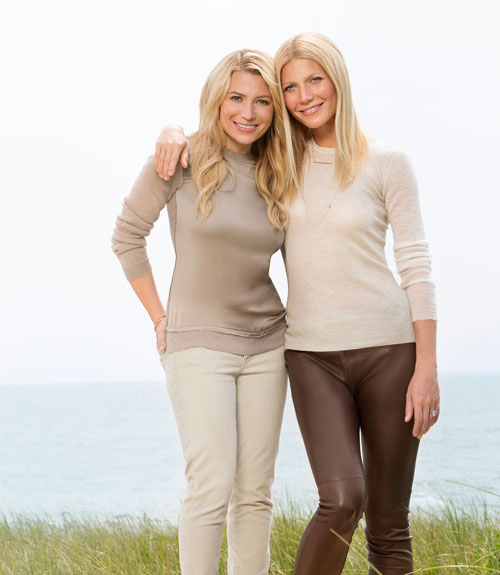 Photos courtesy of Redbook.