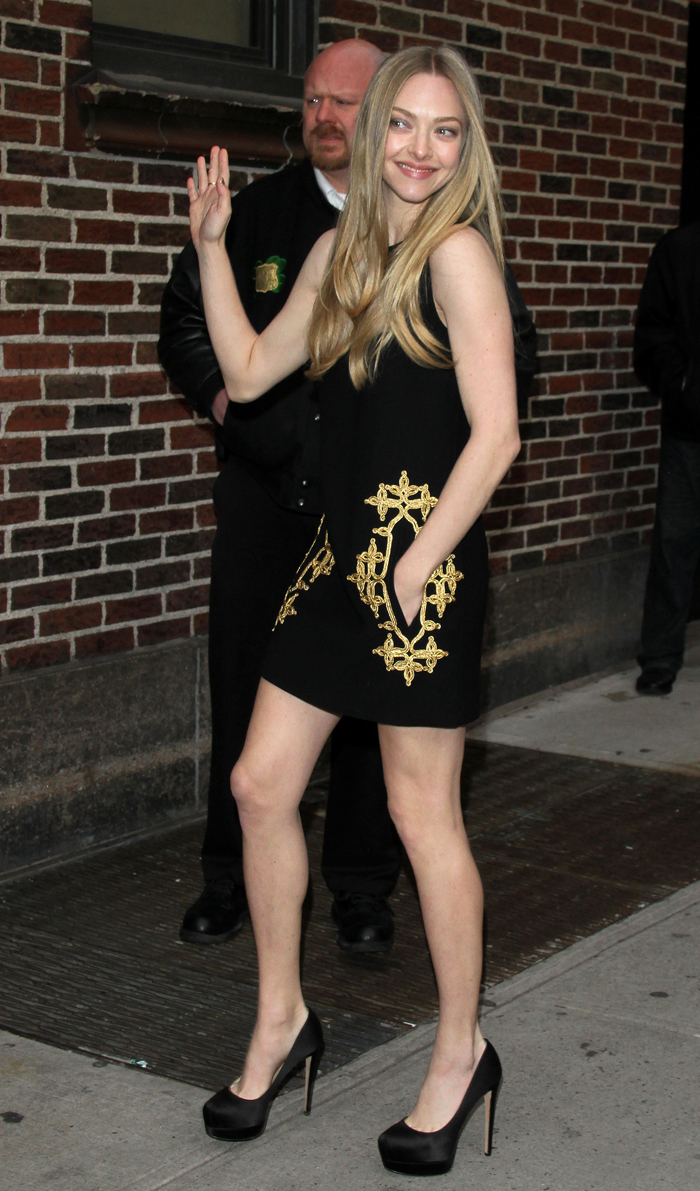 Here are some photos of Amanda Seyfried looking gorgeous in front of the Ed Sullivan theater ahead of her appearance on "The Late Show with David Letterman." This was actually a pretty atypical television interview for Amanda because she pretty much let loose from the very beginning and confessed to Letterman that she was completely drunk. Yeah, I'm sure the Les Miserables producers loved hearing that, but it's better than the alternative, which is the socially awkward Amanda that comes out during most print interviews.
Also (and even though Amanda tells Dave that she has a habit of drinking before talk shows), I'm pretty sure that Amanda hadn't had anything to drink during this terribly stilted Craig Ferguson interview from 2010 (when she was promoting Letters to Juliet). Back then, the pressure wasn't on because Amanda was riding high on her Mamma Mia! success and promoting a romantic comedy that was sure to (and did) succeed. Now, Amanda has had more than a few underwhelming rounds of box-office returns (Red Riding Hood, In Time, and Gone), and the pressure is on. Could this have pushed her to the bottle, or is she just messing with us? Here's the details from Us Weekly: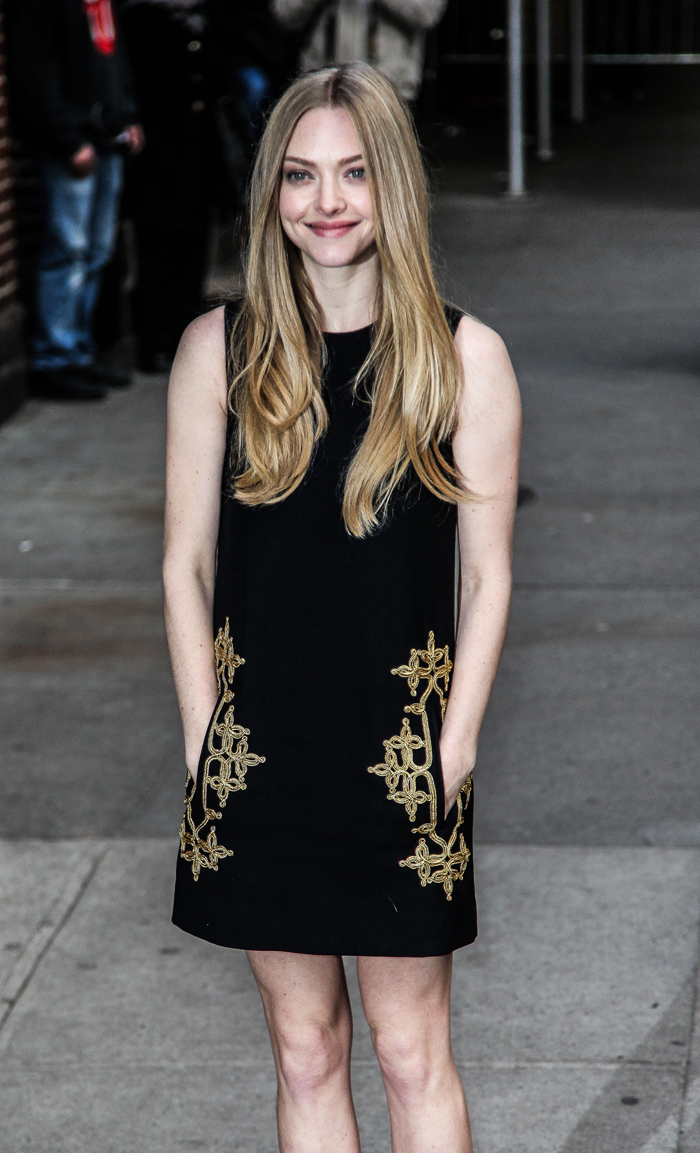 Amanda Seyfried really loosens up after a few drinks!

The actress appeared on The Late Show With David Letterman Dec. 11 to promote her new movie, Les Miserables. During her interview, however, the 27-year-old admitted to being a bit tipsy.

"I'm pretty drunk. To be honest with you Dave, I've had about three," she deadpanned. "I'm a big fan of whiskey. I had some Midleton. [My costar] Russell Crowe gave me some Midleton for my birthday and I had some of that before I got here. And then your lovely colleagues had some Jameson waiting for me [backstage]."

She added, "I have to go on record saying I've never done a live television show — after noon — without some kind of liquid courage."

While Seyfried recognized that she might "have a problem, maybe," the starlet has no intention of staying sober for TV interviews. "You know what? It really gets me through, and I really wanna enjoy my experience out here because it's special."

When the TV host jokingly asked Seyfried is she'll ever end up in rehab, she giggled and replied, "No!"

According to Seyfried — whose ex-boyfriends include Dominic Cooper, Ryan Phillippe, Alexander Skarsgard and Josh Hartnett — she's been on a bit of a bender. "I don't drink often. I swear, I don't! I've been with the [Les Miserables] cast a lot. . . and it's really fun because we all really like each other. None of us really drink."

Before the interview ended, Letterman toasted the star with another glass of Jameson — her fourth — before signing off.
[From Us Weekly]
I like that she's admitting to "liquid courage" in the form of whisky, which is probably better than I would have done … a few margaritas. Does she really seem "lit" though, or is she just faking it? I can't tell. Here's a video clip of Amanda's "Late Show" appearance. If she's truly drunk, then she maintains pretty damn well.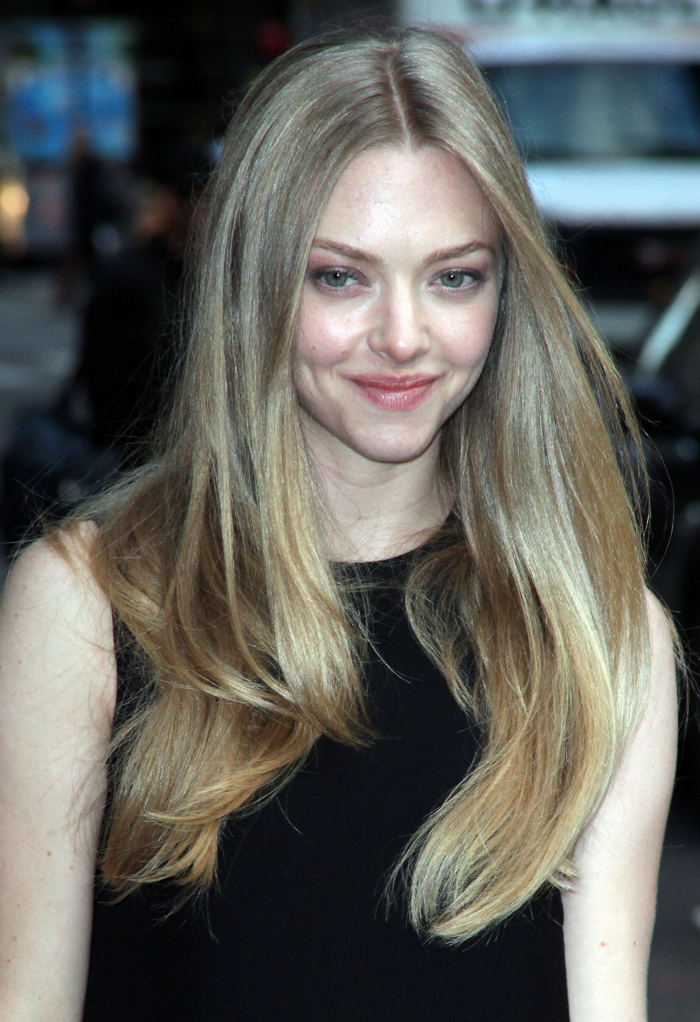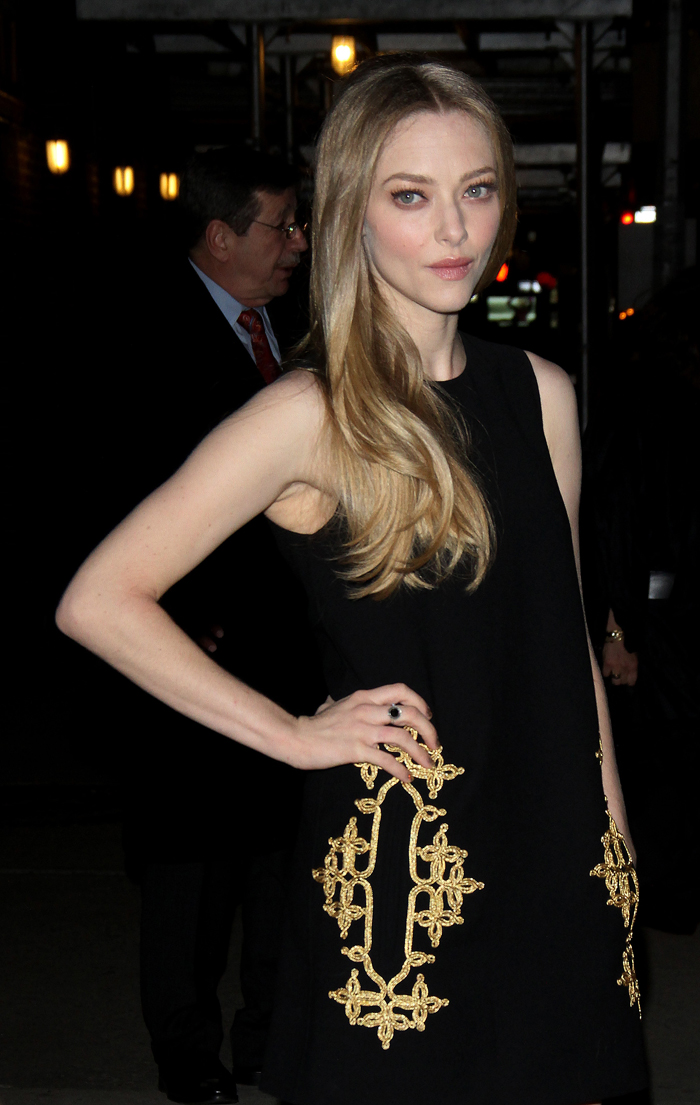 Photos courtesy of WENN