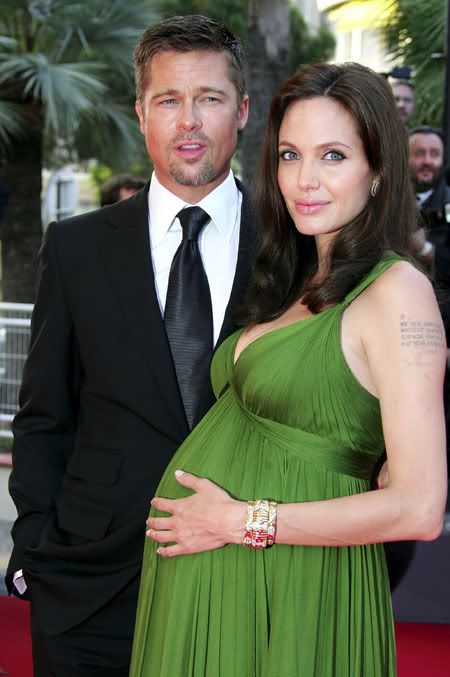 In 2006, Angelina Jolie and Brad Pitt decided to pool their charitable contributions into one blanket foundation that could direct funds to the charities of their choice. In the past three years, The Jolie-Pitt Foundation has directed hundreds of thousands (sometimes millions) of dollars to such organizations as The Daniel Pearl Foundation, Doctors Without Borders, Global Health Committee, Human Rights Watch and Global Action for Children. Jolie and Pitt support the Jolie-Pitt Foundation in addition to the individual charities that they have either started or work in concert with, like Make It Right (in Louisiana), The Maddox Jolie-Pitt Foundation (in Cambodia) and the UNHCR (for which Angelina is a special goodwill ambassador).
It's always seemed like Angelina's priorities were more international, focusing outside of America and the West, prioritizing the international needs of refugees, women and orphans, in a kind of triage of international need. Brad seems to be as focused with local poverty issues, even if that poverty is in America – Make It Right NOLA is a good example of that focus. So it's my guess is that Brad is the instigator behind this latest charitable giving.
A $50,000 gift to buy emergency needs for Springfield Public Schools children has become a $250,000 gift, instead, with a match from the Jolie-Pitt Foundation and other philanthropists.

St. John's Clinic physicians and co-workers raised the first $50,000 through their Force for Good campaign, directing the money to the Foundation for Springfield Public Schools' Care to Learn fund, officials announced today at St. John's. The $200,000 match, which will be available in April, was offered by the founders of the Care to Learn fund.

Local businessman Doug Pitt, the Jolie-Pitt Foundation (which includes actors Angelina Jolie and Brad Pitt); local philanthropist Jim D. Morris and a private donor started the Care to Learn fund with the Foundation for Springfield Public Schools to support schools and students in meeting basic needs.

The needs can include food, health care and hygiene products. The fund so far has provided staple items such as underwear, socks and other personal hygiene supplies to 300 students in schools throughout the district, according to a St. John's news release.

The Jolie-Pitt Foundation, Morris and the private donor match every donation the fund receives 4 to 1 up to $50,000, the news release said. "Care To Learn is about immediate funding for emergency needs that are disrupting their classroom experience," Doug Pitt said. "Upon meeting those needs, my greatest satisfaction is restoring a child's respect and dignity to walk amongst their peers."
[From The Springfield News-Leader]
The Doug Pitt that is quoted is Brad's brother, a local Springfield businessman. Doug probably alerted his brother to the under-funded Force for Good, as well as the mission of the charity. Force for Good not only provides local students with backpacks, clothes, hygiene products and winter wear, but also provides bus vouchers for student and family transportation and food for low-income families.
Too many charities are having budget shortfalls this year, and it will likely continue through next year with this economy. Charities are often hit with the double-whammy in a recession – not only do the donations dry up, but the number of people seeking charitable services increases. No matter what you think of Brad and Angie, there will be a lot of kids in Springfield thankful for their charitable giving.
Brad and Angelina are shown on 5/15/08 at the Cannes Film Festival. Credit: WENN