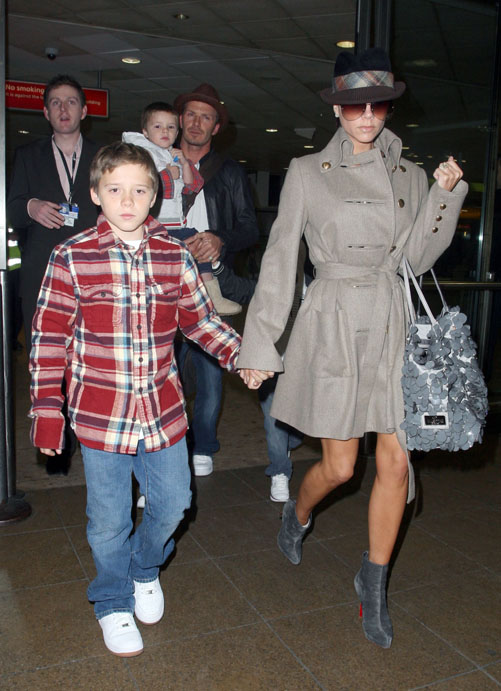 I haven't seen a British school teacher in person, nor any pictures of a recent one. But they must be damn skinny and wear a lot of spike heels, because Victoria Beckham says that her style is exactly the same as a school teacher's. If so, the Brits must have some shockingly swanky fashionistas teaching their children, – I have never seen an American school teacher who looked anything like Posh Spice.
She may be a worldwide style icon, but Victoria Beckham has revealed an unlikely inspiration for her distinctive look – the British school teacher. The 34-year-old former Spice Girl has spoken out against suggestions that her image has changed to fit in with laid-back LA style since her move to California last year.

… "I am very British in my style. Think school teacher. I love pencil skirts and fitted blouses, classic cut dresses and well fitted jeans mixed with classic tailoring.'

The mother-of three shocked the fashion world this summer when she was pictured in flip-flops at Disneyland, as she is usually never seen out of her trademark high-heel stilettos. She claimed not to own any flat shoes, not even a pair of the popular ballerina pumps worn by fellow celebrities… But she is unlikely to dramatically change the public look that has helped her sell more than 400,000 copies of her 2006 style bible That Extra Half an Inch: Heels, Hair and Everything in Between.

She said: 'It's always good to know what suits you. Your signature style is whatever makes you feel happy, confident and sexy. Of course it's always good to mix things up every now and again too. Push the boundaries and evolve your style. Have fun, but be realistic. Don't follow the crowd.'
[From the Daily Mail via Gossip Rocks]
I will admit that Victoria certainly has style. She has her hits and misses, but that's bound to happen when you "push the boundaries and evolve your style." But I'd never label anything about Victoria as school teacher-esq. That would be some incredibly wealthy teacher, and last I heard, that's not the case for most of them. And I don't imagine many of them weigh under a hundred pounds – breast implants included. I can see where Victoria's coming from, but I don't think the vast majority of school teachers bare their cleavage so brazenly or strut around in the classroom in six inch heels. I hope.
Here's the Beckham clan arriving at Heathrow Airport today. Images thanks to Bauer-Griffin.