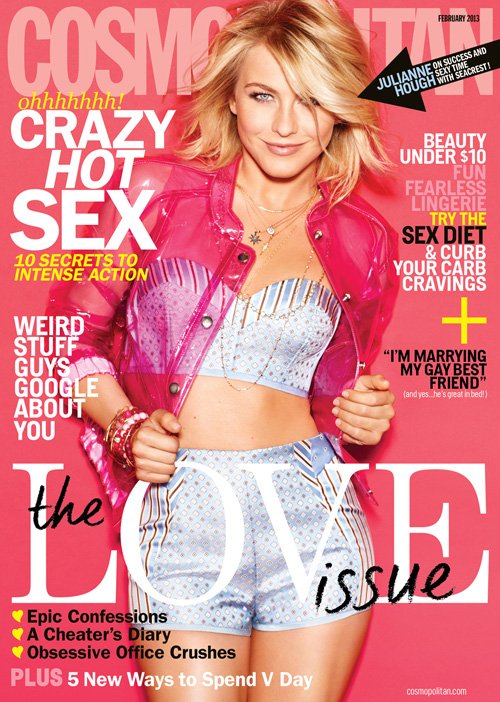 The lovely Julianne Hough covers the February edition of Cosmopolitan. From what little I've seen of the pictorial, Julianne looks pretty and fresh. She reminds me of Cameron Diaz here, because her enthusiasm shines through. Julianne usually looks so happy and nice. She's promoting her new film with Josh Duhamel, Safe Haven, based on a book by Nicholas Sparks about a woman who escapes an abusive relationship. It's out on February 14, and looks like the kind of predictable romance that Sparks is known for. That said, I would watch it on demand. I liked Dear John and The Lucky One and I enjoy a cheesy romance, I'll admit it.
In Julianne's Cosmo interview, she reveals that she was abused starting at the age of 10. She said that it took her years to speak up and leave. It sounds incredibly traumatic and sad, and it speaks to how resilient she is. She's been in the spotlight for years and it must have taken her a lot of soul searching to decide to disclose this.
When Hough was just 10 years old, she thought up a very detailed set of goals to work on—and then set about meeting them. "By the time I was 18, I wanted to be a professional dancer: I happened to be on Dancing With the Stars. When I was 19, I wanted to be a singer: At that age, I had my first record out. I said by the time I'm 22, I wanted to be a movie star…."

Hough is 24 now, and she's been working on those goals since she was a girl in South Jordan, Utah. All four grandparents and both parents were dancers, so Hough, the youngest of five kids, grew up performing with her Mormon family. Her parents divorced when she was 10. At the time, her brother Derek was studying dance at London's prestigious Italia Conti Academy of the Arts, and when a slot opened up, she joined him. She ended up winning a five-year scholarship, training relentlessly, and rarely seeing or talking to her family. She became a world-class dancer…but at a great cost.

"I was 10 years old looking like I was 28, being a very sensual dancer," she says. A precociously seductive smile became her public mask—and she rarely took it off. "I was a tormented little kid who had to put on this sexy facade because that was my job and my life. But my heart was the same, and I was this innocent little girl. I wanted so much love."

With her parents an ocean away, Hough says the adults around her took advantage. "While I was in London, I was abused, mentally, physically, everything," she says. In what way or by whom exactly, she declines to say: "I'm a very forgiving person, and I don't want to hurt anybody. What's past is past." A ripple of tension tightens a face that is always so relaxed and bright, like a sheet being pulled tight. It got worse, she says, "when I started hitting puberty, when I started becoming a woman and stopped being a little girl."

"You can kind of hear the quiver in my voice…." She pauses but only a beat. She's going to nail this move, even if her ankle is broken and her feet blistered. "This is the farthest I've ever gotten into my London situation," she says. "I was told if I ever went back to the United States, three things were going to happen. One: I was going to amount to nothing. Two: I was going to work at Whataburger. And three: I was going to end up a slut. So, it was like, I can't go back. I have to be this person."
It's hard to believe she's just 24 years old. For some reason I thought she was a very young-looking 30. (Maybe because she's been with Seacrest for a while and he's around my age.) These excerpts make me curious about whom Julianne is referring to. As the article states, Julianne's parents sent her and her older brother, Derek, to London without them when Julianne was 10. They were trained there in professional dance by Mark Ballas' parents, Corky and Shirley. She also went to a performing arts school.
Radar Online has some additional quotes from the interview, where Julianne talks about escaping her abuser. As to why she never told her parents, she said "I'd rather take the pressure on myself. To this day, I don't want to be a burden. I didn't talk unless I was spoken to. I would look over to see if it was okay if I answered. I was perfect – perfect to a fault."
Julianne's inspiration to leave came after she saw an inspiring concert performance. "I was like, f**k that. I know who I am, and I don't want to be this person who I am becoming. I left two days later and never went back."
I hope that her abuser feels the shame and scrutiny that he deserves, and I'll leave it at that.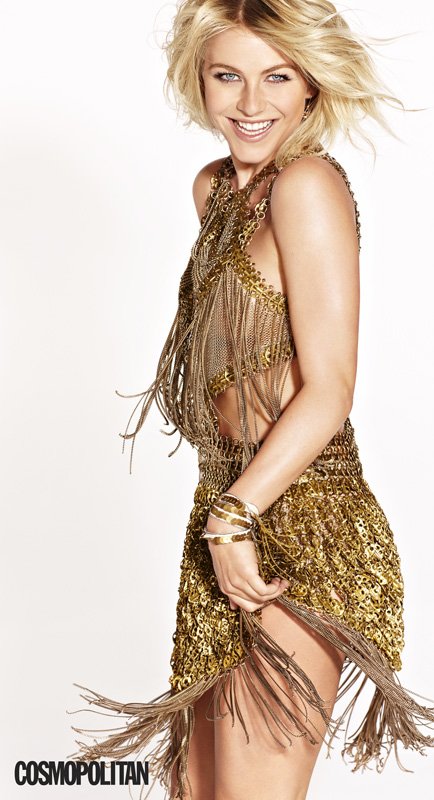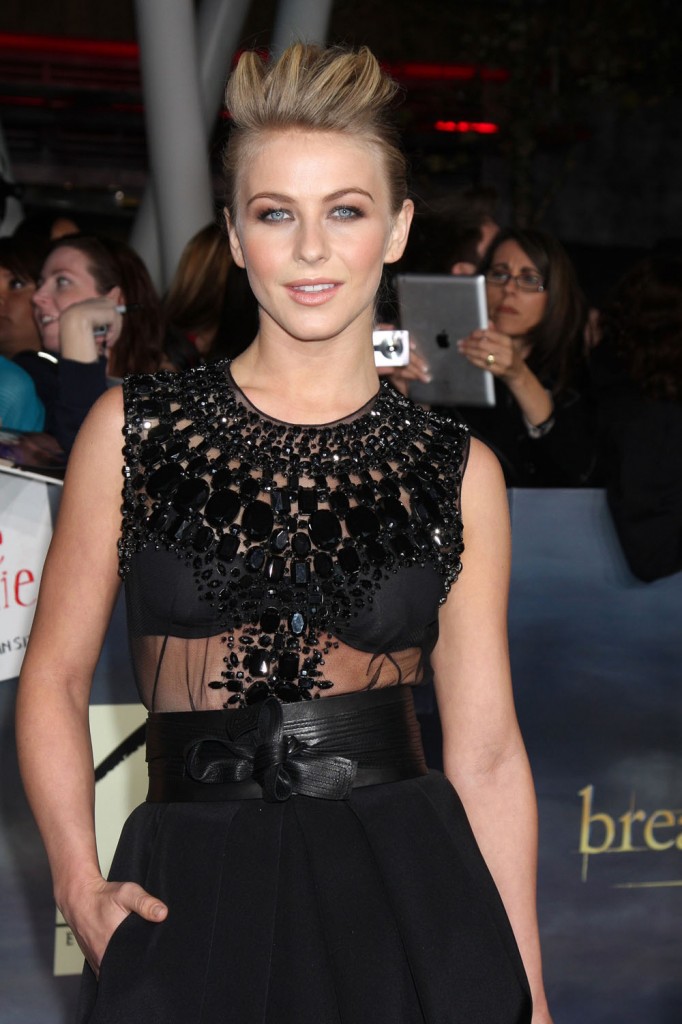 Some images are from Cosmopolitan via Celebrity-Gossip. Other photos are from the LA premiere of Breaking Dawn: Part 2 on 11-11-12. Credit: WENN.com