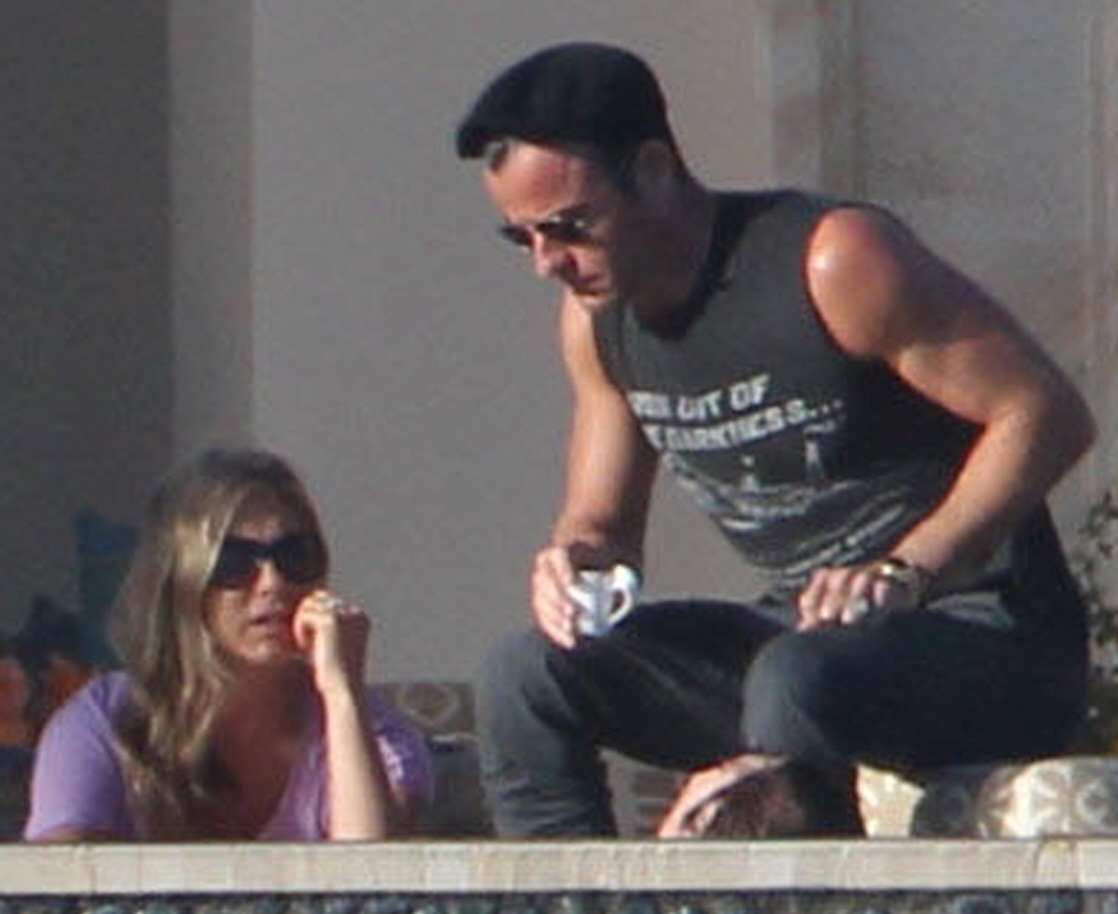 Ugh! I purposefully avoided writing about Jennifer Aniston and Justin Theroux yesterday because I find them exhausting. We keep getting new photos of JustJen on a daily basis – all from Cabo, all taken from a distance, all of the photos taken with JustJen's tacit approval (in my opinion). I don't begrudge them a holiday vacation, I don't begrudge them a few weeks of sun and mojitos, and I don't even begrudge them their happily pap-friendly policy (I like having new pics!). But I just wish there was something else going on with them these days, like firmed-up wedding plans or something. People Mag (via Hollywood Life) has a new story which I'm sure came straight from Jennifer's publicist – I guess this is supposed to whet our appetite for all things JustJen:
Justin Theroux popped the big question to Jennifer Aniston on his birthday last year, August 10, and now the actress is excited about being a bride again and wants to marry Justin soon, according to a new report.

Jennifer wants a "very small, low-key wedding soon," a source told People magazine.

The couple spent the holidays lounging poolside in sunny Cabo San Lucas, Mexico where they read books, worked-out and enjoyed relaxing massages.

"They were very sweet to each other — lots of hugging and kissing," the source told the publication. "It's obvious they're crazy about each other. She's found such happiness with Justin and that's really all she cares about."

As for if the couple is expecting a baby, People's source says "Jen's philosophy has always been that if she's meant to get pregnant, she will."

As HollywoodLife.com previously reported, Jen shot down pregnancy rumors while showing off her toned tummy while in Mexico.

A report in OK! magazine claimed a source spilled that Jen is pregnant with twins, a boy and a girl.

"Jennifer was talking about wanting twins ages ago, and as it turns out, Justin has always wanted to have them too. She was beyond excited the moment she found out."

"'I'm so thrilled,' she keeps telling her friends. The fertility treatments weren't easy on her — but it looks like they paid off," the source said.

Unfortunately for OK!, Jen proved them wrong when she sported a hot pink top and black bottom two piece bikini showcasing her rock hard abs over the holidays.
I've never really understood that whole thing – "Jen's philosophy has always been that if she's meant to get pregnant, she will." You can get away with that when you're 25 years old and newly married, like "We're just having fun, if it happens, it happens." But for a 43-year-old woman to still be playing it by ear like that? It just seems disingenuous. At this point, Jennifer knows whether or not she wants to be a mother, you know? Unless her "friend" is going to start telling People Magazine whether or not Jennifer is off the Pill or whether she and Justin are doing fertility treatments, it's just kind of… eh. Same old, same old. I do wonder if Jennifer's still going to be playing this game in the press when she's 50.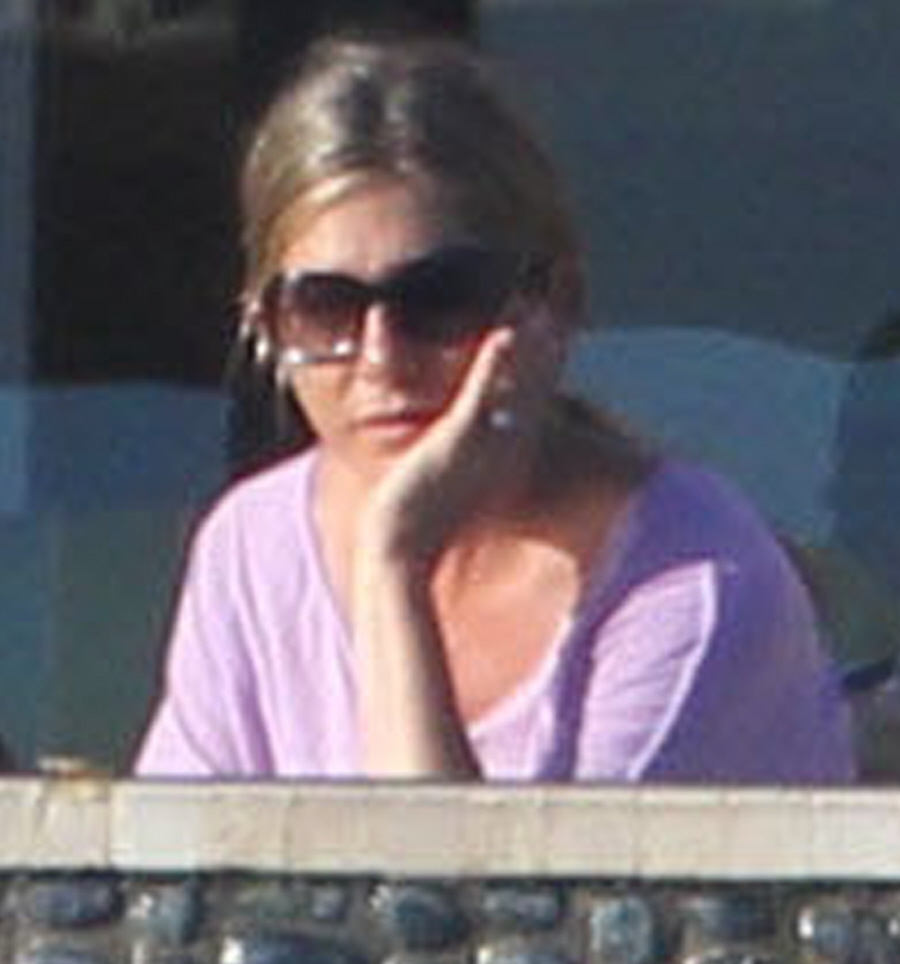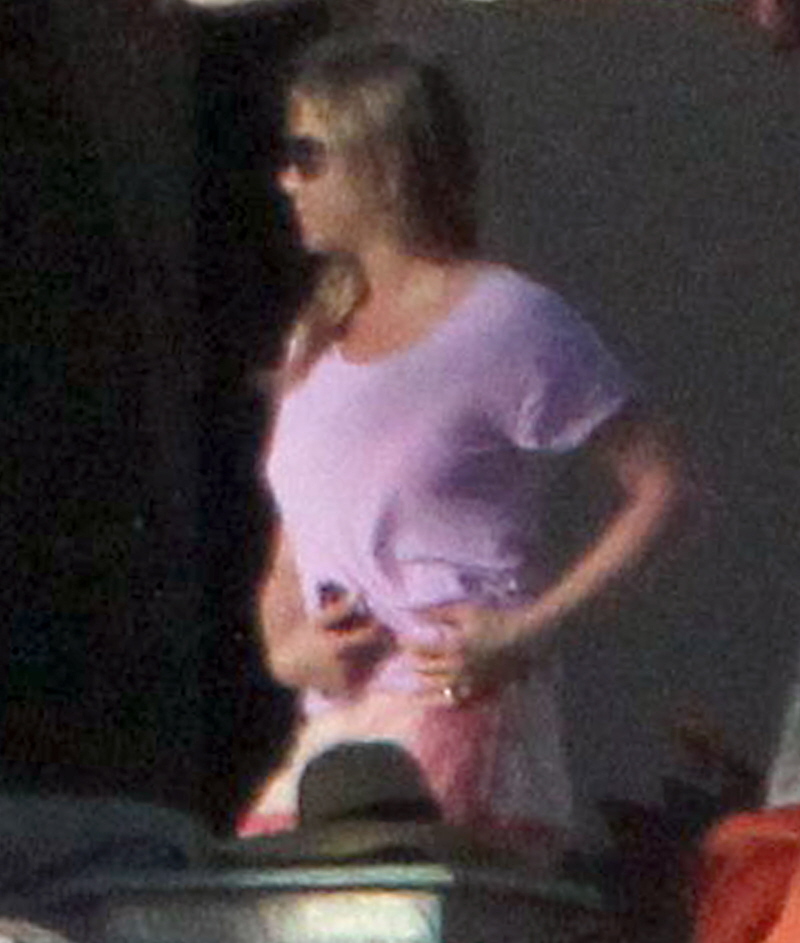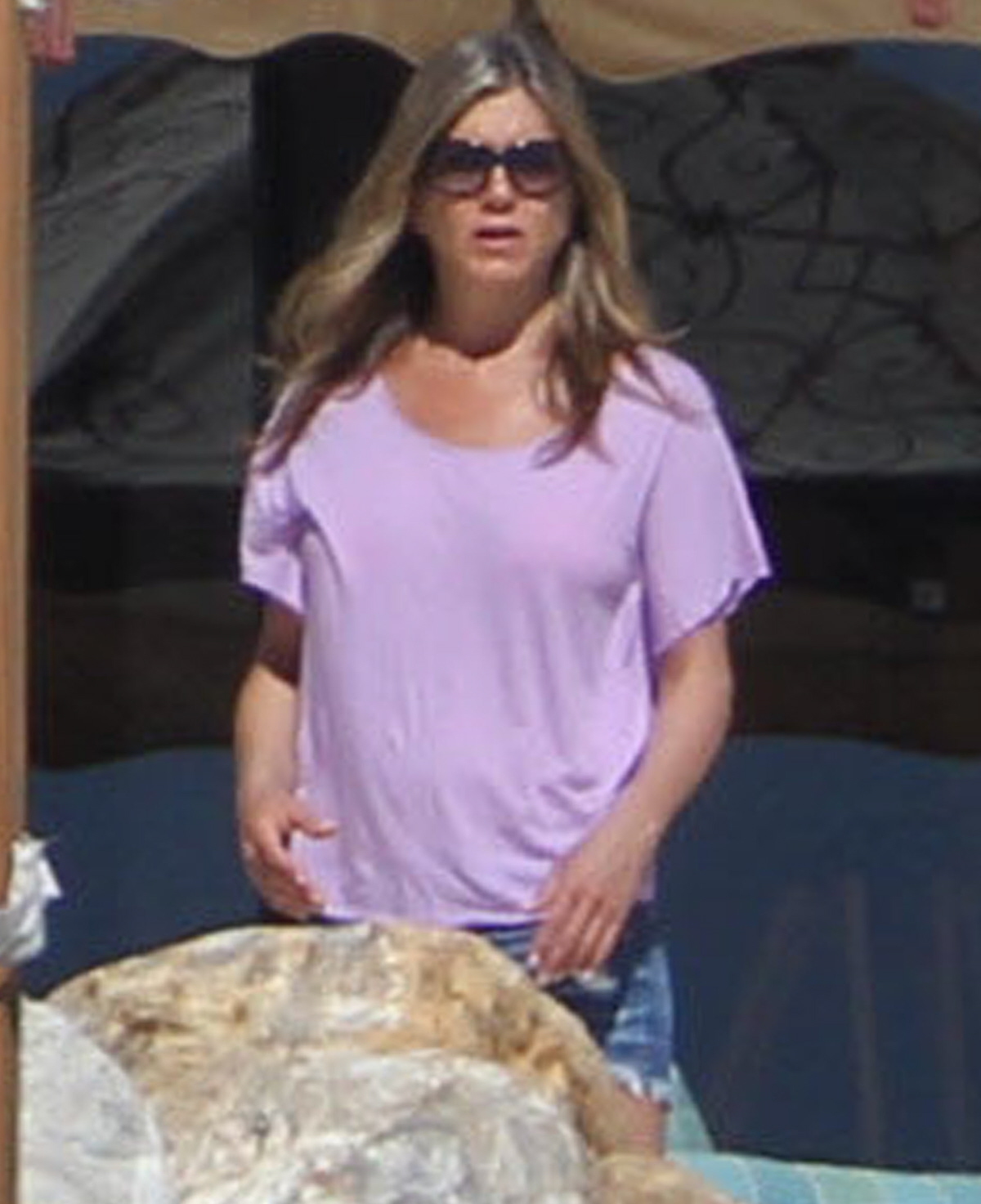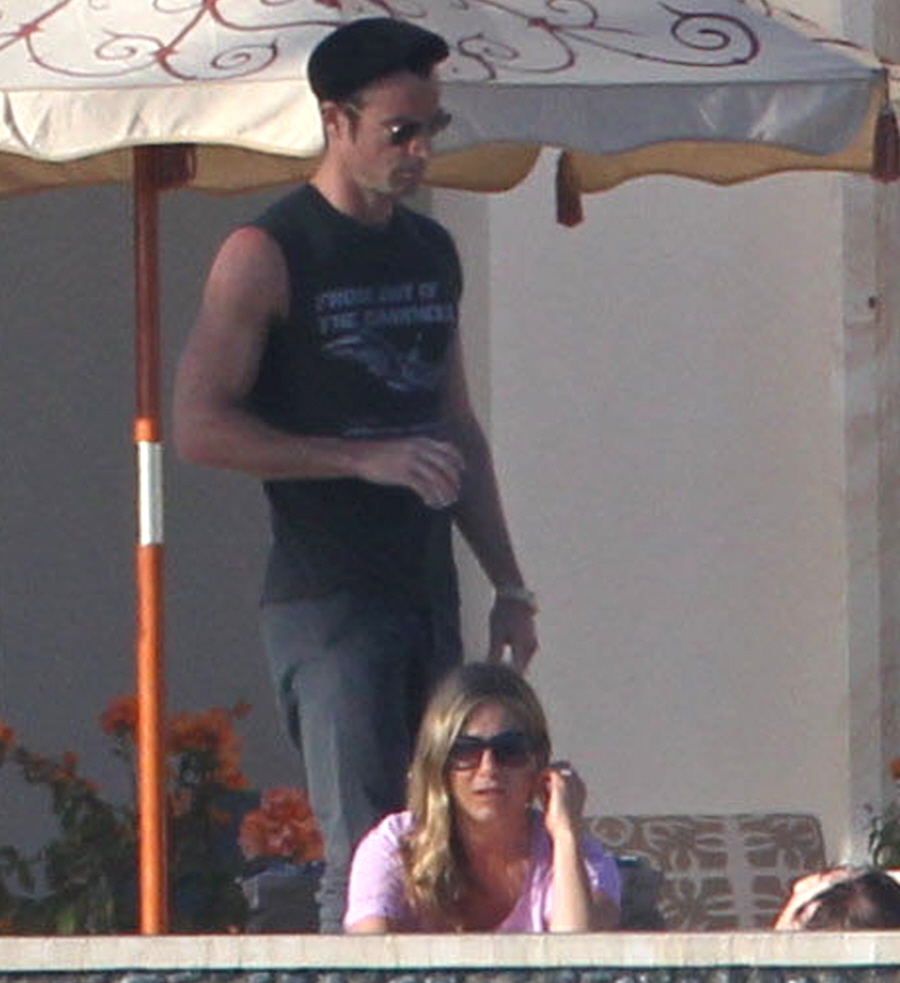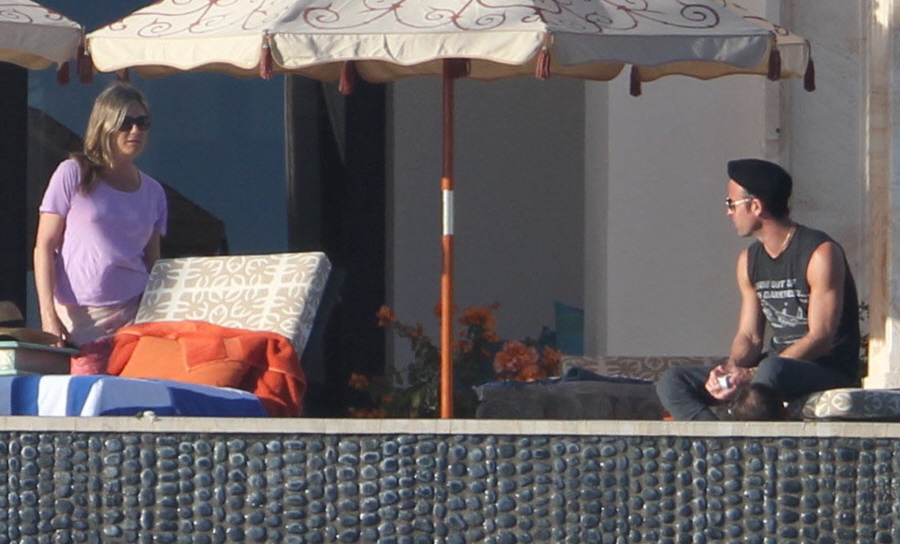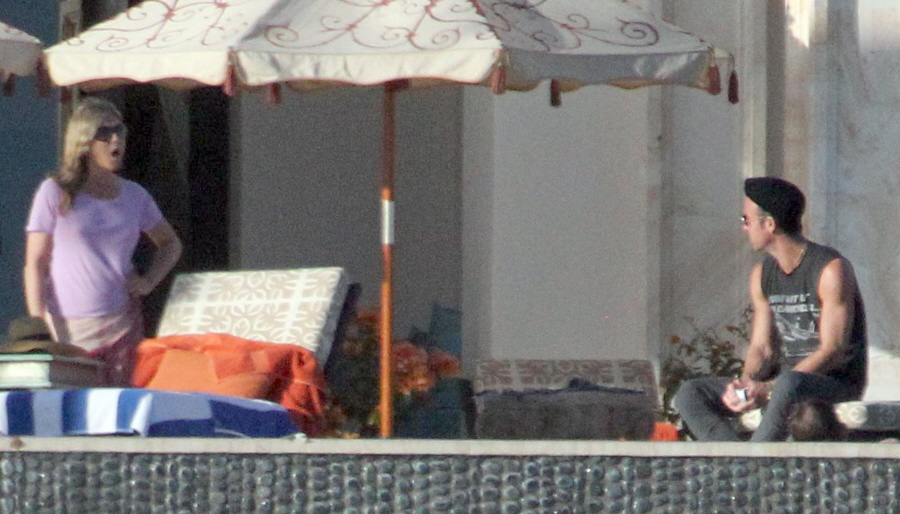 Photos courtesy of Fame/Flynet.