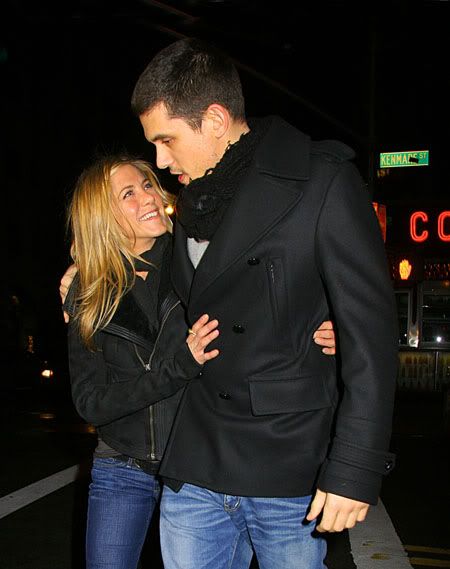 Jennifer Aniston and John Mayer were photographed together outside La Esquina restaurant in New York last night. Like their mutual exes, Cameron Diaz and Paul Sculfor, they wore similar style jackets and jeans and looked in sync with each other. Aniston huddled with Mayer in the NY cold and stared up at him adoringly. It's rare to see photos of Aniston and Mayer willingly posing for the paparazzi and although they've gone out to paparazzi hot spots for dinner they usually rush in and out and don't walk anywhere together. In fact it's hard to find photos of them in the same shot, so this is a definite statement on their part. (There were plenty of faraway pool photos, but Mayer claimed it was just a guy with a telephoto lens and he didn't know anyone was there.) You kind of assume Mayer was always up to posing for the paps, given his reputation for tipping them off, and that Aniston kind of gradually warmed up to the idea.
Aniston has shown a recent willingness to talk about her private life in interviews, but she's trying to keep it on her own terms. She said during an appearance on The Late Show Wednesday night that journalists often try to slip in personal questions when they're asked to stick to the movie. She gave an example of someone asking her "In this movie, you are a mother of three, and the wife of a man. Does this, you know, inspire you to want to have three children and be the wife of a man?" She joked that the movie gave her the idea.
Aniston and Mayer last dined at La Esquina on November 15. Is it a good idea for them to return to the same place and either make it easy for photographers to find them or somehow let them know they'll be there? Paparazzi photos are fuel for the gossip press and blogs, and Aniston knows this and has been careful about being photographed in the past. She seems to be a lot bolder and more outspoken in her latest press incarnation, and maybe she's just in love and doesn't care.
Credit: Splash News