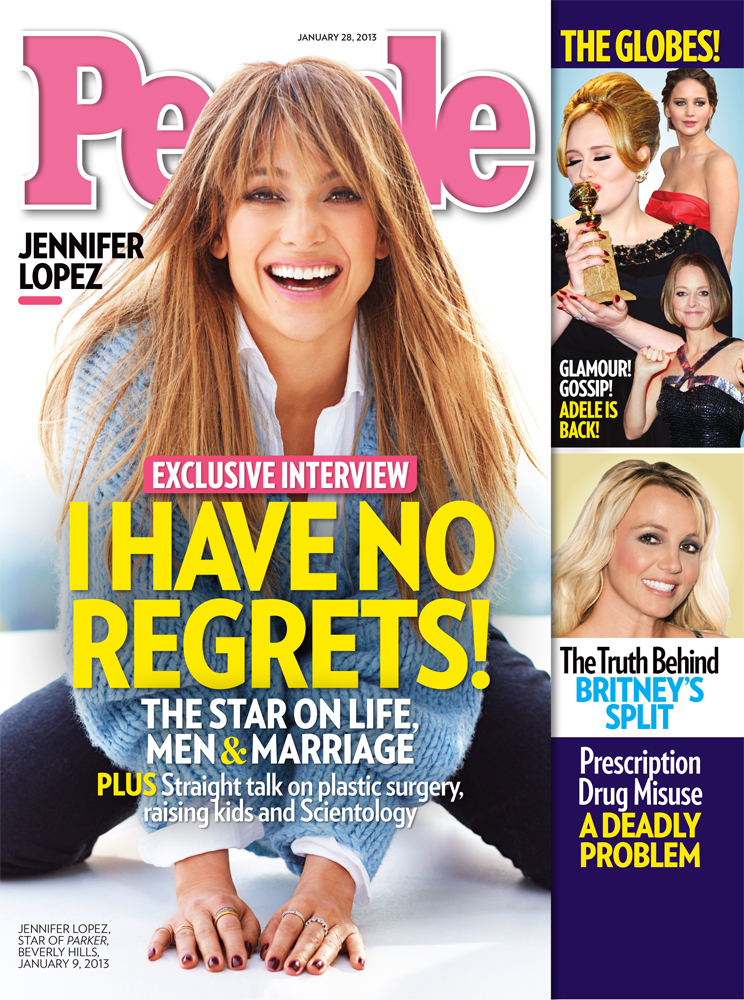 Jennifer Lopez is on the cover of People Magazine this week, in an issue that many people note is cleverly timed to pull focus from her longstanding rival, Mariah Carey, who is now taking her place on the American Idol judging panel. Lopez's hair looks particularly shaggy and frizzy on the cover, but it's not a Photoshop issue (for her hair at least, her face was obviously changed). People also posted a video clip of her interview, during which her hair looks just as fried on camera as it does in the photo. Well Ms. Lopez's people are not happy about this photo, and allegedly think it makes her look "old and haggard." It's a bizarre photo for sure, but a lot of that is due to her hair and how she's posed, doggy style, (credit: Kaiser) on the cover. I've never seen a cover photo of someone crouching down like that. To me, her makeup looks pretty and she doesn't look "old" at all, she just looks in need of a deep conditioning treatment and a trim. Here's more:
Jennifer Lopez isn't too happy with her cover photo on this week's issue of People magazine, sources tell us. The 43-year-old mother of two sits down for an interview with the weekly to discuss her life after splitting with Marc Anthony and finding her new love Beau "Casper" Smart. The story was perfectly timed to upstage Mariah Carey's appearance on the "American Idol" judging panel. But we're told that Lopez, who appears in a crouching pose with a wide smile and her hair styled straight with long bangs, feels the photo makes her look old. "Her camp feels she looks old and haggard," a source tells us. Friends are also comparing the singer and former "American Idol" judge's wide-eyed look and stick-straight hair to eccentric 70-year-old fashion designer Betsey Johnson. We're told Lopez's camp reached out to People to moan about the photograph. But her manager Benny Medina insists he was happy with the final result: "Look at the pictures and read the story! We worked closely with the editors of People and we are very pleased with cover photo and the results all around." People told us it "continues to have a productive relationship with her and her team."
Of course Jennifer's team isn't going to publicly call out People, and I get the sense that Medina called up Page Six and gave them the details for this story and then added the official statement that they loved the photo and story. More press for them, pay attention to J.Lo!
I just wanted to add a photo of Betsy Johnson here, whom the article claims is a dead-ringer for J.Lo's People cover look. That's hilarious, J.Lo does look like Betsey Johnson! The thing is, it's not her face at all, it's that terrible hair. She needs to take responsibility for that hair. Unless People's stylists forced her down and pushed a wig on her head without letting her look in the mirror, that's on J.Lo. She needs a trim. I can't figure out whether that's a full wig or some cheap extensions mixed in with her own hair.
Update: LMAO at this new article advert, on E!, that claims that Jennifer Lopez credits her "drop dead gorgeous hair" to "Brazilian Blowout's Acai Brazilian Dry Oil" as if anyone would take hair advice from this woman.
In related news, she's adopted a new puppy with Casper Smart. At least they're not having kids together – yet.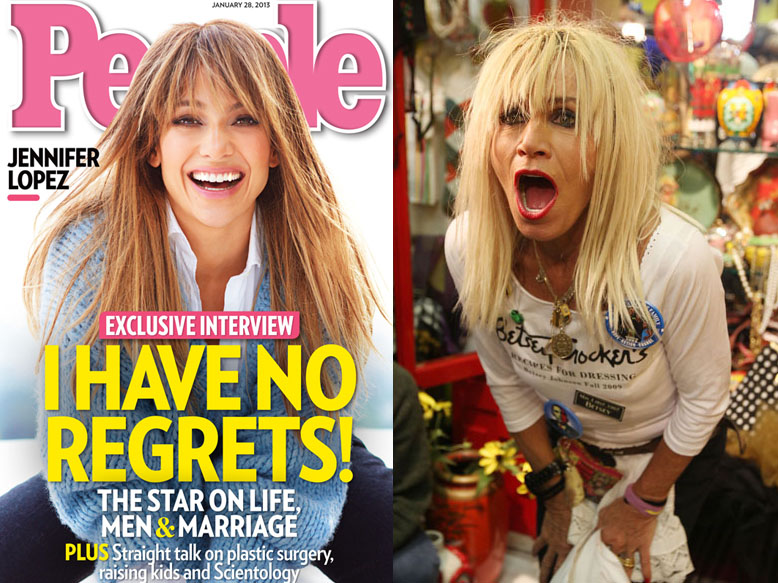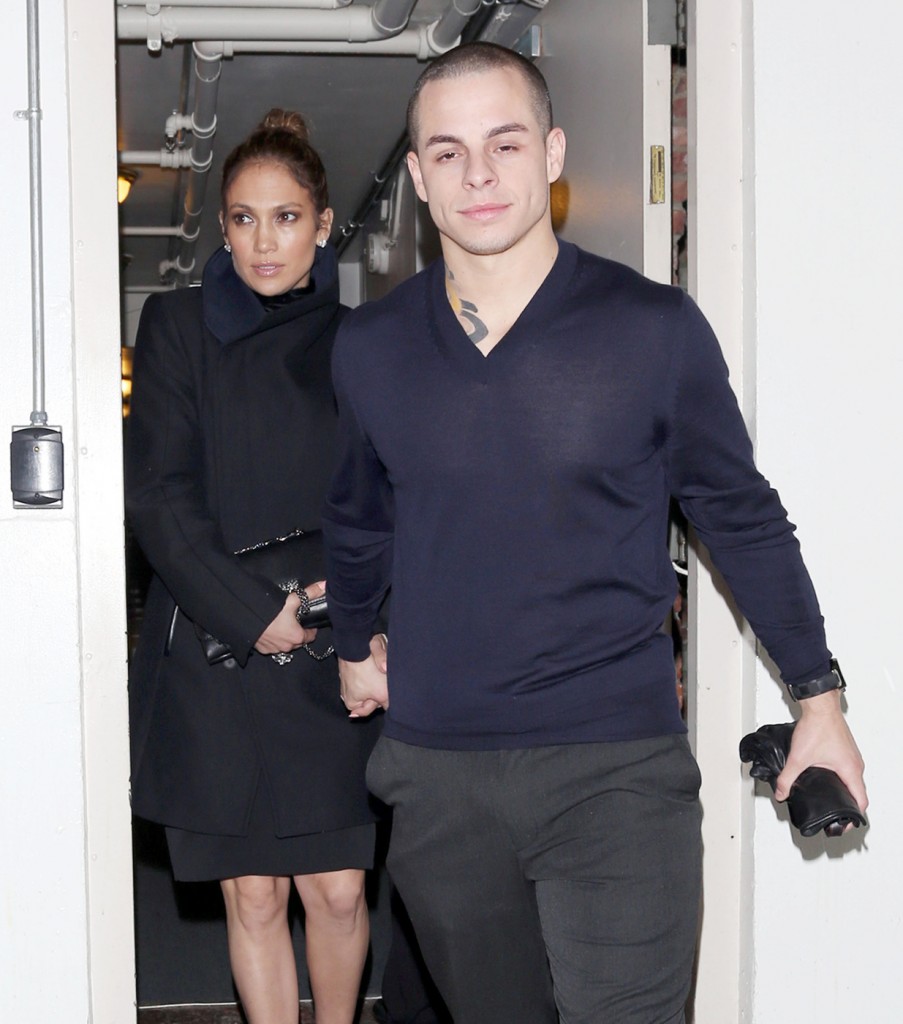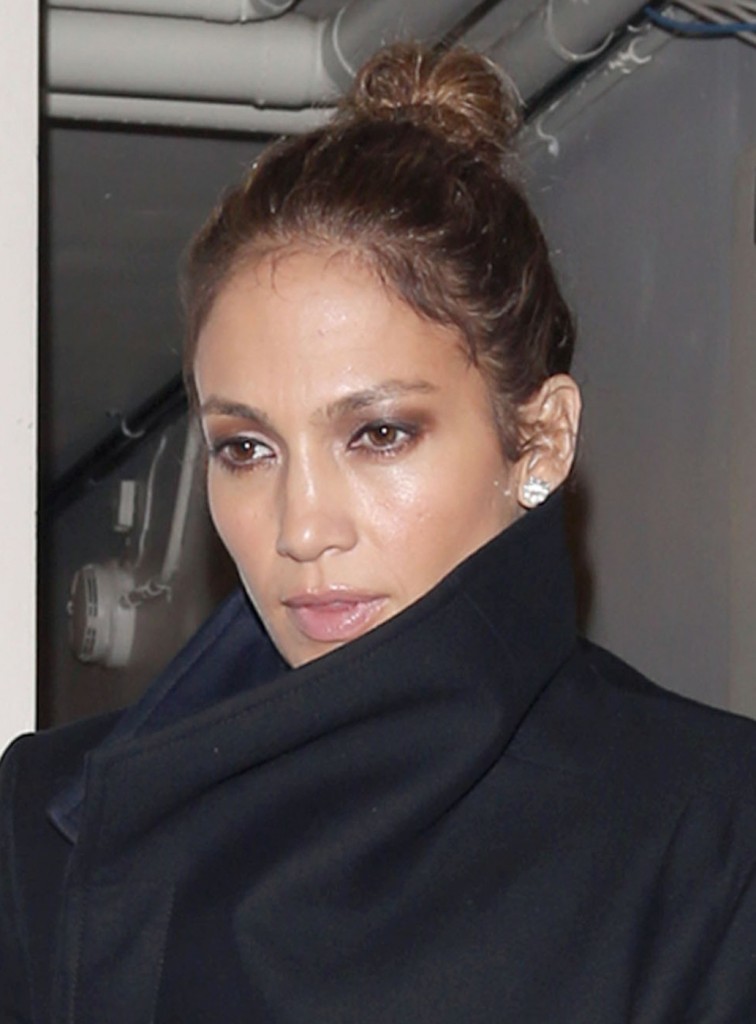 Lopez is shown out with Casper Smart on 1-16-13. Credit: PacificCoastNews.com