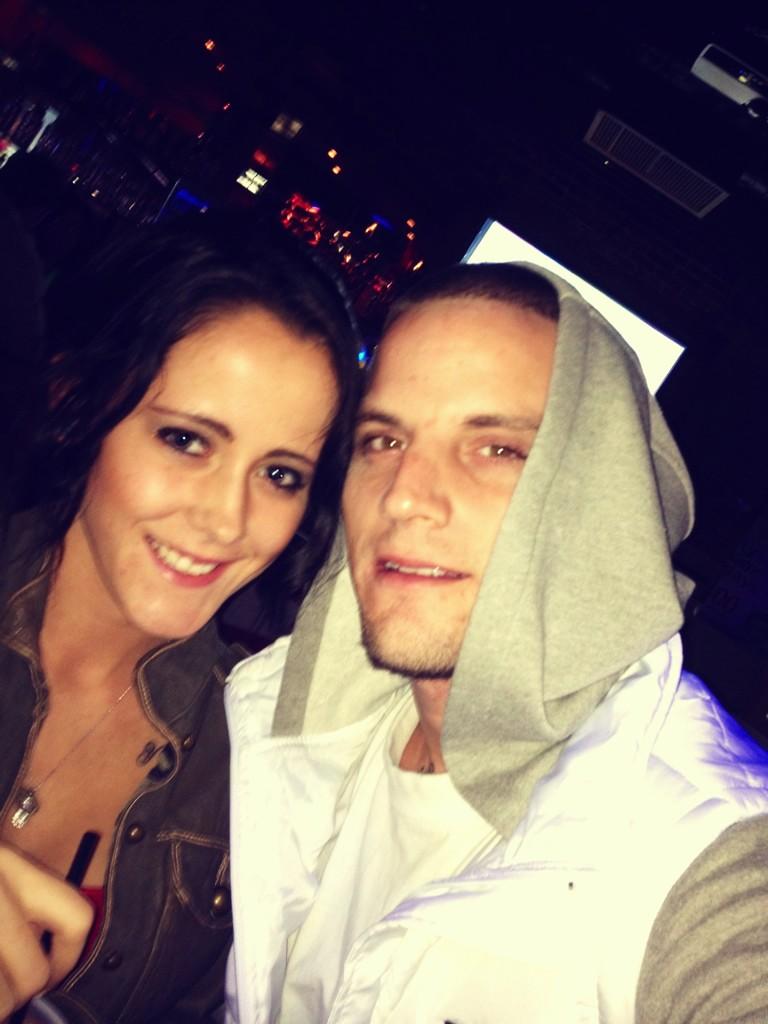 In case you're not familiar with Jenelle Evans, she's the 21 year-old Teen Mom 2 star with a very checkered past. She's been arrested multiple times on various assault and drug charges, she lost custody of her three year-old son to her mother, she was in rehab for reported heroin abuse over Thanksgiving and she's currently pregnant again. Jenelle believes that by being a competent mother to her second baby, she'll be able to win back custody of her boy. She's been bragging on Twitter about how she's been sober for "months" and is ready to be a parent again. The father of Jenelle's unborn baby is allegedly her current husband of just six weeks, a convicted felon named Courtland Rogers. Jenelle and Courtland have broken up and gotten back together twice now during their illustrious marriage, with the most recent breakup happening over the weekend.
In this latest saga in Jenelle's all-too-public life, she used Twitter to accuse Courtland of cheating. (Keep in mind that this happened mere days after her pregnancy announcement.) Courtland admits he was out partying and drinking until 3am with his friends, but says he wasn't cheating. If you're interested in the details of that stupid story, you can view them on Radar. They basically got in a fight on Twitter. We're going to focus on Courtland's response to this story because he's unintentionally hilarious.
As previously reported, Courtland Rogers left his pregnant wife home asleep on Sunday evening and hit up a bar with his buddies, and he tells Radar that his bad behavior has caused Jenelle to call a time out on their marriage of just six weeks.

"I f**ked up," Courtland admits. "I got drunk as f**k and I went out and I left my beautiful pregnant wife at home."

His disappearing act has wrecked what Jenelle thought was a happy marriage , and Courtland tells Radar she's laying down the law.

"Jenelle said I need to straighten out and not drink and not go out and not do dumb stuff anymore," he says. "She said she doesn't want to be with someone who is messing up all the time."

Meanwhile, the Teen Mom star is staying silent on the situation, having posted just one cryptic tweet on Monday: "I have to figure this out."

And, Courtland says he's afraid of what her decision will be!

"I'm not perfect and what Jenelle wants is for me to show her that I love her and improve myself, so I have to figure out how to do that," he tells Radar. "I love her and I want her to work this out with me.

"I can't wait to meet this baby and I want to be a great dad. I've learned how to be a dad from not being a dad to my other child all these past months and I want to show Jenelle and everyone else that I can be a good dad."
That last line is my favorite in this story. Listen to this genius' reasoning "I've learned how to be a dad from not being a dad to my other child all these past months." In Courtland's mind, he can be a good dad once his second child is born because he's already a bad dad and knows not to act like he currently does. There's no plan for fixing things with his one year-old daughter from another woman, he's just going to start all over again with this new kid and everything will be fine! Of course it will, just like his marriage with new wife Jenelle. By the way, Jenelle has no prenup with Courtland.