The book is called The Black Book of Hollywood Pregnancy Secrets, and it's allegedly a tell-all. But from the excerpted stories, it just seems like a bunch of moms talking about their kids. Which is nice. So why all the drama? Oh, right, book sales. Authors Kym Douglas and Cindy Pearlman interviewed many Hollywood moms, including Angelina Jolie, Kate Hudson, Helena Bonham Carter, Katie Holmes and Tina Fey.
Authors Kym Douglas and Cindy Pearlman reveal Kate Hudson finds dating difficult as the single mother to her five-year-old son, Ryder.
[Hudson] says, "I do find it tough to date," but swiftly adds, "I'd rather be at home with my son cooking dinner than going out with a guy. My son is my man."

Jolie adds of raising her international brood of six kids with partner Brad Pitt, "We were in India (for Halloween) and Brad and the kids and I had an off celebration in the hotel we were staying at. We had candy sent up, which we said was from the saints."

Meanwhile, American actress/comedienne Tina Fey takes a down-to-earth approach to parenting: "I don't care how many (magazine) covers you're on. When you're chasing a three-year-old around with a pull-up (diaper) hoping she won't poop on the floor, you're just like every other mom on the planet."
[From Contact Music]
I'm not really sure what Angie means by an "off celebration" – maybe she was misquoted? Maybe it's like "off" the beaten path? Is there a Saint Off? Who knows. Tina Fey's story is funny though. It reminds me of a story about my now dead dog, when he was alive and incontinent. Not to compare pets with children… *shock*… but I really wish I could have put a diaper on that dog. Anyhoo, doesn't it seem like Kate Hudson's kind of phoning it in? I mean, we see her out with *every* boyfriend, obviously she doesn't love being alone with her son that much. There are other excerpts from the book, including some much juicier revelations from Helena Bonham Carter.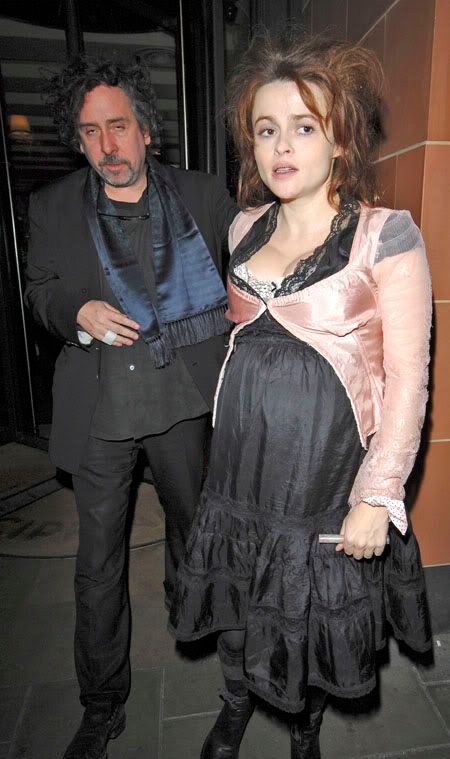 Helena Bonham Carter admits pregnancy made her defensive about her vices. The 42-year-old actress – who has two children with partner Tim Burton, son Billy, five and 13-month-old daughter Nell – found it impossible to give up coffee while pregnant, and developed a sharp retort for when she was criticized for succumbing to her caffeine cravings.

…If a man condemned her for drinking coffee, Helena would swiftly reply: "You try nine months of gestation and self-abnegation before you start censoring my diet. Your mother was probably on vodka, and do you have three heads?"

Helena limited her intake of the hot drink, but admits it was tough to give it up entirely. She said: "I didn't drink caffeine as much as I would normally and try to restrict myself to one cup of coffee a day. One of my favourite dishes is carpaccio and I love sushi but I avoided them. Obviously anything with raw eggs was forbidden, too."

The actress has previously revealed she was so desperate for a second child she took fertility drugs to boost her egg production, and also tried acupuncture and Chinese massage.

She said: "If I hadn't got pregnant I think we probably would have tried IVF (in vitro fertilisation), yes. Obviously, you don't know what you'd do unless you were actually in that situation. I think we might have gone for a round of IVF, but that would have been that."
[From Monsters and Critics]
And after Helena told off Tim Burton with that "three heads" line, Burton jotted down some notes, met with some producers and started pre-production on The Three-Headed Vodka Boy, starring Johnny Depp. *rimshot* Seriously, when I think about what pregnant women used to get away with, it really makes me wonder about my mother's generation. Pregnant women used to smoke throughout the whole nine months! They used to drink like fishes! They used to play with toxic chemicals! Well, maybe not that one, but I'm sure a couple of pregnant women tried.
Angelina Jolie is shown on 5/20/08 at Cannes. Credit: WENN. Kate Hudson is shown pregnant at the premiere of Le Divorce with Naomi Watts and Chris Robinson on 8/31/03. Helena Bonham Carter is shown out with Tim Burton on 11/28/07. Credit: Bauergriffin.