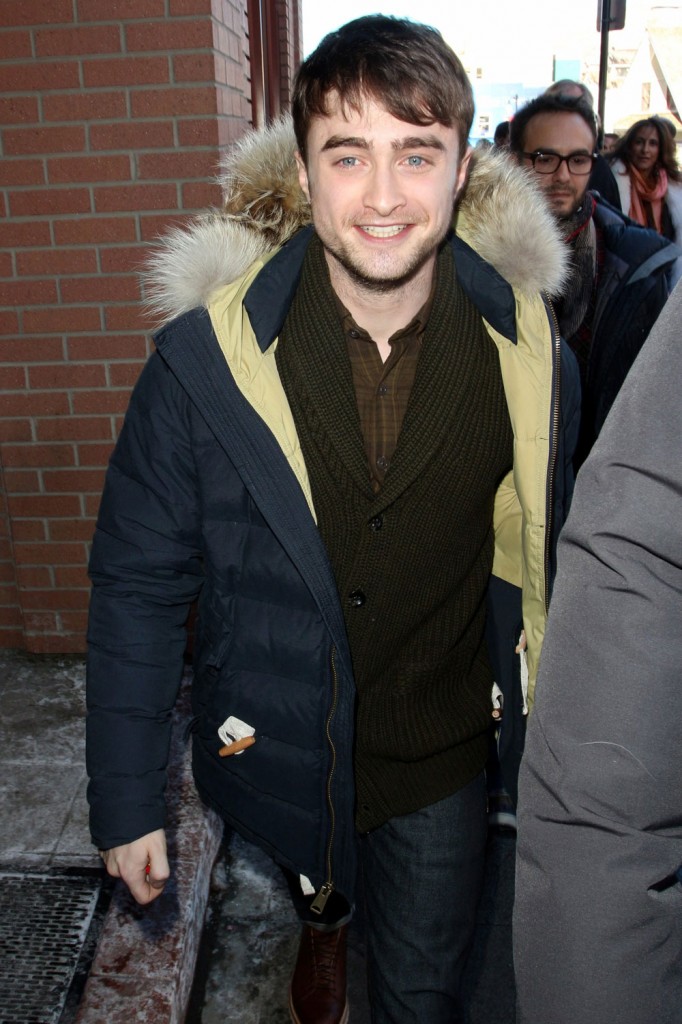 Daniel Radcliffe, who is all of 23 now, stars as beat poet Allen Ginsberg in Kill Your Darlings, a true-story about a 1944 murder that "brought together the three beat generation authors, Ginsburg (Radcliffe), Kerouac (Jack Huston) and Burroughs (Ben Foster), when they were still just awkward students at college." I got that explanation from this video interview with the writer-director, John Krokidas, who went on to explain that "the emotional aftermath of that murder is what provided them the creative spark to go on and decide to be artists." That was the first time the three authors had met. (More background on the film is here.)
Anyway Ginsberg was a gay man, and Kill Your Darlings features a gay sex scene starring Daniel Radcliffe. The film had its premiere at Sundance recently, and Radcliffe is fielding questions about it. True to his ongoing support of the gay community, Radcliffe is incredibly cool about it when he's asked about the gay love scenes in the movie. This is what you would expect from a straight guy who was on the cover of Out Magazine, but it's still really nice to hear. I'm going to quote Extra! here because they've compiled quotes from two different interviews with Radcliffe:
Radcliffe has a particularly steamy sex scene in the John Krokidas-directed film that has everyone talking, especially after it premiered at the 2013 Sundance Film Festival.

"It was something new," Radcliffe told E! Online. "But you know what, we shot that whole scene in maybe an hour and a half, so it was incredibly fast-paced. I didn't really have time to stop to think and worry about it."

Radcliffe also spoke with MTV News about the scene, saying, "It's interesting that it's deemed shocking. For me, there's something very strange about that because we see straight sex scenes all the time. We've seen gay sex scenes before. I don't know why a gay sex scene should be any more shocking than a straight sex scene. Or both of them are equally un-shocking."

"What weirded me out the most last night was people were asking me all these questions about the gay sex scenes. I was like, 'You know I did 'Equus?' " Radcliffe laughed. "Some people are asking me questions like this is a more shocking subject, which is so strange."
MTV interviewer Josh Horowitz goes on to point out that this is Radcliffe's first on-screen sex scene. Radcliffe gets a little flustered and admits that "it was new." He also clarifies that his sex scene wasn't with Dane DeHaan, who plays the murderer Lucien Carr. So who was it with, exactly? I haven't seen it in print and guess that it's a big spoiler. Also E! has a funny story about how their correspondent told Radcliffe that his straight female friend found the scene arousing. Right after that Radcliffe went over to director Krokidas and said "I told you girls were going to be into it." We are! The good news is that Kill Your Darlings was acquired, by Sony Pictures Classics, and should be available in theaters at some point.
Here's Radcliffe's interview with MTV's awesome Josh Horowitz:
These are photos from the Sundance premiere of Kill Your Darlings on 1-19-13. Radcliffe is shown with the director (dark hair, glasses) and with Dean DeHaan. Credit: WENN He's also shown on the set of the film, in March and April in NY. Credit: Pacific Coast News. Spoiler maybe (highlight to see although this is futile since the image is below) He's shown hugging Jack Huston, who plays Jack Kerouac