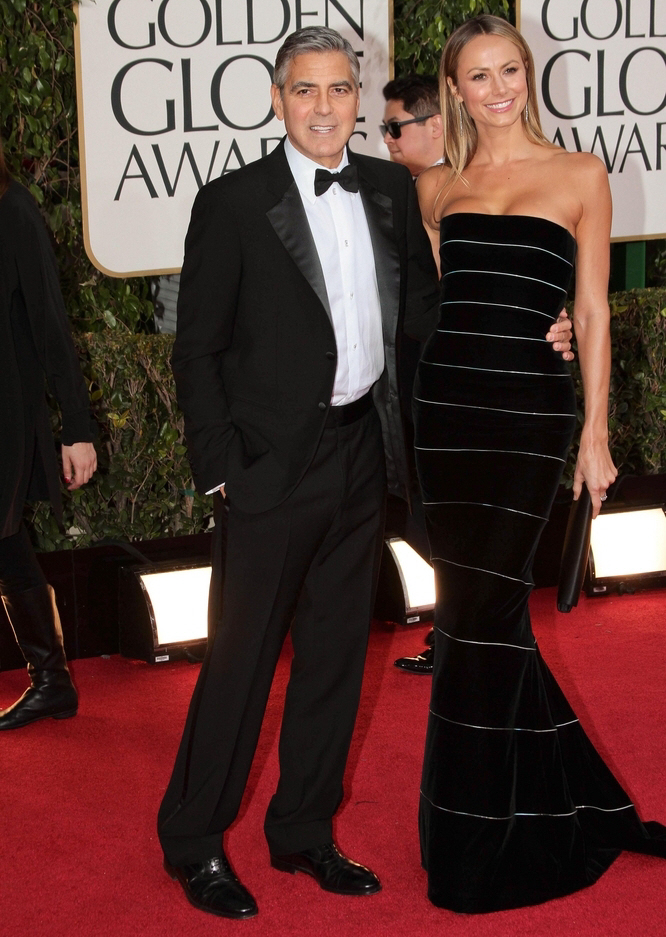 Much has been made of George Clooney's Oscar campaigning style, especially when it comes to his Oscar Dates. George is nothing if not a careful planner, so if he knows that he's going to be campaigning for an Oscar during a given awards season, he makes sure to set up his Oscar Date several months in advance. His last two big relationships (his ongoing thing with Stacy Keibler and his thing with Elisabetta Canalis) began late in the summer before a fall and winter Oscar push. George is disciplined enough to never deviate from the Oscar Date plan too – even though Sarah Larson overstepped The Clooney Rules (she talked about marriage, babies), he waited to dump her until the awards season was over. George will never "pull a Bradley Cooper" and dump his girlfriend just before the Golden Globes. Please. That's Amateur Hour.
So, we're about a month away from the Oscars and while George isn't nominated for an acting award, he's still going to be front and center because he's one of the producers of Argo. Which means that Stacy isn't going anywhere, even if she's annoying him and even if he's annoying her.
When George Clooney and Stacy Keibler walked the red carpet at the Globes, they were all smiles for the photographers. But when the cameras were offm "Stacy looked distant and sad," says a source. "She's usually bubble and excited to be there next to George, but she was like a statue."

This comes as no surprise to close pals, who tell In Touch that the end is near for the pair, who have been together since August 2011.

"George liked her at first because she wasn't into fame," says George's friend. "Now that Stacy's been around the A-list, she's hooked. George wants someone more low-key."

For her part, Stacy has grown "bored" with George, adds the source. In recent weeks, she's been partying with pals – and without George.

"She likes to have fun and George has been working more than ever," says the source, adding that George is more devoted to his career than to his relationship. But with awards season in full swing, the pair will most likely ride it out until George starts filming The Monuments Men in Europe in March.

"He's starring in it and directing it, so he'll be very busy… that means no Stacy."
[From In Touch Weekly, print edition]
This is one of the most believable Clooney-Keibler breakup stories ever. I completely believe every part of this. I think Clooney has gotten tired of Stacy's famewhoring and she's gotten tired of his whole Clooney thing, and they're just waiting it out for another month or so. It wouldn't surprise me at all if there was a quiet announcement in the beginning of March – hell, George might even let Stacy announce it, like she's dumping him! She's been a good Oscar Date, and she wisely feathered her nest with all kinds of small, paid gigs and appearances while she was with George. Plus, I'm sure he'll give her some kind of quiet "payment" when they're done. She'll be fine! And by the end of this summer, he'll have someone new! I'm excited. I'd like to see him with Dita Von Teese, but my money is riding on some completely unknown British brunette with a great rack and he'll pull some strings and everyone will call her a "model/actress".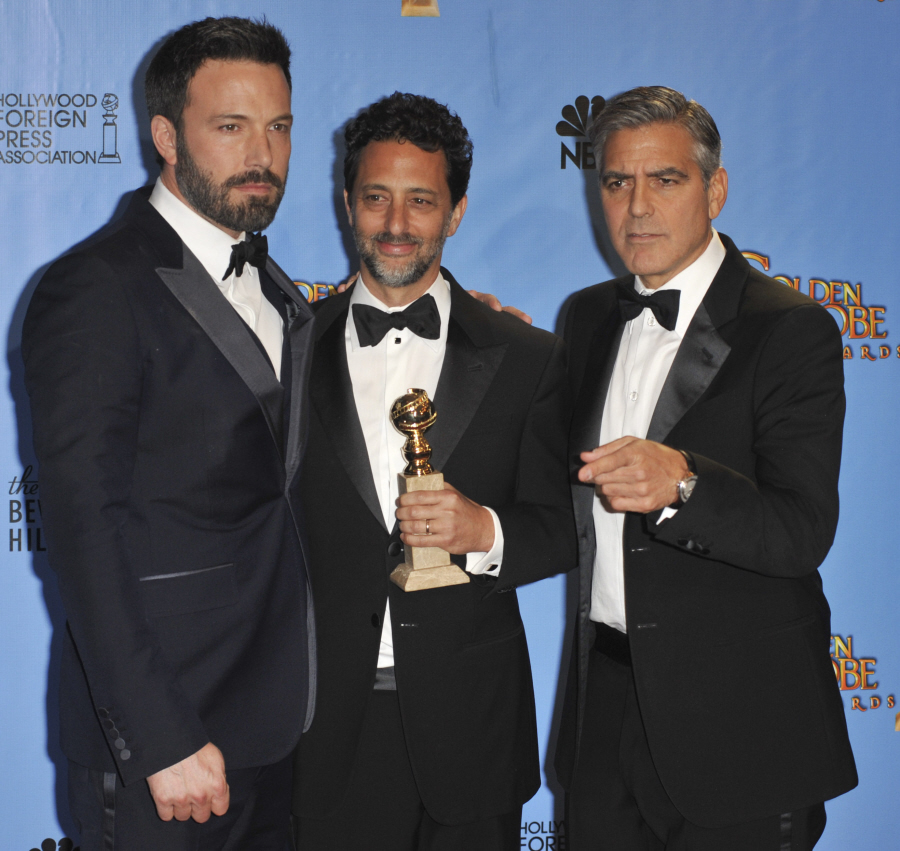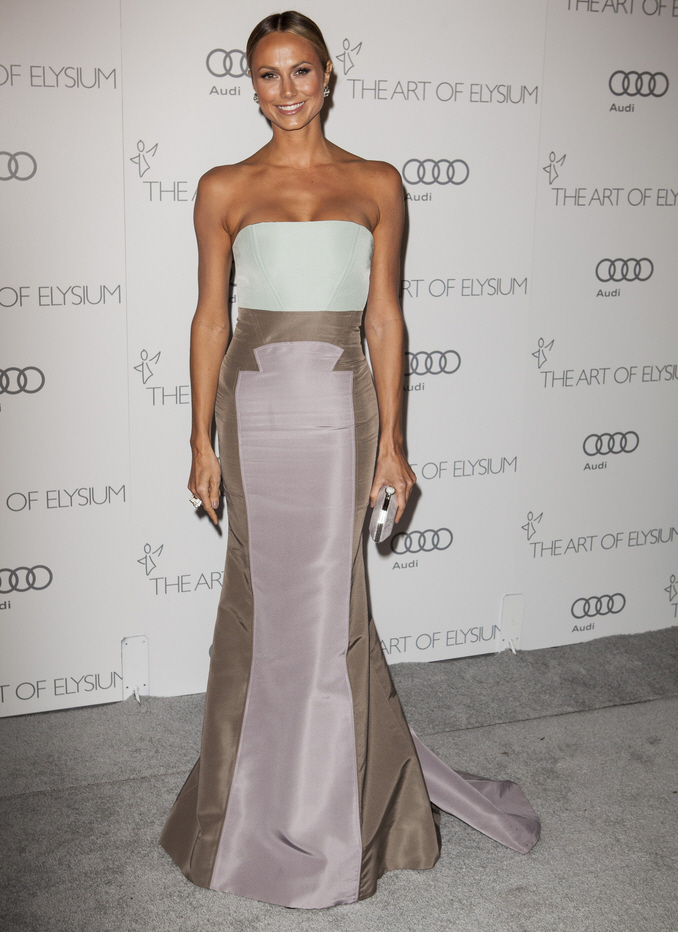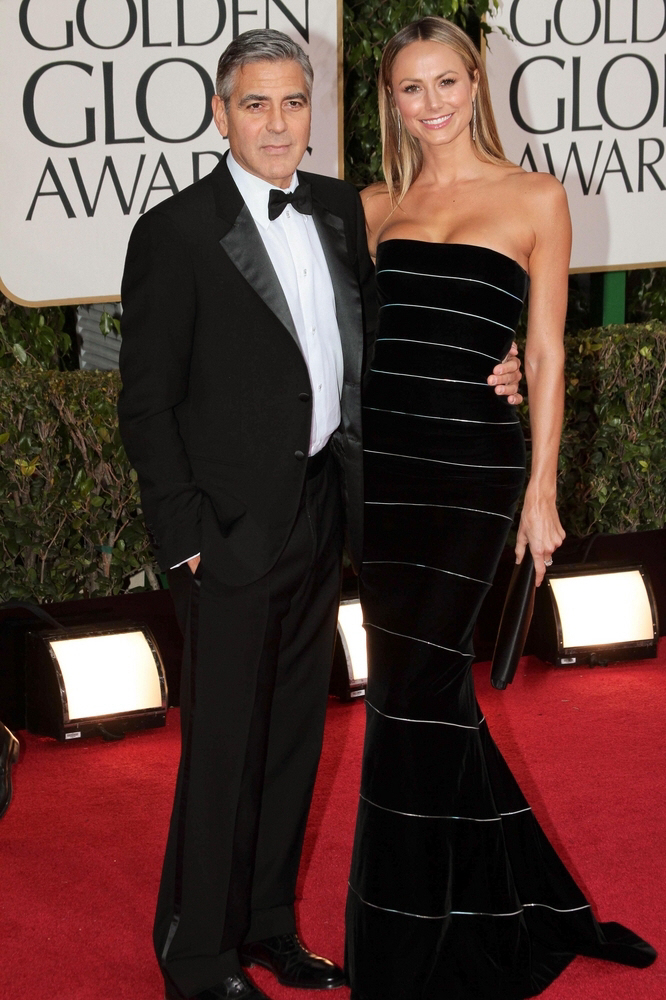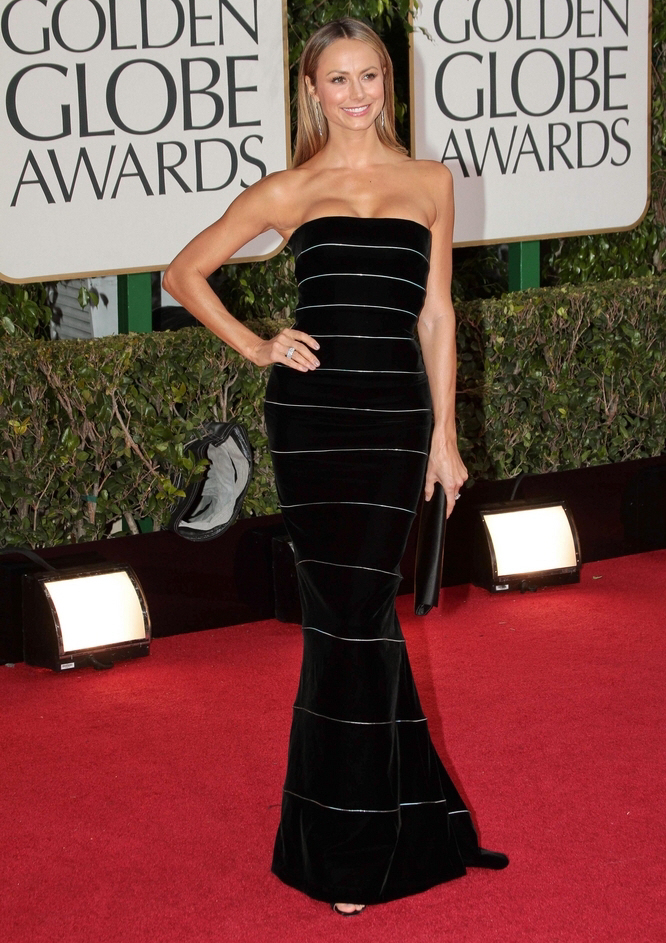 Photos of Stacy at a pre-Globes event & at the Globes, courtesy of PR Photos and WENN.