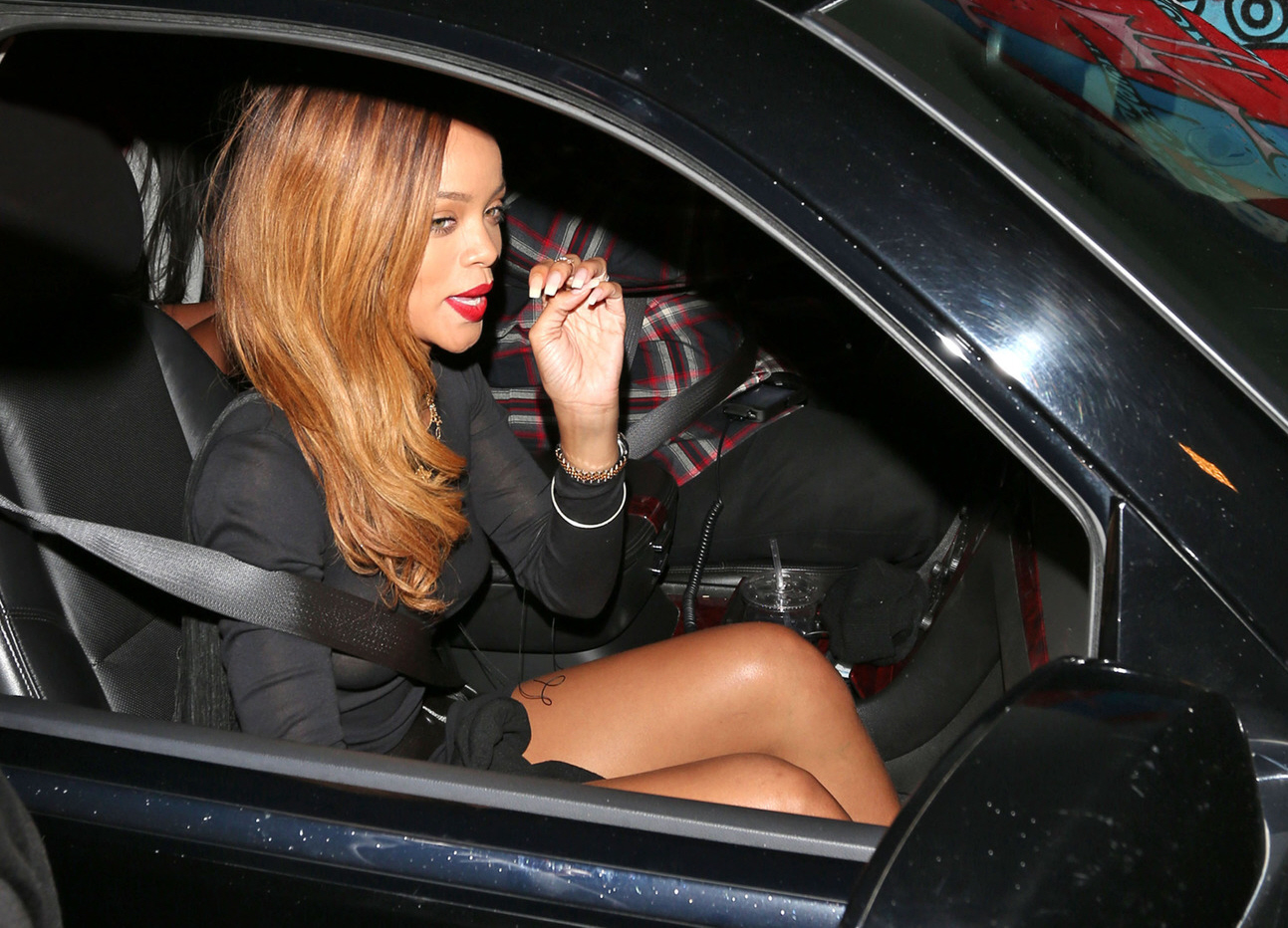 These are some photos of Rihanna from the past few weeks which we've never gotten around to publishing – did you know Rihanna got some new extensions? They're not bad at all. I wish she had just gotten them all over instead of leaving the left side shaved though. She thinks she looks punk, but that style is just so 1980s hair-band trashy. In the pic of Rihanna sitting in the car – that's from last night. Rihanna went to the Playhouse nightclub with some girlfriends, and I'm not even going to try to post the full-body shot of her in that black dress because I think she was only wearing a thong under it and the dress was completely see-through. So, if you're in the mood, you can look those photos up on your own!
I'm guessing that Rihanna is going out with girlfriends and trying to be seen out and about in the hopes that Chris Brown will PAY ATTENTION. That he will see her bits and pieces hanging out of a dress and think, "Yeah… Karrueche who?" Because Chris is back with Karrueche the last time I checked, although (admittedly) that was a few weeks ago. Do you mind if I don't keep up with this love triangle? It depresses me. But Hollywood Life IS keeping up with it, so here's the latest:
Chris Brown laid a kiss on Karrueche Tran at The Room in Santa Monica on Jan. 23, where Karrueche, 24, was celebrating her new cover on Rolling Out magazine, so we can't blame Rihanna if she's really planning on moving on and letting go of Chris.

Rihanna, 24, retweeted a friend's message on Jan. 24, one day after Karrueche's event, that said, "Life doesn't stop for anybody. People move on, they change and they let go, they grow and eventually they forget and pass on." Is she talking about moving on from Chris?

Chris, 23, made a surprise appearance at The Room in Santa Monica on Jan. 23, where Karrueche was celebrating her new cover on Rolling Out magazine. And no one could have been happier than Karreuche, who HollywoodLife.com has learned still hopes to get back together with Chris.

Luckily for Karrueche, we're told that Chris gave her a kiss at the event.

"He came in through a back door, made her come back to where he was and told her 'I'm proud of you girl' and kissed her on her cheek," a friend tells HollywoodLife.com exclusively. "He even told her 'I gotta leave because this don't about me it's about you so go do your thang.'"

If Rihanna decides to move on from Chris, Karrueche is happily waiting in the wings to take her place.

"She will always love Chris and deep down she always wants to be with him but she's not forcing it," our source says. "If the time ever comes around and Chris is ready though, I'm sure she'll be waiting," our source adds.
Yeah. God knows. I think Chris just enjoys playing both women off of each other, and neither lady is going to win any "strong, independent woman" award. They're both desperate for his jock and they both keep coming back even though he treats both of them like crap.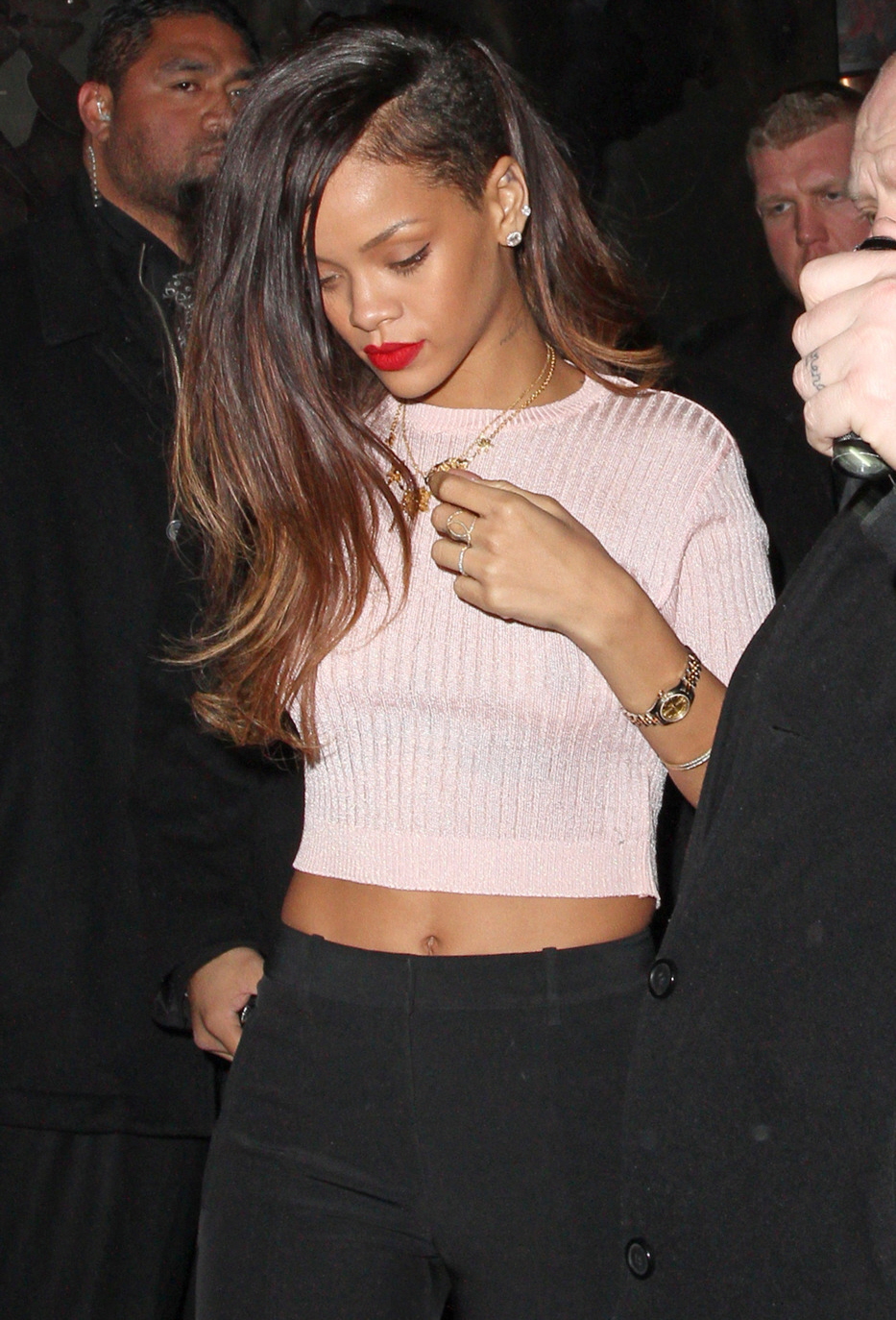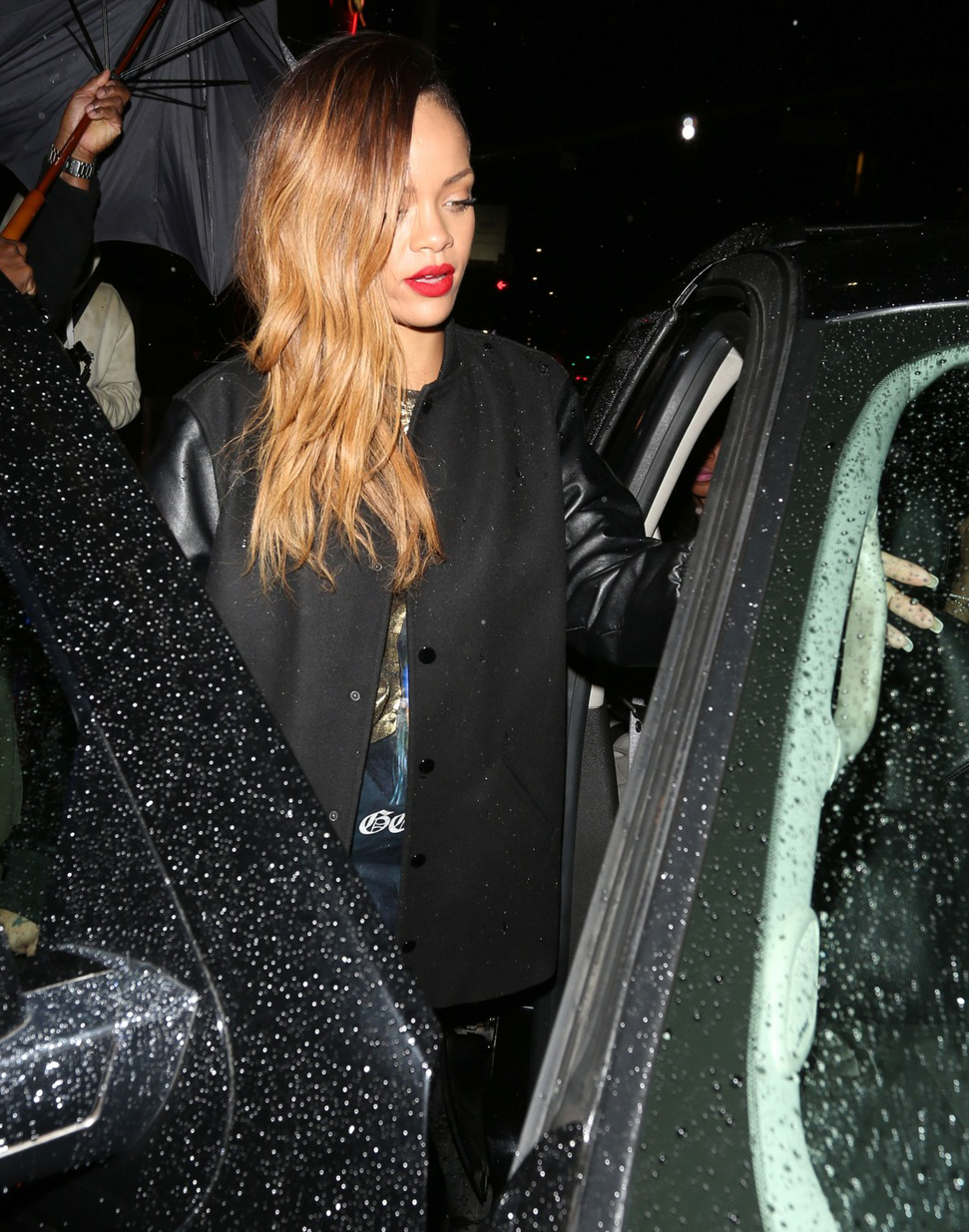 Photos courtesy of Pacific Coast News.