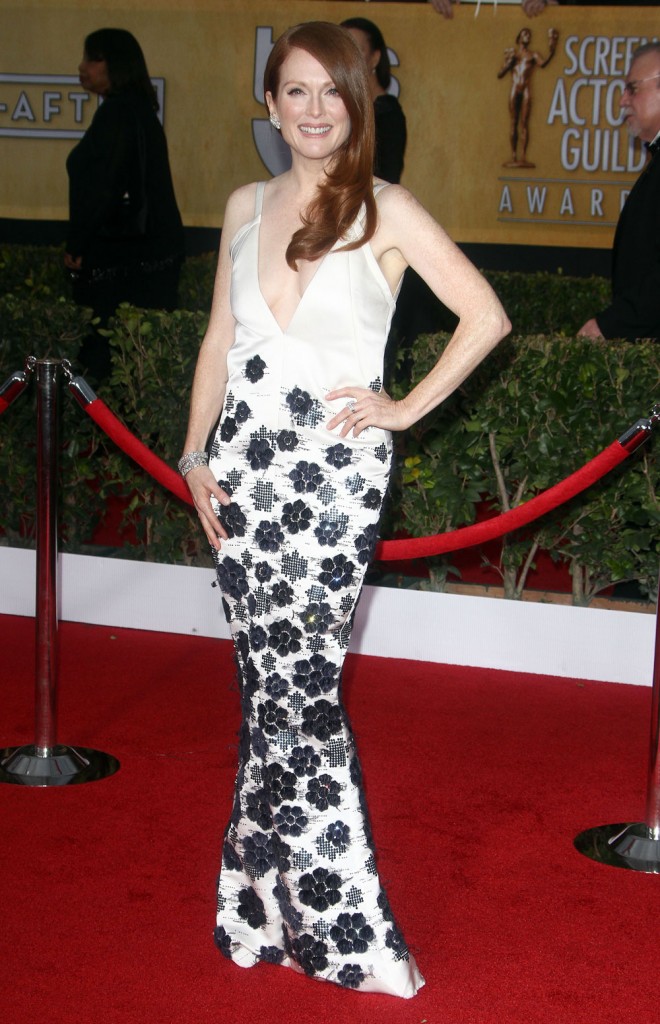 I love Julianne Moore, and I love to see her on the red carpet. Sometimes she gets it spectacularly wrong, but sometimes she can pull off gowns that other women would look awful in. She's not at "she can wear anything" Cate Blanchett status yet, but the more often I see her the more I appreciate her offbeat looks. At last night's SAGs, Julianne wore this white v-neck Chanel gown adorned with black flowers. The bust was poorly fitted, and I found it distracting while she was presenting, but somehow I liked this dress. It's goofy and whimsical. Maybe that's due to Julianne's awesome personality, and maybe she's so lovely that she elevates whatever she's wearing.
Julianne won the actor for TV Movie or Miniseries, for Game Change. (For which she also took home the Golden Globe.) During her acceptance speech she named practically every single person who was on the cast with her, ending with the baby who played her son. It was adorable. I could watch that woman read the phone book. She also presented the actor for a female in a comedy series, which went to Tina Fey. Before Julianne read the envelope, she added a little "You Betcha" in reference to their Sarah Palin character. It was cute.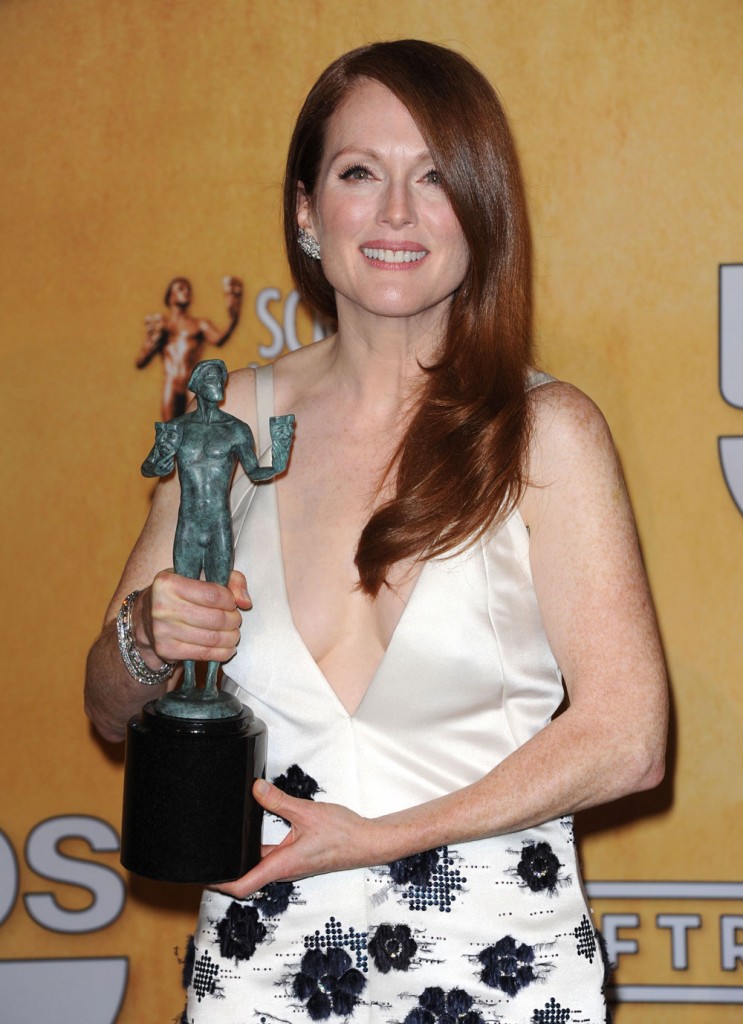 Helen Hunt was in this very classic-looking silver Romona Keveza strapless gown. In photos she looks amazing, but on camera I noticed that something was off about her makeup. Her foundation was too light and her makeup looked monotone, but that was due to way the light hit her. In these still photos it looks much better. The dress is incredible, although I found her jewelry too matchy and heavy for that gown, which should stand on its own. Helen had a lot of stacked bracelets, from Neil Lane, and she told Giuliana on the red carpet that she was also wearing a friendship bracelet from her daughter, which I thought was sweet! She was nominated for lot of awards this season, for her work in The Sessions, but unfortunately she hasn't taken home anything yet.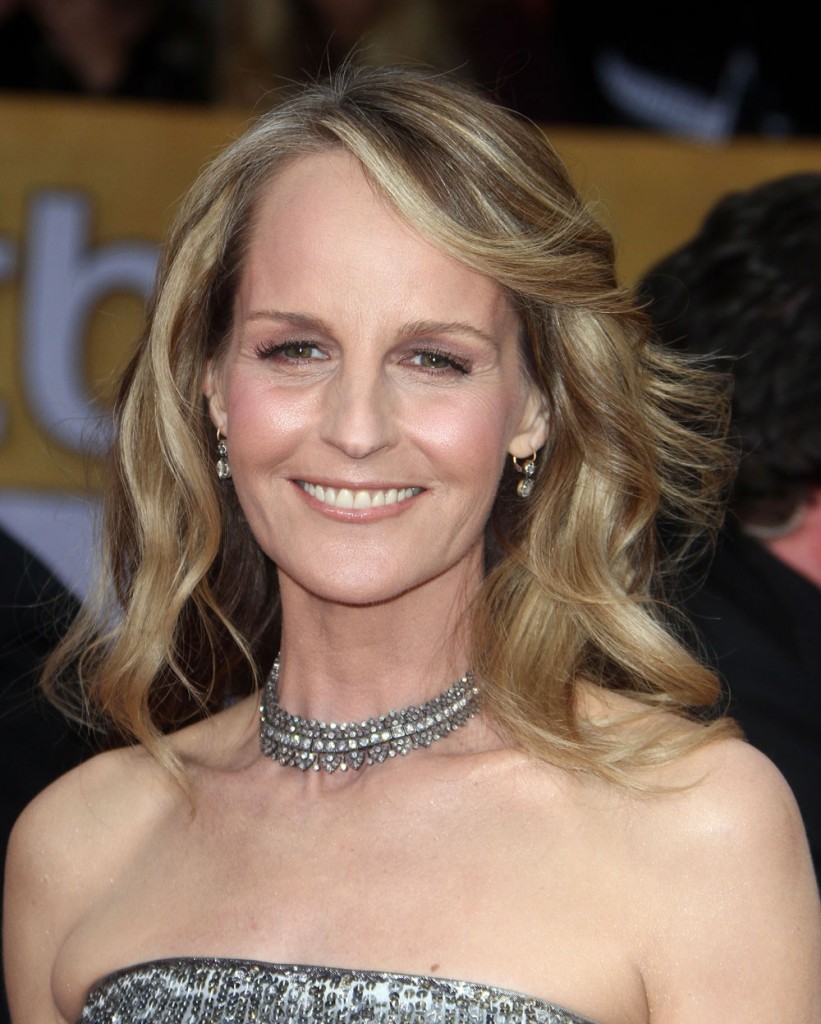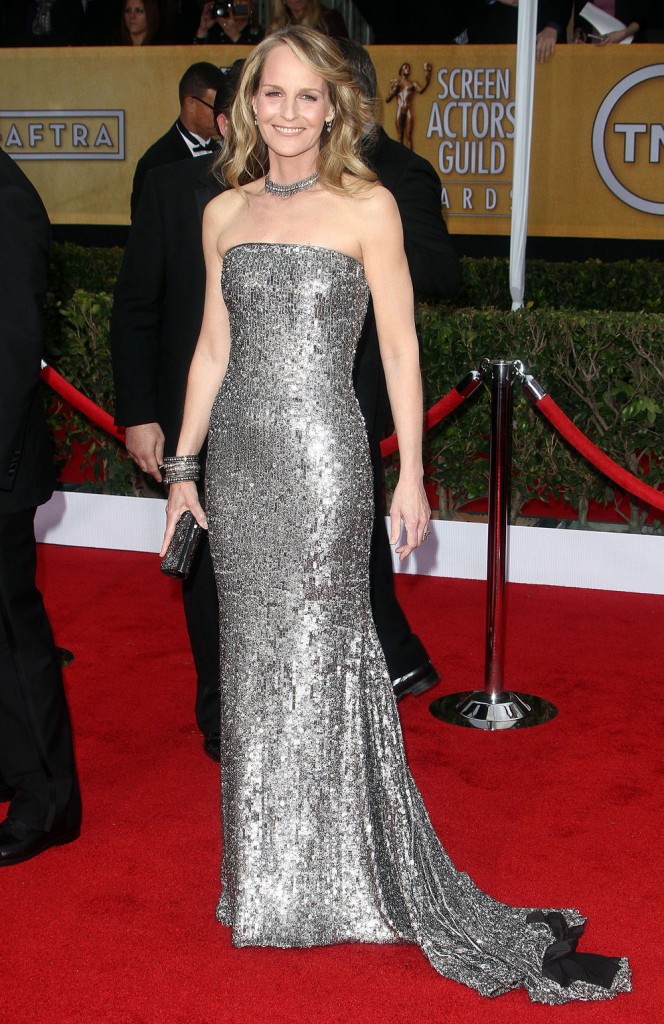 Fellow nominee Edie Falco looked strange to me with dark hair last night. I keep seeing promos for Nurse Jackie and blonde hair is much more suited for her. Maybe she's switched it up for a role. In terms of her gown it was just ok. I can't get a designer ID on it, but it's very plain-looking. I think that's due to the lace from top to bottom. Maybe if it just had lace on the top and a sleeker fabric for the skirt it would have added interest.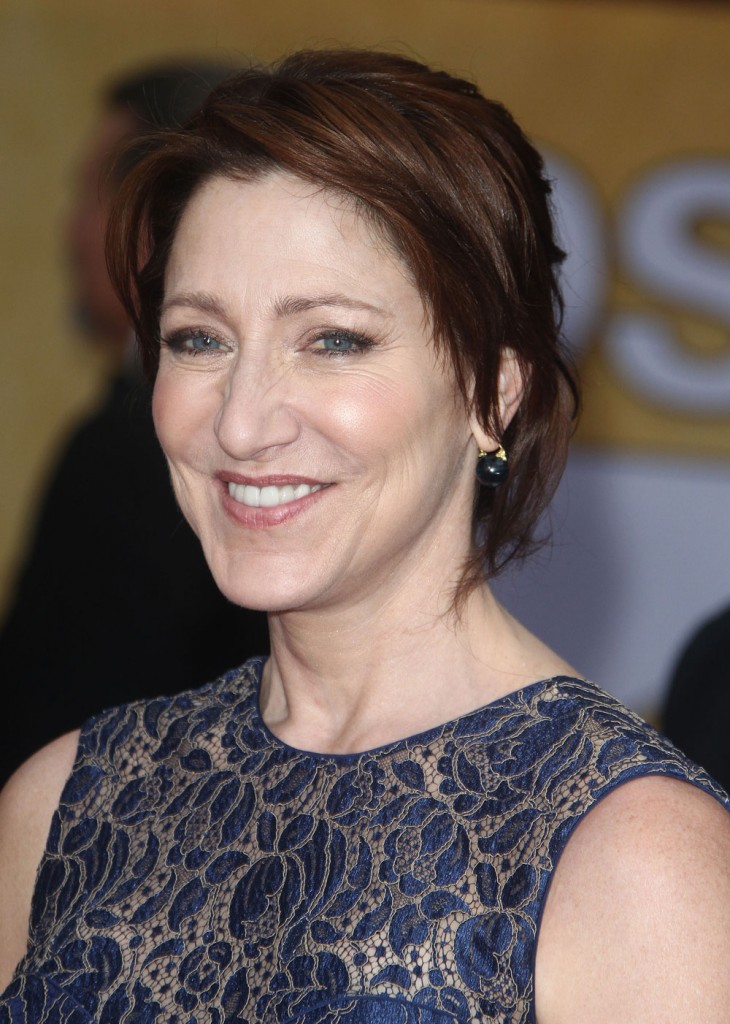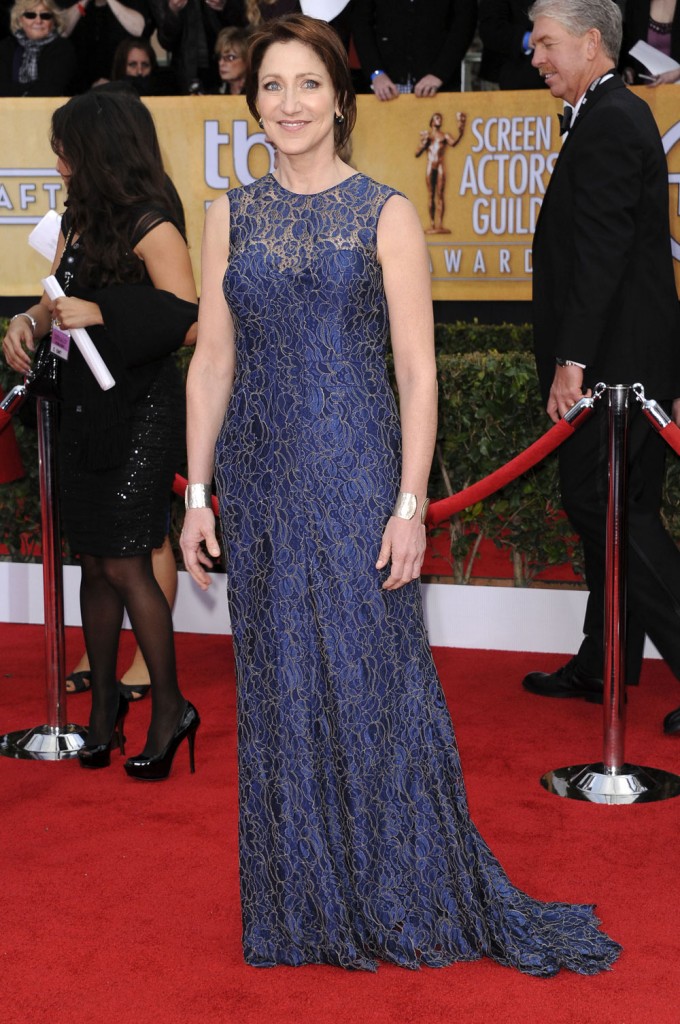 I'm adding Julia Stiles as I'd like to talk about her gown. This was just bad, but it's mostly because of the way the neckline and bodice is cut. The dress itself is kind of striking with that pretty blue grey color with the coral sequin overlay. I like some aspects of it, but the deep tank top look is just dragging the whole thing down. Plus her makeup was overdone and garish. Oh well. She's always struck me as a strange bird.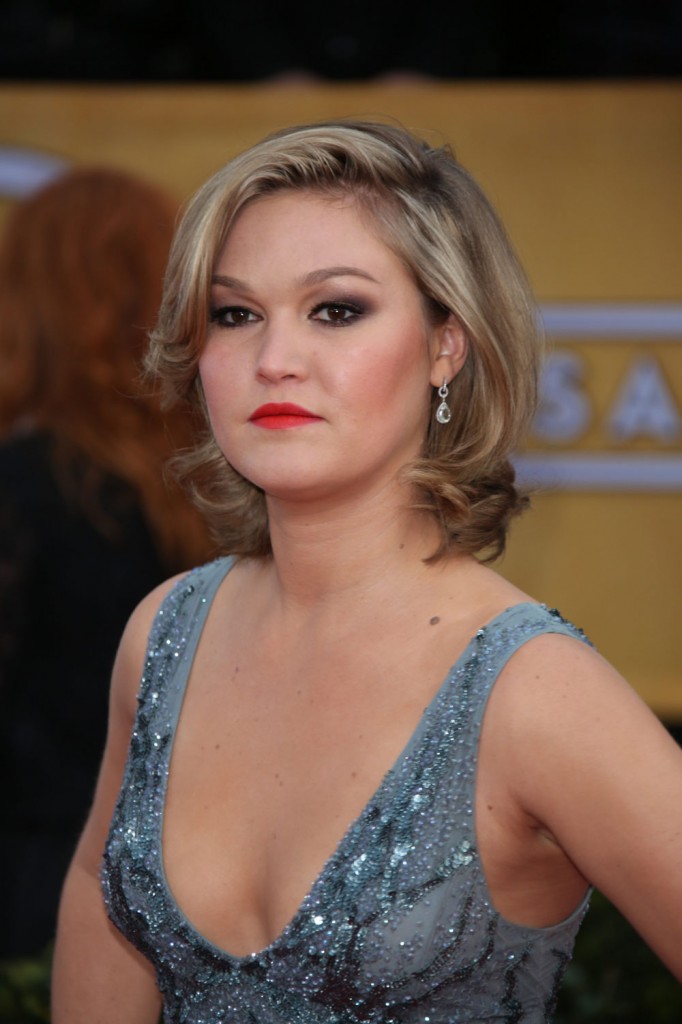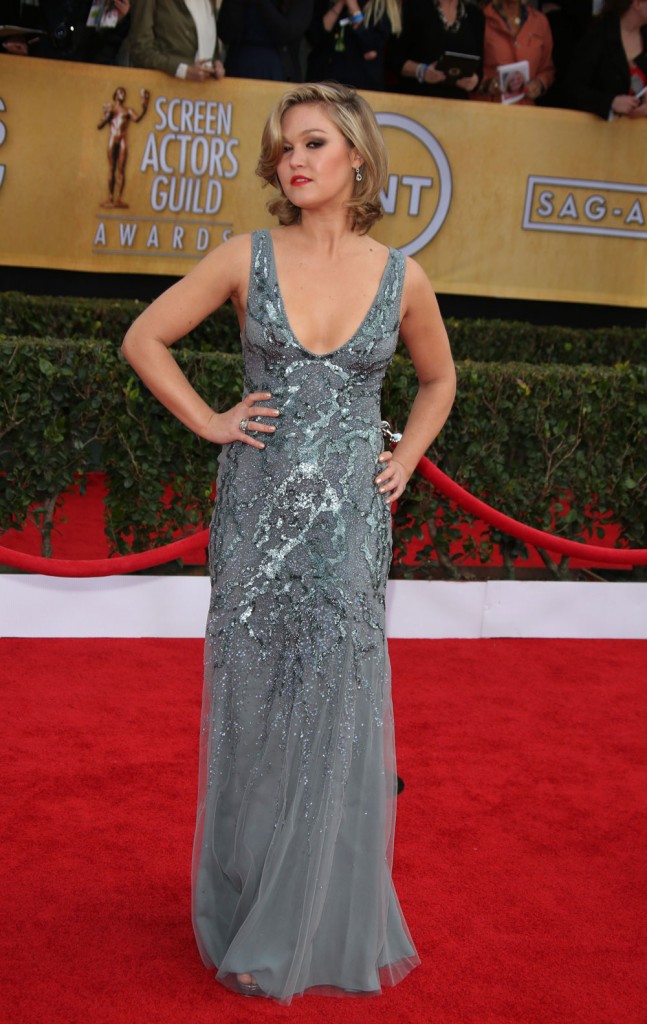 Photo credit: WENN.com and FameFlynet