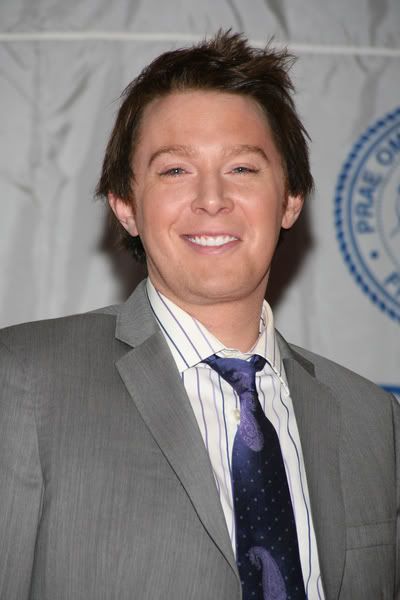 Clay Aiken has a follow-up interview with People Magazine after his mildly revelatory cover story in late September that read "Yes, I'm gay." He posed with his now four and a half month old son, Parker, who was conceived through in vitro fertilization with Clay's best friend, female music producer Jaymes Foster. There are rumors that we've reported here that Clay, 30, and Jaymes, 50, want to have another baby together. Given Clay's latest statements, he might not be looking to expand his family soon and sounds like he's more interested in cherishing the one son he has. The Broadway star told People that his son is still very dependent, but added that he wants to spend more time with him now that his stint in "Spamalot" is coming to an end:
"At the end of the day, Parker is the most important thing of the year, and of my life, without question," Aiken, 30, tells PEOPLE. "Having a son and that type of responsibility is obviously going to be something that I remember forever…"

As for his life as a new parent, Aiken will return to full-time fatherhood – joining Foster, 50, in his native North Carolina – after Jan. 4, when he finishes his run on Broadway as Sir Robin in Monty Python's Spamalot.

"I want to spend time with Parker. He's still uber-dependent," Aiken says, laughing. "I'm ready for him to start talking. I'm ready for a little action!"

But Claymates need not worry: Aiken will return to his singing roots: "We'll take a little bit of time, we're not quitting or anything, we're just gonna take it slow for a month or so and recollect once I get back," he says. "I may never have any free time once Parker starts walking and talking!"
[From People]
Doesn't it sound like Aiken is a little overwhelmed with fatherhood and raising a baby? He clearly adores his son but the subtext sounds like he finds it difficult and is looking forward to a time when he has more independence again. There's no shame in hiring a nanny and Aiken has the resources to get help. I wonder how much help they have and if it's overnight or if he and Jaymes do everything themselves. Aiken is said to have a new boyfriend, which could explain his maybe-yearning for his single days again.
It was a big deal for him to publicly declare his orientation as he's from a conservative southern family and had to come out to his family before he made an announcement to the public. Aiken told People that he found the response he received "humbling" and hopes that he "will have an opportunity to open people's eyes to different viewpoints and different possibilities in their life."
Clay Aiken is shown on 10/24/08 at the Friars Club Roast of Matt Lauer. Credit: PRPhotos