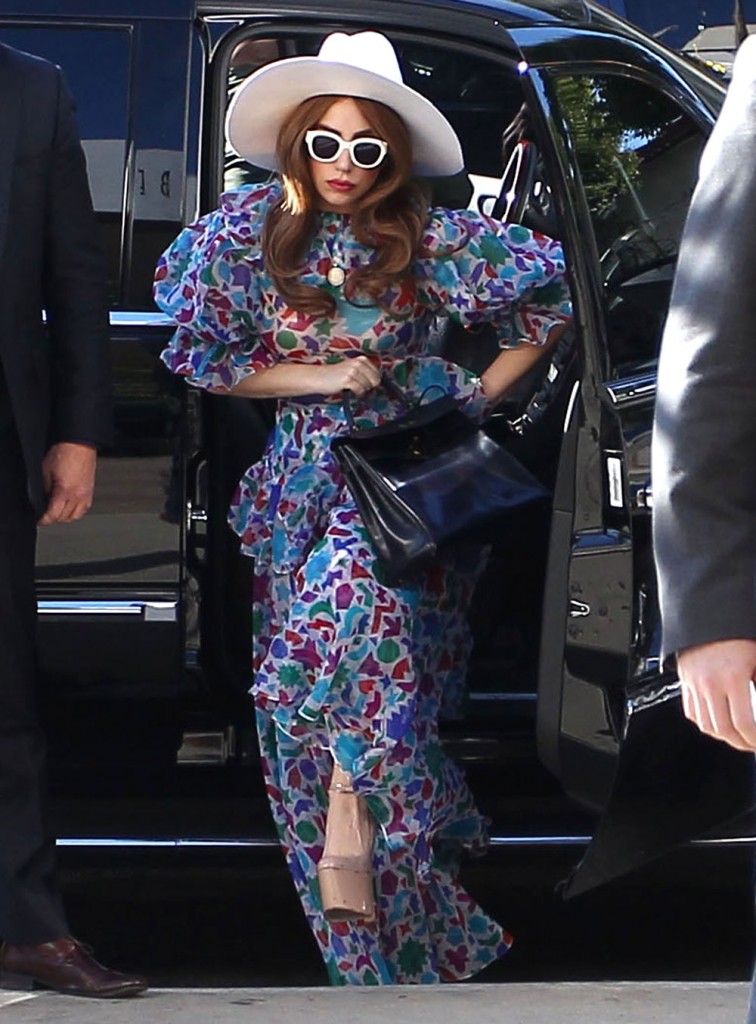 The NY Post has a new cover story on Lady Gaga today, with actual unbelievable quotes from Lady Gaga, taken during a sworn deposition in a lawsuit filed against her by a former personal assistant. The assistant, Jennifer O'Neill, is suing Gaga for $393,000, plus damages, for what she claims is 7,168 hours unpaid overtime. O'Niell made a salary of $75,000 a year. This story reminds me of the recent NY Times expose on Lindsay Lohan in that it's impossible to do it justice in some excerpts, you really have to read it in its entirety because it's epic. The amount of self aggrandizement from Gaga is astonishing, she's so ridiculous it sounds like a parody. This is a window onto a level of narcissism and entitlement that I wouldn't believe was possible if it didn't come from a reliable source. I mean you could tell me Gaga was a diva and I'd believe you, but I honestly wouldn't imagine she was such an awful one. Here are some excerpts, and again I can't begin to do it justice, even though a big chunk of the story is below. All of these quotes are directly from Lady Gaga, given in a sworn deposition:
She's not the queen of the universe, I am
Lady Gaga unloaded on a former personal assistant who's suing her for overtime pay — blasting the woman in a sworn deposition as a "f–king hood rat who is suing me for money that she didn't earn."

"She's just — she thinks she's just like the queen of the universe."

"And, you know what, she didn't want to be a slave to one, because in my work and what I do, I'm the queen of the universe every day..

"This whole case is bulls–t, and you know it," she added.

But under questioning, she conceded her decision not to pay overtime wasn't based on labor laws, but is "actually based on a bubbly, good heart."

Why Gaga doesn't pay overtime
"I'm quite wonderful to everybody that works for me, and I am completely aghast to what a disgusting human being that you have become to sue me like this," she said.

"Because she slept in Egyptian cotton sheets every night, in five-star hotels, on private planes, eating caviar, partying with [photographer] Terry Richardson all night, wearing my clothes, asking YSL [Yves Saint Laurent] to send her free shoes without my permission, using my YSL discount without my permission…"

"I expect there to be a certain level of, like, you know, knowledge and academia about, like, your job," she said.

Gaga — who now has two personal assistants — said a good assistant "is somebody that can anticipate what you need before you need it, so they buy it for you, or they — they set it up for you."

But Gaga said O'Neill failed at even the most basic of tasks, noting that "one of the biggest problems I had with Jen is that I felt like she didn't enough lay out all my stuff for me" while traveling, because "there is 20 bags and there is only one me, and I can't sift through everything.

It was stressful to Gaga to have to unpack luggage
"She would only open a couple of bags, and it was very stressful for me because then again on my off days I couldn't really have a day off because, you know, I weigh 115 pounds, and I was trying to move these huge, big luggages all by myself in the room, and I did it all the time — by the way, she was asleep until 12:00 most of the time, so I was very often waking up and moving my own luggage and doing s–t by myself, and it was — it was a problem that I had," she said.

And while previous assistants "would like set up my room, and I would know where my clothes were, I would know where my toothbrush was, I would know where my soap and everything was," Gaga said that when O'Neill "got lazy she didn't always do those things for me.

"I can't walk down the street and go buy myself toiletries, I have to call security, I've got to call Jen or now I got to call Wendi, I've got to get a whole bunch of people together to help me fix the problem, which wouldn't happen if she was doing her job properly on regular days," Gaga said.

Gaga also portrayed O'Neill as an ingrate who took for granted the parties, "five-star hotels" and other luxuries — including "caviar, champagne and yachts" — that she got to enjoy as part of Gaga' s entourage.

"It is, like, such an amazing luxury that I get to travel the world and have planes, she doesn't even see what a luxury it is, but she thinks it's owed to her for no reason," the singer said.

Gaga is so wonderful to her employees
At one point, Gaga bragged about how the night before, her employees enjoyed a "beautiful $3,000 meal that I paid for" at Spiaggia in Chicago, billed as the only four-star Italian eatery in the Windy City.

Gaga said she picked up the tab "just because," noting, "They were on their day off, and they all just wanted to be with me."

Again why she doesn't have to pay overtime
She also insisted that all her employees work only an eight-hour day — while also noting, "This job is a 9-to-5 job that is spaced out throughout the day…"

Rather than paying off O'Neill, Gaga said, "I'm going to give all the money that she wants to my employees that work hard for me now that deserve it.

"I'm not going to give it to her so she can go to Intermix and buy herself a new tube top," the snippy superstar groused.

While the court papers don't detail the start of their relationship, Gaga said it ended when, during a flight to Paris, O'Neill slept in one of two beds on Gaga's jet.

This assistant was greedy for wanting to sleep in a bed
"Most of my assistants in the past always offered it to my mother or my family," the singer said. "Jennifer was the first person that never offered it to anybody and always took it for herself."

Afterward, "we partied until 5 in the morning, we got s–t hammered, I was crawling on the streets in Paris, I was screaming.

"Jennifer was there. She hung out all night with me and Terry Richardson, and tons of socialites from Paris, and she had the time of her life," Gaga said.

The next morning, Gaga said, she "barely could talk" but had to fly back to America that night — "I mean, what a rock-star moment, right?"

But on the flight back, Gaga said, O'Neill insisted on sleeping in the second bed and "completely, like, flipped out at me, beyond belief" when "I told her no."

"This is really inappropriate in front of Terry Richardson"
"I said, 'Jennifer, this is really inappropriate in front of Terry Richardson,' and she was like, 'Don't I get some sort of seniority because I've been here longer and I'm your friend?' " Gaga said.

"And I remember those words as clear as day, because when your best friend looks you in the eye and says 'Why can't I have that seat on your private plane, I'm your friend,' the first thing I thought was 'You're not my f–king friend.' "

"You are not my f–king friend."
"This is really inappropriate in front of Terry Richardson." As if that guy is known for even a modicum of decorum.
The first couple of lines kind of sum the whole story up. Gaga is pissed because her assistant overstepped her bounds, because an employee thought she was Gaga's equal and wanted to be treated the same and paid overtime. No one is Gaga's equal, she's "The Queen of The Universe," which is exactly how she phrased it. Only Gaga's fame is waning in comparison to how popular she once was. That's got to make her even more angry, entitled and bitchy. I'm amazed. What's that saying – you meet the same people on the way up as you do on the way down? I'm sure this isn't the only person that Gaga has alienated. Don't question the benevolent dictator or she'll get very, very mad. How dare you want to sleep in a bed? Aren't you grateful for the scraps she throws you from her banquets? This woman is from another planet entirely.
Update: A lot of you are noting that the assistant may be just as out of line for asking for overtime and expecting perks as part of her very well paid job. I don't disagree, I just got so sidetracked by how ludicrous Gaga was.
Thanks to A for the tip!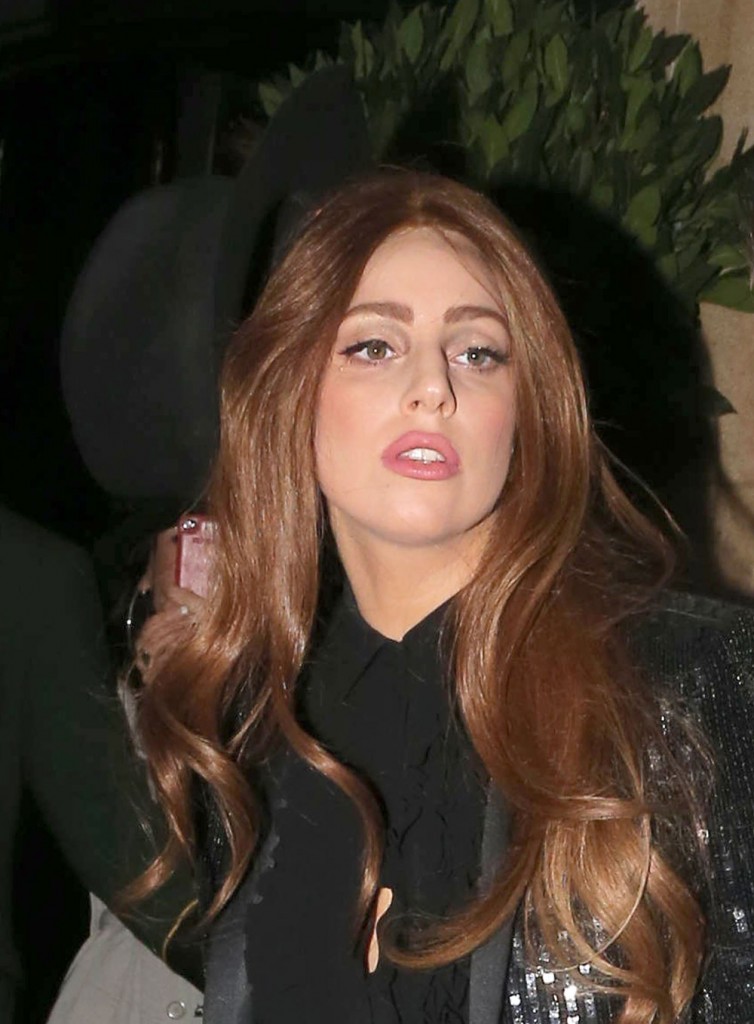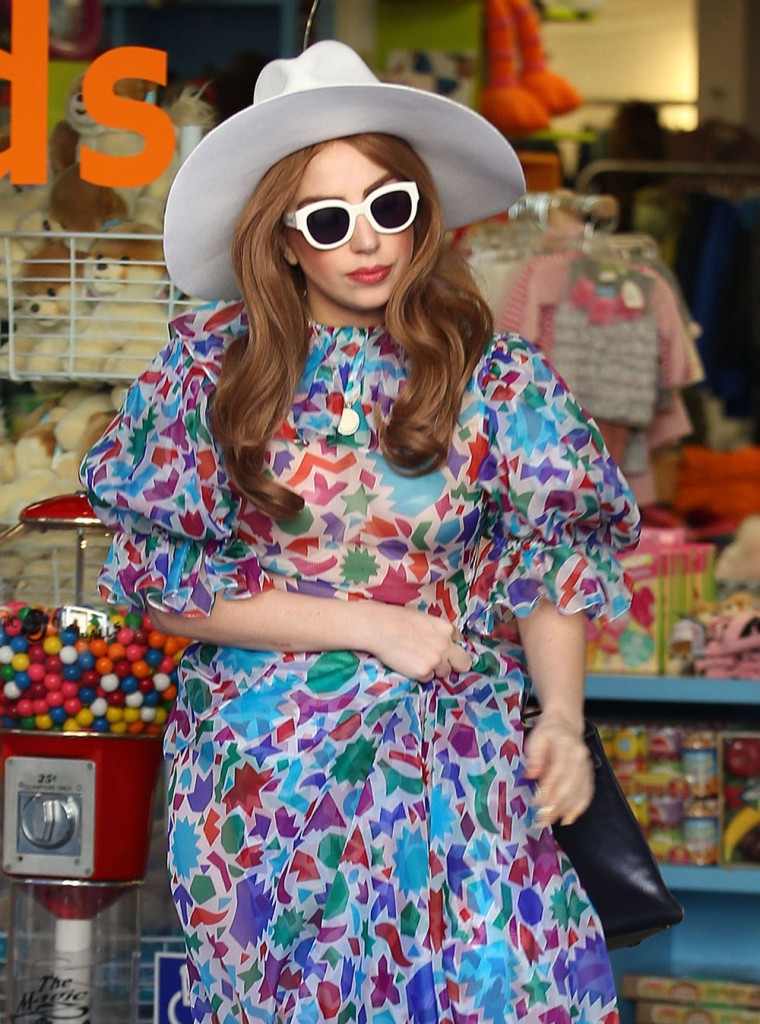 Lady Gaga is shown out shopping on 1-21-13 (floral dress) and out in London on 10-8-12 (witchy). Credit: Fame Flynet