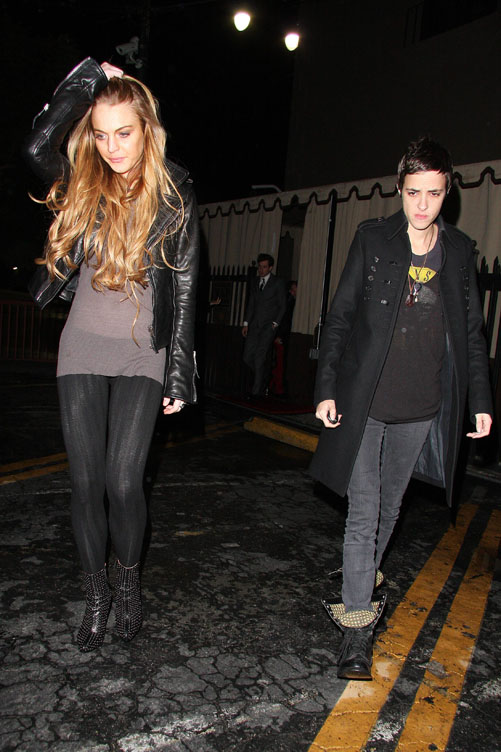 In the continuing lesbian drama between Lindsay Lohan and DJ girlfriend Samantha Ronson, TMZ is reporting that Ronson was admitted to a Los Angeles hospital yesterday for an undisclosed condition. Reports say the trip was "non-life-threatening" and Ronson was set to be released soon.
Sam Ronson paid a visit to the hospital today, but we've been told it was not an emergency and definitely non life-threatening.

Sam went to Cedars-Sinai Medical Center in L.A., with Lindsay going in a separate car. We don't know exactly what happened. It was relatively minor, we're told. If Sam's not out already, she'll definitely be out by tomorrow.
Meanwhile, Life & Style is claiming that Ronson is dealing with a bout of depression and anxiety, and hasn't been eating or sleeping. That's probably standard stuff for someone dating a Lohan.
Friends of celebrity DJ Sam Ronson tell Life & Style they received frantic phone calls last night that the DJ was suffering from exhaustion and stress. "She was calling around. She knew she had done something wrong," the friend tells Life & Style. Early this morning, doctors were immediately called to the house.

"She's been suffering from depression and from lack of food and sleep. Gal pal Lindsay Lohan has been helping her through this as she has been through it herself two years ago."

Friends, family and Lindsay Lohan are by her side. A rep for Lindsay Lohan did not want to comment.
There have been rumors of problems in the Lohan-Ronson pairing for months, with reports of numerous public spats. No doubt this has put increased pressure on Samantha. However, Ronson has seen her worth as a DJ go up since hooking up with Lohan, which some say is her reason for staying in the relationship.
Samantha Ronson may want her relationship with Lindsay Lohan to work for more reasons than just love: Since dating the actress, the deejay's fee per gig has jumped from around $1,500 to as much as $25,000, netting Ronson close to $3 million over the last year.

"While Sam never contractually agrees that Lindsay will show up to her shows, promoters, owners and publicists all know that if you book Sam, there's a high likelihood Lindsay will also show," an insider close to the couple told us. "Sam's now asking for a lot more money to spin, and she's getting it easily."

The duo will take Miami by storm again next week as they've been hired by SoBe to jointly host New Years Eve at Mansion Miami. Revelers can likely expect one of the public blow ups the sapphic couple have become known for as of late.

At a Miami club last week, Lohan sulked in the corner alone, remarking "Sam is hired to host tonight, not me," when asked if she was okay.

"They fight every day," said a friend. "It's just jealousy and childish bickering over the fact that neither feels the other pays enough attention. While they really do love each other, this relationship will be over by March."

Adding extra tension is the fact that Ronson's cutting an album of her own and doesn't want any help from Lohan. "Sam doesn't mean that in a bad way. She just wants the record to be about her and not her and Lindsay," a Ronson confidant told us.

"Meanwhile, Lindsay's passing on movie roles and job offers just to be with Sam while she tours. It's a lose-lose situation. Lindsay's in talks to sign onto a few major movies, but everyone's worried about how the relationship will affect her career. It's hurting both of them more than helping either," our source said. "They're each really talented, but young. Personally, I wish Lindsay would walk away."

A friend of Ronson fired back, "Ronson doesn't need Lindsay to make money. She's always had money, and relied more on [famous deejay brother] Mark for getting gigs booked. In fact, Sam made Lindsay hot again!"
If even a fraction of the barrage of rumors about Lindsay's behavior towards Samantha is true, then it's no wonder the girl is having problems. According to reports, Lindsay is a high maintenance wreck who vacillates between being insanely jealous and flirting with men right in front of Samantha. She's definitely not worth all the drama or sacrificing your mental health for.
Picture note by JayBird: Lindsay Lohan and Samantha Ronson are shown on 12/17/08. They were bringing balloons to a birthday party for Sam's brother, Mark Ronson's girlfriend, Tennessee Thomas. Images thanks to Bauer-Griffin and Splash.