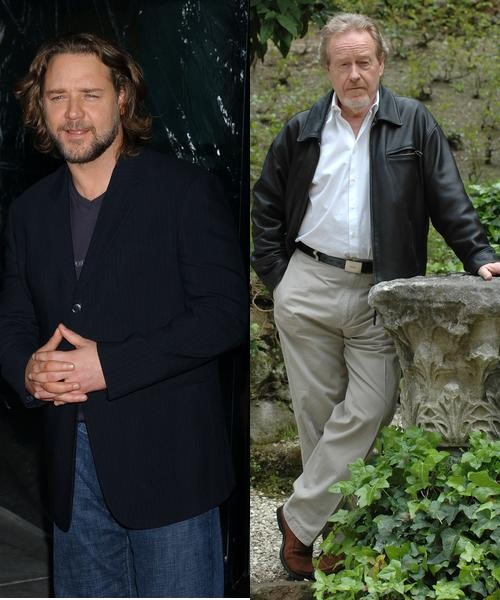 For someone who likes to portray himself as a tough guy, Russell Crowe sure comes off like a moody bitch sometimes. His behavior has reportedly put a strain on the longtime creative releationship between him and award winning director Ridley Scott. The pair have worked together on such films as "Gladiator," "A Good Year" and "Body of Lies," and are currently teamed up on a retelling of the story of Robin Hood- but sources say they are clashing over Crowe's on-set antics.
THE long professional relationship between Russell Crowe and director Ridley Scott could come to a cataclysmic end if Crowe gets Scott fired from "Nottingham."

Scott turned Crowe into a major star by casting him in "Gladiator" (2000), a role that won him the Best Actor Oscar. The New Zealander also earned critical acclaim in Scott's "A Good Year" (2006) and "American Gangster" (2007).

Spokesmen for Crowe, Scott and Universal, which is distributing "Nottingham," flatly deny any discord between the actor and the director. But sources say Crowe blames Scott for the disastrous drubbing their fourth collaboration, "Body of Lies," received from critics and at the box office last summer, and no longer wants to work with the British director.

"Ridley is the only one who is willing to stand up to Russell and tell him he's too fat and that he can't show up four hours late to the set," said one source. "He [Russell] wants someone he can control."

"Nottingham," which starts filming in March, is a revisionist version of the Robin Hood legend, in which Crowe stars as the sheriff of Nottingham, a noble and brave lawman whose corrupt king is raising taxes even as his subjects starve. He and Robin Hood vie for the love of Maid Marian.

Crowe is notoriously hot-tempered, and faced criminal charges in 2005 after throwing a telephone at a concierge at the Mercer Hotel. He is now said to be pressuring George Freeman of William Morris, the agent who represents both Crowe and Scott, to get Scott replaced.

A spokesman for Freeman told Page Six: "There is absolutely no truth to this." Crowe, Scott and "Nottingham" producer Brian Grazer had a preproduction meeting last week, and everything was full speed ahead, the spokesman said.
There's no doubt that Russell Crowe is a talented guy, but I am mystified as to how he gets away with this crap. My guess is that he's always been a hot-headed jerk, but now that he's famous and commands a big paycheck for his work, his ego is even more out of control. A strong willed director like Ridley Scott can only take so much bullshit. I'm guessing there are more than a few big name actors who would jump at the chance to work with him and take Crowe's place.
Picture note by JayBird: Here's Russell Crowe at the Los Angeles premiere of 'Revolutionary Road' on December 15th and riding his bike to eat lunch with a friend at the Euro Café in L.A. on December 6th. Images thanks to WENN.