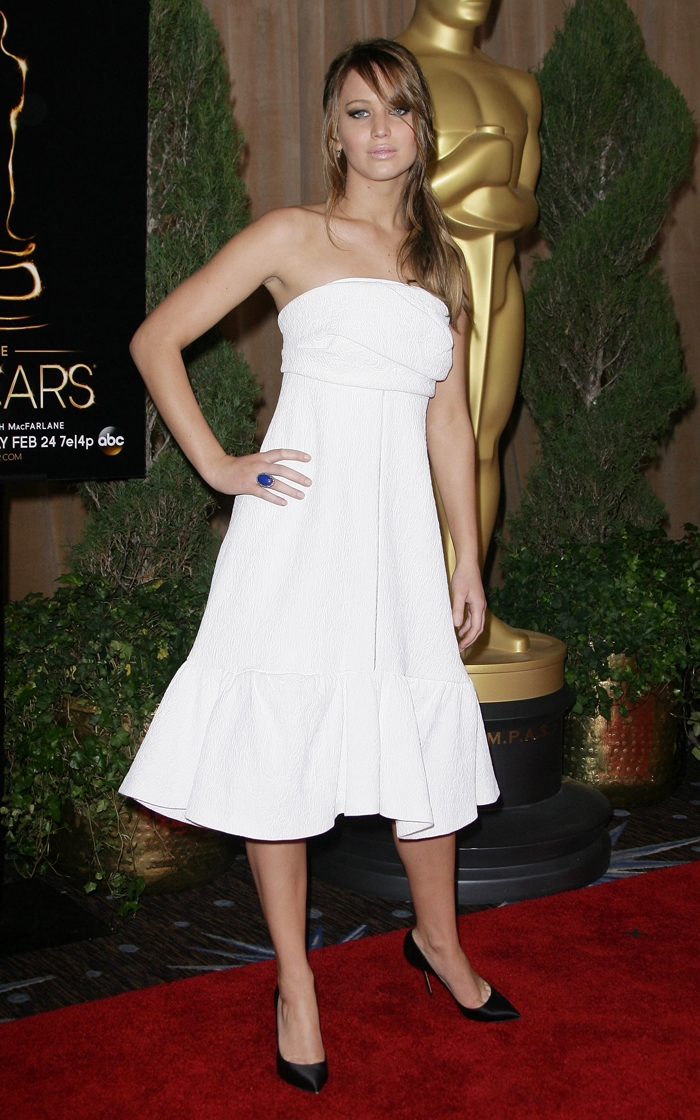 Here are some photos of Jennifer Lawrence at the Oscar nominees luncheon on Monday afternoon. She's wearing a white Chloe dress that I believe is meant to look young and fresh, but the cut of the dress is so strange. After one look at these pictures, Kaiser declared that JLaw's stylist "has such a problem with boobs." There are mixed reports about who is actually styling her these days, so it's anybody's guess.
This dress didn't have to be terrible, but there are a number of problems. First, it doesn't work well with Jennifer's body type. It may have been decent fit on a waif such as Nicole Richie but not someone with substantial rackage up top. Further, while up-close views of the dress reveal a rather interesting fabric texture (it's almost crepe-papery), the ruffle at the bottom kills all manner of sophistication because it resembles something that would be found upon a "Canterbury-style" Victoria's Secret nightgown. Strappy sandals also would have been a better choice than black pumps.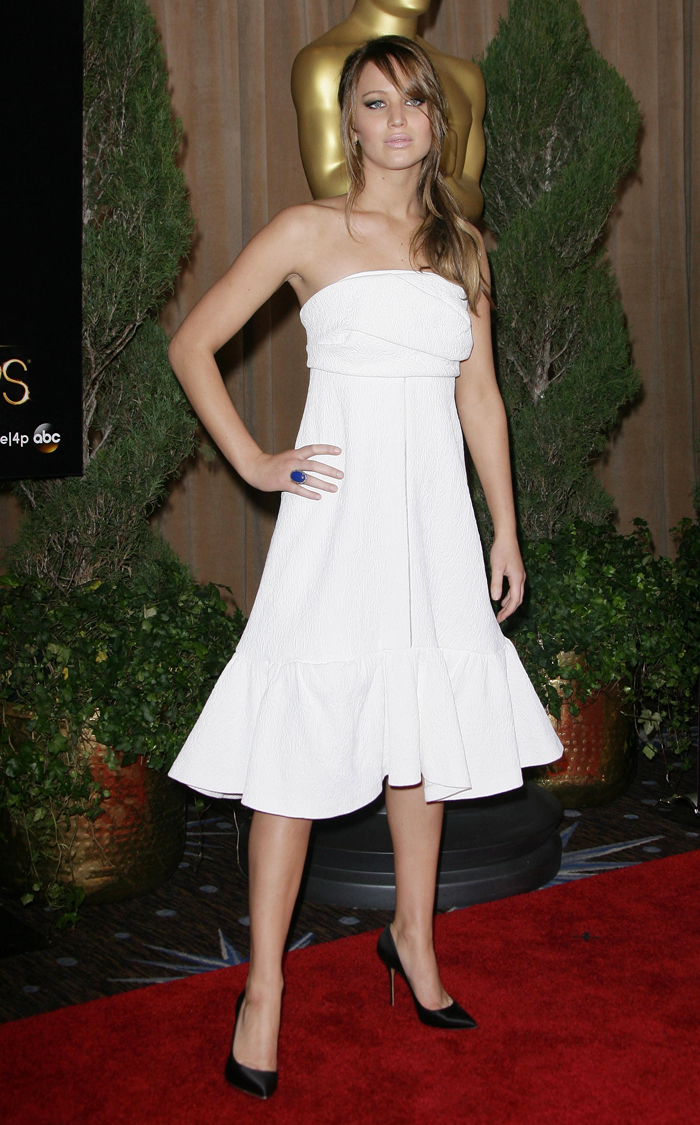 Now for the hair and makeup disaster. Yesterday, some of you disagreed with me about Jennifer's luminous makeup at the Santa Barbara festival, but I ask you, was that not better than this gawd-awful attempt at mod eyeliner and way-too-nude lips? Poor JLaw doesn't look good here, and she knows it. The hair is too messy and limp; the makeup is simultaneously otherworldly and lifeless; and overall, this is not a good style day for her. Jennifer doesn't deserve this.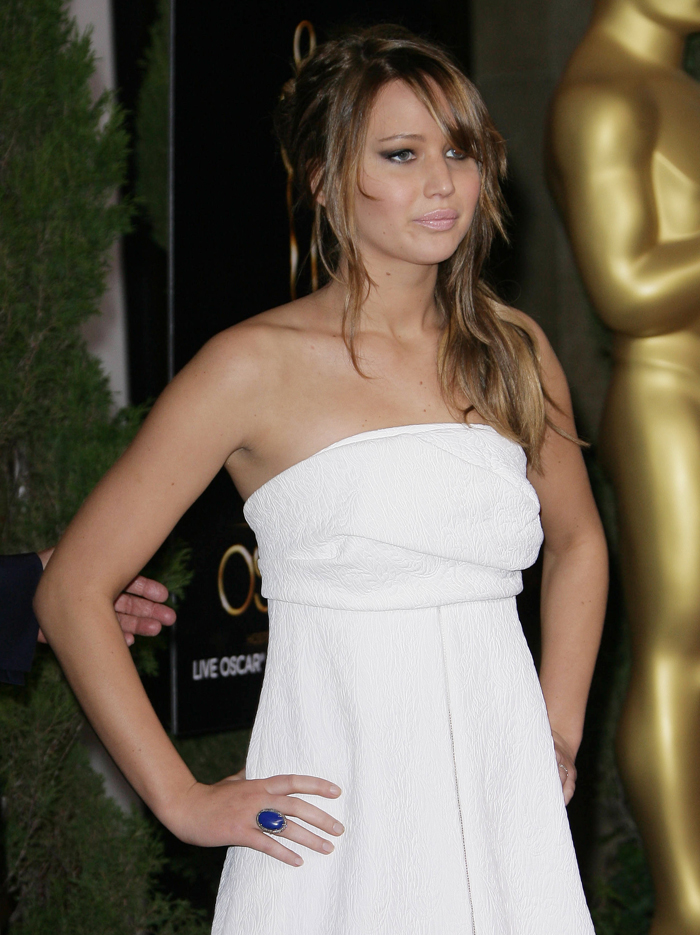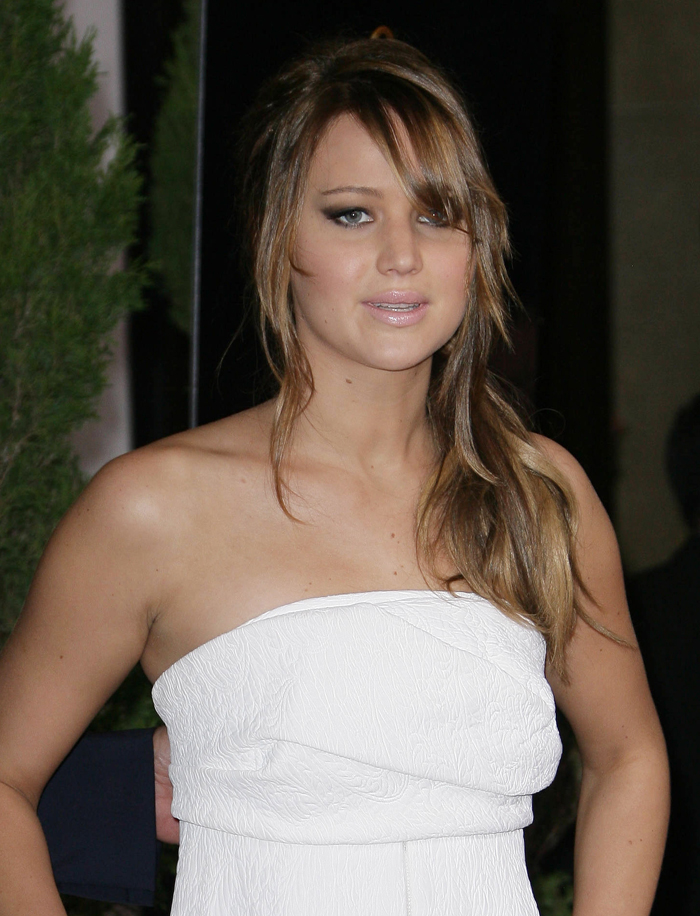 In between the endless stream of awards shows, Jennifer has managed to find time to sit down with Collider for an interview. Here are some excerpts:
On the crazy past year: "Well, it's good and bad, just like any job. There's an amazing side of it that feels incredible, and then there's the side that's the bad side and you just have to move on. But, it's been amazing. A lot of things that I didn't even think could ever be possible for me have happened, all in a year. It's been really overwhelming, but in a wonderful way. This doesn't happen very often. It's very rare. So, I can definitely take a moment to think that it's amazing."

On fame: "I find that the more I stay in my house, the less I'm overwhelmed by it, so I've just been spending a lot of time at my house. It's overwhelming, but it's an honor. This is what I want to do. It makes me so happy. It's like getting a promotion at your job, but when you get that promotion, you can't leave the house. But, my dreams have come true. It's always funny because I find that I can enjoy myself for the few hours that it takes to do a red carpet. It lasts for a few hours, and then I'm ready to go home. Then, it's over and I go back to being normal."

How she made it without acting lessons: "Because my parents weren't going to pay for classes. They were like, 'If you want to be an actor, we're not going to pay for your lessons.' That was the main reason that I didn't have lessons. That was actually the only reason. I'm not against them. If you can afford them, go for it. I couldn't write. I couldn't take pictures. I'm a horrible photographer. There are people who are just so visual. My friend can write the most beautiful songs you've ever heard in your entire life, in 10 minutes. I could never do something like that. Everybody has their gifts. Fortunately, mine is very lucrative."

On getting in DeNiro's face for her SLP monologue: "That's not how it felt that day. I never actually read my lines until I show up, and that was not a good day to do that, with a two-page monologue. I was just focused on memorizing it and trying to get through it, all morning. So, by the time it actually came time to do that scene, it was great. I didn't realize until mid-way through the monologue, and then I thought, 'You are Robert DeNiro, and I am shouting at you,' because I was so busy trying to remember [my lines]."

On filming Catching Fire: "It was incredible because it was like going back to high school. We had a lot of the same crew, and obviously Josh [Hutcherson] and Liam [Hemsworth] were there. Normally, when I do a movie, I'm meeting people for the first time, so it was just amazing to be able to have the same group of people. It was so fun. And it's a character that I love, and a story and message that I'm passionate about, so I haven't managed to get bored. That's a pretty hard character to get bored with, though."

Is she enjoying her second Oscar run? "I think I am, yeah. The first time, it was just terrifying. I was so new to the industry that it was my introduction into this business, which was terrifying. I felt like I didn't really get a chance to enjoy it because I was so scared. Now, I'm still scared, but I know more people. And I know that I made it through the first time, so if I did it once, I can do it again. It's an incredible honor. The first nomination hasn't really set in. I'm afraid I'm going to go my whole life, just being scared like a Chihuahua. It's not my comfort zone. Making movies is where I belong. I don't belong on a stage. I shouldn't be heard, just talking. So, when I'm doing movies, I'm really happy. That's where I'm comfortable. That's my home. When you put me on a red carpet or on a stage, I turn into Chihuahua Jennifer, so awards season is always terrifying for me."
[From Collider]
Chihuahua Jennifer. LOL. Somehow, I can see why she's drawing that metaphor, but at least she's not a grumpy Bulldog like Kristen Stewart (no offense to bulldogs) on the red carpet. I know that it's not entirely fair to compare these two young actresses, but it's always so obvious that Kristen doesn't want to promote her projects. Can you imagine what an Oscar run would be like if the Academy actually decided that KStew was worthy of a nomination?
Besides the fact that Jennifer (intentionally or not) projects the image of a relatively normal yet very talented girl who's quickly climbed to the status of A-lister in Hollywood, she's just so damn talented. The girl inherently knows how to act her ass off, and she's going to be around for a very long time. Do I think she's a big young to win a Best Actress Oscar? Yep, but she'll probably still win it in a few weeks anyway. Hopefully, she'll hire better hair and makeup people for the Oscars too!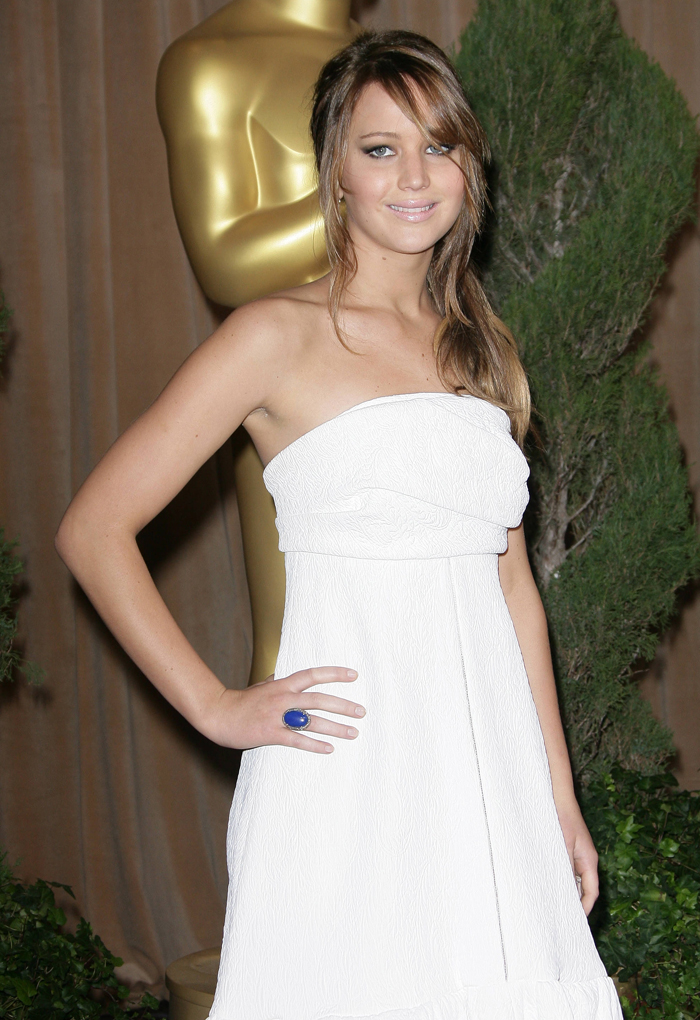 Photos courtesy of WENN