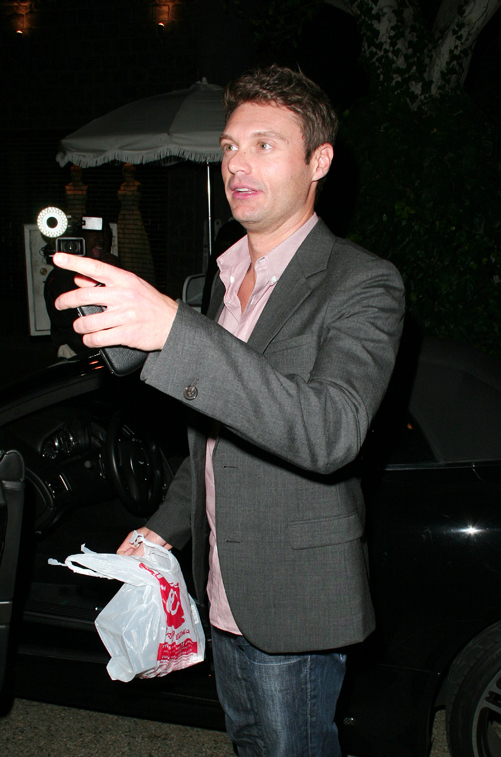 So, the previews for this new Ryan Seacrest-produced show "Momma's Boys" look absolutely disgusting. In one bit, the middle-aged white "momma" is yelling at a young African-American girl, saying that her son will not be allowed to date a black girl. It's all so insulting – if it was a show about the reverse called "Daddy's Girls" where a "daddy" was yelling at young men, acting as if his daughter was his property, the feminists would be outraged. So who's going to speak up for the momma's boys? No one, apparently. Because it's "cute" when a guy is hen-pecked by his mother, right? Ugh, no thanks.
But "Momma's Boys" is just another step on Seacrest's quest for world domination. And even Seacrest's momma, Connie, is out there promoting the insulting piece of garbage, and talking hopefully about her dreams for her son's future… with a woman.
Ryan Seacrest's search for the right partner continues – only this time with the encouragement of his mother.

"I wish he had more time to date," Connie Seacrest tells MomLogic.com about her famous son, who also just happens to be the producer of the new NBC show, "Momma's Boys". "That would be wonderful for him – and we'd stand a better chance for him to have a relationship. "

As for any butting in – or rather, assistance – from Mom: "My rule is that you just observe and wait until they ask for your opinion," she says.

Still, a mother can hope, can't she? Ideally, she says, for her son, "This would be the package I could see – a woman that would be his best friend, lover and eventually one day the mother of his children."

Ryan, who turns 34 on Christmas Eve, also has a sister, Meredith – and, notes mother Connie, the sibling is also single. "Neither of my children [is] married. They're going have to get a nanny for granny!" she says.

But as for adding to the family, "I believe in marriage before children. My husband [Gary Seacrest] and I have been married for 39 years this February. I think both of my children want to have this kind of relationship. Ryan realizes he's got to give more time to a relationship if he wants it to be a lasting one. I'm keeping my fingers crossed!"
[From People]
Yeah, Momma Seacrest, you keep your fingers crossed real tight on that one. I really like how People.com kept the piece gender-neutral up until the crescendo of denial from Momma Seacrest. Are there really women in the world who look at Ryan Seacrest and see something other than a workaholic closet-case hell-bent on media domination by any means necessary? And he's not even the cool kind of faux-gay – the kind interested in clothes and movie stars and being fabulous! His red carpet interviews suck. He always forgets to ask movie stars what they're wearing. Seacrest out.
Picture note by JayBird: Here's Ryan at The Ivy to meet other cast members from "Momma's Boy" in Los Angeles on December 8th. Images thanks to WENN, Bauer-Griffin and Fame.