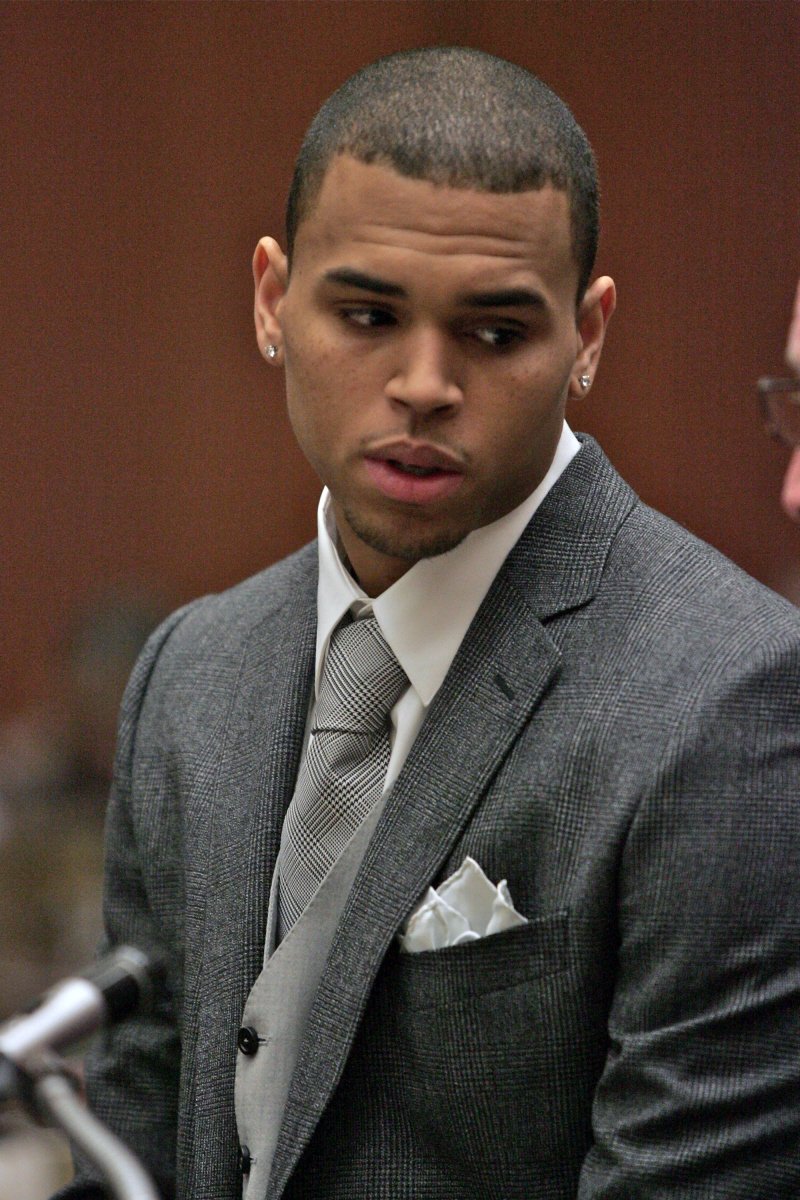 I didn't do the follow-up on the Frank Ocean-Chris Brown fight because I didn't really know where to begin, and because I was kind of disappointed with the outcome. Frank Ocean has decided not to press charges against Chris, even though most sources claim that Chris came after Frank and that Chris was the first one to throw a punch (how shocking). Frank has told TMZ (and other outlets) that the altercation began when Chris tried to shake Frank's hand and Frank refused, telling Chris that he was in his parking space. Chris then punched Frank in the face, and Chris's entourage jumped in, also attacking Frank. Someone yelled "f—got" and at some point Chris threatened to shoot Frank. Because of course. But Frank has declined to press changes, so does it even matter? According to TMZ, it might. They have a lengthy story about how Chris didn't really do all of his community service hours and he's likely violated his parole since his sentencing (for attacking Rihanna), so he might go to jail…? This is really detailed, so I'm just including the whole thing:
The L.A. County District Attorney has filed legal documents claiming Chris Brown has violated his probation by submitting bogus community service records … claiming in one case he swore he was picking up trash in Virginia when he was actually on a PRIVATE JET TO CANCUN …TMZ has learned.

We've learned the D.A. is alleging in legal docs Chris Brown may have LIED when he claimed he had performed all of his community service in connection with the Rihanna beating case.

Bryan T. Norwood, the Chief of Police in Richmond, VA., wrote a letter to the judge on September 14, claiming Brown successfully completed 202 days of community service — he was only required to perform 180. Norwood attached documents showing that Brown frequently worked at Tappahannock Children's Center — a place where Brown's mom was once a director — and did odd jobs such as painting, washing windows, waxing floors, cutting grass and picking up trash.

According to legal docs obtained by TMZ … the Richmond P.D. admits they only supervised Brown on 9 or 10 occasions and on all other dates he was not supervised by anyone. And get this … the detective who had been assigned to oversee Brown's community service was told she did not have to continue monitoring at the Children's Center. The times, location and types of duty were provided by Chris Brown's mother.

The D.A. claims Chris and the Chief of Police had a prior relationship. And there's more. According to the docs, Chris' lawyer, Mark Geragos, "instructed" the lawyer for the Richmond P.D. on how to "handle" D.A. investigators' questions about Chris' community service. And Geragos told the probation officer there was a court order that Chris' community service be removed from the probation department and given to the police chief. Fact is … there was no such court order.

Pretty ironic — during a progress hearing back in November, Geragos brazenly said the prosecutor had a "doubting attitude" for questioning a probation report which said Brown had met all his terms and conditions. And there's more … the Administrator of the Children's Center allegedly tried coaching the floor waxing guy on what to say to D.A. investigators, but he refused to lie and in fact had already told investigators he was the only one who waxed the floors for the past 3 years. Chris claimed in docs he waxed the floors on some occasions.

The judge was suspicious when the community service documents were filed, and sources tell us the D.A. began investigating and found no "credible, competent or verifiable evidence" that Brown did the 180 days community service. Sources tell TMZ … there's no way Chris could have performed community service on some of the days, because he was out of the country doing concerts.

The D.A. calls Chris' documentation "at best sloppy … and at worst fraudulent reporting." The D.A. is asking the judge to reject Chris' alleged Virginia community service hours and make him fulfill his obligation in L.A. County. By the way, the D.A. claims Chris' mom was responsible for orchestrating work at the Children's Center outside of normal operating hours and a key administrator told the D.A. she NEVER saw Chris perform any work at the center.

And the D.A. is also saying there are other possible probation violations, including:

– The Frank Ocean fight at the recording studio
– Brown testing positive for pot
– Failing to obtain a travel permit
– Allegedly grabbing and throwing a fan's phone in Miami
– Throwing a chair through a window at "Good Morning America"
I live in Virginia and I was personally offended that Chris got to serve his community service in my state instead of in LA. I never understood that at all, because it seemed like a blatant attempt to confuse and obfuscate the situation regarding Chris's actual community service – which was ordered by an LA court, correct? This is why the California Justice System's motto is #YOLO. Because they can't even keep track of the BS community service sentences they give out to young men who try to kill their girlfriends.
As for the possibility that Chris will actually be "punished" for these lies or whatever… doubtful. But sure, let's hope for something.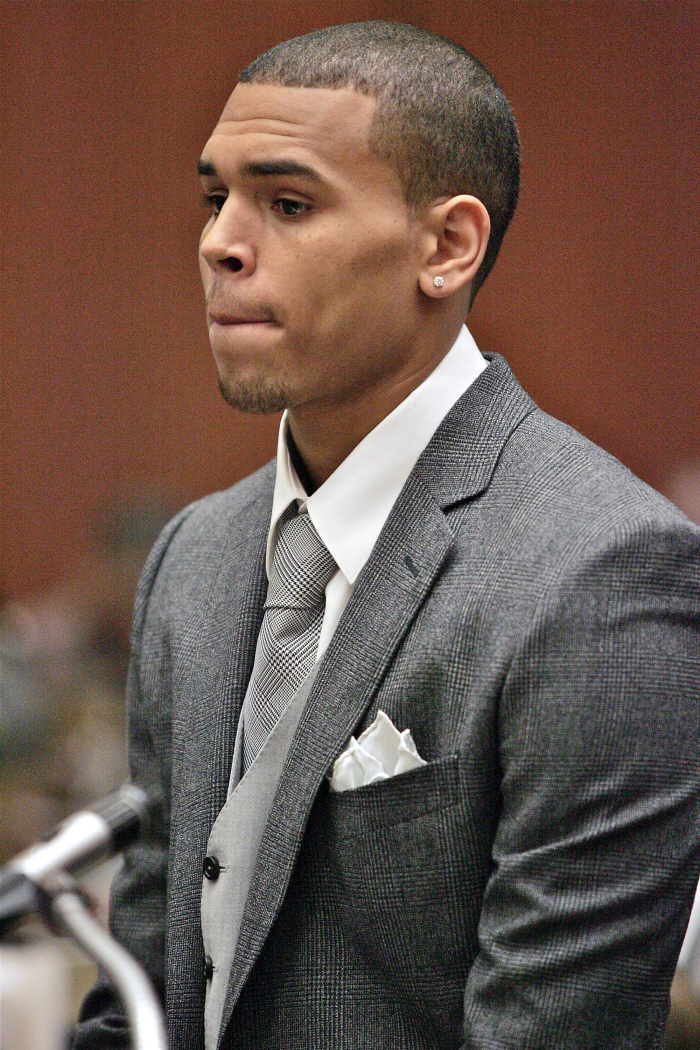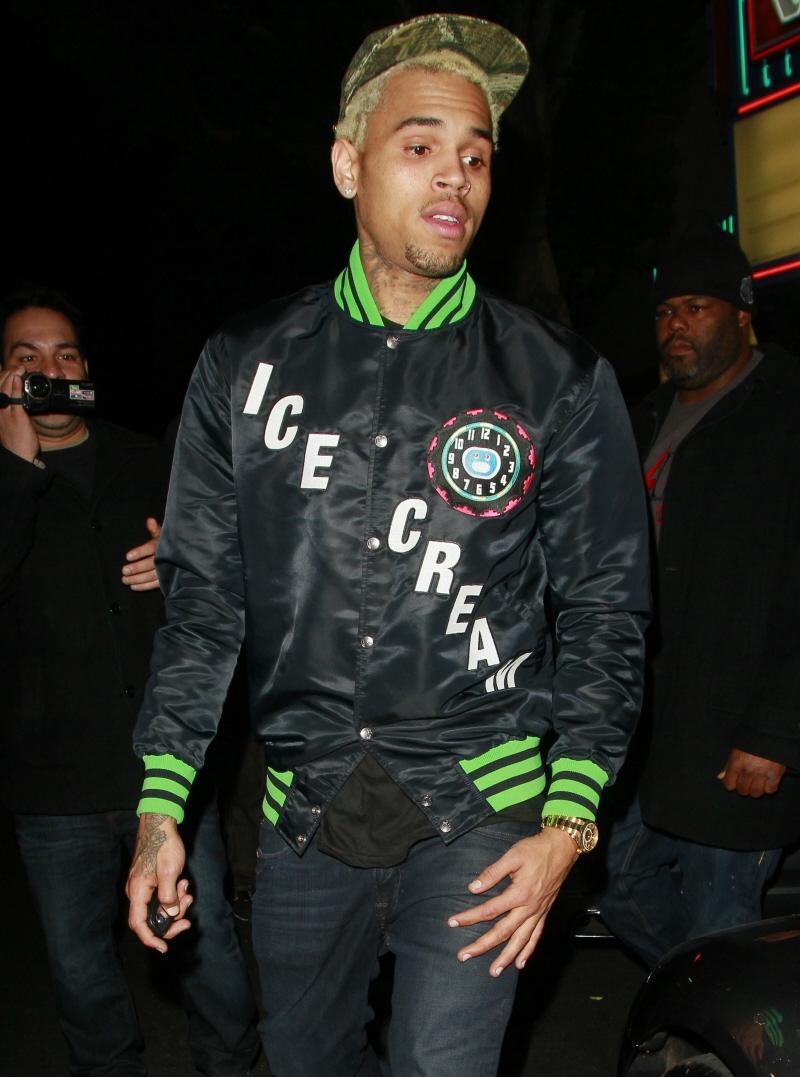 Photos courtesy of Fame/Flynet and WENN.